Marley twisted braids are mostly popular among Afro-American woman. For long, thick, and coarser hair, Marley twisted braiding is a perfect idea. It's basically a store-bought hair which is artificial and made of kanekalon. It is used to cover up the original really coursed hair in order to protect them and make a famous style of Marley twists braids. Normally, small hair parts are taken and wrapped with Marley's hair in a twisted way.
For African hair texture, Marley's hair is the best idea to fit in. It feels like natural hair and blends with original hair texture. You can keep this for long, medium, and also for short hair. Normally, this procedure is time taking; it takes almost six to ten hours to complete depending on the hair volume. But it is worthy because you can keep them for up to ten weeks. They are so light-weight and fuss-free that can be easily carry on. Low maintenance is one of the most important advantages.
You can find lots of image of Marley twisted braids over the social networks and may get confused. So, here we have tried to organise some of the brilliant examples of Marley twisted braiding along with an elaborate description to present informative ideas about it.
1. Marley twisted braid with boxes
Marley twisted braid offers you to do lots of experimental looks. Like here, you can actually go for a box braid look with your Marley. This is a very casual look that you can easily carry out in college or workplace or even small gathering without looking too sassy. This braided look gives you an edge to your daily dose of style yet being in a comfort zone. Those boxes, added to the braid simply make it catchier.
2. Marley twisted braid with string
Wow…this is a very popular style that school-goers especially teenagers love to carry. It is so intriguing and experimental. But it also helps you to maintain your chubby innocent look. Innovation added to simple Marley twisted braid by introducing box and white strings. It gives a new dimension to your simple braids while the ends are being kept loose & curly. It is easy to maintain and one can keep them for a couple of weeks.
3. Yarn like Marley twisted braid
This classic yarn braid looks like Marley twisted braid is a style quotient for youngsters. This braid style gives you a sensual fashionable look. One can carry this look at the party, on the dance floor or even while you are travelling. It is easy to style with minimal accessories. One may carry the look with ease while pairing up with casual dresses to gorgeous outfits. This light-weighted braiding is easy to carry, unfold, and maintain.
4. Havana-Marley twisted braid
This awesome braid design is inspired by natural curl and Havana twist. You can say, one could get a combo Marley-Havana twist braid in one go. Whether you have an oval or long face, this style would fit for you easily. As this braid gives a natural curl look, you can add your own design such as piercing rings with seashell attached or as you wish. To get an ultimate elegant yet fiesta look, one can opt for this style. If you're planning to visit some glamour world or to impress folks, just do your hairs this way and you're gonna rock the show.
5. Long jumbo Marley twisted braid
The jumbo Marley twist braid has an enchanting appeal. It is very famous among the young generation and as well as among middle-aged women. Its long thick braids give a much fuller and classy look. The sideway hair partition also makes the style more alluring while you can still carry your plain Jane looks. Its long braids can be easily paired up with jeans and boots & even floral dress. In one word, this is so lustrous.
6. Corn-row Updo Marley twisted braid
This is an outrageously attractive style that can define your personality. With yarn braid look-alike Marley braid one can make this high bun. The added cornrow style would enhance your beauty to a different perspective. The top bun will give a sense of height and make you feel more bewitched. To have a fashionable or glamorous look, this cornrow yarn braid top bun would put you in the right path. You try it, you win it.
7. Jumbo purple Marley twisted braid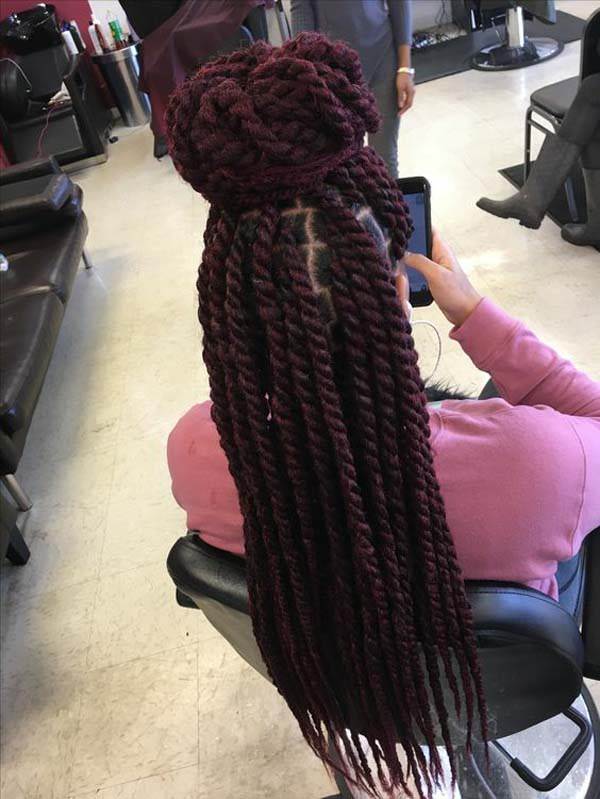 Purple hairdo uplifts the Marley twisted braid to another level. It looks stunning in one word. If you want to try jumbo long Marley twisted braid, it is preferable to start with box braids. It helps to manage the heavy volume of hair. They kept the braid end really thin. It also adds extra volume to your hair. To manage they made a huge top bun with half of the braids and tied it with one of them. The hairdo gives the vibe of bohemian look and is very popular among the young generation.
8. Blonde dread Marley twisted braid
This bold example of Marley twisted braid is an eye-catcher for everyone. This is a one-way twist; you just need to wrap the hair extension around original hair and keep them tight. It's easy to do, you can do it yourself and easy to carry. All you need is to maintain the contrast of different shades of blonde. It can be fitted with every face cutting. There is always scope to decorate your hair with hair accessories.
9. Simple Marley twisted braid with the top bun
This is simple and easy to carry during the summer. If you have a really big volume of hair, after applying Marley's hair, it may get double the volume. In that case, it's quite uncomfortable to keep them all on back and shoulder. So, make a top bun with few braids, and its look cool and sporty. They are easy to remove without much effort and you always have a scope to try such new things as rings, rings, or boxes.
10. Colourful short Marley twisted braid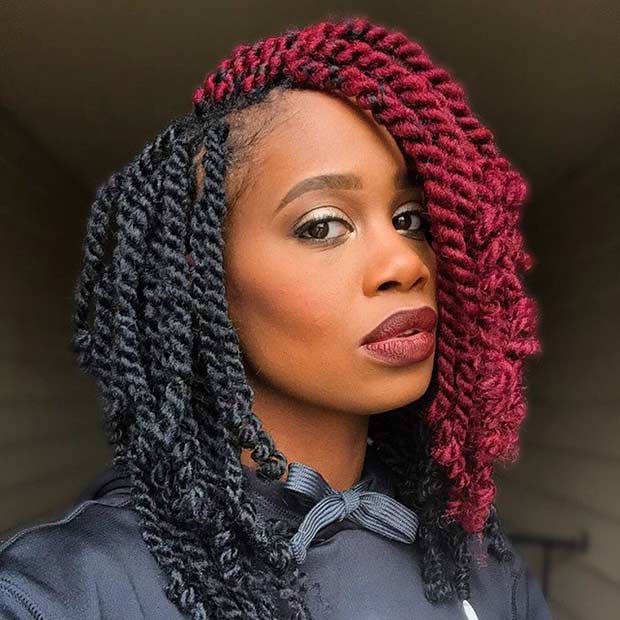 Short hair is not a problem for using Marley hairdo. To break the monotony you can you bright and vibrant colour hair. For this, you don't need to colour your original hair, and you can change after weeks. Also for short hair, it will be within budget. This style also increases the volume of the hair and gives a fuller look. Here, the layer of the hair is noticeable too which is very hard to carry in course hair.
So, here is all about Marley twisted braids. Go through all the points and choose for yourself which is easy to carry out. They are time-consuming and need professional help. Yes, they are costly too. But you can wash them multiple times just like normal hair; use them for again and again. So, in that way, it is a worthy investment. So, no more hesitation, go and flaunt the Marley twisted braids like a diva.
Other Articles