Every girl has a fascination with braids. Not just girl, men flaunt braids too. Braids are not just cool, trendy, and fashion statements, but it reflects one's personality. Braids are symbolic of strength and wisdom. Though nowadays we can find a wide range of varieties, braids have walked a long journey. About roughly 5000 years ago, in the African region, people started doing braids with different patterns. Those individual patterns ware the identity of different tribes. It carried the significance of the social status of that tribe. With passing years, braids become popular and everyone's choice around the world in the 1900s.
Apart from the fashion aspect, braids are very useful. To manage your bad-hair day, a braid is always the first choice. Some braids can be kept for days. In that case, you are always ready to go out. It is time-saving for us too. Actually, braid manages and protects our hair too. If you are out for a long day, braid protects hair from being fizzy due to dust, air pollution, sunlight, and bad weather conditions.
Nowadays, there are numerous varieties of braids playing with different knots and buns. Every day designers are experimenting and coming up with something new and unique. Here, we have tried to give some braid ideas to update you about.
1. Double French braids
This is French braid or you can call it to fishtail braid. She chose two braids with middle partition rather than a single one. The braids are done very randomly and left some hair strips loose. This casual hairdo is very easy to tie and carry for a long day. You can wear it with any western casual outfits. Especially teenagers love this style. The colour shade adds extra volume to this hairstyle.
2. Up-side down braid with bun
This time simple fishtail braids came up with a little twist. Double-sided braids are done reversely and end up with two loose buns. It's the best choice for summer days and beach parties. This is also an easy casual hairstyle to wear it for a long day. The braids are very roughly tied up; you don't need to be a perfectionist. Tanned blonde colour shade is quite popular today. It is easy to carry out with any skin tone.
3. Side braid with bun
Side bun over the shoulder always looks classy and stylish. This time just add a loose fishtail braid with it. Start the braid from the top of the head and end at the shoulder crossing the head diagonally. It will also help you manage your layered hair. Left some hair for side bangs. Its goes quite well with your daily office outfits. You can wear it at any party when you put decorative hair clip over it. Or simply just fix some flower to attain a wedding party.
4. Double Mohawk braid
This double Mohawk braid looks just amazing. It gives a vintage vibe just like old Hollywood heroine. Mohawk braid is normally done in a single number at the top of the head. But two French braids with small Mohawk make the hairdo really gorgeous. Don't tie up them towards the end, just leave like a small pony. The glossy honey blonde shade of hair gives the hairdo an extra volume and attraction value. This neatly done hairdo can fit with any formal dress.
5. Braided Mohawk with bun
If you love to play with your hairstyle and want to make an impression, then try this hairdo. It's a mix and match of braid, bun and open hair. Make multiple French braids at top of your head and make a soft top bun. Make some big curls with all the leftover hairs. This hairdo looks trendy and extremely stylish. Wear it for daily purpose. You can use some hair clips to decorate. Even you can try colour highlighting to draw attention.
6. Platinum multi braid
This cascade-like braid reminds us of princes from a fairytale. It is mesmerizing. A loose braid is furnished with multiple small braids. You can try different types of knot for small ones. Loose braid always adds volume to your hair. An additional advantage is the colour shade. Platinum blonde is the latest trend, and it looks unique. This type of hairdo is perfect for any party. You can pair up with any fancy dress. You also can apply hair accessories like stone studded clips or flower clips.
7. Creative multiple Dutch braids
Creativity has no limit. When, you can experiment with outfits, nails, tattoos; then why not with hair. This one is the example of extreme creative braided hairdo. This long black Dutch braids are absolutely gorgeous and look fresh and sporty. But the elaborate pattern of hair partition on scalp took all the attentions. No doubt it is time-consuming and needs professional help. For this type of braiding style, you should have dense hair. For further experiments, try some hair rings or colour threads.
8. Micro braid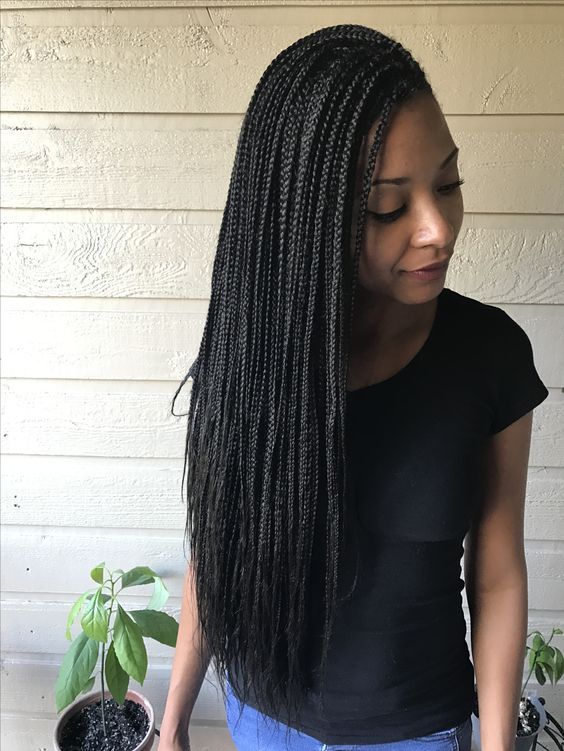 Micro braids are fascinating. Numerous tiny braids are woven very tightly on the scalp. It perfectly suits long hair. Micro braids are so thin, that you can get the vibe of normal hair. Even you can make ponytail or bun also. You can keep them for months. But it needs little extra care. Just wash with a mild shampoo and apply to leave-on conditioner to keep them hydrated. It is time-consuming and needs professional help. If you have not tried it before, just go for it. It is worthy.
9. Crotched braid with colour splash
If you get bored with your old and common hairstyle, go for this one. This crotchet braids are super cool and super fun. These multiple thin braids are made of very small partitions. Here, hair designer tried to break the monotony by creating a zigzag pattern at the top part. They are very much attractive. Besides, the bright, eye-catching hair colour is also giving a bold fashion statement. It reflects your bold personality. Add some hair props if you wish.
10. Corn-row like braid
This bold braided hairdo is called cornrow braids. Multiple Dutch braids are made in such a way that it creates corn-row like pattern. This pattern can be in horizontal, vertical, or radial array. Here, the owner mixed up two types of pattern. This type of hairdo perfectly goes with very curly hair. It helps to manage hair. You can also experiment with hair colour. Here natural black and metallic bronze shades create a stunning combination.
Hope you will find all helpful enough to choose the right idea for yourself. You just need to understand your hair texture, length, and purpose. Always follow the instructions to maintain the hair. Because when the hair is healthy, the styling done over it will always look beautiful. So, just be yourself, flaunt your braids and enjoy!!
Other Articles