Henna Tattoo is a well known ancient form of art. This art is very ancient and people from ancient times have been using this art form on their body. In countries like India, Pakistan, Afganistan, UAE, henna is still an integral part of all religious ceremonies. Henna was used in all types of festivals like marriage or any other celebrations. Henna is considered as an auspicious element in these countries. However, over the years the style and usage of henna have changed. It has been discovered that henna has many health benefits. Henna is also applied to hair for better hair strength and growth.
Types of Henna Tattoo Designs
With the years passing, there has been a tremendous change in the usage style of henna. Henna is originally the paste that is made after crushing multiple henna leaves together. Initially, there were no such designs and were applied on the hands with much simplicity. But, nowadays, henna is powdered artificially and is packed into cones which is very easy to apply. Also, nowadays there are multiple designs and patterns found on the internet which makes the henna tattoo look appealing. Let us have a look at the various patterns of this magnificent art which is a mix of tradition and contemporary :
1. Wedding Henna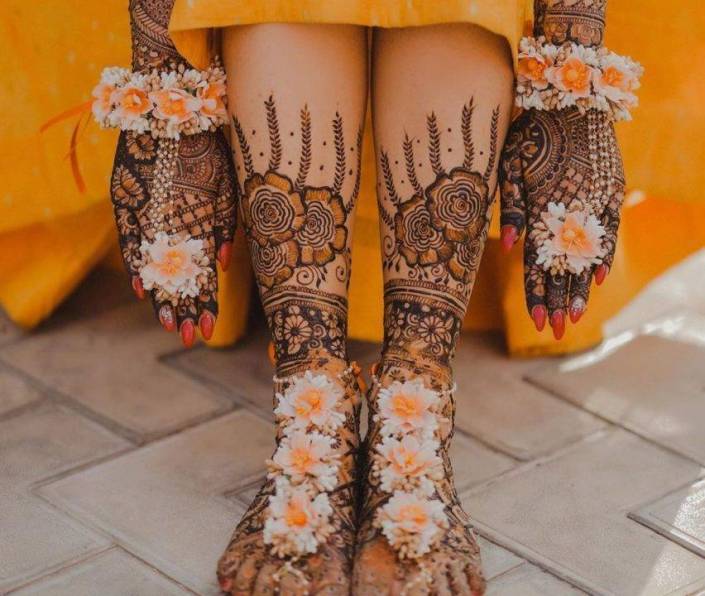 Henna is associated with weddings since long back. The henna paste is associated with a positive spirit and good luck. The henna paste is applied in the hands and feet of both the bride and groom. Wedding henna tattoo designs have a delicate and sober look. Wedding tattoos have either floral designs that embody a flower-like pure relation between two souls. The most intricate designs or patterns are applied to the hands and feet of the bride. Also, bridal henna tattoos have nature-inspired elements, and depictions of animals and Hindu gods, as well as symbolic designs that signify blessings, luck, joy, and love
2. White Henna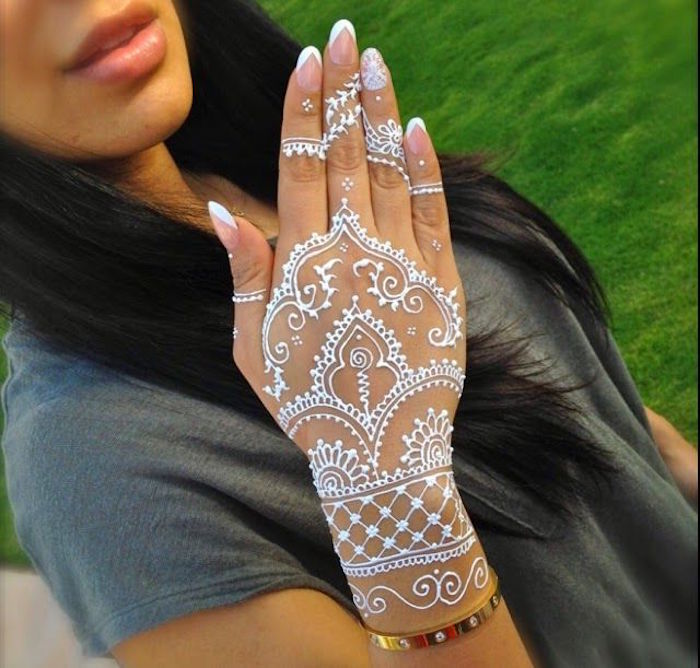 White henna isn't made of the natural henna plant but artificial. White henna tattoo designs are just white paste that is made for hand and body art just like henna. White henna has become the latest vogue in terms of henna tattoos. Most western brides have switched to applying white henna in their marriage ritual and nowadays white henna tattoos are being used on the body as well. Unlike natural henna, white henna tattoos are applied with skin-friendly adhesive and can be removed at will. Some tattoos are water-proof and they can last up to 7 days.
3. Moroccan Henna Tattoo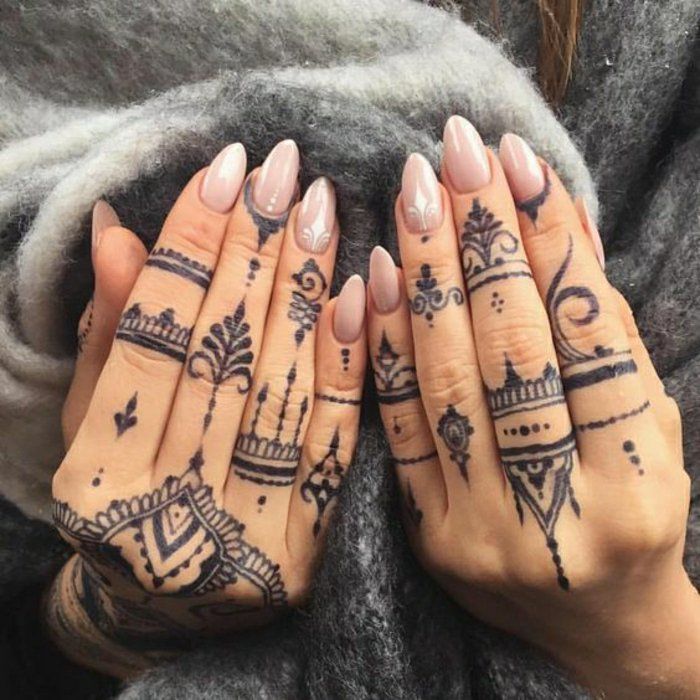 Decorating attractive henna tattoo art on the hands is also prevalent in the Moroccan culture. In Morocco, the history of applying dates back to the times of the nomads who used to travel from one place to another. In the nomadic culture of Morocco, henna was used at almost all happy rituals like births, weddings, war victories, etc. They used to believe that applying henna keeps away the evil's eye and brings good luck. Their designs are very minimalistic and they generally have the shape of an eye or some diamond's shape. Their designs also include twists, swirls, and many such geometric and floral patterns.
4. Split-finger Henna Tattoo  Design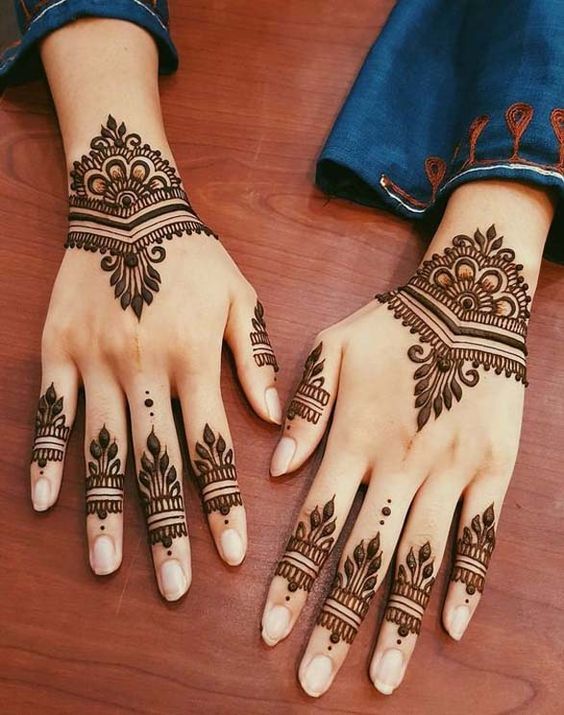 Split-finger henna tattoo designs are one of the minimalist henna designs. Many women prefer to go with this design on their hands and enhance their looks. There are many types of ginger split henna designs but among them, the floral bands are the most popular and go with the festive look. In these designs, there are flowers embedded in-band drawn on your fingers and a bit on the back of your hand. Such simple designs can easily draw someone's attention on your hands. You can also call them leaf-shaped fingers henna designs.
5. Bohemian Ornamental Henna Tattoo Designs
If you want to go with the minimum application but, want to attract attention on your hands, then this pattern is ideal for you. This design gives you a complete bohemian or hippie look. This design gives a complete bohemian vibe and looks completely delicate and artful. This ornamental design gives out complete bohemian vibes and gives a stylish look to your hands and fingers. This design is very easy to create and also doesn't take much time to recreate the design. If you are very much into hippie culture and bohemian lifestyle, then this design is for you.
6. The Butterfly art Design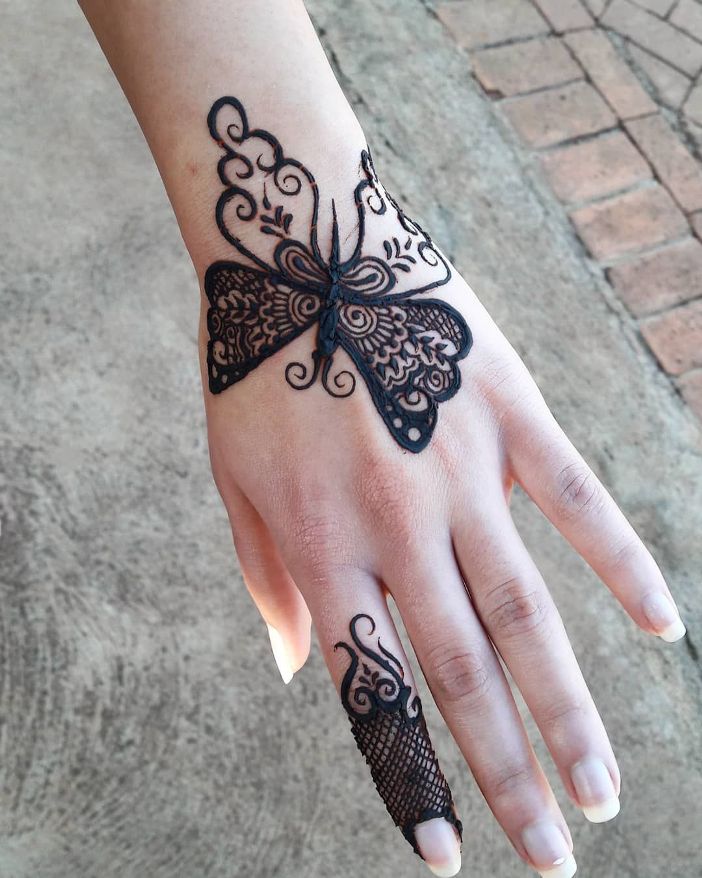 Butterfly henna tattoo as the design is very much high on demand and is applied by most brides. Butterfly gives an adorable look plus they are believed to bring good luck and fortune. The butterfly is also considered as very sensuous and graceful. Thus a butterfly henna tattoo design on your hands adds to the charm. This butterfly design has a spiral pattern in intricate strokes which are heavily worked and they adorn the back of your hand. The other two wings have a minimal filling and they are kept neat to complement the heavily designed upper wings. You can also draw a geometric pattern on your forefinger to balance the entire design.
7. Minimalist Wristband Henna Tattoo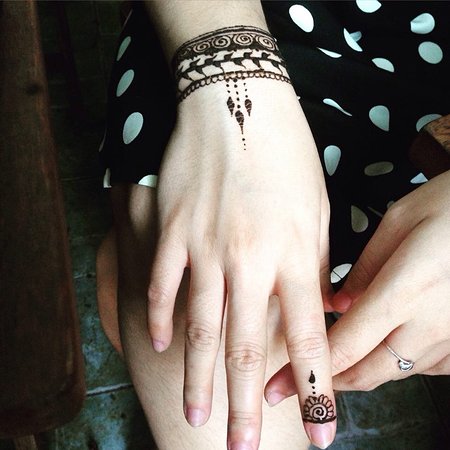 Another version of bohemian style is a wristband henna tattoo. Many adore the bohemian culture, style of living, and attire. In bohemian culture back then there was the custom of applying minimalist henna tattoo design on the back, neck, and also on the wrists. The people used to draw henna designs on their wrists in the form of wrist bands. Such designs on the wrist look appealing and can be paired with all forms of attires.
8. Hath Phool Henna Design
Hath Phool design is one of the most loved designs by the girls. No girl would reject a hath phool design. This design is also called as jewelry finger henna tattoo designs. The design on the hands looks as if the jewelry is stamped on the hands. There are designs on the fingers which look like rings and on the center, there is an intricate floral or Arabic design that enhances and completes the look.
9. The Detailed Style Henna Tattoo
This style is currently in trend among the brides. In this style, two individual patterns come together as one beautifully. Here, either a floral pattern or any other pattern is drawn half in either of the hands and when the hands are drawn together, then there comes the full design in view. Also in some patterns, there is the groom's name written secretly somewhere as a part of the fun. The two hands forming a design together indicated the union of two souls. Like the husband and wife forming as two body one soul altogether.
10. Decorated Diamond Henna Tattoo Design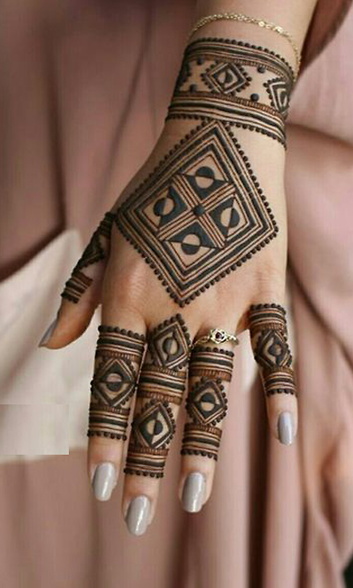 Those who have the craze of geometrical patterns and not the traditional girly and Arabic designs can go with the diamond-shaped tattoo design. Generally, geometrical patterns are far away from the conventional and traditions and many brides nowadays love to go with such a look. This design pattern can be paired with any type of attire and is also the ideal design for the bridesmaid. This is not very complicated and time-consuming but gives a distinct look to your hands.
So, above are some of the latest and trendy henna tattoo designs which you can follow and apply on.
Other Articles