We all dream of that moment. You know the one – when you glide down the aisle, every eye fixated on you, your dress shimmering under the soft glow of fairy lights. Pure magic, right? And while picking the perfect wedding dress can seem like a Herculean task, designing a custom one is the ultimate fairy godmother trick. So, let's unravel the magical journey of creating your custom wedding dress, shall we?
Initial Inspiration and Research
Your dream dress is waiting to be discovered, often in places you least expect. So channel your inner Sherlock Holmes and start your fashion investigation. Instagram hashtags, Pinterest boards, your favorite fashion magazines – let them be your treasure trove of inspiration. Collect designs, fabrics, silhouettes, and anything that catches your fancy. Remember, the sky's the limit!
Choosing Your Dressmaker
Finding the right dressmaker is a lot like dating. You're looking for compatibility, communication, and, most importantly, someone who gets you. Their design aesthetic should make your heart sing, and their expertise should give you confidence. Don't forget to read reviews, check out their past work, and meet in person if possible. You're on a mission to find your dressmaking soulmate!
Design Consultation
Design consultation is where the magic begins. You, your dressmaker, and your treasure trove of ideas, all in one room (or Zoom call!). Think of it as a fashion brainstorming session. Be honest, be open, and don't hold back. Want a mermaid silhouette with a 1920s twist? Say it!
Trust me, your dressmaker isn't a mind reader, but with your help, they can get pretty close.
Sketching and Finalizing the Design
Next stop: the drawing board. Here's where your vision starts to take shape, quite literally. Your dressmaker will sketch out designs, playing with elements you've discussed. You'll revise and tweak until it feels right. Remember, this is your dream dress; it's okay to be picky!
Material Selection
Shopping for materials is a pivotal part of your dressmaking journey, and it's just as exciting as it sounds. Just think about it – rows upon rows of luxurious fabrics, myriad designs, and the palpable rush of anticipation. This is where your dress begins to come to life.
Your dressmaker will assist you, helping you understand the texture, flow, and durability of different fabrics. It's an art, a science, and a dash of instinct combined. You might be smitten with the charm of lace, the sheen of silk, the elegance of satin, or the romance of tulle. Then there are beads, sequins, crystals, and embroidery to consider for embellishments.
Fittings and Adjustments
Fittings are a blend of science and magic. During these sessions, your dress will start molding to your figure, highlighting your best features, and fitting you like a second skin. The dress you've been dreaming of starts to become a tangible reality during these appointments. The initial fitting usually involves a mockup or a first draft of your dress. Here, your dressmaker will pin, tuck, and adjust the fabric, playing with the fit until it's just right. They'll take accurate measurements and note down every detail, from the curve of your waist to the length of your train.
Following fittings will gradually see your dress take form, with every session bringing you closer to your dream dress. There may be minor adjustments or major changes. Remember, it's a process, and it's okay if things don't fit perfectly the first time.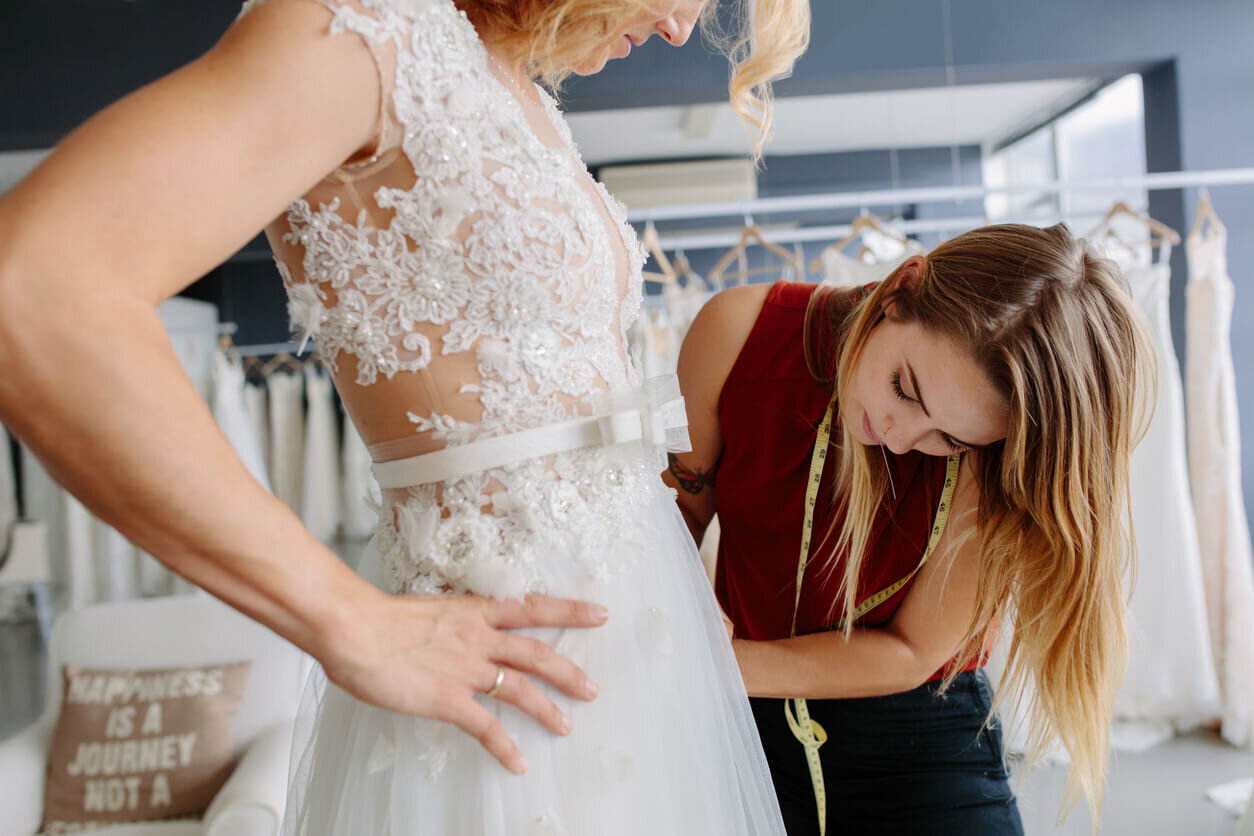 Final Dress and Pickup
After weeks (or even months) of anticipation, the moment of truth arrives – your dress is ready for the final reveal! It's time to see your vision, all those ideas and inspirations materialize into a beautiful, tangible dress. Take this moment to admire the craftsmanship. The intricate beading, the flawless stitching, the exquisite fabrics – it's all come together. Try it on, move it around, and make sure it's beautiful but also comfortable and functional. Check the fit, the fall, the detailing, and how it moves when you twirl. Your dressmaker will be there to make any final tweaks or adjustments, so don't hesitate to voice any concerns or questions you might have. This is your dress, and you should be nothing short of in love with it.
Closing Thoughts
Let's be honest; designing a custom wedding dress is not just about creating a garment. It's about embarking on an unforgettable journey that culminates in a day filled with love, joy, and stunning fashion. It's about those late-night brainstorming sessions, those heart-fluttering fittings, and that final,
breath-taking reveal. It's about the excitement, the anticipation, the nerves, and the pure, unadulterated joy. It's a creative process that involves both your heart and mind and the result. A masterpiece that is quintessentially you. And the beauty of it all is every time you look at your wedding pictures in the years to come, you'll be reminded of this incredible journey. You'll remember the laughs, the tears, the triumphs, and the challenges. And you'll realize it wasn't just a dress; it was a symbol of your personal style, your creativity, your spirit.
Other Articles