A birthday is a very special occasion for the majority of us. No matter where you celebrate it – at home or in a restaurant, in a small family circle or with friends – you must agree that you want to look your best at this time. In our latest article, we've gathered the most beautiful birthday hairstyles for your inspiration and celebration planning!
Although spectacular birthday hairstyles do not change significantly over time, they are influenced by fashion trends. Texture and naturalness are now important in modeling, and birthday hairstyles are becoming less pompous and more relaxed. What else should you think about in preparation for the holiday?
Short Hairstyles for Your Birthday
Many girls believe there are only two ways to style short hair for a birthday: straight or curled. Debunk this common myth as soon as possible. For starters, you can always get extensions for special occasions.
Second, short haircuts lend themselves to creativity. Check out these fantastic looks.
The Wet Hair Effect
Creating a sophisticated and current birthday hairstyle will only take five minutes. Smoothly slicked-back curls with a glossy wet sheen appear to be one of evening hairstyles' most popular beauty trends. Such an effect looks very sexy on short hair, and it is simple to achieve: all you need is a comb and Matrix Super Fixer gel or any suitable gel.
It should be used on damp strands, focusing on the root zone. If your hair needs volume, lift it with a comb at the crown of your head.
Bouffant
A quick but stylish comb styling is universal, can be combined with any "look," and is appropriate for any party. This can be styled in a matter of minutes.
Apply a sculpting spray before combing it out to help get your roots up and in place.
To avoid tangles, brush hair up and over the roots, keeping it light and smooth.
Alternate the areas above the brow, on top of the head, and the sides of the temples, all from the inside of the strands.
Smooth out the top layer of hair to remove any excess frizz. Brush the top gently to remove any unnecessary shuffle.
Apply a lacquer to finish.
Birthday hairstyles for short hair have the right to be kitschy if they match the outfit's mood.
Retrowave
Tough "cold" curls in the style of F. Scott Fitzgerald's "Great Gatsby" era are an excellent way to draw attention to yourself and stand out from the crowd. However, remember that not all short haircuts are appropriate for creating them; the best foundation is a bob with elongated strands on the sides, where you form a retro wave or a classic square cut.
Create the curves by turning the styler clockwise and counterclockwise alternately; this is even easier than a classic perm. Clamp the curves for a while, or the strands will try to return to their original shape. Thin strands on the forehead and temples, frozen like a meandering river, will be another jazz-style trademark. A gel and a hairbrush are used to create a flat curl.
Apply a spray with anti-static and anti-moisture properties to your curls, such as L'Oréal Professionnel's Tecni Art Fix Anti-Frizz, to ensure they stay straight and smooth all night.
With Braids
If you have the means, you can go for a relaxed, bohemian look by wearing a simple three-strand braid on the side strands near your face or a large dragon pigtail.
The main body of hair can be straight; instead, use a salt mineral spray to give it a slight carelessness and waviness. This is the ideal birthday hairstyle for a girl who prefers a shabby-chic look.
Beautiful Medium-hair Birthday Hairstyles
What are medium-length hairstyles available for your birthday? We'll tell you – and show you the most stylish options!
French Braided Bun
This stunning hairstyle combines a classic French braid with a voluminous "bump" – both feminine and unique. Stylists recommend sprinkling hairspray with hairpins to secure a bun, such as Infinium Pure Strong by L'Oréal Professionnel.
Curls with no texture or density? Then, before styling, use a hair dryer to curl them and make the braid puffy and sloppy.
Curls
The birthday girl with the fluffy curls looks stunning at the banquet and on the dance floor. The image will be more mischievous and lighthearted if the curls are smaller in diameter. If you intend to curl your hair with curling irons or curling irons, use a heat-protection spray on the almost-dry curls to guarantee that the problems of brittleness and porosity will be avoided.
Try a "Sleek Iron Smoother" smoothing tool if you have unruly hair.
Shell Hairstyle
The shell, also known as the French twist, is one of the most elegant options for a birthday hairstyle. Use decorative hairpins or a comb with artificial stones to add a touch of solemnity to the styling. Here's a step-by-step tutorial for making a shell for yourself or a friend – you'll need a twister hairpin:
Brush and blow-dry damp hair with a good and suitable spray mousse.
Make a ponytail with your hair and thread it through a twister pin. Modern twisters are completely invisible in your hair due to their slim design.
Pull your hair up and twist it inside to hide the hairpin.
Fix the strands of hair by curling the twister's side elements.
Finally, style with a spray to ensure long-lasting looks for up to 24 hours.
Babette
For a birthday hairstyle on medium hair, try a bouffant bob like Brigitte Bardot in the film of the same name. Bunches, braids, decorative hair bows, or simply making a Babette with a headband are common additions to the festive variation of the hairstyle.
Use a gel for the style that can withstand the most frantic dancing while also making your hair look thick and dense. Apply a small amount of your gel to damp hair before blow-drying it.
Topical Long-hair Birthday Hairstyles
Check out our recommended four cool birthday hairstyle ideas for long hair.
A Free Braid Hairstyle
Both gathered and loose evening hairstyles can incorporate a free braid: a braid crown on the head or a braid in a bun or ponytail. In this case, the braiding style can be anything, but it must have loosened strands and an elaborate light disorder.
Use L'Oréal Professionnel's Tecni. Art Super Dust Powder, to add volume and for a heavy braid that won't make your hair look flat and won't lose its shape throughout the evening.
The Hollywood Tidal Wave
Soft and smooth curls are ideal for those who want to look chic while remaining restrained and elegant. By the way, the wave does not require any additional accessories to look good.
Hold the curl horizontally while holding the styler. Before heating, curl each strand into a smooth roll.
Hollywood hairstyles cannot be curly, so use gel cream if your hair is not known for its obedience and does not hold the style, electrified and frizzy.
The Chinese Ponytail or Eastern Tail
The chic arabesque ponytail is distinguished from the standard ponytail by a comb over the crown, curls running the length of the hair, wavy strands framing the face, and incredible puffiness.
Redken's Rootful 06 spray is ideal for achieving the latter. Apply it to the head's temporal, macular, and parietal areas in sections, then blow-dry and style with a curling iron or flat iron.
Waterfall
This is likely the most adorable and romantic birthday hairstyle for long hair. It is not difficult to create a waterfall with your own hands:
Brush your wet hair and apply Matrix High Amplify Foam Volumizer to it. Blow-dry hair on a flat surface with a hair dryer.
Detach a lock of hair above the ear and divide it into three equal layers.
Begin with a normal French braid that is tight enough.
Remove the strand at the bottom of the second section of the braid and leave it loose to form a waterfall.
Continue braiding toward the opposite temple with a strand of curls of the same thickness from the bottom of the plait.
Use a silicone rubber band to secure the braid's end. Accessories are not required.
A "Finishing Spray" can fix the result – the braids themselves.
Anniversary Hairstyles for Older Women
Choosing stylish hairstyles for the occasion can be complicated by age-related stereotypes if you're "a little over…" or if your mother or older sister volunteered to do your hair. We do not support ageism in any way: you can safely experiment with hairstyles no matter your age!
On the other hand, women frequently point out age-related hair changes that must be considered when designing a style. In this case, we recommend that you consider the following fashionable hairstyles.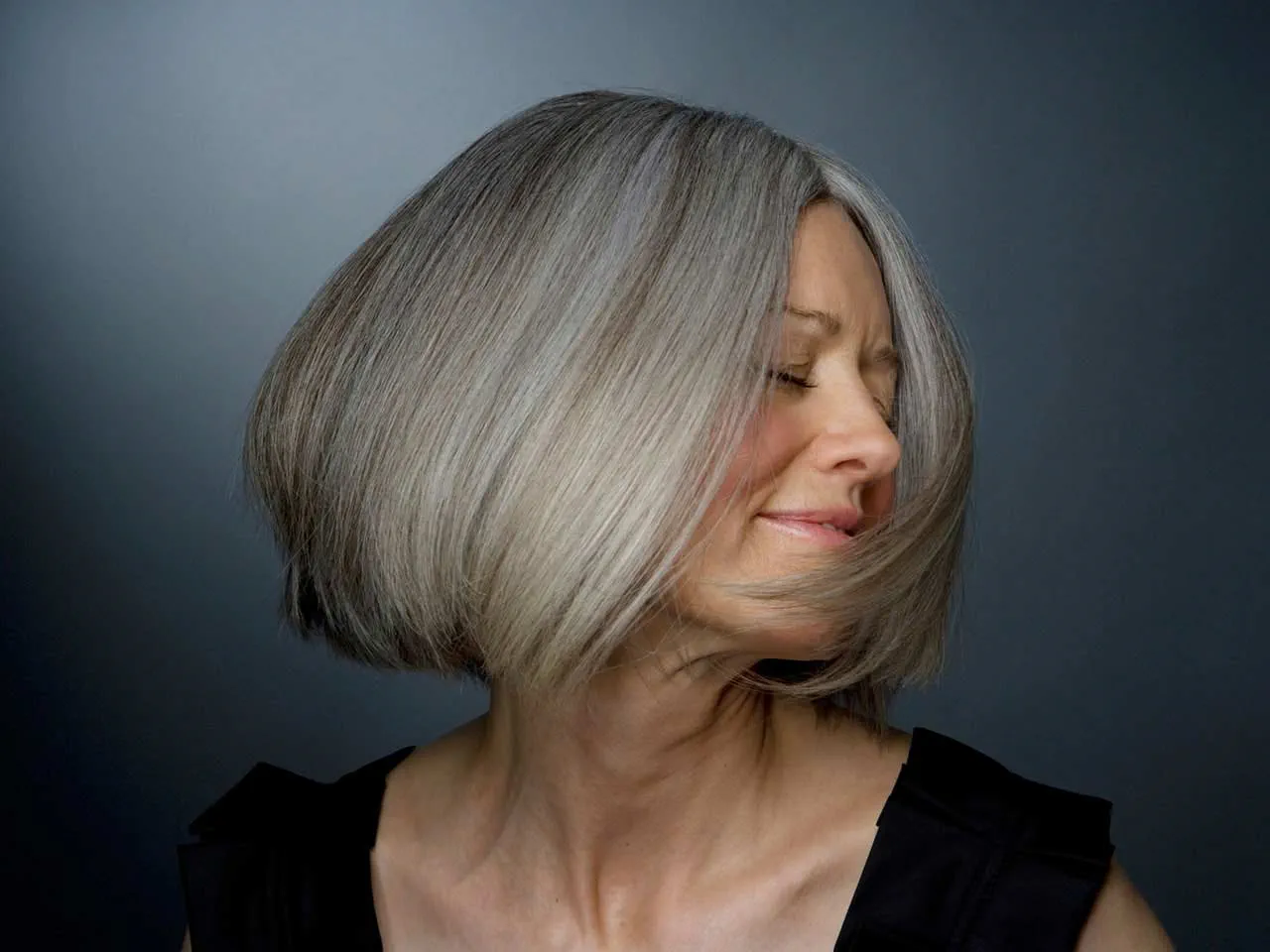 Short-hair owners prefer simple styles with combed or bangs stacked up and back. The spectacular volume provided by these techniques conceals the issue of sparse and thin hair.
Light waves created with a flat or curling iron can refresh your hair and revitalize your appearance. Hold the styler vertically and slightly tilted.
A textured bun at the base of the neck looks luxurious and elegant, adding visual lushness to the hair.
The most important aspect of a birthday hairstyle (or a close friend's birthday party) is its wearability. Consider how easy it is to dance, get up and sit down, and bend over with your new hairstyle. Is that enough comfort? Then we wish you a wonderful evening!
Other Articles