Do you dress up for every occasion? You'll not pass up an opportunity to shine this holiday season. You've already started thinking about Christmas, haven't you? And, of course, you want to look your best when you meet your family and friends around the tree.
Nothing should be taken by chance. As a result, you consider your clothing, accessories, makeup, and, most importantly, your hairstyle. So, please don't run out of ideas, and take a look at our 25 inspiring looks to help you find the perfect hairstyle for this big annual event.
Unveil a sophisticated, neat, sparkling, mischievous, festive hairstyle; whatever it is, stay true to your personality and celebrate Christmas the way it should be in beauty!
Ideas of 25 Christmas hairstyles
1) Bow Bun
What about an elegant and unique Christmas hairstyle? If you have long hair, this bow bun is ideal.
It's ultra-feminine and perfect for accompanying a chic and classy outfit when worn low on the neck and slightly loose. Don't be afraid to add a festive touch with a little glittery hairspray (silver or gold) for a wow effect!
2) Banana Bun
Want to be classy and draw all eyes to the party meal? This "banana" bun is a must-have hairstyle for displaying your chic style.
You will be radiant until the end of the night if you make a banana bun that is slightly on the side and decorated with pretty jewel hair (pearls, flowers, rhinestones, etc.).
3) Braided and Fuzzy Half-up
You have long hair that you want to highlight while remaining true to your bohemian style. Why not try a half-tail braided and fuzzy to clear your face subtly?
Also, say goodbye to the elastic. Choose a chic accessory in red or green to match the Christmas spirit.
4) XXL Extensions with Colorful Highlights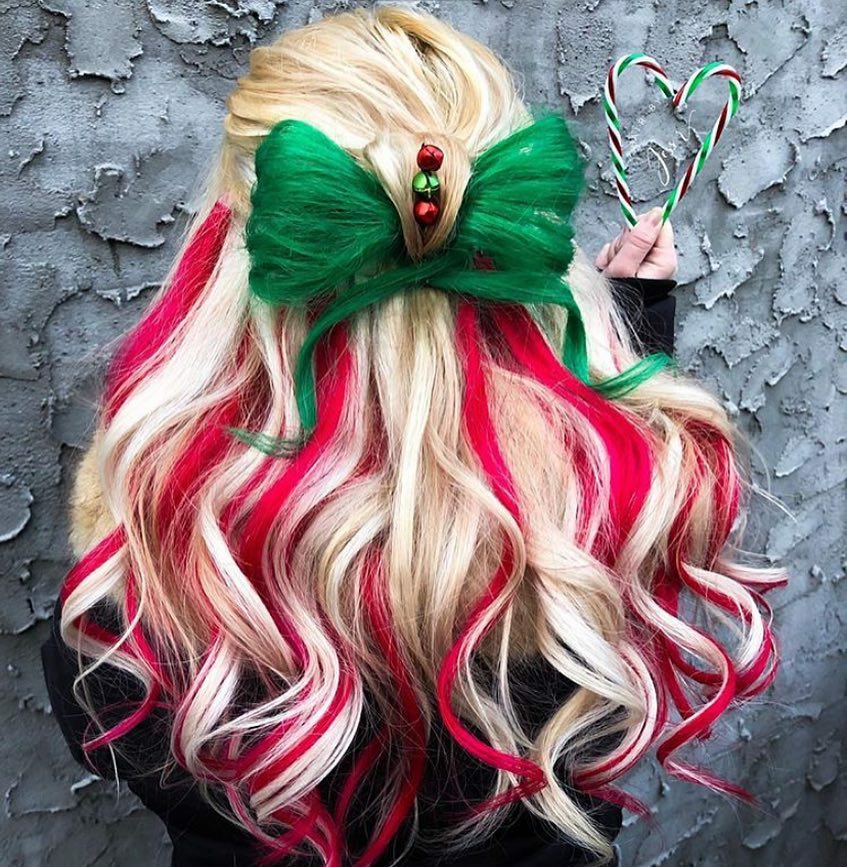 Are you a fan of outlandish hairstyles? This is the hairstyle for you!
For a bold look, go for XXL extensions and colorful highlights. It's all Christmas in your hair, with waffle lengths, a bow bun, and green, red, and silver hair.
Your New Year's Eve will be fantastic!
5) Cascade of Bow Ties
It's time to dress up, and you want your hair to stand out. If you have long hair, try a cascade of bow ties like the one shown above.
A very chic hairstyle with pretty ties to make you look glamorous (for example, lurex scrunchies or pearl elastics).
6) The Boho Look
Does a bohemian Christmas look? Of course, it's a possibility. To match the winter season, take inspiration from the photo above.
Make a nice tie on twisted lengths, and instead of spring flowers, consider sliding a pretty red or brown leaf or a small fir branch on your head.
7) The Braided Crown
Consider the crown braid as a festive hairstyle while remaining in a bohemian style. It goes well with any outfit. To stay on track, plan the hair accessory that will set the tone.
Are you feeling uninspired? Consider seasonal plants, small red berries, miniature pine cones, etc. Everything is allowed!
8) The Twisted Half Ponytail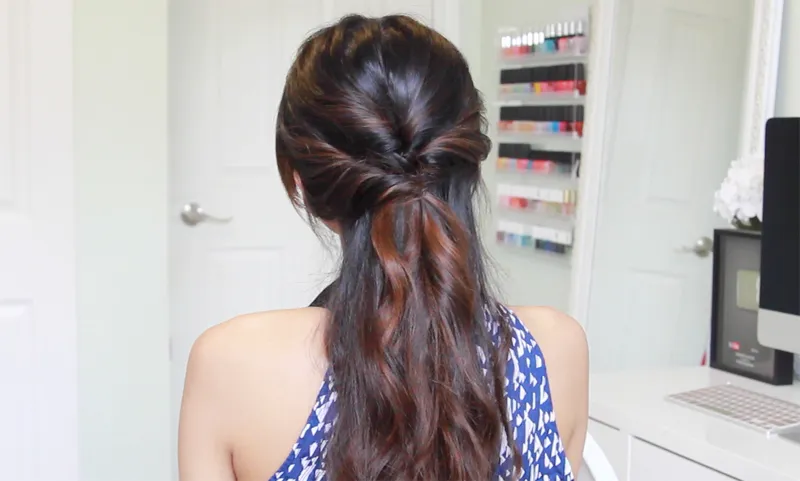 You prefer simplicity and are looking for a simple Christmas hairstyle. Don't worry; after a soft blow-dry that leaves your hair shiny and wavy, opt for a discreet clip. A half ponytail twisted in half will look fantastic!
9) A Barrette Hairstyle
Is simplicity your ideal style? So, this is the look for you. Place a beautiful barrette in the center of your hair.
Isn't a bow-shaped hair clip in Christmas colors a nice touch?
10) A Low Ball Bun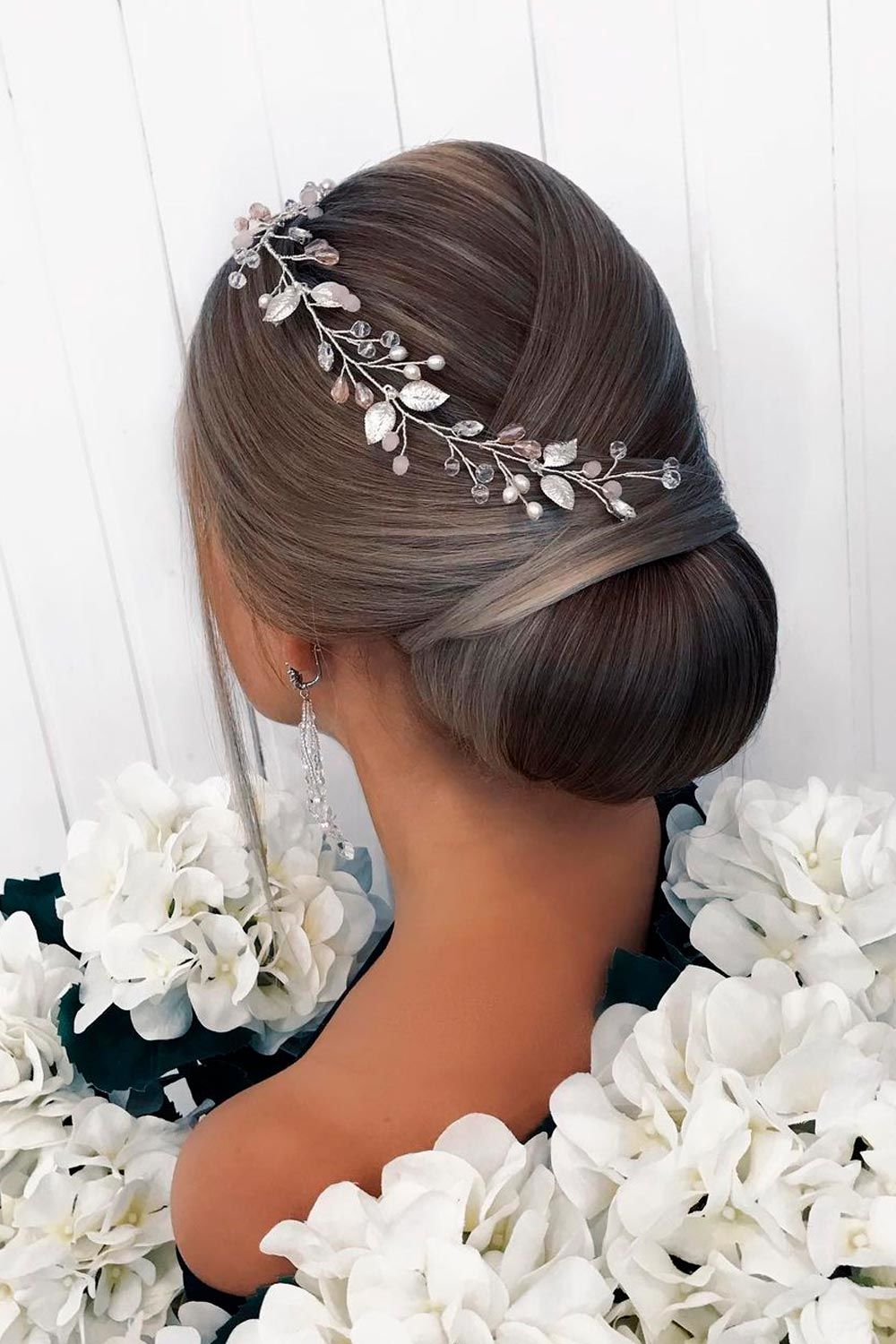 You're a perfectionist who wants to look your best on Christmas Eve. How about a stylish low bun? Here's a hairstyle that will elevate you with an elegant head jewel.
11) A High Bun
If you have glued-on afros, here's a cool Christmas hairstyle idea.
You can wear your hair in a high bun and add a festive touch with jewelry such as multicolored openwork rings. You'll be radiant!
12) The Fuzzy Banana Bun with Wavy Locks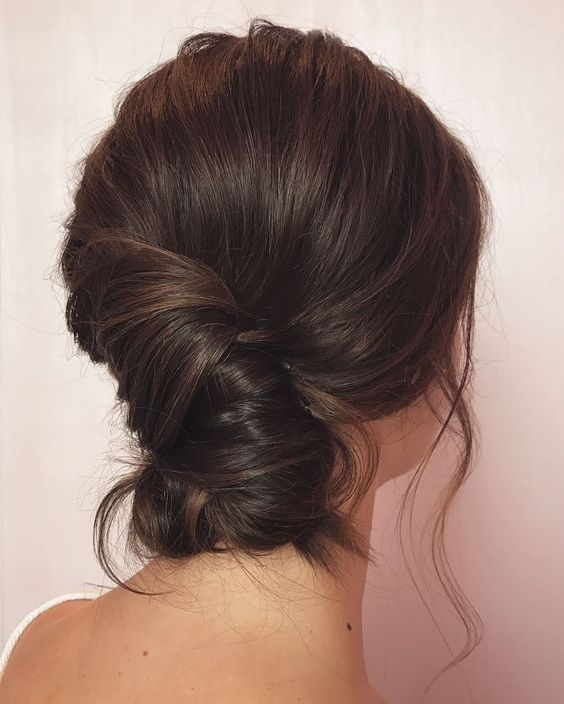 A soft banana bun with wavy strands falling around the face.
This is a feminine and sensual hairstyle for a romantic New Year's Eve that will highlight your beauty. A sure bet to catch everyone's attention.
13) A Ponytail with a Crown Braid
A sophisticated hairstyle for a party is a ponytail with a crown braid.
It gives a crazy look to long and wavy hair. And if you add a piece of jewelry to your hair, you'll look opulent when you meet your loved ones.
14) The Messy Low-bun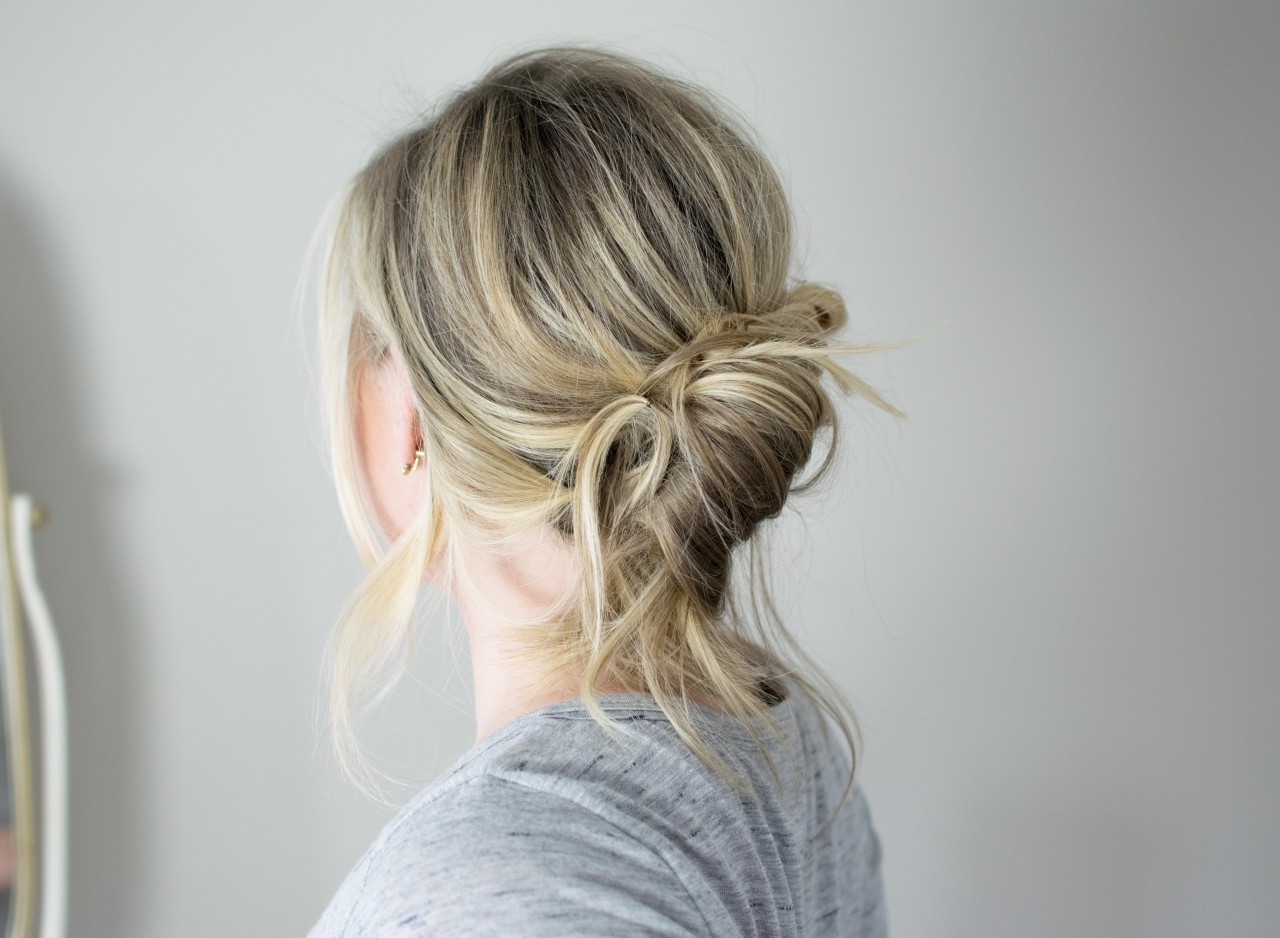 A low unstructured bun with wild little strands is adorable. A simple and sparkling hairstyle that can go with a variety of outfits.
And for the fantasy, feel free to imitate the trick in the photo by slipping a small piece of garland into your hair!
15) A Spiky and Flashy Highlighted Braid
Nothing frightens you more than your hair. And you're determined to make a statement for Christmas, even if it means competing with the decorated tree.
This is your hairstyle; you will shine with flashy colors, waves, braids, and bright accessories!
16) Half-bun for Medium-length Hair
If you want to spend a relaxed Christmas wrapping, the half-bun is a good option if your hair is long or medium length, regardless of texture.
A natural, fuss-free hairstyle that will keep your home-sweet-home spirit!
17) Voluminous Braided Bun
You like braids and buns, so styling your hair is difficult. For a more sophisticated look, try a gorgeous, voluminous braided bun.
The perfect look for a refined and chic Christmas!
18) The Low-twisted Chignon
The low twisted bun at the nape of the neck looks ultra-elegant in any situation, so it's a safe bet for a festive day.
You can secure it with pretty pins or adorn it with a hair jewel.
19) The Heavy Messy High-bun
Want to sublimate your mind for the 25th of December?
Consider a high bun, not the executive woman's bun, but a less strict version that is still soft for a glamorous effect. Of course, a few gold or silver hair accessories will add a touch of glitz.
20) The Wide Corn Braid
It will undoubtedly be you, the snow queen, at the tree's base this year!
If your hair is long and thick, go for a magnificent hairstyle, such as a wide corn or wheat braid. Consider a pretty ribbon for the tie for a romantic touch.
21) Mini Braided with Loose Curly Ends on Green Hair
Do you prefer a daring appearance? Here's an example of a party hairstyle.
Green hair, long curls, mini braids, and extravagant accessories such as balls and a star on the head.
You're pulling out the Christmas tree card!
22) Boho Braided Half-crown with Waves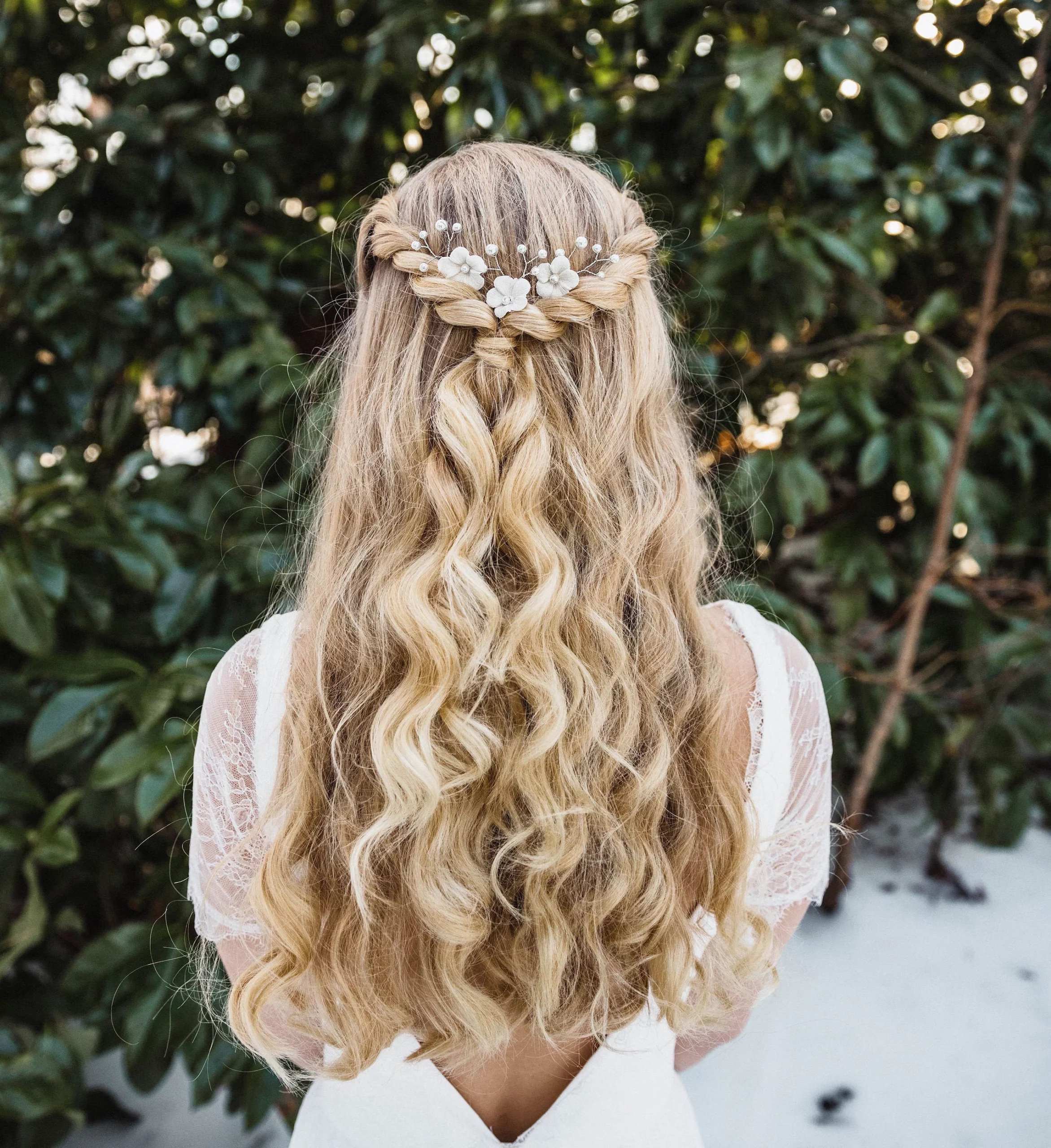 With bohemian braided half-crown and wavy lengths, you'll look like a vestal for your holiday meal. A delicate, elegant look that begs for a lovely outfit.
23) Two High Macaroons with Center Parting
Consider making two high or low macaroons on the sides with a center parting to frame your adorable face for a sassy hairstyle. And two pretty, mismatched bows on each side for a sly appearance!
24) XXL Lengths with Curly Ends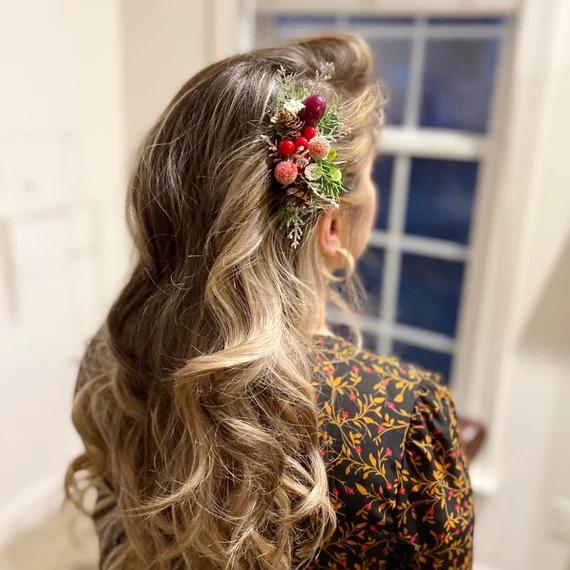 XXL lengths, gorgeous curls, and two amusing little ties on the sides to clear the face are all there is to it.
This a simple and effective hairstyle for a festive look as Santa Claus approaches.
25) The Vamp Look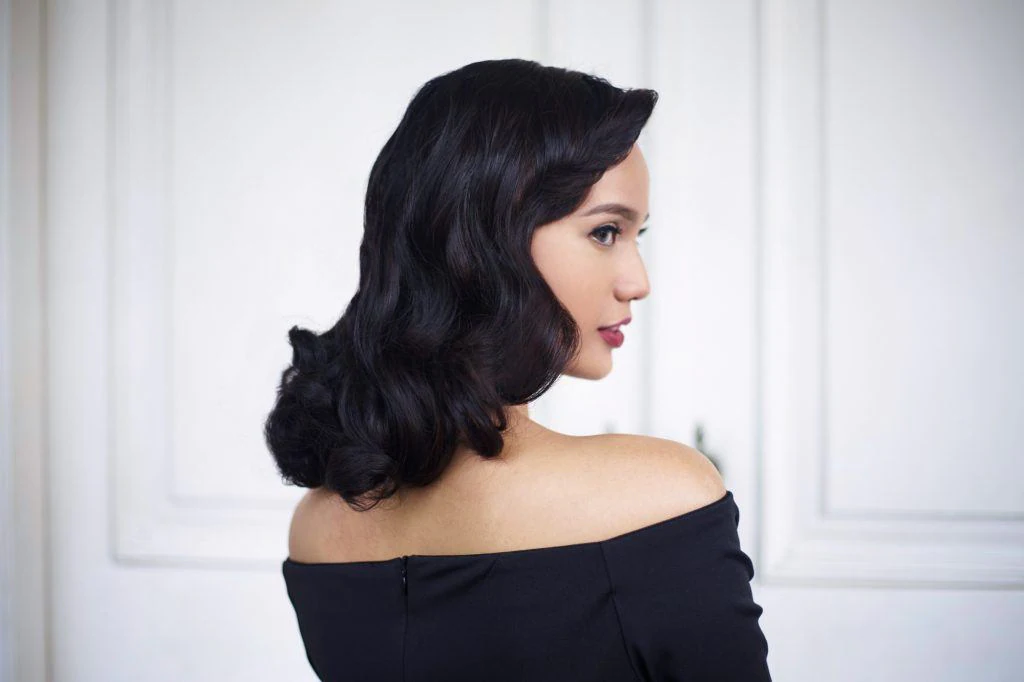 Are you considering a retro and glamorous look for this special occasion? Take a cue from the model above.
Lightly pleated for a vampy appearance, with delicate pins and hair clips placed on the side to clear the brow. Elegant for unwrapping gifts!
Other Articles