A new season means a new look. We are eager to experiment with new hair colors with the changing seasons. And the way things are, there's nothing better than starting the season with a new look for your hair (and following the hair color trends).
Most men dislike experimenting with hair color, but some regard themselves as chameleons. Several hair color innovations for men were introduced in 2021, and we already see a lot of dyes on the streets. We show you the most recent hair dye trends for men here.
Use the following sources of inspiration to motivate you to change your appearance.
1. Blonde Curls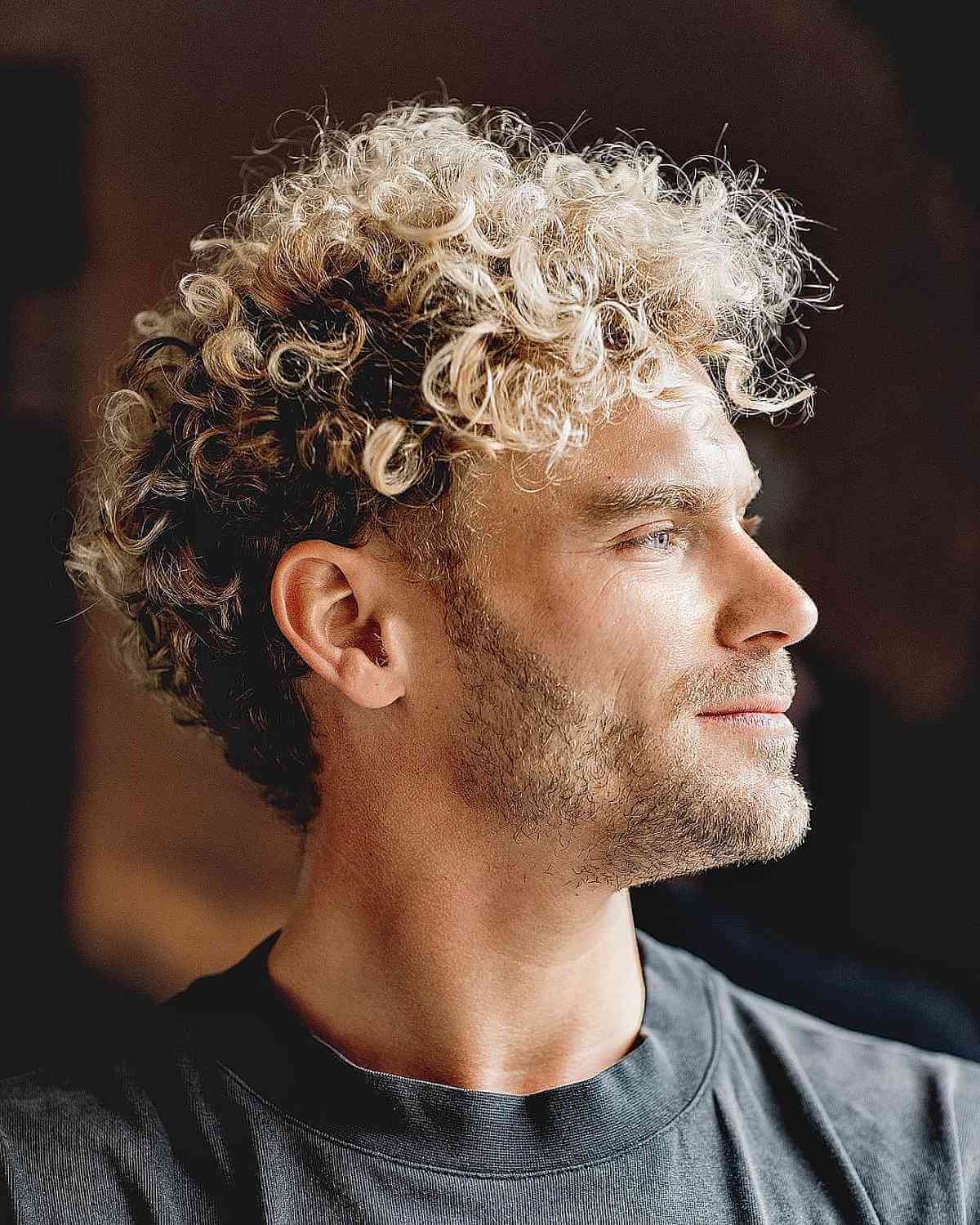 This hair dye is best suited to men with light or dark complexions, but it is not limited to them. Go with the blonde color for your naturally curly hair, or curl your straight hair, if you want to be the centre of attraction around you.
Best of all, it ages beautifully and becomes even more noticeable as the natural root begins to grow out.
We won't lie to you: the application process is time-consuming, but you will surely love the look.
2. Multicolor for Long-haired Men
There are many reasons to love the rainbow hair trend: it's a fashion statement, any natural color can be transformed, and it's easy to wear. Now, brave and daring Instagram men have created a micro-trend within rainbow hair: the mermaid look. With vibrant locks, these men embrace the sea gods within, giving them a sexy, carefree edge over the competition. If you have long hair, believe us, this hair color hairstyle will flatter you. Try the vibrant rainbow (multicolor) style.
3. Silver-haired Hipster
Silver highlights are always an excellent choice to cover up grey hair or experiment with it without dying completely. In this case, they are born from the roots (and look great with a wig and an undercut), so they appear very natural and elegant.
Silver color hipster is the new trend of 2022-23, and it goes for any male having grey hair. So, why wait until you can turn your grey hair into this silver hipster?
4. The Golden Hue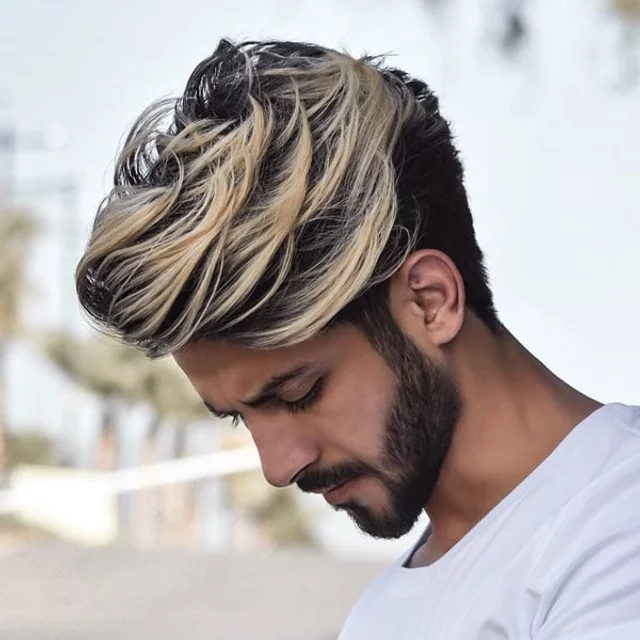 If you want more volume in your hair, a few streaks will create an exciting light and shadow effect, increasing the importance of your hair (at least visually).
They can be as thin or thick as you like, depending on how light you want for the finished product. This golden color on your hair would give you a sun-kissed hair look for sure. You can adjust the shade according to your hair type and complexion, and your hair will be super cool.
5. Dark, Warm Brown
If you want a reddish tone in your mane, go for coppery highlights.
This color is ideal for men with dark complexions and dark manes who want to add a subtle highlight to their hair.
6. The Ashy Blonde
To understand this color, we must first know that it contains ash and copper tones. Ash colors have a white, grey, or blue base. They are cool colors, whereas copper colors have a yellow, red, or orange base. When we talk about ash-colored streaks, they can be any color: brown, blonde, or red, but they must have a hard bottom.
7. Blend the Grey Hair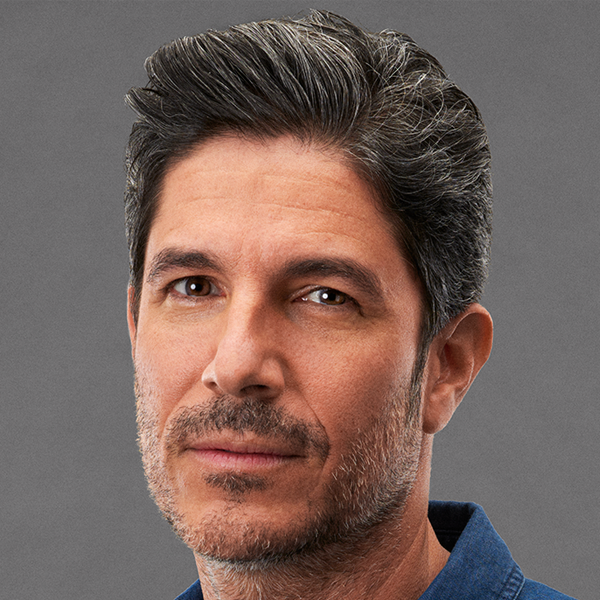 This coloring is ideal for hiding grey hair while giving you a more mature and elegant appearance. Grey hair isn't bad and completely natural, but what better way to flaunt it than with style? Please make the most of your grey hair by coloring it. If you have only a few grey hairs and can't color them all, this hairstyle will solve your dilemma.
8. The Edgy Dark Red Tone
If you have warm hair and skin tones such as yellow, orange, or red, reddish highlights are an excellent way to add light and movement to your hair. Depending on your preferences, this subtle change in appearance can range from very thin streaks in a reddish or copper color to a deep red. You can also apply it differently, that is, along the edges or spikes.
9. Natural Black with Orange Highlights
Coloring black hair may appear complicated, but not all streaks have to look too contrasting and fake. Numerous shades and coloring techniques are available to make your hair appear naturally lightened. On the other hand, fantasy colors such as pink, blue, or orange contrast nicely with a black background.
Bleached hair requires a lot of moisture. You can incorporate daily super moisturizer into your routine to provide immediate repair while also preventing damage from external factors and dryness from returning.
10. The Turquoise Mixture
Colors in fancy shades are still popular. Blue hair for men, or the turquoise-blue mixture, has taken over the trend. If your base is dark, bleach the area to be colored first to achieve a vibrant, even tone.
Bleaching can dry out your hair and make it look dull and stiff if you don't take proper care. That's why it's critical to use a specialized wash system after coloring, such as TRESemmé Pro-Radiance Color shampoo and conditioner, enriched with marula oil and resveratrol, a powerful antioxidant moisturizes, cares for color, and restores shine to color-treated hair.
11. Copper Fusion
Men with caramel skin and wavy, curly, or mushroom-cut hair should use this hair dye. Why not add a modern twist to your light brown hair using copper hair dye?
We must warn you that the range of red tones fades quickly, so opt for a warmer style like bronze or ginger. The finished look will be a contemporary and irresistible color.
12. Hot Pink Top
This neon pink is another bleached hair dye we saw a lot of during fashion week. This color is difficult to wear, but it has a distinct and undeniable impact.
This look is ideal for young rebels, alternatives, and rockers.
13. Golden Caramel Color
Do you want to bring some natural light into your hair? If you said yes, this is the hair color for you.
Ideal for men with dark hair who want to lighten their hair color. Like in women's hair color, balayage and caramel tones are also the top choice of most men.
14. Pastel Pink
If it has a cool undertone, pastel pink brightens up any haircut and flatters any skin tone.
For years, it has been said that pink is not a man's color, but the most influential voices in fashion and culture have set out to debunk one of the masculinity's false dogmas. And they are about to do so. Maluma, Jared Leto, Machine Gun Kelly, Cruz Beckham, Jaden Smith, Zayn Malik, J Balvin, Evan Mock, and BTS members agree that pink hair for men is a great idea.
15. Platinum Wavy Appearance
Men's platinum hair is all the rage right now. Men are increasingly daring to dye their hair this almost white blonde. It's a striking color that requires a lot of upkeep, but it's well worth it.
If you want to go blonde, you've come to the right place.
Wavy or curly hair adds dimension to platinum male hair naturally. You can wear it at a maximum length at the crown of your head. You can wear your hair forward, with strands falling over your face.
16. Frosty Ends or Side Strands
Although frosted ends will always remind you of the 1990s, they can look good when done correctly. For example, frosted lots of dark brown or black hair are ideal. Other hair colors look out of place with this shade. Other than frosted ends, you can try the same look for your side strands.
17. The Comb-over Highlights
This combed haircut with light brown highlights is stunning. The color scheme and hairstyle complement each other perfectly. The comb-over look has been trendy for the last 3-4 years. You can ask your hairstylist to color it according to your hairstyle and hair texture.
18. Smokey Highlights
While bright colors are trendy and beautiful, they are not for everyone. That's where smoky hair color comes in; it's a more subdued version of the vibrant hair trend. This style is ideal for anyone who wants to make a statement with their hair but is still deciding whether to commit to a full-fledged fantasy color.
A smoky color is not as saturated as a vivid one. There are muted tones, but they are still vibrant. A smoky color is usually mixed with greys or a watery blue toned down to give it a smoky feel.
19. A Touch of Icy Silver
In the winter, icy silver hair will make you look like the king of an ice castle. Bleach your hair until it is almost white to achieve snowy silver hair. There should be no golden tones left after washing. This color requires little to no maintenance, making this look extremely simple. All you'll need is a light purple shampoo that won't need to be left on for more than a minute. If you leave your hair this blonde for too long, it will turn purple, so keep track of the time.
20. The Peacock Hairstyle Craze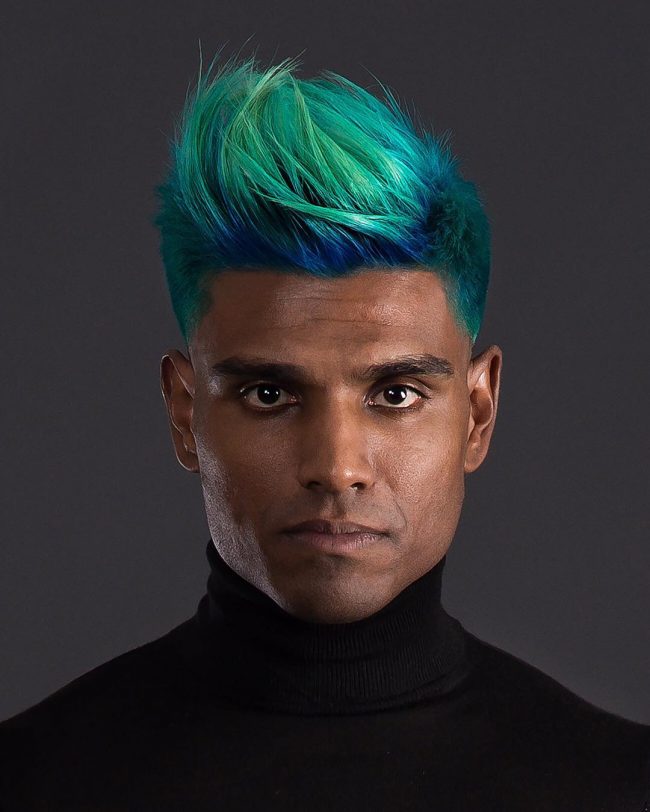 A new trend is joining the movement for bold hair colors such as purple, yellow, and the entire pastel color palette. More than 9,000 people have shared photos of their new look on Instagram. Be inspired by his beautiful colors, or have your stylists do it. Some boys are experimenting with bronze tones; they're a color dream. Others opt for a black hair foundation. However, these blonde locks are a good choice if you want to stand out. This is a good alternative if you wish to avoid feathering your hair thoroughly. The point is that peacock hair is appropriate for everyone. It all depends on how wild your imagination is.
21. Blue or Green on Black Hair
Are you thinking about dying your hair green or blue? Fantasy colors are popular at this point in the game.
Green, in particular, is an intriguing color because of its wide range. You can dye your hair light green, dark green, aqua green, fluorescent green, metallic green, and various other colors. You can have a mixture of blue and green hair color on your dark-toned hair.
Most people who decide to dye their hair a fantasy color already know what color they want. When they arrive at the salon, they see the color on Instagram, Snapchat, or YouTube and already know what color they want for their hair.
22. The Brunette with Brown Hair
This stunning hairstyle features thinning sides and a long, messy pompadour at the crown of the head. You'll have a modern look if you give the natural brunette some subtle auburn highlights.
Undercutting and fading on the sides contribute to a lovely pompadour. However, the wavy strands at the head's crown and the beautiful chocolate brown highlights set this headpiece apart.
23. Two-toned Curly Hair
Can't decide between light and dark? Choose both. Keep your natural black curly hair and dye the other half blonde. This color combination creates a striking contrast that adds a lot of character to your outfit.
24. The Blackest Brown
Men with brown hair today feel very old and less confident in themselves when they see others experimenting with different hair colors. They don't realize that dark brown hair is timeless and that the most attractive men often have this type of dark hair.
The hair is combed up and away from the face for an excellent, professional appearance. This hair color's black-brown tone flatters men with medium to dark complexions. This color's dark nature is best suited to men with cool or neutral skin tones. This color is flattering on all hair types. If you have a dark complexion and finer hair, a dark hair color will benefit you because it visually thickens your hair.