To complement round faces, choose cuts that lengthen the face and neck. It is necessary to unload volume on the sides and provide more volume and body at the top, and if you want to wear bangs, wear them long and on the side. Hair stylists recommend midi and bob haircuts more for people with round faces. It is a shoulder-length mid-length bob with long layers that stylize the jawline or a length below the chin and long layers that stylize the jawline.
An asymmetrical, irregular cut that mixes hair of different lengths looks great on round faces. While a deep side parting with bangs swept to one side is perfect for creating the illusion of a slimmer, more elongated face.
Hence, we have gathered some bob hairstyle ideas for you all. Wait until you see these sleek and on-trend bob haircuts that help style the features if you think round faces need to look better with short hair.
1) A-line Bob Hairstyle
Say hello to the A-line bob, which is not new but has been reinvented. It is longer in the front than in the back, and the angle can be as subtle or dramatic as you like. Unlike the graduated or inverted bob, the A-line bob does not have stacked layers in the back. The best part is that this bob is exceptionally versatile. Let it skim the chin or hang down along the collarbone, and make it blunt or textured with layers. Wear it to complement your style, whether soft and classic or sharp and edgy.
2) Bob with Straight Bangs
The bob haircut with bangs is the ideal way to change your look and avoid your longer, classic mane because it always adds a modern yet elegant touch to your hair that is timeless. The ideal would be to wear it with rounded volume and at chin level, giving it a more groundbreaking point. You can wear it with a blunt fringe that frames the face because it provides the hair with a French air and will give us a lot of play when it comes to picking it up and combing it.
3) The Pixie Cut with a Twist
Given the popularity of these haircuts, hairstylists have revisited the most iconic styles, such as the bob and pixie cut, to adapt them to all types of faces and the desires of any woman. The combination of the previous two results in an amount starting to stand out this fall for its versatility and comfort. It's called "a lob" because it's longer than a pixie and allows you to shape your hair, but it doesn't reach the length of a bob.
It is more akin to a bob in that it has long layers that fall at the level of the ears. This version has the distinct advantage of being styled in various ways due to its length. Straight bangs can be worn with them for a blunter look and to frame the eyes.
4) Bob with the Round Edges
This is the most structured version of the bob; it has no layers, no long bangs, and is distinguished by a wave in the direction of the face. It is ideal for slimming the face and lengthening the neck, so we recommend you try this trendy cut.
5) The Blunt Bob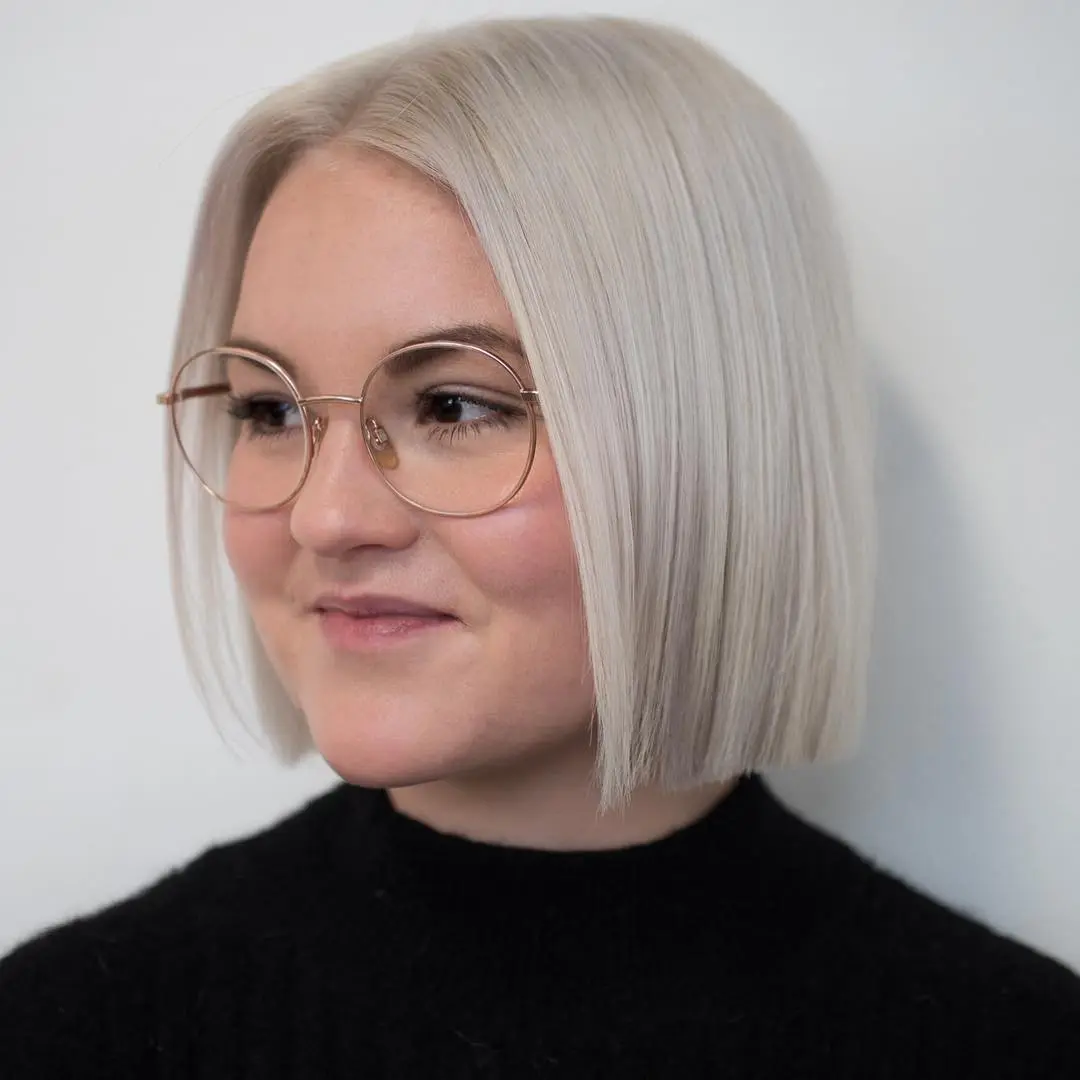 Round faces require haircuts that add angularity and dimension, such as the blunt bob. What exactly is it? It has 100% straight and polished edges and falls below the chin, making it ideal for round faces when worn straight. Say yes to the blunt bob with an even-toned hair color or dye, and you're on your way to a flattering look!
6) The Crystal Bob
The crystal bob, designed by the Kardashians' hairstylists, is ideal for those who prefer glossy, shiny hair with no frizz. It can be worn straight, with a middle or side parting (straight), and with a lustrous oil to give it that 'crystal' effect. If you have an oval or round face, say yes to this haircut. This cut is similar to the round-edged bob, but it is layered from below in an A-line bob manner, making it unique.
7) The Bob with a Bowl Cut
It is adorned with a long fringe that runs the length of the upper sides and is very short on the lower sides and at the nape of the neck. It could be with a perfect square that hides fine hair or with more density. We can also mark the lower part more heavily, resulting in an undercut.
The bowl cut can be extended to make a face-framing bob with slightly rounded, inward-pointing ends. According to experts, this look is ideal for elongated, oval, or round faces that are not too small or square.
8) The Unique Umbrella Bob
Rihanna looked stunning in this sexy concave bob cut or the umbrella bob with very tapered pieces that fell towards her forehead. This hairstyle is appealing due to its nature. This haircut falls between an inverted and asymmetrical bob, as this hairstyle promises both features. Its bangs are asymmetrical, whereas it falls in an umbrella shape covering the whole face.
9) Bob with Choppy and Curly Ends
Curls aren't limited to long hair. Curl your straight hair to take a break from straight, shiny hair. Wrap a section of hair around a curling iron with a small barrel for three to five seconds or until you achieve the desired curl. Curl the hair one at a time, finishing with hairspray to keep the curls in place. Add a curly choppy bob to your everyday look. You can wear this hairstyle to work and look stylish with your black jacket and pants.
Bob is not always about straight hair, so style your curly hair to achieve this flattering, choppy, curly bob.
10) Bob Cut with Grey Highlights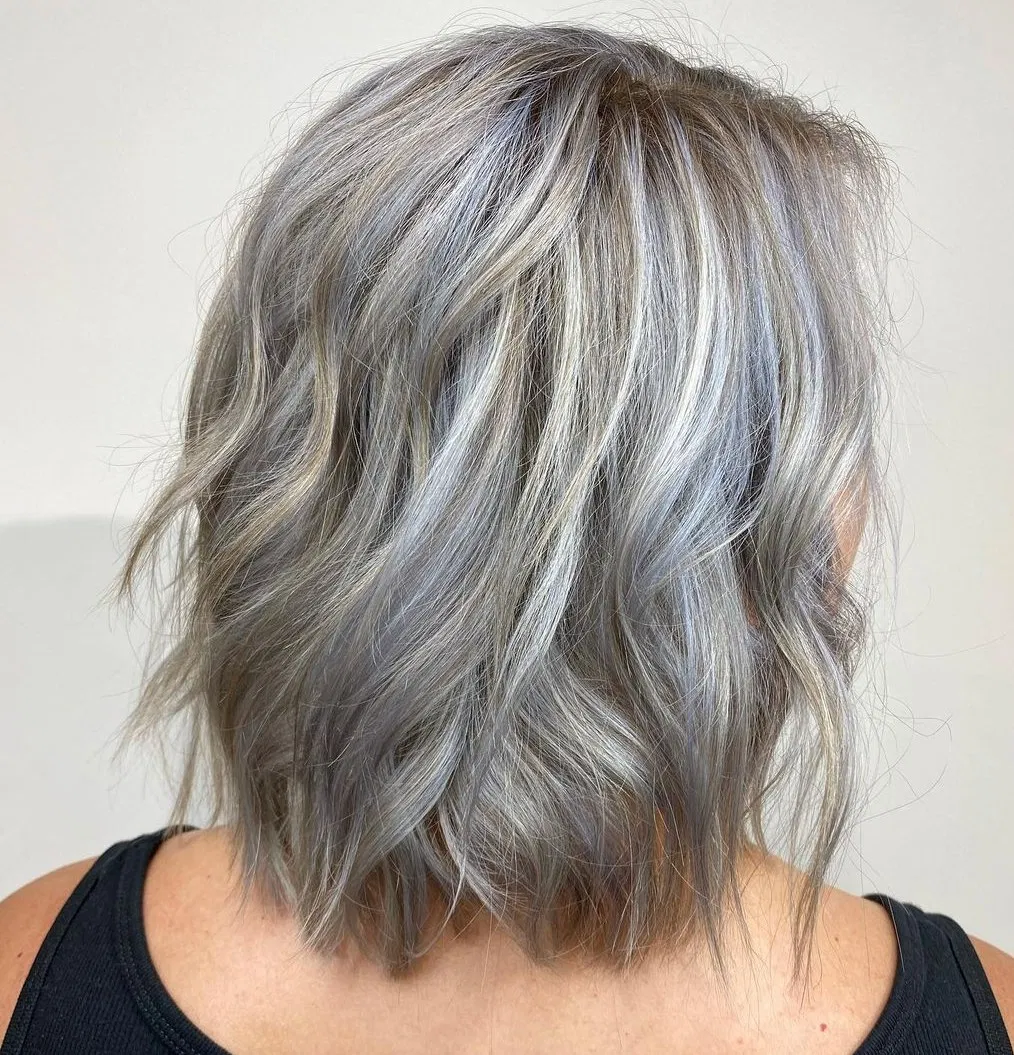 The short ombre black to grey ombre hairstyle has recently become popular, and it's easy to see why: the color combination is incredibly appealing. Aside from the color scheme, there are a few other factors to consider. For instance, the cut and style to go with the coloring. Adding some light curls to your silver mane is the best way to add a youthful touch to your look. This is ideal if you have naturally curly hair because all you need to do to look great is work a little hair product into your hair. It's as simple as that!
So, add some grey highlighted manes to your bob cut and style to a youthful look.
11) Bob with a Chin Length
If you have curls and don't want the bob to look too round, try a diagonal bob with the nape of the neck shorter and the front strands longer. The wavy bob is ideal for wavy hair, whereas the curly bob is ideal for super curly hair. Style your hair to the chin length and shine your way around.
12) Trendy Bob Stacked Haircut
The short stacked bob looks great on anyone of any age, hair type, or face shape because it only highlights the best parts, creating a one-of-a-kind look.
Stacked Bobs are a women's haircut cut shorter at an angle, resulting in a longer front and a faster, rounded back with layers.
13) The Bob with Multiple Highlights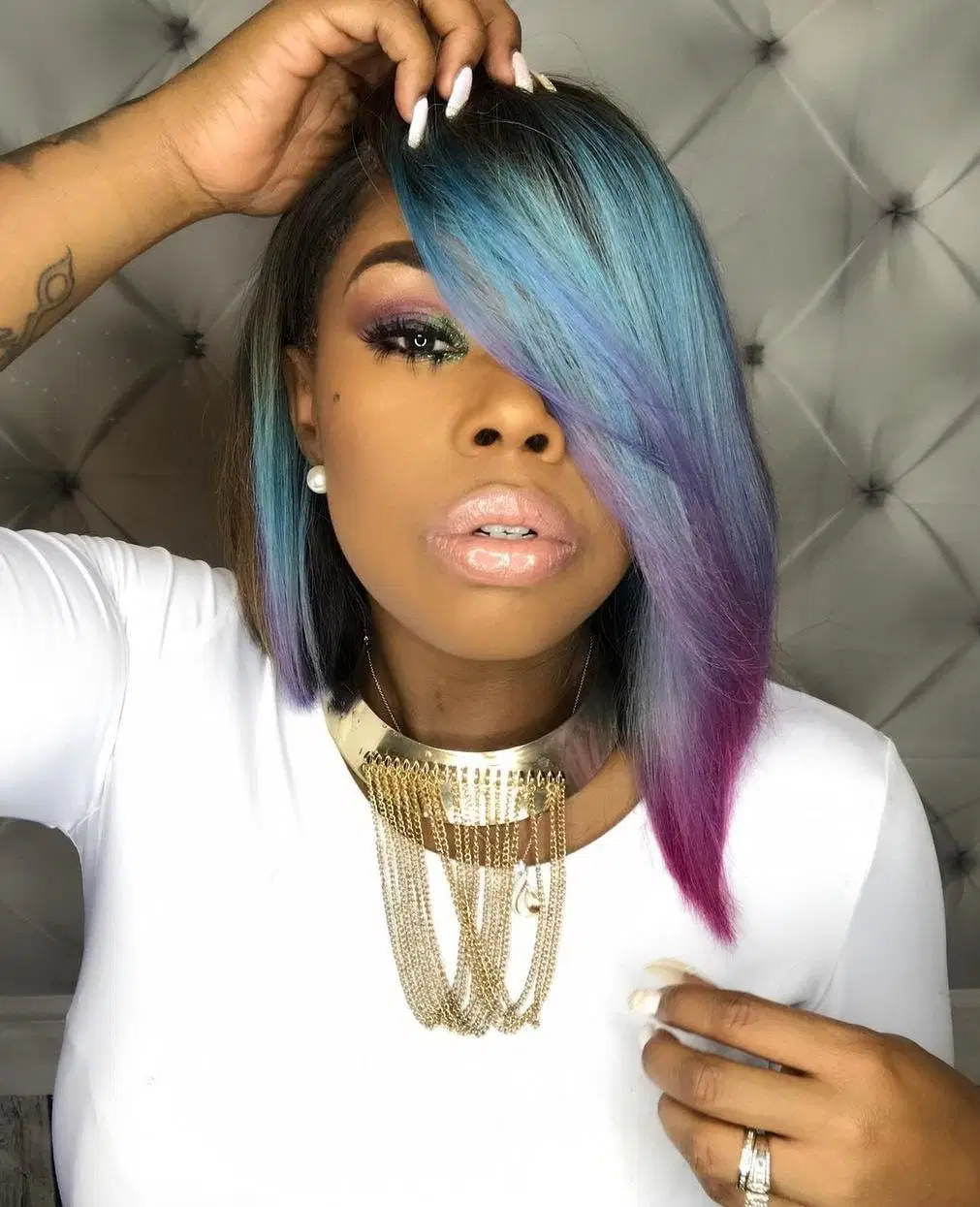 Need help deciding between two colors for your short hair? Make this unicorn short bob with a little bit of everything. Purple, blue, green, turquoise and lavender tones can create a side parted pixie cut. Color the brows with a dark purple shade to complete the look. Not always, a monochrome comes out to be trendy when we have this multiple highlighted choice too.
14) The Tousled Bob with a Two-tone Style
Adding a touch of soft curls to your mane is an easy way to add volume and femininity to your overall look. This short, graduated haircut is boosted with subtle teasing in the back, followed by light curls to complete the look. Perfect for date night or simply adding a feminine touch to your face.
Aside from the sexy tousled style of this bob haircut, we can't get enough of the gorgeous two-tone hair color! The back is darker, with a sultry dark brown or black with hints of light brown around the face. This lovely combination brightens the complexion and enhances the overall look, leaving you with a stunning, glossy finish.
15) Sleek and Long Dirty Blonde Bob
There's no denying it: nothing is more elegant and chic than a set of loose, romantic curls, which is why we love this hairstyle. The sultry finish is ideal for formal occasions, such as dinners in a little black dress or a girls' night out. The hair coloring has a slight ombre effect, with darker roots leading to lighter ends, which is one of the hottest looks for 2015. Your blonde highlights will add an elegant touch to your bob for sure.
16) Short Brown Curly Bob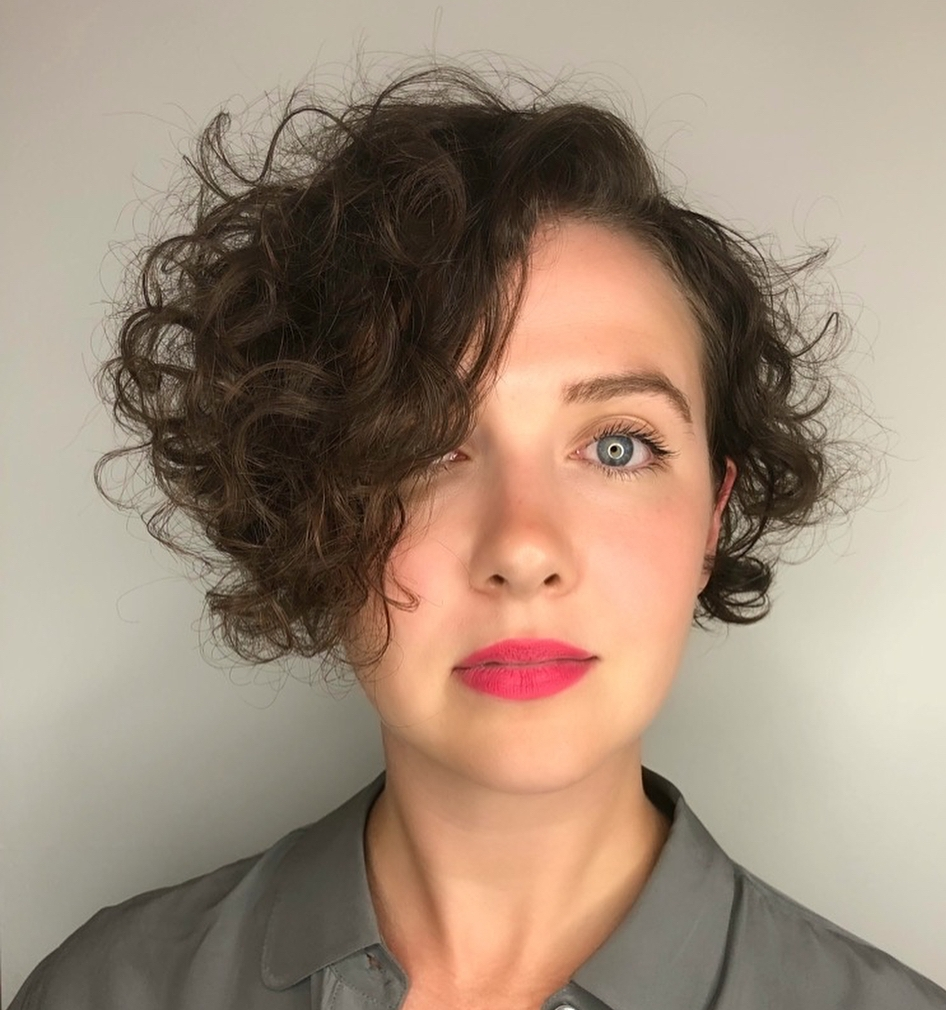 It's no secret that women exude elegance. We can undoubtedly nail the chic 50s style we all know and love, from our gorgeous dark brown mane to our luscious pink lips and bold accessories. All you need to do to achieve this look is add some medium-sized curls to your tresses. Make a side part and sweep the curly bangs across the face, letting them hang softly to create a soft look.
17) A Mid-length Bob Hairstyle
Kendall's hair proves that small detail can completely transform your appearance. Make a super-straight middle part for your long bob.
This style is popular among celebrities because it falls strictly between the chin and the collarbone. The lob cut makes the hair look voluminous and healthy. Plus, this cut flatters and frames the face. Bob is not just about chin-length and medium hair.
18) The Inverted Bob Cut
The inverted bob is typically worn as seen on Jennifer Lopez, with a middle parting and long front strands, but you can add a fringe for a more daring and unique look or wear the parting to the side. The options are limitless.
This haircut is ideal for women who want to stylize their faces, as it plays with verticality by having longer front strands, but it is most popular among women with thin hair. A half bob with asymmetrical layers and a good part will add volume and movement to your hair. A good trick is to apply a little dry shampoo to the roots to lift them slightly.
The highlights on the bob look great because the color gradient and contrast add movement and dimension to the mane. Such as caramel highlights on a brunette are stunning.
19) The Shaved Ice-blonde Bob
Another idea is one of those who bravely cut their hair and nailed one of the hottest short hairstyles of 2022. It's a shaved ice blonde, a color that works well with 'pixie' haircuts and round faces to soften the features. Shave the sides for a unique look and get into the year's hottest trend.
20) The Side-swept Bob Hairstyle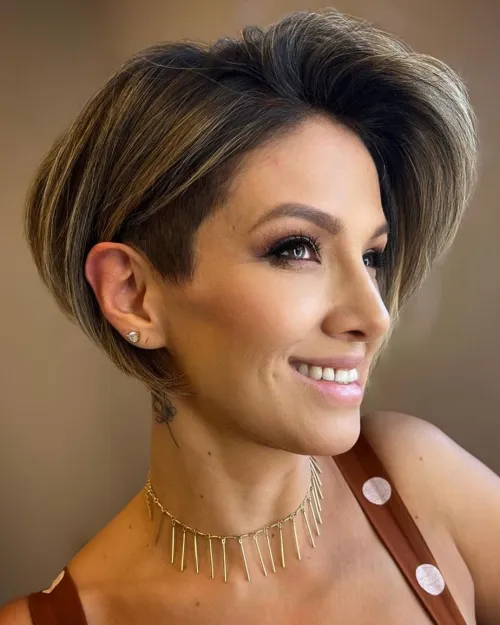 Locks are a sleek, easy-to-maintain style that falls between long and short hair. This features a long side-swept fringe that sweeps across the face, nicely framing it. This hairstyle complements the majority of faces.
Bobs are incredibly versatile and can be worn with a wide range of hair types and face shapes. This sterling beauty is both simple and elegant. The medium-length bob features long side-swept bangs that are not significantly shorter than the rest of the hair.
This haircut can be highlighted to give it more dimension. The highlighted sections of hair on each side are shorter than the rest, framing the face perfectly. The soft shoulder-length hair and long bangs add length to oval, round, and square faces.
Other Articles