Looking for a new hair color in the market? How would be a chocolate brown, blonde, red highlights or brunette hair color? Oh! It seems you are bored of these old school hair color ideas. Well, then you must read on. Of late, wild hair colors are being experimented by actresses and models and they have been setting a new trend in the market.  There are hair color ideas for all skin colors and hair types. And if you are scared to make a fun of yourself in that wild hair color you fancy about, then you must step out of your comfort zone and experiment with what gives you a hot, new look. There is only one thing you need to worry about before pulling off a wild hair color- where you work. Do you work in a creative field? If yes, then you are good to go with your new look confidently. If not, then also you can pull off that wild hair color by keeping it a little low key.
Here are some of the trendsetting wild hair color ideas you need to experiment with your hair.
ICY BLUE
Icy blue is a wild hair color for daring women to pull off. Also, you need to work in a place that is liberal with funky hair colors like in the fashion industry. You can give your hair a long bob cut or keep your hair long and dye your hair icy blue. You may experiment with various styles like icy blue ombre, etc.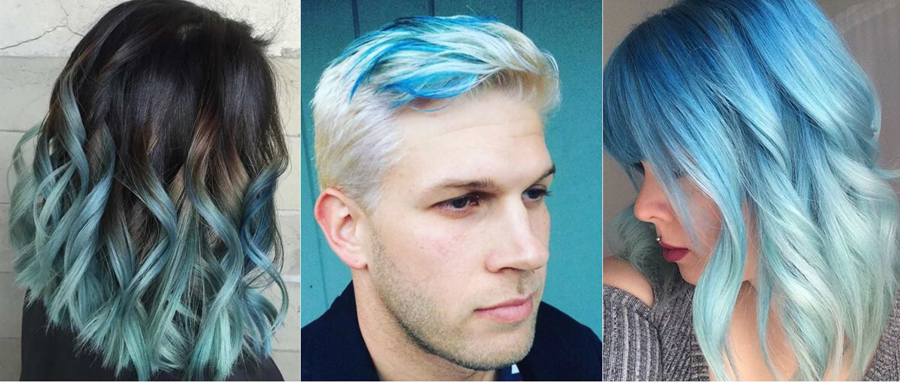 TANGERINE
A pretty much summer hair color, tangerine can be easily pulled off by women with any skin color and face shape. You may choose to keep your hair short or very long. It looks good on curly as well as straight hair. Orange is usually mixed with blonde to get the 'blorange'  or Tangerine hair color.  Tangerine is the sweetest color trend these days and you may experiment with various shades and styles.

PASTEL PINK
You can't stop from adoring the  pink color on your lips or cheeks. The same goes for your hair. Pastel pink is one of the trending wild hair color ideas this year. This hair color compliments well with short wavy hair or medium straight hair. Try out the different styles or mixes with this pink color. You hair will love you for treating it with the prettiest color of this season.

DEEP TEAL
An out of the box hair color idea, deep teal is something for the brave hearts. Hair colors need not to be the dark shades or the bright light shades , there are also teals and turquoise for the bold ones. This hair color suits great to women with medium straight hairstyle. It works well for short hair as well. Women with fair or medium skin shade can rock this  deep teal hair color with perfection.

PURPLE
Even a  little purple touch to the hair may stand out so brightly and can be pretty much attractive. Surely this hair color is for the bold ones and can be pulled off in highlights or you may dye your hair purple all over. Just make sure you don't work in a 9-5 job where your boss needs everyone to be dressed formally. Try out the variety of shades of purple, like lavender, violet, light purple, purple ombre and many more. This hair color suits well with any hairstyle of any length. Also, both fair or dark toned skin women can pull off this hair color equally well.

MINT
Get a totally refreshed look by trying out the trending mint hair color. This hair color compliments perfectly with wavy short or long hairstyle and to women with fair skin tone. Here also, you need work in the creative industry to pull off this hair color boldly. If you are rather in a more serious job, flaunt the mint hair color by highlighting strands of your hair so that you can hide them when you are in the office.

METALLIC MAUVE
Pretty much near to the brown shades of hair color, metallic mauve is also one of the wild hair color ideas of the season. An advantage of this is that women with almost any job type can pull off this hair color quite confidently without the fear of being fired. This hair color is a cross between pink and purple shade with a touch of fading grey to the hair. Women with straight or wavy long hair are good to go with this hair color. Metallic mauve hair color can also be pulled off boldly by women with short hair.

GOLDEN BROWN
This is a pretty + bold hair color that will never fail to amaze others. Golden brown hair color the mix of gold and brown shade that is not so bright but definitely unique. This can be carried successfully to both offices and parties. It is a classy hairstyle that looks awesome on women with wavy or curly hair whether long or short. It looks pretty much chic with straight hair as well.

MERMAID
As fancy as it sounds, mermaid hair color is the combination of blue, teal, light green to lime shades on tresses. Women on the creative side of the career like fashion designing, DJ, singers, etc. can pull off this hairstyle quite easily than women having a serious 9-5 job. Hair or any length and style can be dyed in mermaid colors. To rock this hairstyle perfectly, flowy waves are of great help as they make these colors look more prominent and shinier. This hair color is trending these days on women who fancy to be a mermaid.

BLACK YELLOW
Calling all the brave hearts for a dare to this wild hair color idea which is literally wild. Dyeing your hair yellow with prominent hints of black is surely going to give onlookers a surprise. Rock this hair color with a short straight hairstyle too keep your wild look in check.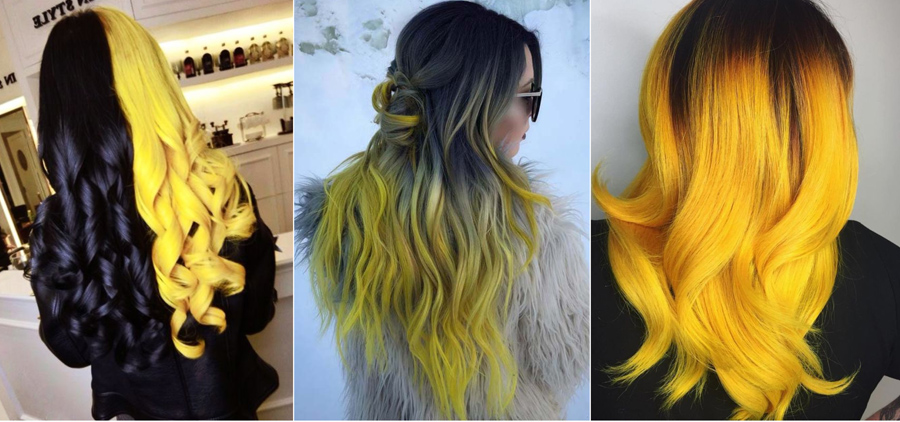 RAINBOW
Everyone is going wild with these rainbow hair colors. These are the seven different shades of rainbow, the VIBGYOR (violet, indigo, blue, green, yellow, orange and red) carefully dyed with safe hair colors. There are different variations of rainbow hair colors like giving attention to a particular shade. It doesn't matter if you are having long, short, curly or straight hair, you can rock the rainbow shades confidently. The only thing you need to worry about the environment and dress code of your workplace. Rainbow hair color is one of the trendsetting wild hair color ideas of this year you need to try out.

Well, you must be very excited about trying these wild hair colors that can give you a completely different look. But, at the same time, you need to carefully look after the quality of the products you use and take good care of your hair post dyeing. Experiment with what combination suits you the best and surprise everyone with your new look.
Other Articles