These days all the females want to look more beautiful as others. As we all know that hair enhance the beauty of the person, so they color their hair and want to look more glamorous. Caramel hair color is on top these days because it suits all skin types. Caramel shade is known for not so blonde or brown but to give a gorgeous gold-hued shade. Those who love a golden touch but doesn't want to go for blonde, this medium-toned brownish golden shade is fantastic. There are various Caramel hair color ideas which you can try to get a rich, warm caramel look. Whether you want light, dreamy or dark, you can choose the color as per your skin tone. There are endless possibilities with bronde hair.
Today we will discuss the top caramel shade hair color which you can try to get a gorgeous look.  Enjoy the bronde hair to get a new mesmerizing look, here are they:
L'Oreal Paris Caramels Hi-Lift Color Golden Brown (Warmer)
If you want to color your hair to look more beautiful, then you should try this caramel gold brown shade from L'Oreal Paris. Those who don't want darker hair but want light hair shade, they are using this caramel gold brown shade, which suits even the dusk or dark skin very perfectly. After colouring your hair with L'Oreal Paris caramel gold brown, you can feel that it gives your hair a gleaming look.
Pros
The same color as on the package or advertise
Long lasting as it contains UV filter
Cons
L'Oreal Paris Sun-Kissed Caramels Hi-Lift Color Natural Brown Color (cooler)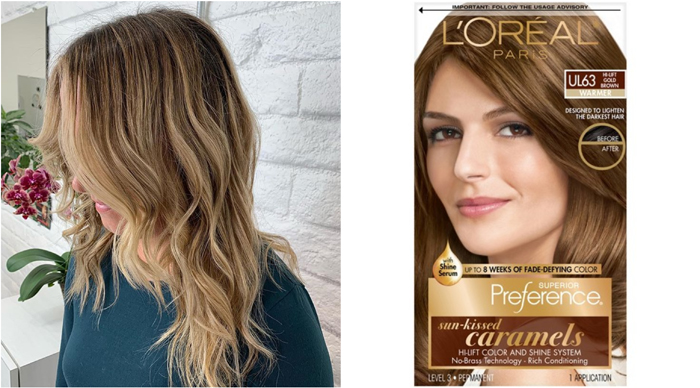 If the L'Oreal Paris Sun-Kissed, Caramels Hi-Lift warm color does not suit you, then you should try the Cool toned L'Oreal Paris Sun Kissed Natural Brown shade. It will surely suit you.
Pros
Gives natural look
No brassiness
No dryness
Cons
Expensive
Caramel Brown Highlights No. 6 By L'Oreal Paris
This L'Oreal Paris Caramel Brown Highlights mostly used to highlight the hair which gives the rich dimension to your dark hair. It provides an elegant look after the highlight. It can suit all types of skin tones.
Pros
Affordable
Processing time is very short
Comes with expert brush
Cons
Highlights may not show very well on dark hair
Dry out the hair
Schwarzkopf Keratin Color Intense Caring Color – Caramel Blonde 7.5
This is one of the best caramel shade hair colors, as its name said itself that it repairs the damage hair and gives your hair a flawless luxurious caramel blonde shade. Most of the people use this color these days to look more glamorous.
Pros
Affordable
Can use for coloured hair
Long lasting
Cons
Wella Color Charm Permanent Liquid Hair Color – Caramel
As the other colors Wella color charm permanent liquid hair color caramel is very long lasting. It is the perfect caramel shade color for you. You can cover the grey color hair with this liquid caramel hair color. It gives your hair a proper finishing look which everyone wants.
Pros
Long lasting
Pleasant smell
Cons
Garnier Nutrisse Ultra Color – B4 Caramel Chocolate Nourishing Color Creme
As the name of Garnier Nutrisse Ultra Color Nourishing Color Crème said itself that it nourishes your hair and conditions your hair while you are coloring your hair. It is enriched with avocado, olive and shea oils. You can blend it easily on your hair whether they are bronde hair or you have brown hair with blonde highlights. It gives the natural looking to your hair which looks more beautiful and elegant.
Pros
Condition your hair when you apply it on your hair
Gives natural look
Not strong smell
Cons
Resulting color is not same as the advertise
Revlon Color Silk Luminista – Light Caramel Brown
If you want to color your hair very light then Revlon color light caramel brown, then you can also try Hottest Caramel Brown Hair Color Ideas is an excellent option for you. You should try this color.
Pros
Gives natural color
Give shine to your hair
Ammonia free
Cons
In this modern era every person whether it is male or female, they want to look more bright, so they try to color their hair which truly enhances the beauty of every male or female. You can say that hair color gives the trendy look. If you want to color your hair then you should try the best caramel hair color. We have discussed above all the top caramel hair color shades because a cheap product can damage your hair and sometimes it gives split ends to you. So, always try to buy the best product. You can also try caramel hair color highlight to highlight your hair which gives you a fantastic look. These are some of the great and most trendy Hottest Caramel Brown Hair Color Ideas which you can easily try at home.
Other Articles