Because of their simplicity, little Tiny Tattoo Ideas are becoming increasingly popular. They're small, yet they pack a punch by conveying their message. When these designs are worn by women, they are really beautiful. An advantage of having a small tattoo is the option to cover up if you work somewhere where huge or highly visible tattoos are restricted.
The neck, fingers, arms, collarbone, ankle, and chest are the main body parts where these tattoos are inked. When done by a skilled tattoo artist on any part of the body, they turn out elegantly. We recognize that choosing a tattoo among so many options might be challenging, but we hope you will discover one that you will enjoy.
1. Crescent moon tattoo
The Crescent moon tattoo symbolizes fertility and motherhood, but it also has huge number of additional meanings. A crescent moon, for example, can represent innovation, progress, and manifestation. Many people choose a crescent moon tattoo to represent a new life stage. In case you are starting a new chapter in your life, crescent moon ink is an excellent choice.
2. Sun tattoo
The sun tattoo symbolizes rebirth, a new beginning, and a new dawn. Whether you're starting over or paying gratitude to someone who at some point has helped you through a difficult time, the sun tattoo is the perfect choice. Small tattoos look great in various body areas, so you have many possibilities. The sun looks fantastic in fine line style, but if you want the little tattoo to be edgier, you can emphasize its rays.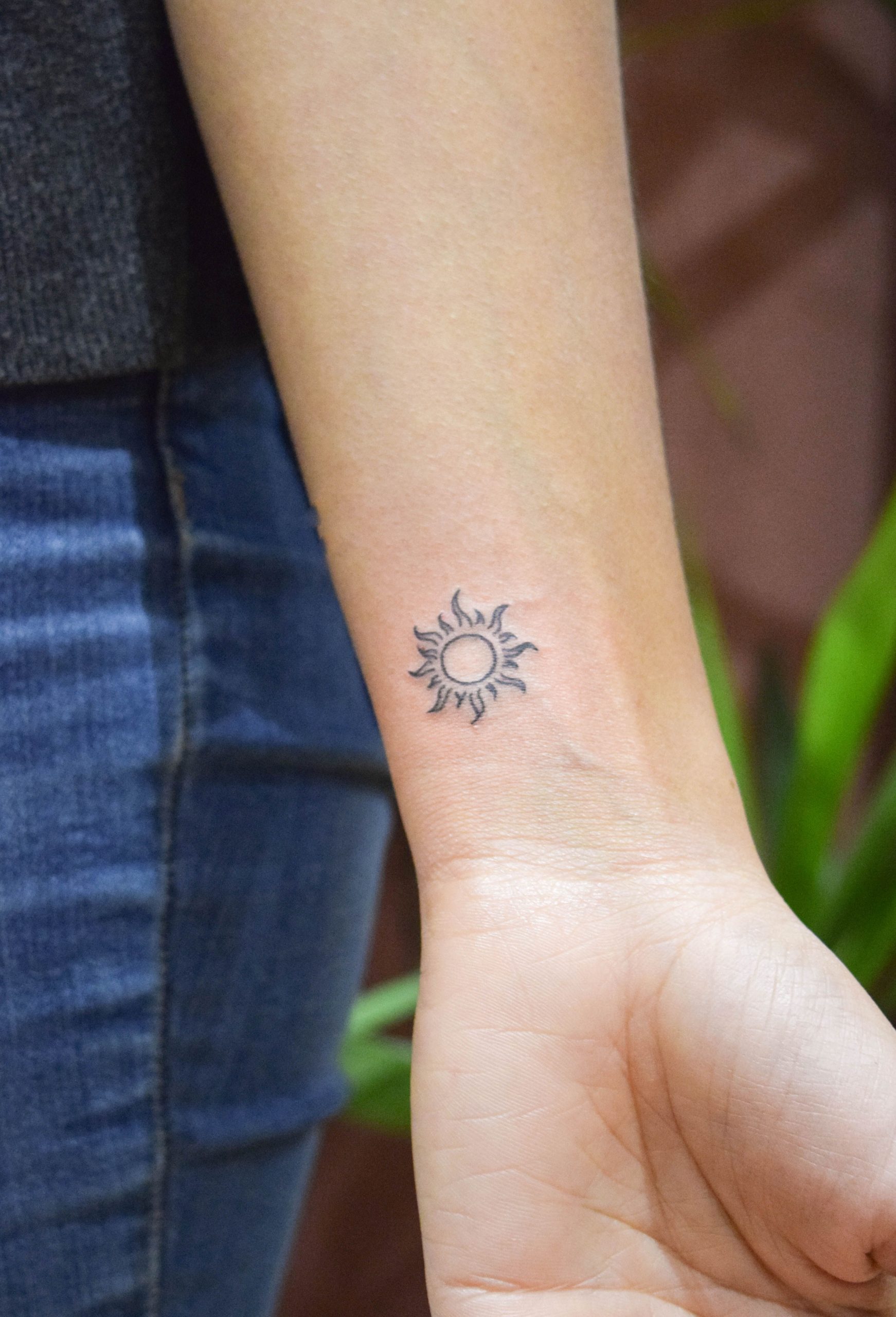 3. Paper crane
A paper crane has the same implications in the tattoo world. People get origami crane tattoos to symbolize joy, serenity, protection, and wealth. A paper crane ink is appropriate for someone at peace with something or hopes to be one day. Your paper crane tattoo can also represent luck and longevity.
4. Semicolon tattoos
Semicolon tattoos are modest, timid, and easily concealed when (or if) required. When an author employs a semicolon, it signifies that they could have ended the sentence but chose not to. You are the author in this example, and you are working on your novel. The life book! Life can be difficult and full of difficulties. Sometimes you want to give up but resolve to keep going. A semicolon tattoo might symbolize your tough, resilient, and persuasive personality. You're a fighter who refuses to give up.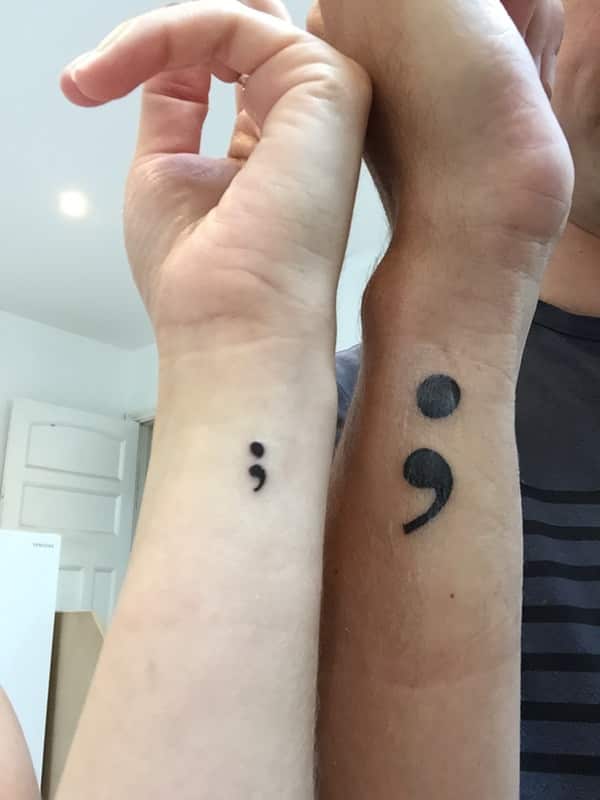 5. Infinity tattoo
The infinity symbol is ubiquitous: it represents timelessness, a never-ending cycle, and eternity. The best part about an infinity tattoo is that an artist may incorporate meaning specific to the wearer into the design. For example, your infinity tattoo can include a loved one's birth date or even a date of death if you want to honor someone you've lost. The infinity symbol also goes well with flowers, quills, and other images that are meaningful to you.
6. Inguz rune tattoo
The Inguz rune represents the "where there's a will, there's a way" attitude toward life and prosperity. It appears to be two XXs stacked on top of each other. Inguz also represents alertness and protection. This simple sign also represents love, family, and reproduction. People typically get an Inguz symbol tattoo on their wrists and forearms, but because it doesn't take up much area, it can be placed elsewhere.
7. Yin and yang tattoo
The yin and yang tattoo depicts gloom in all lights and a sliver of light in the darkness. It is the delicate balance that keeps them alive. Some tattoos depict a traditional black-and-white circle, while others use koi fish to represent Yin and Yang.
8. Ohm tattoo
Your Ohm tattoo can represent everything from stillness to oneness, creation, totality, and evolution. Ohm ink denotes divine expression and the indestructible message (the truth). You can convey a message such as reverence for life or awareness of the world and divine action by getting an Ohm tattoo. This simple and delicate symbol represents the entire universe and is suitable for spiritual and philosophical individuals.
9. Lotus tattoo
A lotus blossom tattoo has several meanings. For example, symbolizes purity and divine beauty in Hinduism. A lotus blossom represents rebirth and the beginning of life in Egyptian culture. Lotus is also associated with marital joy and feminine beauty in Chinese culture. The lotus flower is linked with the search for the true meaning of life in Western civilizations. The lotus flower represents heavenly conception and reincarnation.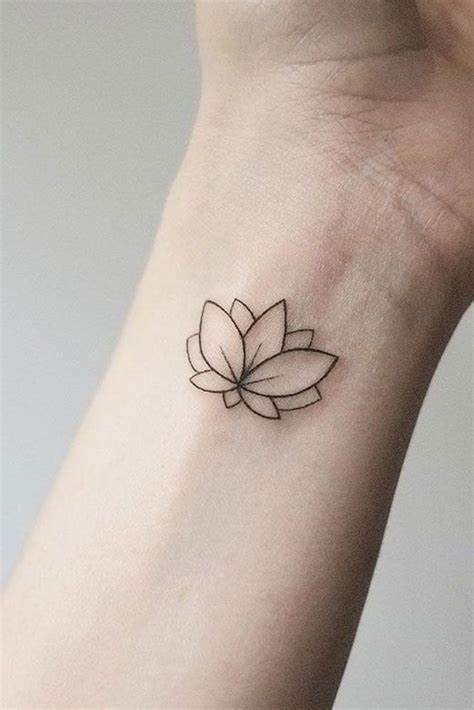 10. Seashell tattoo
A seashell tattoo is typically connected with a feminine mood and themes of fertility and rebirth. Bivalved mollusks, for example, represent the womb and fertility. However, a seashell can also represent resurrection and good fortune. The meaning of this tattoo goes to the structure of the seashell as well. The protective coating, you see, is sturdy and resilient. As a result, a seashell tattoo might represent the protective quality of love and life.
11. Diamond tattoo
Diamonds are said to be a female's best friend. However, they also make an excellent tattoo choice. We love diamond tattoos because they are symbolic of the wearer's ideals. People choose diamonds for a variety of reasons. Diamond ink is worn by some to symbolize purity, strength, or invincibility.
12. Paper airplane tattoo
Although the paper aircraft tattoo appears delicate and demure, it has a tremendous meaning. This tattoo reminds you to let go of things holding you back. Allow the paper plane to represent feelings or memories holding you back, and then simply let it go. For some, a paper airplane tattoo symbolizes confidence and being more daring, particularly in love. We are often afraid of being wounded and choose not to let anyone into our lives, although it is beneficial to be open to new feelings and experiences. In this scenario, a paper plane and a little heart can be combined.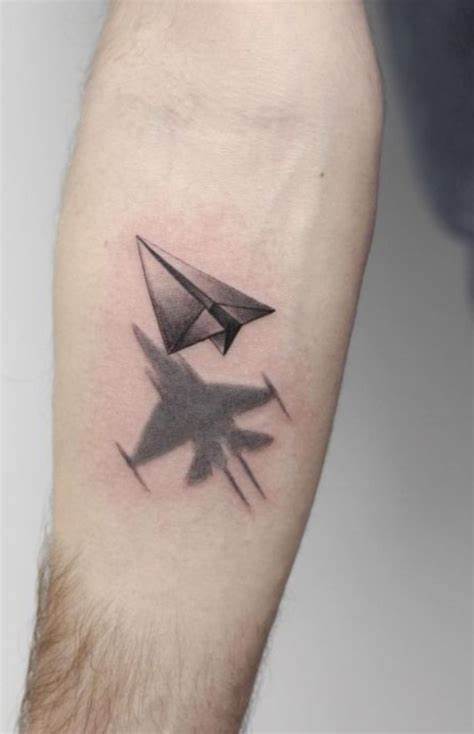 13. Wave tattoo
The wave tattoo represents the soul, the subconscious, and emotion. The wave, whether a small line or a more extensive tattoo, represents nature, the initial state, fantasy, dreams, and much more. Wave can also symbolize independence, rebellion, and love. Ocean waves are beautiful and strong, and your tattoo might express the same characteristics. Furthermore, it is impossible to dispute the visual appeal and grace of waves. This tattoo is typically placed in areas that are easily covered or concealed.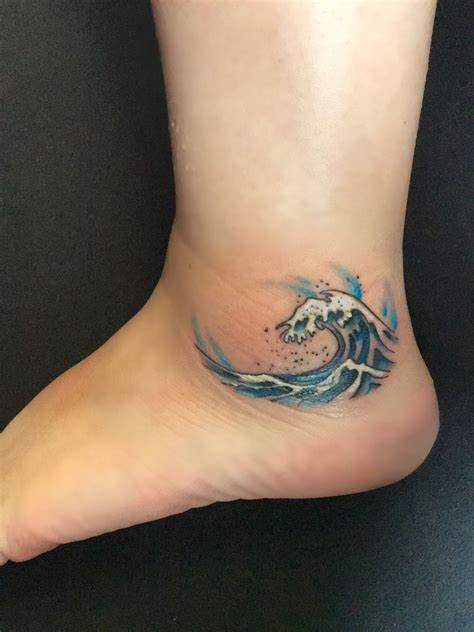 14. Airplane tattoo
Airplanes symbolize parts of your journey through your life. It can symbolize your turbulent state, as well as different people and emotions that you're going through or dealing with. If you have unresolved issues, you will want a plane image tattooed over your body!
15. Rainbow tattoo
When water and sunlight collide in the air, a rainbow usually appears. As a result, rainbow tattoos frequently symbolize hope, faith, and a new beginning. The rainbow is an excellent choice for individuals looking for meaning and beauty in one tattoo. A rainbow's various colors reflect diversity.
16. Butterfly Tattoo
Butterfly tattoos are widely used to represent metamorphosis, rebirth, and rejuvenation. These tattoos' kaleidoscope rainbow color could indicate a celebration of the vibrancy of life, particularly new life.
17. Tiny Rose Tattoo
Don't be left out of the popular trend of small symbols. This rose tattoo looks best with black and grey ink, and all the details must be noticed. If the cost of a tattoo is an issue for you, this emblem will relieve the burden because it is cheap while yet providing a stunning look. It is an indication of eternal beauty, love, and affection. The rose flower's elegance can never be replicated, and when done correctly, it will never cease to amaze you.
18. Small Bird Chest Tattoo
Tattoos on the chest don't have to be enormous to be noticeable. Small and simple is, in reality, the ideal option for ladies. A little chest tattoo is excellent if this is your first time getting tattooed. This is because it is less unpleasant and takes less time. Birds can fly, which can be viewed as a link between heaven and earth. People who acquire tattoos depicting flying winged creatures are drawn to the image of physical and mental freedom. It can also show hope and the desire to travel and discover the world.
19. Quotes Tattoo the Finger
Finger tattoos are usually appealing to the eye. It integrates the delicate grace of women's fingers and is easily seen. If you're having your first tattoo, choose this pattern. You can also include phrases or other symbols that mean a great deal to you. With this lovely artwork, don't be scared to display your temperament!
20. Daisy Flower Hand Tattoo
Daisy tattoos are one of the most fashionable flower tattoos, and its dazzling white petals and yellow centres are frequently used as a sign of peace and unity. Even at these modern times, the daisy continues to be seen as a sign of peace, love, and happiness by many people today. It can be tattooed on any region of your body by a qualified artist. This design can be done in either colour or black and grey.
21. Signature Tattoo
If you have a loved one and want to show them how much you appreciate them, this tattoo is really for you. It could be a loved one's birthday, their name, a cherished phrase, or a symbol that you most identify with. It has to be the shade that reflects the meaning you want and done in the right spot to have an expert touch.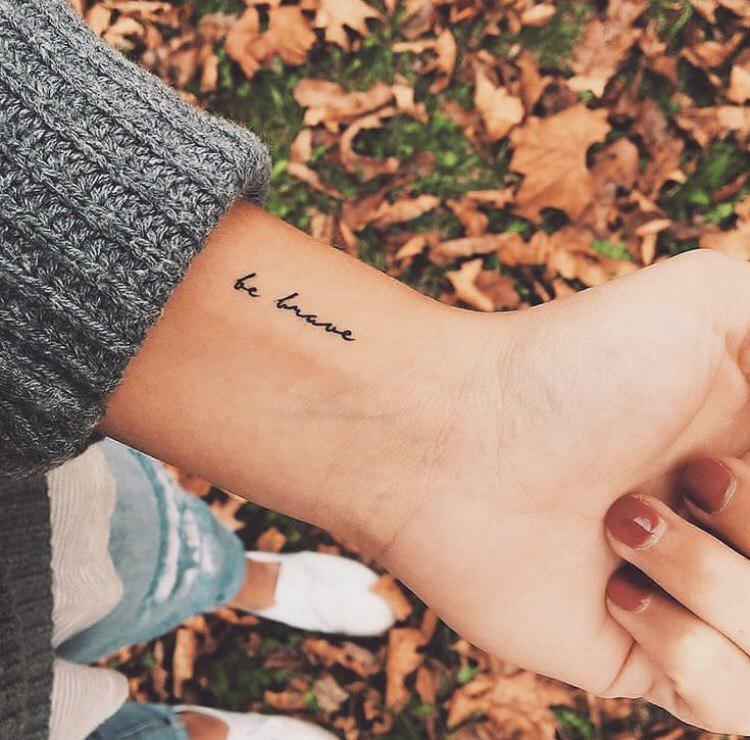 22. Number Tattoo
Numbers have a very strong symbolic meaning. They can represent things like fate, luck, math, or even occurrences. They don't have a universal meaning because it depends on who is wearing them. This tattoo depicts two people, one with years tattooed on the elbow and the other with years tattooed on the hand. This design is ideal for demonstrating your love for your siblings, partner, or even a friend. Depending on your preferences, it can be inked on any region of the body.
23. Animal Tattoo
Among animal tattoos, wild animal tattoos are the most popular. Each animal symbol represents a distinct emotion or sensation. Get this tattoo to represent your favourite pet or animal. An elephant and a dinosaur are shown in this tattoo. A symbol of prosperity and good fortune, as well as power, strength, dignity, and longevity, is the elephant. Dinosaur tattoos represent strength, which is why so many individuals select them.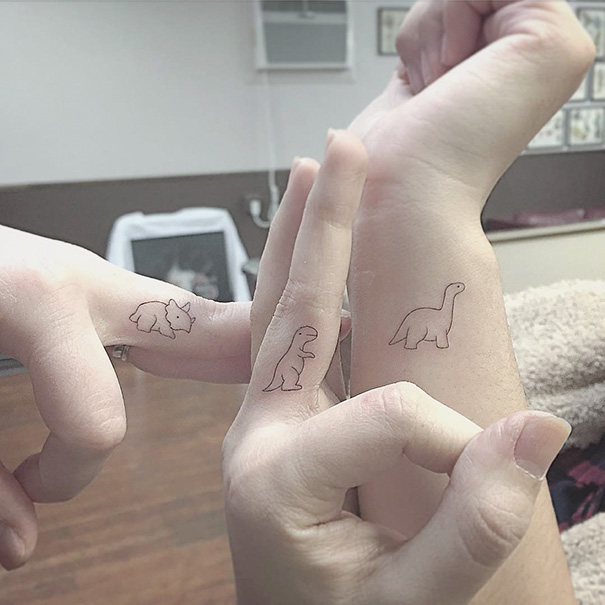 23. Sophisticated Heart Tattoo.
Just as the word "heart" conjures up images of happiness and passion, so does the heart in ink. The colour of the heart affects its meaning: a black heart represents mourning, whereas a tallow heart represents a fresh start. It is possible to tattoo it as a simple heart or as an artsy heart. Heart tattoos look great on any part of the body when done in a basic style.
24. Small Elephant Tattoo
Simple is the new trend. Go get yourself a little and simple tattoo now. Despite its small size, it can communicate loudly what it represents. Whether a tiny or large elephant is tattooed, it will always represent power and strength. The size will be determined by your preferences. This design may also be done on any portion of the body, which is a plus if you are concerned about it being painful.
25. Multiple Tattoos on The Hands and Fingers.
The more beautiful your hand and fingers are, the more attention they will receive. These teeny-tiny tattoos are lovely. You might get a lot of little tattoos of symbols that signify something to you on your hand. Because they are little, you can fit a lot of symbols on them.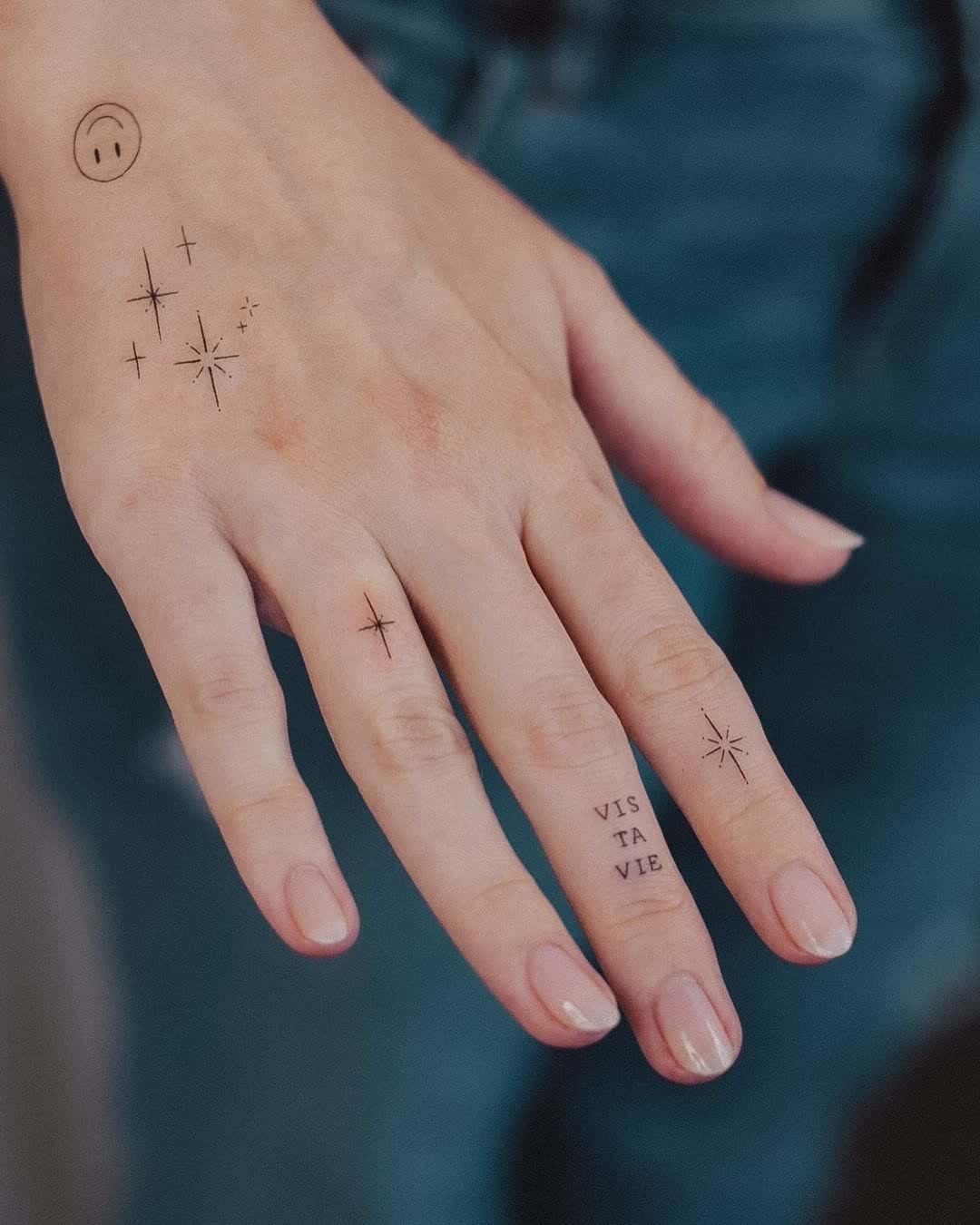 CONCLUSION.
I hope these gorgeous designs will persuade those who are undecided about having a tiny tattoo to reconsider. Choose a tattoo that appeals to you and visit a competent tattoo artist for professional guidance on the tattoo before you get it and to get the beautiful design. Wear your minimalist tattoo with pride, as t can also convey your message at the same time look good. Tinny tattoos can be worn on different body part provided that they are inked to fit your skin tone and with the right ink color. If you have a poor pain tolerance, a little tattoo will not hurt as much as a larger tattoo.