Because of their simplicity, little tattoos are becoming increasingly popular. They're small, yet they pack a punch by conveying their message. When these designs are worn by women, they are really beautiful. An advantage of having a small tattoo is the option to cover up if you work somewhere where huge or highly visible tattoos are restricted.
The neck, fingers, arms, collarbone, ankle, and chest are the main body parts where these tattoos are inked. When done by a skilled tattoo artist on any part of the body, they turn out elegantly. We recognize that choosing a tattoo among so many options might be challenging, but we hope you will discover one that you will enjoy.
1. Tiny Rose Tattoo
Don't be left out of the popular trend of small symbols. This rose tattoo looks best with black and grey ink, and all the details must be noticed. If the cost of a tattoo is an issue for you, this emblem will relieve the burden because it is cheap while yet providing a stunning look. It is an indication of eternal beauty, love, and affection. The rose flower's elegance can never be replicated, and when done correctly, it will never cease to amaze you.
2. Small Bird Chest Tattoo
Tattoos on the chest don't have to be enormous to be noticeable. Small and simple is, in reality, the ideal option for ladies. A little chest tattoo is excellent if this is your first time getting tattooed. This is because it is less unpleasant and takes less time. Birds can fly, which can be viewed as a link between heaven and earth. People who acquire tattoos depicting flying winged creatures are drawn to the image of physical and mental freedom. It can also show hope and the desire to travel and discover the world.
3. Quotes Tattoo the Finger
Finger tattoos are usually appealing to the eye. It integrates the delicate grace of women's fingers and is easily seen. If you're having your first tattoo, choose this pattern. You can also include phrases or other symbols that mean a great deal to you. With this lovely artwork, don't be scared to display your temperament!
4. Daisy Flower Hand Tattoo
Daisy tattoos are one of the most fashionable flower tattoos, and its dazzling white petals and yellow centres are frequently used as a sign of peace and unity. Even at these modern times, the daisy continues to be seen as a sign of peace, love, and happiness by many people today. It can be tattooed on any region of your body by a qualified artist. This design can be done in either colour or black and grey.
5. Signature Tattoo
If you have a loved one and want to show them how much you appreciate them, this tattoo is really for you. It could be a loved one's birthday, their name, a cherished phrase, or a symbol that you most identify with. It has to be the shade that reflects the meaning you want and done in the right spot to have an expert touch.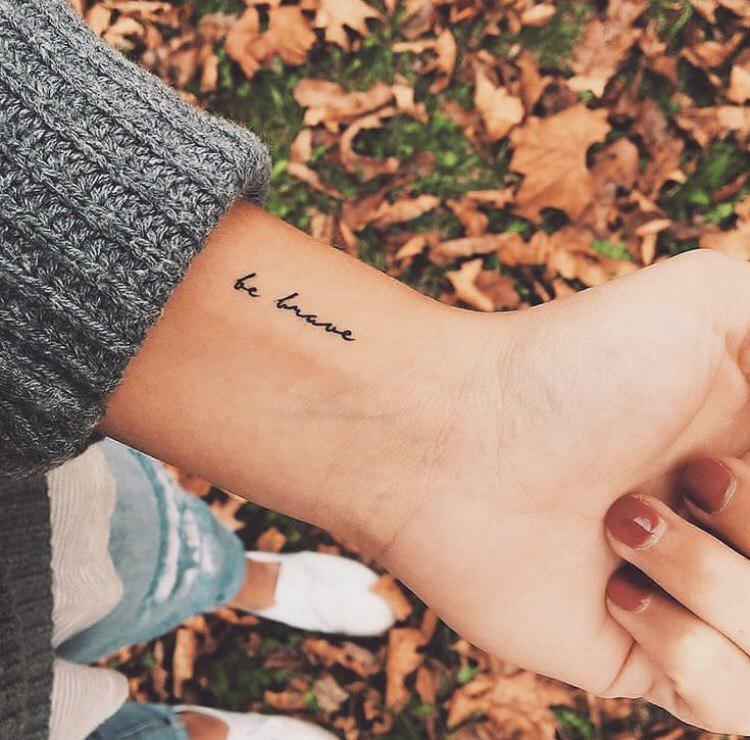 6. Number Tattoo
Numbers have a very strong symbolic meaning. They can represent things like fate, luck, math, or even occurrences. They don't have a universal meaning because it depends on who is wearing them. This tattoo depicts two people, one with years tattooed on the elbow and the other with years tattooed on the hand. This design is ideal for demonstrating your love for your siblings, partner, or even a friend. Depending on your preferences, it can be inked on any region of the body.
7. Animal Tattoo
Among animal tattoos, wild animal tattoos are the most popular. Each animal symbol represents a distinct emotion or sensation. Get this tattoo to represent your favourite pet or animal. An elephant and a dinosaur are shown in this tattoo. A symbol of prosperity and good fortune, as well as power, strength, dignity, and longevity, is the elephant. Dinosaur tattoos represent strength, which is why so many individuals select them.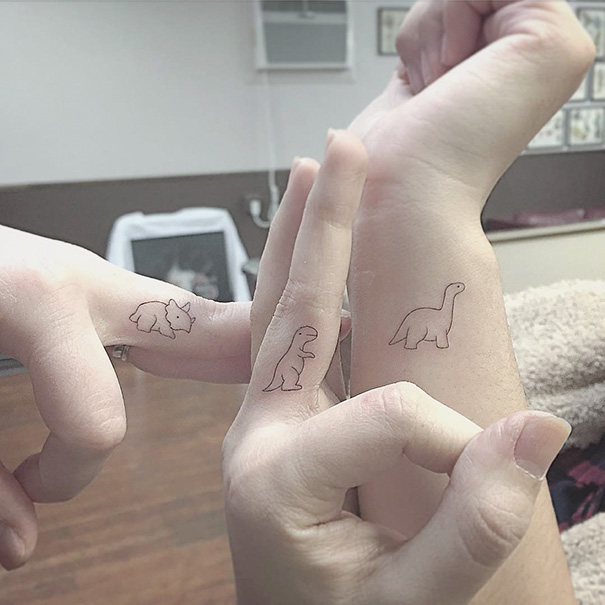 8. Sophisticated Heart Tattoo.
Just as the word "heart" conjures up images of happiness and passion, so does the heart in ink. The colour of the heart affects its meaning: a black heart represents mourning, whereas a tallow heart represents a fresh start. It is possible to tattoo it as a simple heart or as an artsy heart. Heart tattoos look great on any part of the body when done in a basic style.
9. Small Elephant Tattoo
Simple is the new trend. Go get yourself a little and simple tattoo now. Despite its small size, it can communicate loudly what it represents. Whether a tiny or large elephant is tattooed, it will always represent power and strength. The size will be determined by your preferences. This design may also be done on any portion of the body, which is a plus if you are concerned about it being painful.
10. Multiple Tattoos on The Hands and Fingers.
The more beautiful your hand and fingers are, the more attention they will receive. These teeny-tiny tattoos are lovely. You might get a lot of little tattoos of symbols that signify something to you on your hand. Because they are little, you can fit a lot of symbols on them.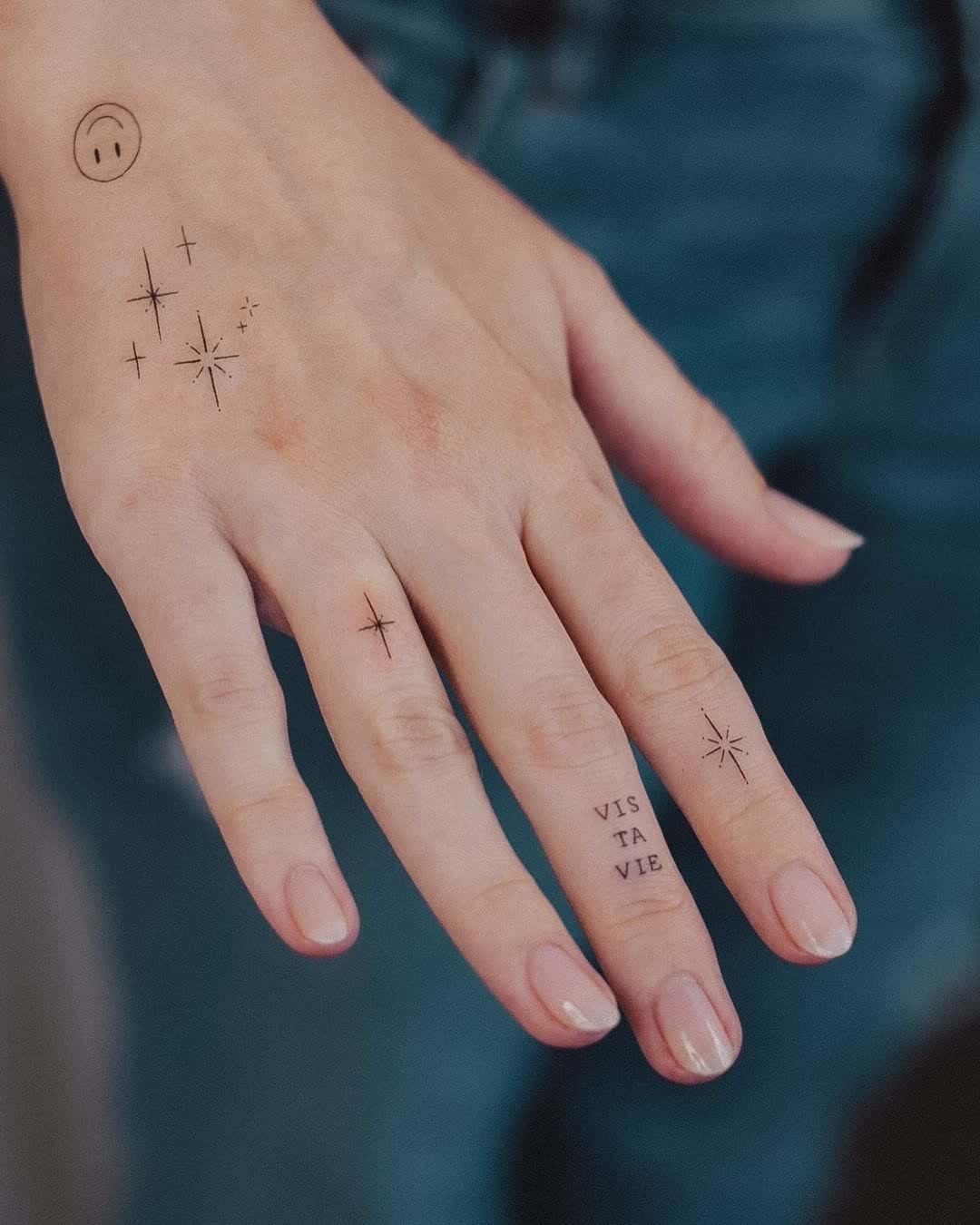 CONCLUSION.
I hope these gorgeous designs will persuade those who are undecided about having a tiny tattoo to reconsider. Choose a tattoo that appeals to you and visit a competent tattoo artist for professional guidance on the tattoo before you get it and to get the beautiful design. Wear your minimalist tattoo with pride, as t can also convey your message at the same time look good.
Tinny tattoos can be worn on different body part provided that they are inked to fit your skin tone and with the right ink color. If you have a poor pain tolerance, a little tattoo will not hurt as much as a larger tattoo.