Tattoos look great regardless of their style or placement! Black rose tattoos stand out among the countless tattoo designs available. Black rose tattoos are becoming increasingly fashionable. Many people choose to get black rose tattoos imprinted on their wrists or forearms.
We've created a list of the top rose tattoo designs for women to get you started. This gallery of tattoos can inspire you whether you desire a rose on your shoulder, chest, forearm, wrist, or back. Explore all of the options to get the ideal rose tattoo for you!
1. Back of ear black rose tatoo
Behind the ear tattoos are some of the most passionate placements for tattoos moreso for a meaningful tattoo such as that of a black rose. The skin behind the ear is some  of the thinnest around the body making it very sensitive and difficult to heal but everything about this tattoo is intense. In the end the appearance is worth every pain that you will endure for this piece. The closeness to the ear shows that you are listening to whispers and letting the call of destiny and your faith guide your every decision.
2. Forearm large tattoo
The rose flower is one of the most meaningful and gorgeous flowers and this makes it an absolute wonder to have for a tattoo. This forearm placement for the tattoo is superb and it makes it all the more appealing and easy to flaunt or conceal with long sleeve shirts. The artist incorporates some intricate shading effects which make the tattoo looking stunningly realistic.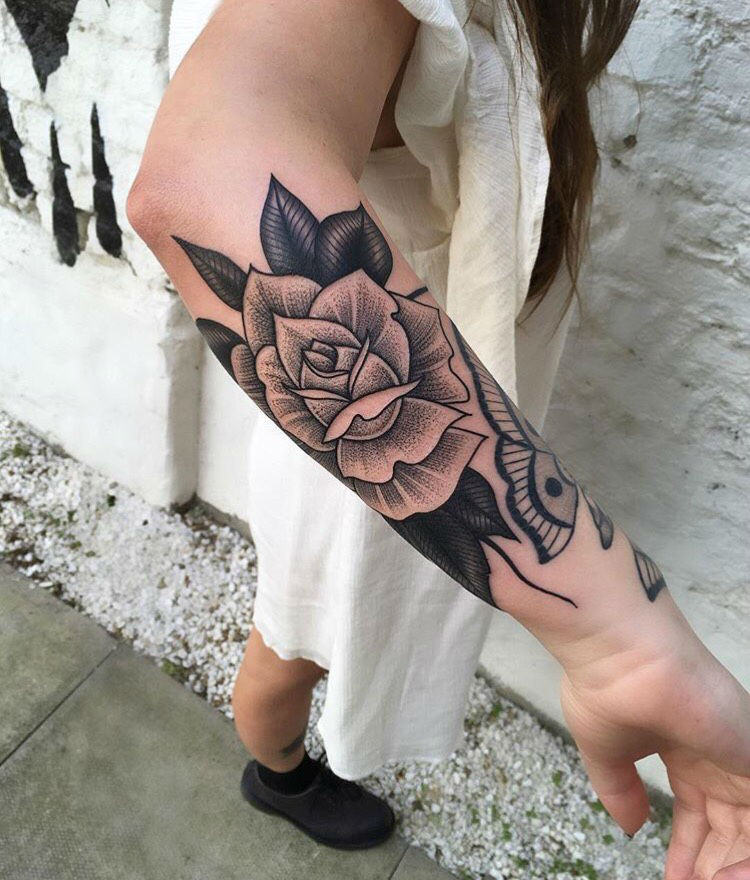 3. Temprorary rose and bud tattoo
If you are eyeing a particular rose tatoo for your full sleeve but cant quite build up your boldness to the level where you just walk into the shop and point at the image then sit back, worry no more. This large forearm temporary tattoo will let you take your favorite floral tattoo for spin before your decide to committ. Wear this and get the feedback from friends and family before you decide to committ.
4. Small cool hand tattoo
This tiny rose tattoo carries the full meaning of a life size rose and more. It is clean and easy to see making it memorable and a less annoying companion through life. If you are not an ink enthusiast but still want to get a rose tattoo to commemorate your loss this is the tattoo for you. You will constantly be aware of its presence but its also gorgeous and is likely to last a long time without much care due to the placement and size.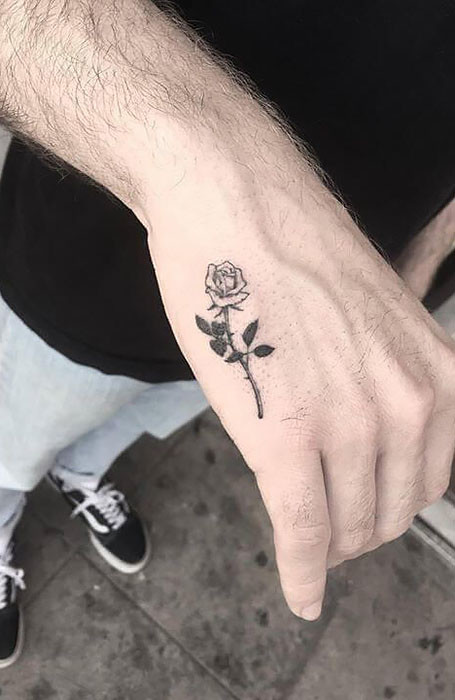 5. Death Rose tattoo
A black rose tattoo is frequently associated with death and what is remembered. In Western culture, it's frequently used to pay homage to someone who has died away. White roses, on the other hand, have a comparable meaning in the East, rather than the pure love and purity that we are all familiar with.
6. Traditional black rose tattoo belly
A black rose also represents strength, power, and rebelliousness. During the fight, Irish troops wore black roses to symbolize bravery and resistance to the British. The simple black rose tattoos also convey optimism, which contrasts sharply with the meaning most people associate with death. Western sailors inked black roses as a symbol of their desire to reunite with their families.
7. Pretty Black rose tattoo for arm
Ultimately, a black tattoo will bear the meaning of your choice. Isn't that strange? The black rose tattoo, on the other hand, is unquestionably the outsider of the sacred tattoos. At the end of the day, the tattoo should be something you enjoy and that you think looks great. It's fine if you want a black rose tattoo merely because it's pretty; we all like pretty things.
8. Bold black rose tattoo for back
Full black tattoos are amazing especiall if you intend o get matching tattoos with your partner where they can get just the outline rose tattoo of the same size and similar placement. The black rose with bold ink designs is captivating. It may be worn on any region of your body, including your shoulder, arm, forearm, and neck. A great tattoo design is a black rose with tribal motifs. This is the one for you if you're seeking for a truly unique tattoo idea!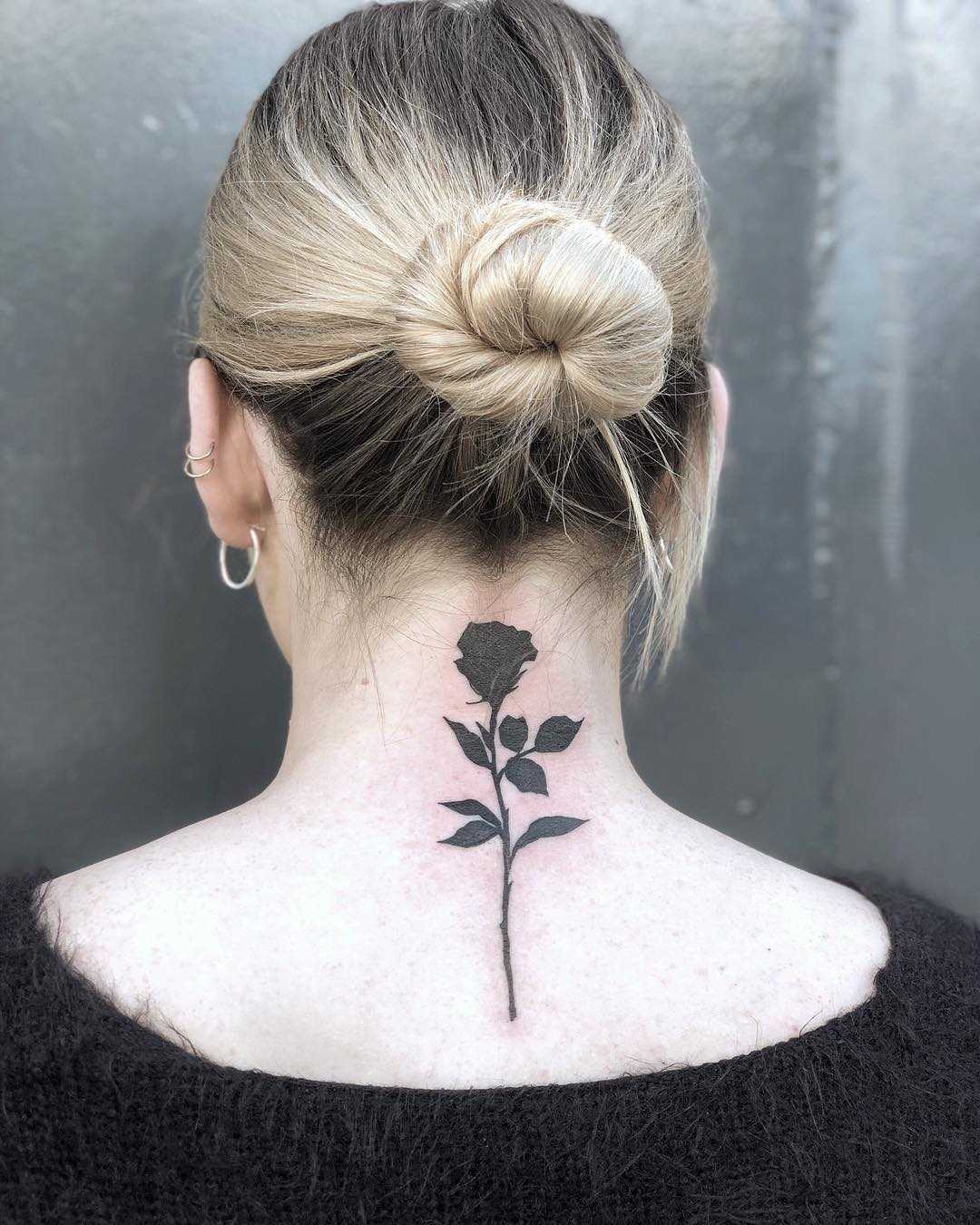 9. Full Black Rose Tattoo
Tattooing has evolved throughout time, but certain patterns, such as the traditional rose tattoo, have remained ageless. This classic tattoo concept is a fantastic choice for women who love the retro atmosphere and want to pay homage to 1930s pinups and sailors.
10. Monochromatic rose sleeve tattoo
A black and white rose tattoo will tick all your boxes if you like sharp lines and delicate workmanship. This is one of the greatest solutions for individuals who don't want to pay extra money to touch up a colored tattoo because it is known for being aesthetically attractive. Finely made delicate lines of black ink are accented by white coloring reserved for the inside section of petals in these tattoos.
11. Yellow Rose Tattoo
An orange rose tattoo is a lovely variation to the conventional colour. This bold color scheme adds to the tattoo's excitement and helps you stand out from the crowd. With your new ink, you'll feel like a princess from a storybook, especially if you add other attractive details like ivy or complementary flowers.
12. Blossoming rose back tattoos
A black rose tattoo is ideal for those who want to stand out. Regardless of the size, the black rose design has an artsy, edgy, and hip vibe about it. The dark hue contrasts with your skin and the tattoo's delicate lines, producing a gorgeous design with depth and interest.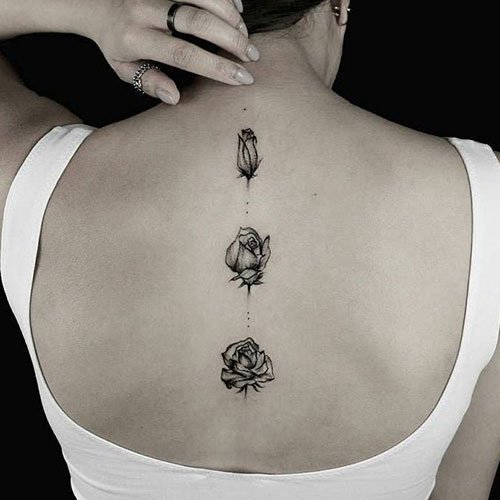 The Bottomline
Black rose tattoos are one of the most popular tattoo designs these days. And the key reason for its appeal is its stunning appearance. Furthermore, the tattoo may be applied anywhere on the body, from the wrist to the ankle, and in any size. Also, by having your tattoo done in 3D, you may have a realistic-looking tattoo with optical illusions. In addition, a variety of additional symbols, such as lettering or a butterfly, can be used with the black rose tattoo.
Other Articles