There are so many cool tattoo ideas for men, but choosing the right one can be hard. In this guide, we've compiled some of the best male tattoo designs that combine great imagery and a meaningful message. A small tattoo is a more subtle and easier to hide type of ink. They can look great on any body part. Simple designs are often the most creative and are the most unique while Skull tattoos are a great way to celebrate any occasion, and there are many designs to choose from. Whether it's a simple and cartoon-like design or an intricate one, these are sure to become a favorite.There are so many ways to get a masculine tattoo that fits your style and budget, here is free inspiration for your next ink.
1. Small Geometrical Tattoo For Men
The small geometric tattoo shows just how good geometric tattoos can look on a veiny masculine harm. It has a smaller core dark shape and progressively lighter shaded shadows and there is just this horizontal line which takes the form of the triangles and then goes to infinity. This is definitely an arm band form of tattoo and the combination of that style and geometry is quite a rare sight.
2. Family With Flowers Tattoo For Men
Family men know that the most important thing is getting a tattoo to say that you are in solidarity with your family and will die to defend that entity. But you hardly have to get a violent gang tattoo to spread the message of love of family. This forearm to wrist tattoo is a large scale word "family" with flowers in the background.A family tattoo pays tribute to the people in your life who are most important to you. There are plenty of options to choose from, including names, dates, and portraits.
3. Black Birds In Eerie Forest
Here you see two birds cycling over dark apocalyptic forest with trees that have weird branches which resemble the antlers on reindeer. The floor of the forest is forming an armband and creates a darkness which shows contrast with the fair skin. We can't be sure what this tattoo means but black ravens or whatever birds these are always look wonderful and give dimension of earth and sky.
4. FaceAnd Neck Tattoo For Men
Men tattoos can be quite rewarding that you might want to get a group of them that seem very unrelated. The idea in this image is just how to make the most of the canvas you have which is your body. He has left much of his frontal face blank while there is a geometric tattoo of an arrow or something resembling a rocket on his left check and some bat cartoon character under his earlobe as well as some calligraphy on his neck.
5. Falcon Free Fall
This tattoos is that of a predator bird in free fall. The bird takes this formation when trying to prey on other birds or some other animal. It will reach breakneck speeds by dropping itself from a greater height and kill or dismember the other animal on impact. Speed and sheer ferocity is what makes these birds survive and this tattoo sends out a clear message about its wearer without having to take on a threatening violent imagery. Falcons and eagles are among the most popular bird tattoos. They represent power and strength as they hunt.
6. Compass and Palms Forearm Tattoo
Compass tattoos are your best pick if you always want to remember that you are a traveler and constantly need to remember to realign yourself with your purpose. Finding true north for everyone is a different task and for this guy it's about globetrotting to find himself nice beaches with surreal palm trees. It's a simple self-explanatory piece but that does not take away from its masterpiece which would only take a maestro to achieve.
7. Bow and Arrow Geometric
Bow and arrow designs are quite popular among men because they are weapons and show masculinity and warrior spirit. Arrows are also focusing and can help you define your goals in life with sharp focus and give a sense of direction and purpose. This simple tattoo with elements of geometry also gives you a great way to express yourself while not committing to any one meaning.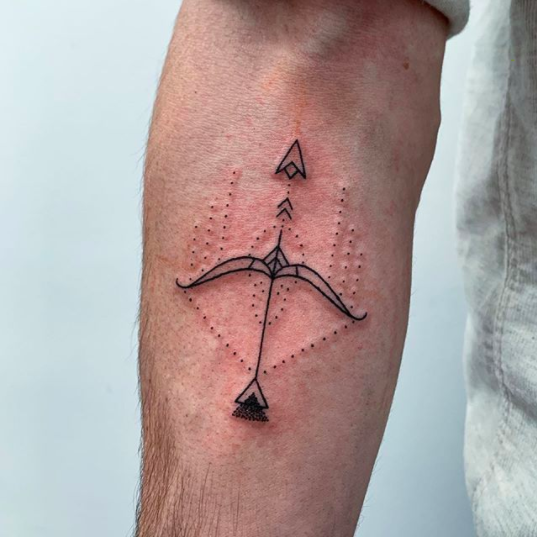 8. Memento Mori Helm Forearm
Memento Mori means "remember death". It's an interesting and true statement that stands for a whole theme of gothic vibes but this here is a simple skull tattoo with the skull forming the center hub of the helm of a ship or boat. It also has arrows on the top and bottom spokes of the wheel which gives us a sense of direction (past to present and future) and then of course there is the writing beneath the helm saying 'memento mori'.
9. Asiatic Architecture with Apocalyptic Theme
This tattoo shows a Japanese themed storey building with several layers and in the foreground a twisty apocalyptic themed tree with no leaves or fruits. It appears to be floating from some clouds and its branches appear dead which gives off an eerie vibe to the whole scene. Regardless of its specific meaning, this is a specialized masterpiece tattoo that only a handful of artists can pull off.
10. Cross and Ecclesiastes3:1
Picking your Christian faith as a theme for your tattoo is and interesting take on the matter. There are a number of justifiable reasons why you should not do it but then religion should also be free which means that every man or woman has the right to practice their form of worship according to their own conscience. Ecclesiastes 3:1 says "there is a time for everything" or "to everything there is a season". This is a clean and simple tattoo of the cross and will suit any man wanting to apply Christian and Bible wisdom to everyday life.
11. Full Sleeve Warrior and Empire Tattoo
A full sleeve masculine tattoo has its unique allure with incredible awe inducing properties. This piece depicts an ancient soldier in armor, a palace or emperorial monument of some sort and a image of a kings head as would appear on an ancient coin. Its three piece in one with a common meaning and that is ideal for a full sleeve tattoo. This acts not only as a fashion statement but also says that perhaps your purpose is to defend your country or nation.
12. Old Tree Finger Tattoo
There are few finger tattoos that will look nearly as appealing and natural embracing the contours of the finger as this one. The artist clearly takes realism to another level even though restricted to a black shade only. They used a varying shade of the same ink to create a texture to the surface of the tree and give it a 3D impression around the finger. Further, the root system begins right on the knuckle where the finger also changes to a different part from the main stem.
13. Only Light Can Drive Out The Darkness
Check out this beautiful back tattoo with smooth contours and hugging his back in a natural and appeasing form with a quote that says "only light can drive out darkness and only love can drive out hate. This is a Martin Luther King quote from 1963. Anyone who supports the African American civil right cause and all the other minority groups that are oppressed will understand the significance of such a quote reminding these communities that the answer to racism is not counter racism or hate.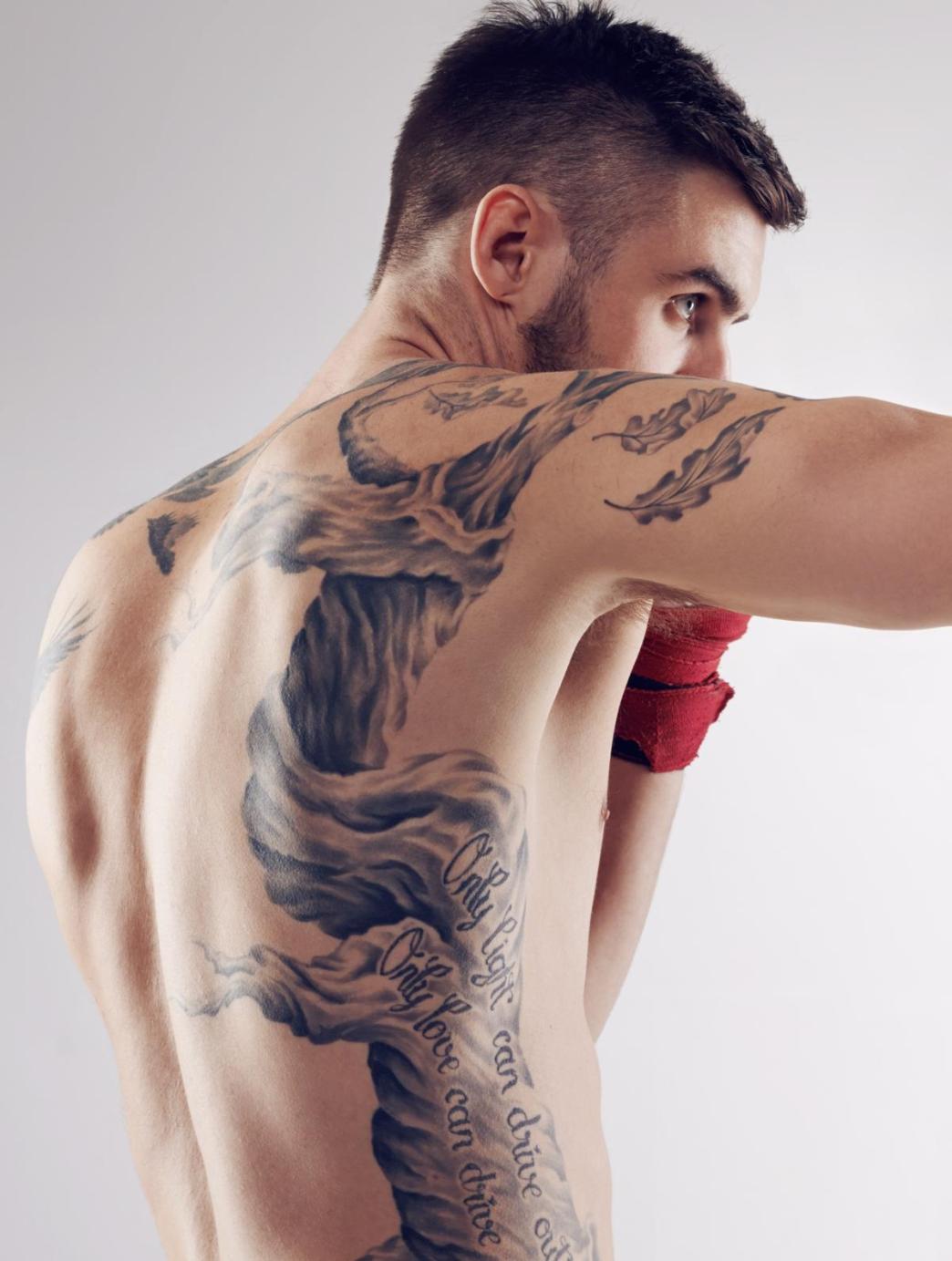 14. Live Like A King Forearm
Sometimes you just need a straightforward tattoo without any symbolic or deep hidden meaning. In that case you can go with a tattoo that simply has the visuals and text to back up your message in case someone does not really get it. A crown would usually suffice to say live like a king but by stating the obvious on the tattoo confirms our suspicions.
15. Serial Number Neck Tattoo
This guy decided to assign himself a barcode with serial number at the back of his neck and it would be interesting to scan it and see what it stands for. The message of this piece could vary depending from subject to subject but we get the sense that humans have reduced to expendable goods. This guy feels like a product and so needed to be identifiable to any inspecting authority and so got himself a barcode serial number just in case they get lost or forget their name. Awesome!
Conclusion:
Deciding on the best tattoo for men can be challenging, as many individuals have the same idea when it comes to choosing one. However, choosing the right design and size is very important, as it will help define who you are and what type of ink you want.
Your body is blank canvas and the best designs will turn it into a work of art. Ideally, you want a cool and meaningful tattoo that will appeal to both your personal and professional goals.
Other Articles