Lions make some of the most popularly tattooed animal images in the mainstream tattoo arena right now not only because of how beautiful and recognizable they are but also because of what they stand for. Lions are particularly popular for men because of their symbolic meaning of being the King of the Jungle full of confidence, strength, confidence and courage. Whatever your goals for having your skin inked are, you can rely on us to help you pin point that perfect piece that was intended for that specific part of your skin and inspire you so you dare to imagine more on your own. Read on to discover some fiercely beautiful Lion tattoos for boys and girls who want their roar to be heard and respected for miles as well as those whose calm silence tells it all.
1. TATTOO OF A LION WITH A CROWN
For a good reason, we still refer to the lion as the king of the jungle. A lion with a crown tattoo, the uncontested champion of the Savannah, is the ideal way to hammer home this regal nature and show off a bit of your inner king.
2. TATTOO OF THE LION KING
The Lion King, a Disney classic that many of us grew up with, is still as good today as it was when we were kids. Lion King tattoos are ideal for anyone who wants to embody the ideals of loyalty, honesty, and friendship that the film promotes.
3. TATTOO OF A TRIBAL LION
While they aren't for everyone, tribal work remains popular, and it's simple to see why. The bold lines, stark black ink, and distinctive shapes that characterize this style can result in some outstanding work. The attractiveness of tribal lion tattoos is evident when applied to a subject as spectacular as the King of the Jungle.
4. TATTOO OF THE LION OF JUDAH
This lion is a central emblem in the Rastafarian religious system, representing strength, nobility, and African sovereignty. As a result, the lion of Judah tattoo is a fantastic choice for anyone who wants to express their dedication to Haile Selassie I.
5. TATTOO OF A LION CUB
Because their lovely faces conceal their fierce lineage, juvenile lions make for excellent tattoo themes. Lion cub tattoos are popular for commemorating children or representing the wearer's commitment to his offspring for this reason alone.
6. TATTOO WITH LION EYES
The piercing eyes and unwavering profile of a lion make these tattoos a distinctive choice for people who want to portray the fierceness of their style with just one look.
7. TATTOO OF A LION AND A LAMB
Lion and lamb tattoos are deeply meaningful to those who wear them because they are rich in symbolism. The lion represents power, physical strength, and violence, as well as the dual aspect of existence, whereas the lamb represents innocence, serenity, and spirituality. These individuals are noteworthy in the context of Christianity.
8. TATTOO OF THE LION FAMILY
Unlike most big cats, lions live in huge extended family groups, leveraging their strength in numbers to maximize hunting and pride protection success. Use this lion family tattoo to symbolize the value of family in your life.
9. TATTOO OF A ROARING LION
Hearing a male lion's booming roar captures the raw power of nature like few other sounds. Roaring lion tattoos are a great way to show off the wearer's spiritual connection to the King of the Jungle.
10. TATTOO OF LION SKULL
The lion skull tattoo is a unique alternative to the more common artwork inspired by these large creatures. The skull of a lion is as aesthetically pleasing as it is symbolically complex, possibly reflecting the death of the typical attributes associated with lions – strength, ferocity, and masculinity.
11. THE LIONHEART TATTOO
To be lionhearted means to have bravery and fortitude written so deeply in one's heart that only the noblest creatures completely reflect the weight of these traits. Lionheart tattoos are an easy choice for anyone who wants to demonstrate the depth of their character to the world.
12. TATTOO OF A LION'S FINGER
Such a precise design may have been difficult to find in the past, but with the talent of today's artists, lion finger tattoos are not only conceivable but truly impressive.
13. TATTOO OF A LION
Not every design requires intricate line work or deep shading. With the lion's particular traits, this tattoo displays how successful this 'less is more' technique can be.
14. Lion Head forearm tattoo
The Lion head is one of the most majestic imagery that you can use for animal themed tattoo. It says a lot about masculinity, strength, power and ferociousness. All animal lovers understand why picking out the right tattoo for an animal you love is difficult. While other lion tattoos with a snarl can appear intimidating, it is possible to depict the same animal as calm and calculative. This tattoo depicts tranquility of lions and gives the image a mysterious and peaceful side. This size of the tattoo is good for sleeve, thigh or chest placement.
15. Souls of Lion with geometry
If you are looking for a unique Lion tattoo then you can pick the trendy subject of Lion heads but choose a geometric and fun version. This style of tattooing makes the traditional tattoo feel more modern and abstract and even though realism has its perks, so does standing out. This particular piece is made out to feel futuristic effect which gives adds to the allure of the Lion vibe. It has added depth and complexity which can easily make your tattoo stand out even among similar themed ink.
16. Small forearm Lion tattoo in triangle
The Lion tattoo is a must have when you are looking for a good animal themed tattoo to inscribe in a triangle. Elements of geometry are blended here with realism as the image of the Lion's head inside is true like in a picture. This little tattoo has a big impact because of the sharp and realistic stare of the lion and the triangle fits on the forearm which generally takes a triangular outline as well.
17. Matching tiger and terrain tattoo
We have to break the monotony of lion tattoos on this top 15 list of amazing cat tattoos to have by introducing an occasional tiger. This curious case of the tiger sighting shows that the tiger is inbound on a canoe tackling the waves possible to get to land and she has the terrain where the tiger will feel most at home. It is a meaningful complementary piece which does make complete sense without either piece but could still look great on its own.
18. Blue and sketchy Lion's head tattoo
The Lion is a proud, powerful and tenacious animal which has a reputation of being kingly in the jungle. Its roar can be heard from up to 5 miles away and the animal though usually non-aggressive looks intimidating. This tattoo is a contrast of that ferociousness with cool playful ink with blue watercolor touches. The artist creates the effect of a torn canvas with the incomplete sketch. This tattoo will look great with neutral gender feel and can fit on the forearm, thigh, chest, back and shoulders or even on the calf.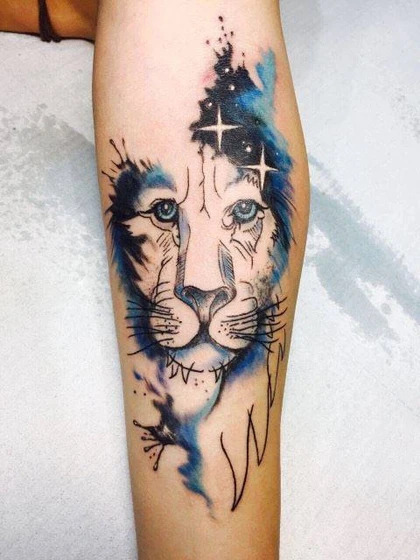 19. Matching couples Lion and Lioness with arrow tattoo
Nothing says love and commitment than a couple of matching partner tattoos with half heads of Lion and Lioness. This couple also has a similar arrow to finish off the tattoo where the female meets the male. This obviously goes if you are looking for love tattoo to match with your soulmate. Every king needs a queen and if you are lucky enough then there is no reason not to put it down on skin.
20. Sketch styled Tattoo sleeve design
The sketch styled tattoo is a statement of art and style all by itself. The upper arm and shoulder placements for tattoos are ideal for lion head tattoos because these areas are muscular and show strength and tenacity which is the theme of male lions. Usually shoulder tattoos can extend to the collarbone but the lion head fits perfecting with the widest part of the upper arm being he head and mane of the animal.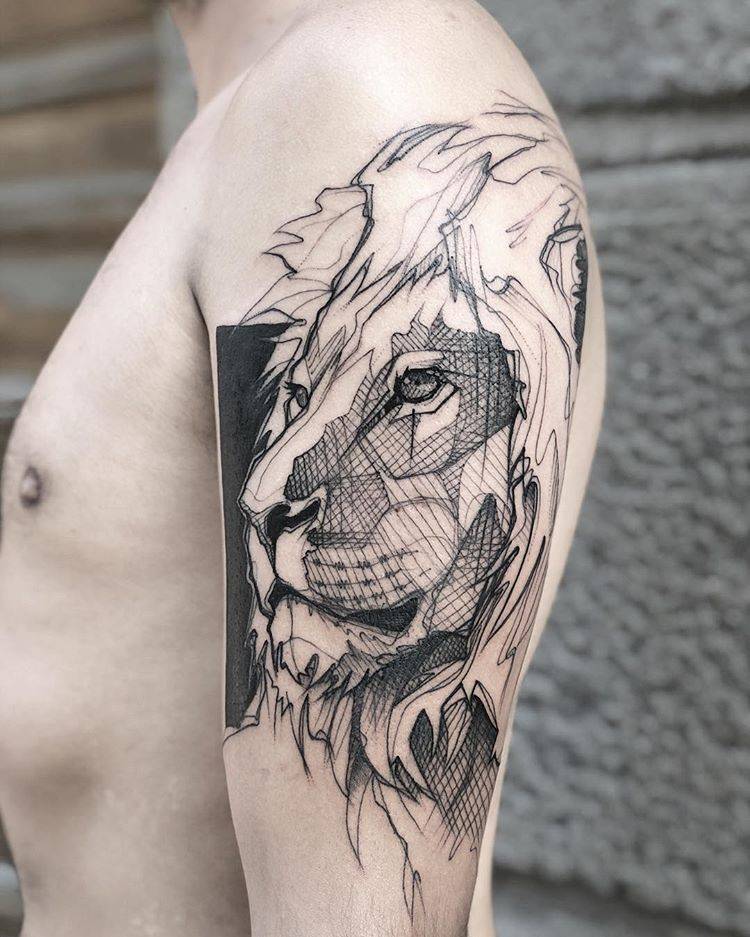 21. Back Lion Tattoo for girls
Girls too can enjoy cool Lion tattoos as much as Lion heads are predominantly a male domain for tattoo choices. The most impactful lion head tattoos require a vast space of canvas and the one place you can find such is the flat and soft skin on a woman's back. Notice how the artist makes this male lion figure feel feminine and strong so that it fits the gender. Back tattoos are bold and symbolic and often resonate with extroverts.
22. Meaningful unique Forearm tattoo
This unique work or art shows a smoky effect used here to depict profile of the lion head with free flowing manes. The piece feels light and free and is certainly a good pieces if you want to give off that free-spirited vibe with you knew ink. Forearm placements are some of the best for a tattoo that can remain concealed under long sleeved shirts and still be easy to flaunt at any time being only a few folds away.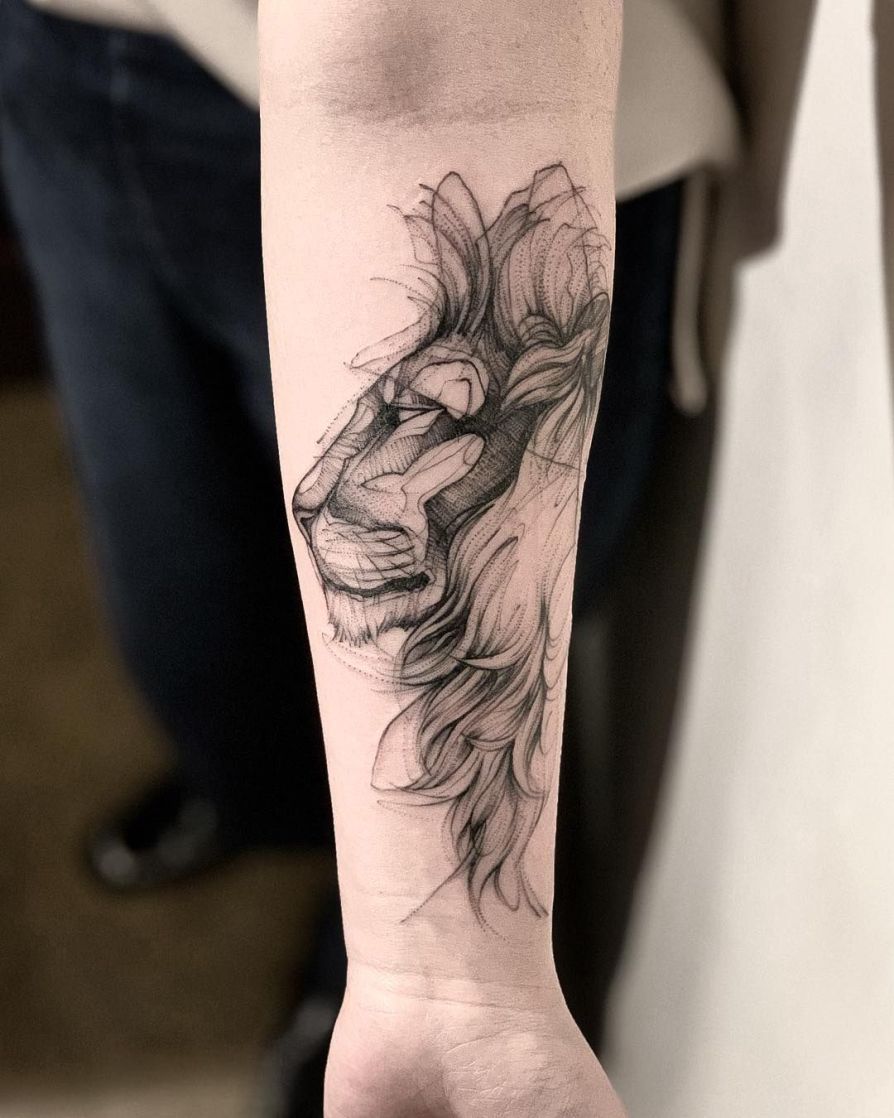 23. Cool Lion Sleeve Tattoo For Girls
Check out this gorgeous pieces which is designed around the upper arm of a girl. This should go to show that lovers of tattoo art and especially masculine subjects like lion heads with manes should not be afraid to go for it. This looks stunning without overly emphasizing masculinity. Instead it combines her feminine contour with the cool feline and ferociousness of lions to create a beautiful work of art that is to be desired by all.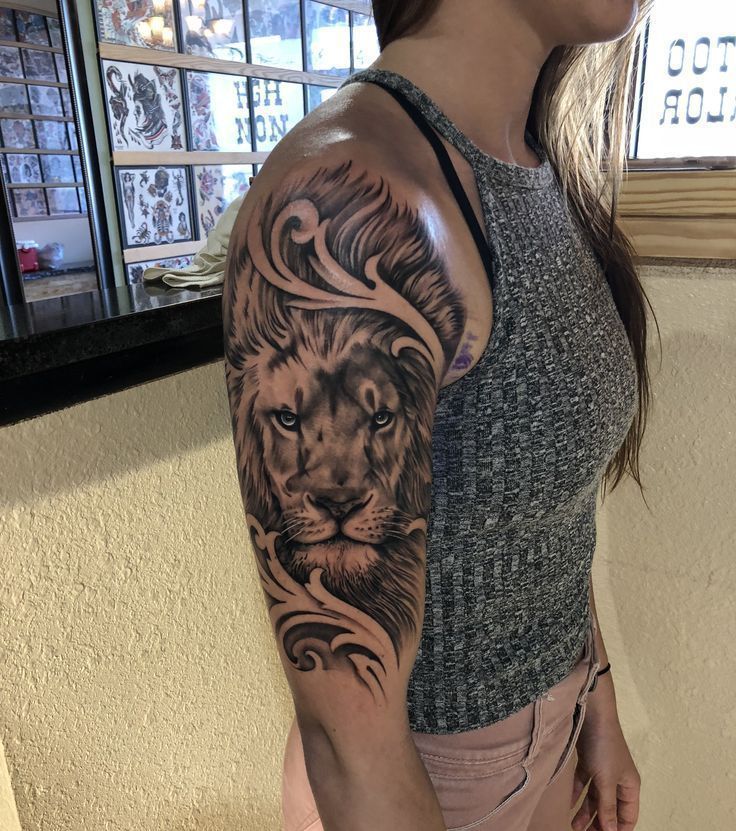 24. Lion and flowers back tattoo for girls
For you who are looking for a girly version of the black and white Back lion tattoo then this is your best pick. The Lion's head is decorated with flowers as if it were standing behind some flower bushes and looking through some petals. A dark gem in also embedded on its forehead which could have any number of meanings in addition to its sheer beauty.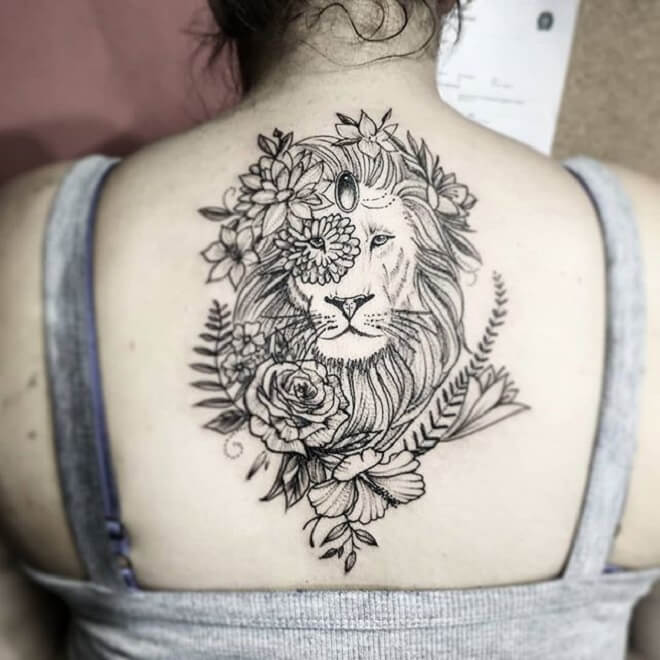 25. Small back of arm lion's head tattoo
Many people cannot resist the beauty of small tattoos and this little realistic lion's head is not an exception. It is tiny at best but still eye-catching and impactful as a large back or chest tattoo. The artist uses interesting choice of shading which makes use of a similar palette and creates different hues around the same image.
26. Blue eyed Lion tattoo for women
If you are in the market for a unique sleeve tattoo for women and you fancy a lion tattoo then this is the best pick for you. Female lion tattoo placement on upper sleeve can be one sexy appearance and has the advantage of being easily noticeable but also concealable with appropriate wear. This is a beautiful Lion tattoo that does not get in the way of your individual and professional goals.
27. Beautiful half-face lion's head tattoo for girls
This tattoo comprises of half of a lion's head with manes that are made out to appear like a woman's hair and the face is also exaggerated in such a way that the Animal appears like a beautiful human face. Other than that, there is addition of flowers and geometric designs which are ornamental and characteristic of best animal tattoos for girls.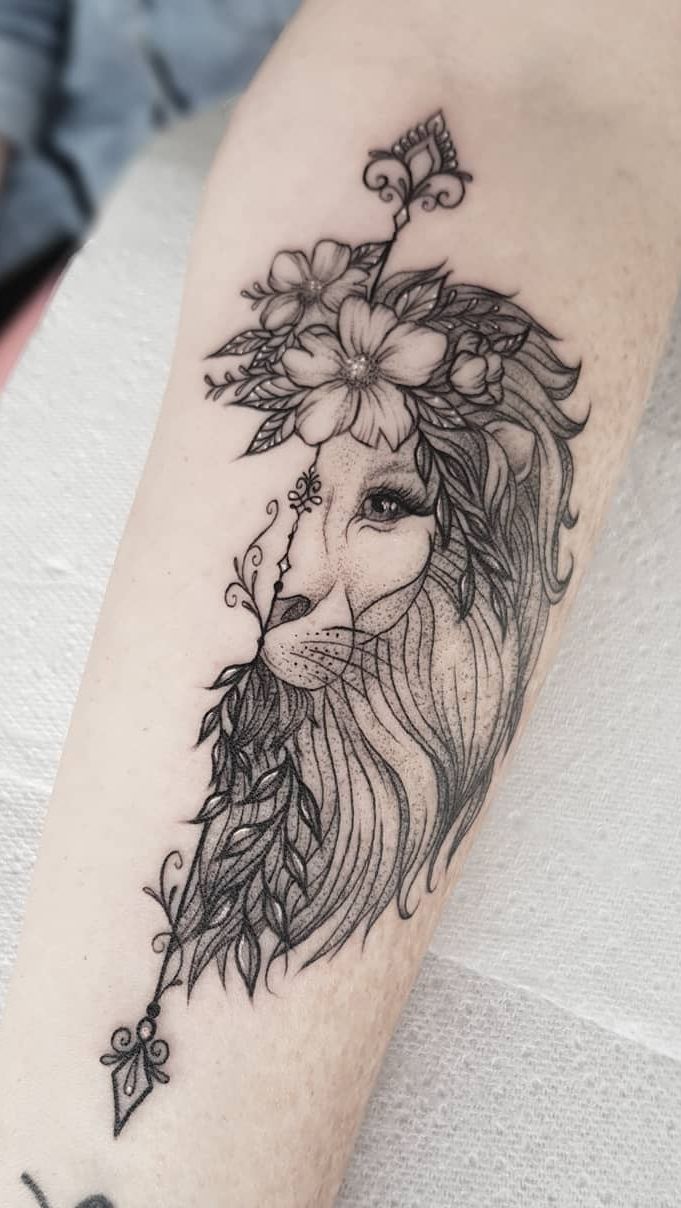 28. Beautiful mandala Lion for girls
This eye-catching thigh tattoo for girls is a flowery mandala with a playful feel to it. It is clear with bold lines and clear spaces in between which offers a good contrast and visual impact. Notice the slight shading on the sides of the face which also adds a 3D effect on the animal. But perhaps the most striking feature on this animal is its cold stare with glassy eyes.
Animal themed tattoos are the favorite ink categories at this time and this sub category also gets the Lion share (pun intended) of votes. The Idea of choosing this beautiful creature to speak your truth is amazing. Take on this challenge and pick a powerful Lion tattoo and let us know how it goes.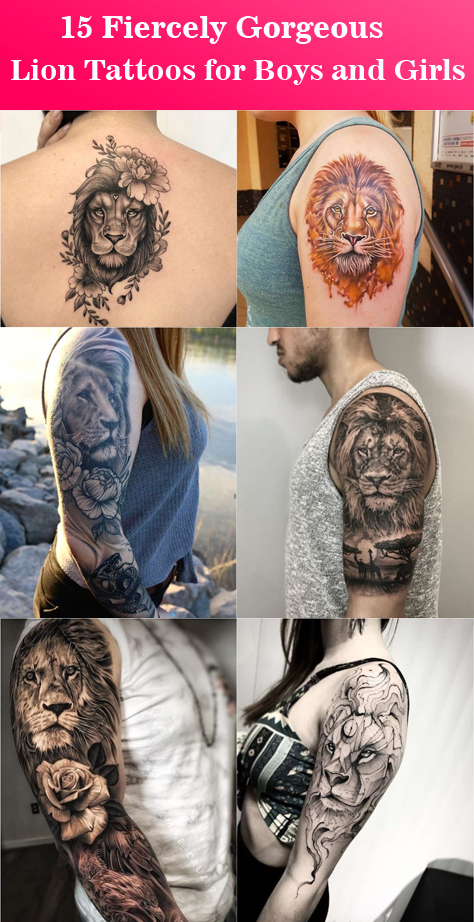 We sure hope that you were able to find a Lion tattoo that works for you above. Feel free to steal any of them and even mash up for a unique new idea that stands out.
Other Articles