Tattoos have become a trendy art which is being adopted by both genders. Many celebrities have different tattoo designs that has influenced us to adopting the tattoo culture. Simple tattoos are normally small and with precision. Less ink is used hence ideal for people who dislike much attention or introverted. Little time and art work is required to etch out some of this amazing designs. There is a variety of designs that you can choose from ranging from plants, animals, symbols just to name a few. It all depends on the representation you decide to choose. For instance if you have had an accident you may choose something sensational to remind you of the pain and recovery process you underwent. It is advisable for one to choose a design that brings positivity to their lives. With all the negative energy around we need to select something that will keep us going.
1. Stars Tattoo
Star tattoos have never gone out of style for quite some time now. It can be symbolic in so many ways. It includes, honor, hope, desire, guidance just to name a few. The tattoo covers a small part of your body and good thing is that it can be etched at any part of the body and is ideal for both genders. However a star which is etched on the wrist is a symbolic representation of hope. It is a good reminder that things will fall into place someday and is best suited for women.
2. Sensational Minimalist Tattoo
Big designs do not necessarily carry a lot of meaning. Simple straight lines can carry such an educative meaning. In this design the hand is sketched and attached with a rope as if the person has recently undergone medical assistance. The tattoo is a dissipation of the pain the person underwent but due to their positive attitude they were able to overcome it.What a powerful message conveyed in a simple design. Moreover the tattoo is simple and chic.
3. Breathe Finger Tattoo
This is a simple and cute tattoo which can have a lot of meaning. It is small in size and beautifully fits on your finger. The tattoo has become popular over the years and it seems it won't go out of style soon. It is a symbolic reminder to slow down and just inhale when things are not happening as expected. This is mostly rampant when you going for interviews or doing some test that make one nervous. It is perfect for people who suffer from anxiety and depression. Who thought tattoos could be such therapeutic.
4. Simple Heartbeat Tattoo
This design has become common over the years. This is because it is simple and yet symbolic. The tattoo is a symbol of love, endurance, strength and the ability to keep moving. It reminds you to keep good use of your time. The tattoo appreciates life and encourages one to keep grinding despite the circumstances. It looks great when etched on the lower arm and good for both gender.
5. Simple Construction Tattoo
This is a simple and yet artistic tattoo. It is drawn in such a way that it looks like someone using a small set of drawing instruments. He or she made an arc and divided it into several equal parts. This design is not necessarily for the nerds. It's just a chic design that does not have any symbolic meaning. Sometimes this simple shapes and lines make have the best design. The tattoo looks great when etched on the fingers.
6. Small Yin Yang Symbol Tattoo
China has the world's largest population. It is one the world's country that has rich culture. The yin yang tattoo originates from one of the oldest principles of cosmology. It's basically all about two opposites working together. The black color represents evil while the white color represents good. It is believe that both evil and good should work together in order to achieve a balance of nature.
7. Love Me More Word Tattoo
This tattoo is small and simple. The words tell it all. Basically reminding you to love yourself more. You are the only person who can love yourself better than anyone else. It has been encouraged for ages that one should love others as they love themselves. The tattoo is great when etched on the ankle. It is best suited for women. I know they can't wait for summer to expose their beautiful feet.
8. Small Flower Tattoo
We all desire to have sexy tattoos on our ankle. Asimple Flower tattoo is ideal for the ankle. The ankle is an ideal place for people who are shy or don't like much attention. There are different flowers that you can choose from. Flowers are beautiful and yet very symbolic. It symbolizes god's contentment and in other cultures love between two people. Get yourself thus amazing flower tattoo and show it off to the world.
9. Triple Triangle Tattoo
This is basically 3 simple triangles which have been interlocked. It is a Christian faith symbolic representation of three sides of the holy trinity i.e. the father, son and Holy Spirit .A lot of artistic design is required to bring out this design in 3D.It looks great when tattooed on the wrist. Regardless it is a religious and simple tattoo design.
10. Small Soulmate Tattoos
Small tattoos look simple and chic. They are normally ideal for people who are shy or people who do not want a lot of attention. The soulmate tattoo is a representation of a strong bond between one person to another or to something else. Less time and expertise is required to etch out this design. It is an artistic tool that should remind you to reconnect with the people who really matter to you.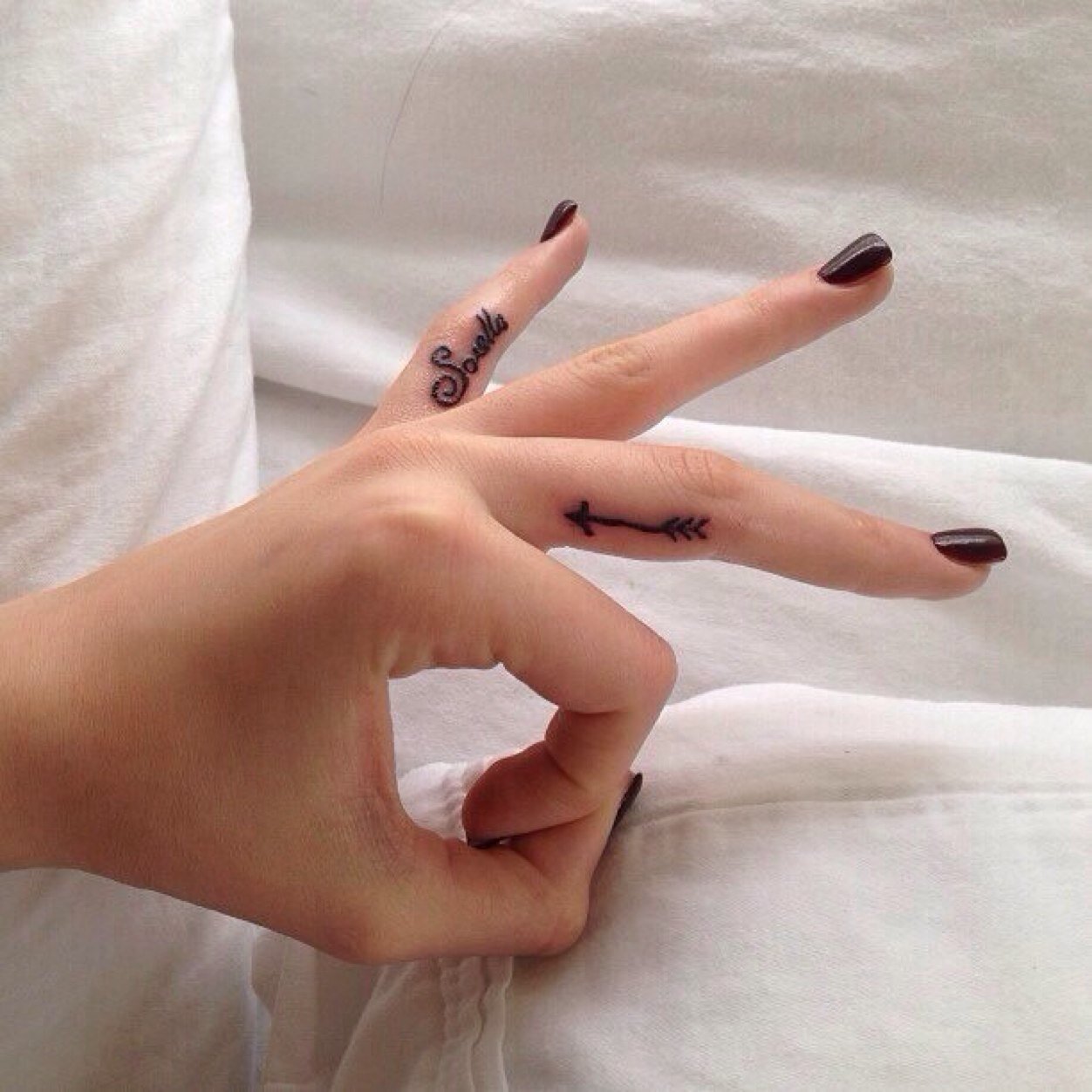 11. Dragonfly Tattoo
A dragon fly represents change, courage and power. The fly is said to pocess a free spirit and this is because it does not fly in a straight line. They represent triumph this is because they never flow backwards. This tattoo is ideally for girls as most of them tend to pick simple and trendy designs. The dragonfly has been trending for quite some time now. In addition it looks classy and simple without drawing much attention.
12. Small Rose Triangle Tattoo
This tattoo design has become common over the past years. Many celebrities such as Rita Ora have been spotted with this amazing design. The triangle is symbolic representation of wisdom, faith, past, present and future. When flowers and blended in with the triangle they make the design look awesome. The design includes sketching a triangle then you include a rose flower inside i.e. triangle rose tattoo will look amazing no matter where you sketch it.It is a simple and yet realistic design.
13. Love Tattoo
This is basically a simple love word tattoo design which has become a trend over the past few years. This tattoo is quite symbolic. It can represent love, passion, friendship, devotion just to name a few. It is an artistic way of showing love to your loved ones. Love is not only shown to your partner but also to your mum,dad,brother or even your pet.It is advisable to understand the meaning of a tattoo before having it done.
14. Matching Wrist Tattoo
This is ideally meant for partners or couples. It's more of an ink representation of a wedding ring. I mean this is the best way of commemorating your day with eternal and dependable tattoo. The tattoo improves your relationship in terms of how you bond with your partner. This design reveals the completeness of a relationship. The tattoo of one wrist is completed the other partners wrist.isnt it romantic. Love buds should try this amazing designs.
15. Simple Star Sign Tattoo
This is a great design for the horoscope lovers. Thedesign is simple, subtle and stylish. This design never goes out of style. You can have it as a feature or choose something large. The tattoo is great on the wrist and especially when on women. It is great design for women who dislike attention or the introverted ones. It is a symbolic representation of hope and patience. Very minimal expertise and ink is required. Therefore you won't attract a lot of attention from it.
Conclusion
With the above discussion, it is easier for one to choose a design that they wish to get tattooed at any part of their body. For instance if you dislike attention then a simple star sign tattoo would do justice on you. It is advisable for one to understand the meaning of the tattoo before deciding which design to choose from. For instance if you love nature you might opt for simple animal or plant designs such as the dragonfly or rose flowers as listed on the article above. Get yourself one of the amazing lifetime designs and have something to show off to your friends.