What are your thoughts on individuality? I mean, would you include that into your regular routine? Being distinctive is an art, whether it be your fashion style, way of life, or any other component that will be scrutinized by the public eye. People frequently seek out originality when getting tattooed. On that note, perhaps tattoo enthusiasts are discovering a new passion in sparrow tattoo designs these days. The sparrow has broken the prisons to confirm its place in our limbs, whether in black or colored to the brim.If you're looking for the newest tattoo design, this is your chance. Allow yourself to be spoiled by the options shown in the list below. We would go into the Latest Sparrow Tattoo Designs here. Also, please take a moment to learn about the true meaning of a sparrow tattoo.
Wasn't it cool? So, here we go.
What Does a Sparrow Tattoo Mean?
The genuine significance of getting a sparrow tattoo is to represent the love and loyalty felt in a family. Furthermore, the sparrow is a free-spirited bird that represents community and simplicity. Sparrows frequently return to their owners after traveling long distances, therefore sparrow tattoo designs also represent triumph or conquering adversity. Furthermore, the teamwork and community spirit of the sparrow make it a lovable bird. So, are there enough reasons to get one?
1. Mini Watercolor Sparrow Tattoo
This little sparrow tattoo will look best on women who appreciate bright colors and small designs. This design will cost you little money or effort to obtain. It is ideal for females who want a whimsical design and a bird to convey their personality. Make sure you have 3-4 hours to complete this design.
2. Cartoon Styled Sparrows Tattoos
If you like showy and prominent locations, wear this arm or palm tattoo. This tattoo is ideal for those who appreciate precision and beauty. The finished result demonstrates a person's willingness to alter and adapt to new circumstances and components. Before you decide to wear or dedicate a conspicuous tattoo, make sure your employment enables you to do so.
3. Lighthouse and Sparrow Tattoo
A lighthouse can show a sailor the right direction while sailing. A sparrow, on the other hand, is a free spirit. Both of these combined in a tattoo can represent that there is always a different path, a correct path that you can choose while wandering free.
4. Floral Sparrow Tattoo
Sparrow is a free creature of nature. Hence depicting it among flowers symbolizes its natural habitat. This tattoo can be a symbol of home.
5. Sparrow Inside Geometrical Patterns Tattoo
A simple sparrow is sitting or flying inside a geometrical pattern. Get this tattoo on your forearm or thigh region for a captivating look.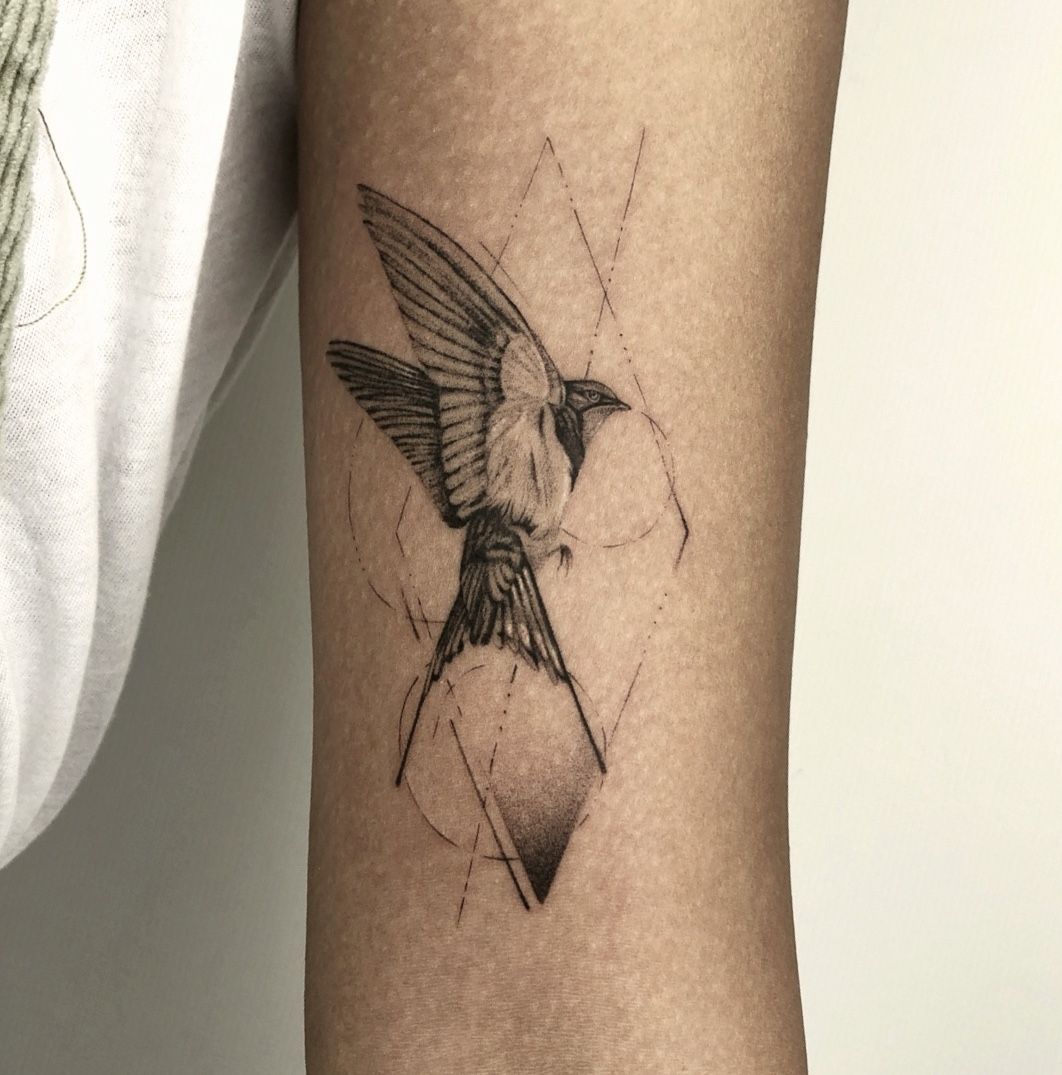 6. Chinese Fan Sparrow Tattoo
Initially, Chinese fans were used to symbolize the user's position and strength rather than to relieve summer heat. During the Western Han Dynasty, true fan-making began. A Sparrow, on the other hand, is kind and quiet, symbolizing that prestige and power can also be attained via tranquility and kindness.
7. Red Sparrow Tattoos
f you appreciate ankle and foot tattoos, you'll like this sparrow bird. It is a strong concept and a tattoo that will look best on women who like bright colors and flowery motifs. Make sure you have a high pain tolerance level because this tattoo is quite challenging to obtain. After all, it is placed in such a unique location and directly next to your bone.
8. Neon Green Sparrow Tattoos
If you like to show off and have a strong dominant energy, you'll enjoy this tattoo and concept. With all these wacky bright hues, the end product will represent someone known for their brilliance or large, aggressive gestures. Show the rest of the world that you are a creative and a trendsetter in your life or field of work.
9. Mandala Sparrow Tattoos
A mandala is an idealized representation of the universe, and its creation represents transforming a suffering universe into one of bliss. It can also be utilized as a meditation aid, assisting the mediator in visualizing how to become the perfect self. The sparrow represents alertness, enthusiasm, creativity, and wisdom. There can't be a greater pairing than these two.
10. Galaxy Sparrow Tattoos
Galaxy tattoos can also represent aspirations, as many people, young and old, secretly long to travel to outer space. If someone gets this tattoo, they will always have a visual reminder to stay focused and remember that they have dreams they want to attain. With the addition of a free-roaming sparrow, you now have the most stunning mix of colors and meaning on your body.
11. Sunset Sparrow Tattoos
Sunset tattoos, in general, represent honesty and light. The fact that the sun is setting indicates that the tattoo signifies truth and light or that it is disappearing but will reappear another day. Sunset tattoos, in other terms, represent rebirth and reincarnation. This will also lend a soothing warning color to your sparrow tattoo.
12. Sparrow Nest Tattoos
This tattoo symbolizes home and family. It could take a lot of space and time to make. You can preferably get it done on your chest or back for entire coverage purposes.
13. Sparrow Carrying Quote Tattoos
A sparrow couple is carrying a quote that inspires you every time you lay your eyes upon your tattoo. It's an intelligent way to add words to your sparrow tattoo.
14. Minimalist Sparrow Tattoos
It's about keeping things simple and using as few resources as possible. For a casual minimalist look, get the outline of some flying sparrows tattooed on your skin.
15. Creative Sparrow Tattoos
What about trying out this small artistic tattoo and this vibrant piece? This design is good for both men and also women of any age. This vibrant sparrow will demonstrate that you enjoy historical patterns and tattoos with much vigor and personal meaning.
16. Tattoo Design of an Ornamental Sparrow on the Chest
This chest features a royal tattoo sign with a gorgeous crown in the center guarded by two lions on either side. The crow is also encircled by two sparrows, both of which are adorable. The significance might be anything, but the design is fantastic.
17. Compass Sparrow Tattoos
This lovely sparrow tattoo design is made on the wearer's arm. It is done in tones of black and white. A compass and a rose blossom are added as additional elements. Because the sparrow represents sailors and the rose represents love and affection, this tattoo design has positive connotations!
18. Sparrow With Anchor Tattoos
This sparrow tattoo is quite vibrant. His tattoo design features a lot of vibrant colors. It has an anchor to represent support and stability, as well as a compass to indicate direction. It also features a rope that represents strength and support. As a result, this pattern is ideal for a sailor's tattoo.
19. Skeleton Sparrow Tattoos
This is an excellent approach to giving a regular sparrow tattoo a hint of goth touch. Ignore the feathers and add skeletons.
20. Neck Sparrows Tattoos
Neck tattoos are trendy among men. If you like spectacular placements and creative concepts, you'll like this design. This neck tattoo will convey that you, like sparrows, are brave and soft on the inside.
21. Chest Sparrows Tattoos
Talking about chest tattoos, this miniature black sparrow is perfect for women who appreciate adorable ideas and aggressive birds. This bird will demonstrate that you are detail-oriented and detail-driven. It also portrays you as a seeker of the truth and positive energy.
22. Couple Sparrows Tattoos
If you have a favorite individual in mind, you can dedicate your tattoo to them. Demonstrate that you enjoy deep emotional ties. The finished product is ideal for couples or siblings who desire a meaningful or matching tattoo.
23. Black Sparrow Tattoos
This tattoo will appear artistic and cute. It is a must-have print for everyone looking for a meaningful design and a tattoo that demonstrates creativity. With this design, you may demonstrate your enthusiasm for art and literature.
24. Fist or Arm Sparrow Tattoo
Tattoos on the arm or fist are uncommon. If you enjoy visible locations and spectacular concepts, you'll appreciate this print and concept. With this tattoo, you will appear to be a genuinely enthusiastic person who appreciates nature. You'll also appear to be obsessed with details and ground-breaking ideas.
25. Outline Sparrow Tattoo
This black outline tattoo will suit people who appreciate more straightforward ideas and are interested in minimalism. Demonstrate to the world that you are consistently producing and having fun on your terms and under your own rules. This one will make you look like a diva with a penchant for unusual components and drama.
26. Abstract Colored Sparrow Tattoo
This shoulder or back tattoo is for women who enjoy bright colors. When done correctly, your little sparrow can appear lively and flirtatious. Demonstrate to the world that you're a creator that prefers realistic designs that reflect your emotions and bold side.
27. Traditional Sparrow Tattoo
This little traditional sparrow tattoo is for individuals who want realistic and one-of-a-kind tattoos. If you like real birds and think they're fascinating creatures, this birdie is for you! The end effect depicts someone upbeat, energetic, detail-oriented, and passionate about nature.
28. Black Sparrow Tattoo Sleeve
Sleeve tattoos are not appropriate for everyone. In truth, this tattoo will only fit you if you like enormous tattoos with unusual designs. This one is dramatic and will look best on athletic men. Give this sparrow a try if you have a lot of space and want to decorate it with a unique bird.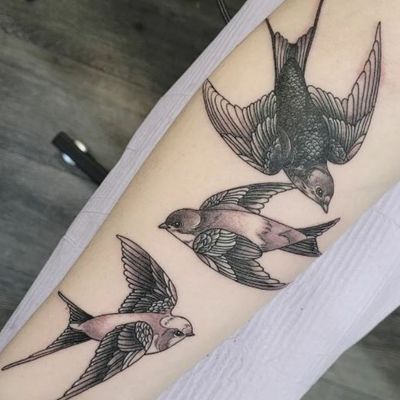 29. Small & Realistic Sparrow Tattoo
This little sparrow is realistic and perfect for anyone who appreciates adorable ideas. It's also a cute tattoo that will look great on men and women looking for something functional and stylish. This tattoo also depicts a person inspired by art and pure beauty. It's also a cute image that won't break the bank.
30. Delicate & Feminine Sparrow Tattoo
Women who prefer female tattoos and elegant concepts will like this old and lovely notion. Add flowers to this tattoo to make it even more appealing and powerful. The outcome will demonstrate your desire to create and explore all aspects of life.
Other Articles