Selena Quintanilla's music, but also her hairstyle, marked a before and after in the industry. What is the proof? These are the hairstyles that have made history!
Selena Quintanilla is remembered in a thousand ways, including her music, which is still a hit in many parts of the world, her name in collections of major makeup brands (such as MAC Cosmetics), and even her Netflix series, which narrates the most important events in her life. Without a doubt, the singer exudes an unforgettable aura!
With the release of the second instalment of the 'Selena' series, everyone has returned to remember every detail of her style, including us, so we've compiled a list of her most iconic hairstyles throughout her career, from classic updos to her long, curly hair. Are you ready to remember her through this brief tribute to her hair?
1. Texture + Sloppy bangs
Selena Quintanilla's signature hairstyle was long (down to her waist), full of natural texture, messy bangs, and many volumes at the roots. Do you enjoy it? If you want to look like her, grow out your XL mane or use extensions, curl the fringe with a curling iron, and use a volumizing spray at the roots.
2. Updo with Side-swept bangs
This is one of the singer's most iconic hairstyles, and we adore it! Because she pinned it at the crown of her head, it styled her face and made her appear taller (Selena Quintanilla was 5'5″ tall, in case you didn't know). Her straight hair was also coiled in the style of recent runways, making her look on-trend and super stylish.
3. Loads of Curls
Although the star is often photographed with straight hair, we saw her with a much fuller, Chinese, and fluffy mane on several occasions. It screams the '90s! Even more so with her signature makeup of thin brows and brown lips from her heyday.
4. Sloppy Updo
Selena had this hairstyle when she won a Grammy in 1994. (and which she also used to wear at concerts). It creates a voluminous and casual updo with wavy strands on the sides of the face. Although it appears simple, replicating the dramatic effect will take some time if you have short, straight, or fine hair.
5. An Elegant Bun
The classic sleek bun could be included in Selena Quintanilla's hairstyle repertoire, as it was one of her favorites in its many variations. In the photo, a simple bun at the nape of the neck with a neat and shiny finish balances the star of her look: a wine-colored bodysuit with sparkles that shone at every concert.
6. A Bulky Top Knot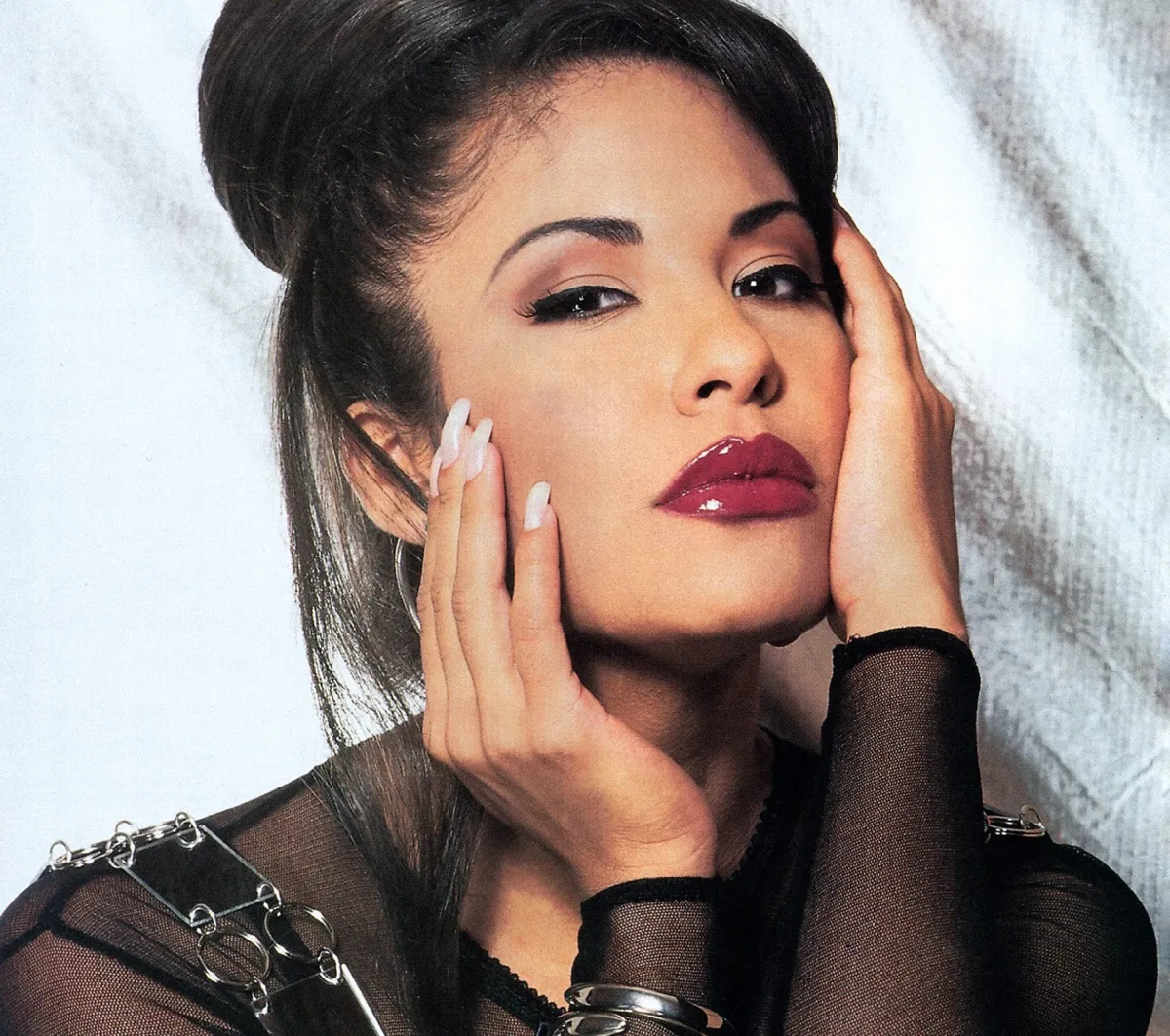 One of the reasons Selena Quintanilla remains a style icon is her incredible ability to transform any ordinary look into something spectacular. This is the case with this hairstyle, which may appear to be an ordinary updo, but if you look precisely, you can see the locked bun that the singer did for an authentic, showy, and corpulent look.
7. Ponytail Half-up
The high half-tail with fringes and a baby bang is not a thing of 2021 (despite appearances); Selena Quintanilla made it fashionable before! In a few photos on the Internet, we can see that the singer showed her off at concerts. Still, you can also immerse yourself in this type of hairstyle inspired by the original look of the interpreter of 'Bidi Bidi Bom Bom' in the current series.
8. Short Loose Hair
The singer of Bidi Bidi Bidi Bom Bom Bom popularized the short hair look in the 1990s before becoming a style icon. At 20, she debuted this classic look on her 1991 album.
9. Headband
Selena's classic hair trend: headbands for dancing the cumbia. This '90s glance went viral and are still one of Selena's favourites. The Mexican-American singer popularized this look during the release of her seminal album Amor Prohibido.
10. The Beehive
The Corpus Christi beauty is known for her big, voluminous hairstyles, such as this beehive-shaped bouffant.
11. The Rolled-on Flower Updo
Similar to her earlier updo styles but with a twist, this hairstyle is famous for its puffy texture. As shown in the image, Selena often wore it, twisting small sections into a flower-like updo at the back. This is her most famous hairstyle.
12. Curly, High, Messy Ponytail
Quintanilla is remembered for this curly hairstyle. You need to tie your naturally curly hair into a high loose ponytail letting the hair fall on your back. This hairstyle is for everyone who loves curly messy hair in a high ponytail.
13. Straight Long Hair
Although Selena usually wore her curly hair in different styles, she has also tried long straight hair with a half-up, bun and loose hair. You can check out her images; we're sure you would love these hairstyles too.
14. Toupee Short Hair
Unlike the beehive hairstyle, Selena has few pictures with her short hair too. As seen in the above image, try a toupee or raised spiky updo hairstyle if you have long hair at the back.
15. Low bun
A simple, sleek bun, but with a low updo. This hairstyle can't be considered unique but helps achieve a flattering look. Selena had been seen in this look at award functions.
16. Ponytail with a Scarf
A high ponytail and an XXL scarf or bow at the back, and you're ready. Quintanilla's iconic looks include this easy and elegant hairstyle too.
17. Low Ponytail
We have been going through these high ponytails throughout, and it's time for Selena's low ponytail look. Tie a low ponytail, messy or uptight but make it a good move and get set!
18. Loose Wavy Hair to the Side
Besides curly hair, we also have Selena's wavy hair option. Let your hair loose and put them all to the side whether you've small, medium or long hair. Indeed a casual chic look!
Other Articles