The scorpion is an animal from the arachnid family. Despite the scorpion being feared by some people, others love the darkness the scorpion tattoos will represent. These tattoos look good; that's why people love them. This kind of tattoo is slowly becoming common to people, so getting this kind of tattoo in your body will get you much attention because of how unique they are. A scorpion has been identified with physical prowess, hence symbolizes strength and endurance.
Scorpion has always been associated with sexuality and arousal because of the way they mate. Scorpion tattoos are associated with love symbols and sensuality triggered by desire. Facts associated with Scorpio tattoos are warning, energy, mystery, and energy. For the above reasons, scorpion tattoos are fascinating. Below are scorpion tattoos with their meaning and the various scorpion tattoos available. These will help you choose the best you will want to get on your skin.
1. Scorpion in a Vase Tattoo in Black and Gray
This is very fascinating to look at since I'm not sure if the Scorpion is simply printed on the vase or if we're peering through the vase to see what's within. The whip shading is stunning, providing so much dimension to the design.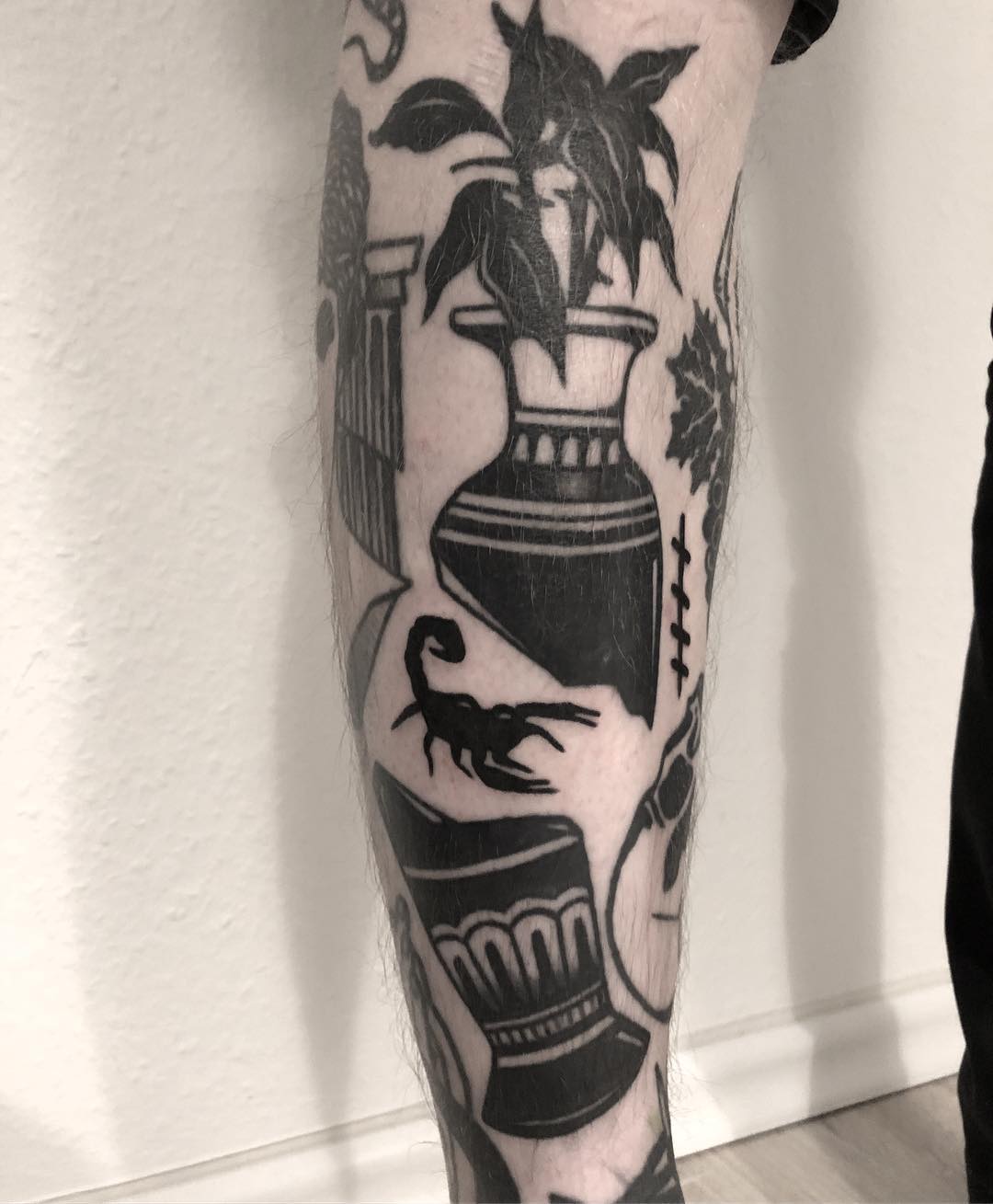 2. Yin Yang Symbol Scorpion Tattoo
I love how well the yin-yang symbol fits into the overall composition – this is some crazy design expertise! Also, the Scorpion's entire body is formed of small shiny ornaments that are sewn together like jewelry.
3. Scorpion Holding a Heart Tattoo
This ink piece's design concept is extremely ingenious and unique. Because the Scorpion's tail is naturally upturned, it appears to be the ideal location to hang a lantern or maybe even a heart! I particularly appreciate how the details of the heart is shown.
4. Golden Scorpion Tattoo in Neo-Traditional Style
Don't you adore the Neo-Traditional color scheme on animal tattoos? Because they provide such a grounded vibe to the design, I think the earthy, darker yellow tones work well here. The white highlights are also a great touch!
5. Upper Arm Scorpion and Stars Linework Tattoo
We begin the collection with a magnificent and beautiful design. I love how glitter and stardust of all sizes are strewn throughout the tattoo, giving the impression that the Scorpion itself is a sparkle! A fantastic idea for anyone who enjoys a little pixie dust on their arm!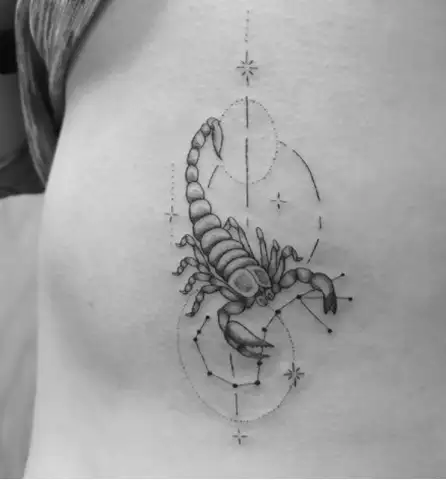 6. Scorpion with Multiple Heads Tattoo Wicked City served as inspiration.
If you like Wicked City or anime-styled art, you'll gasp at how beautiful this inked piece is. I love the scary vibe emanating from literally every component of this design, including the emotionless expressions, the chilly black and blue tones, and the terrifying creature composed of human heads! It's terrible but great!
7. Scorpions, Lilies, and Leaves Full-Back Tattoo in Detailed Linework
I admire the flawless symmetry displayed in this magnificent artwork. Looking at something that fits exactly on this client's back is pleasant. The crisp lines must have taken extraordinary talent, and I love that the artist also uses Linework shading in this one, which provides a raw, sketchy vibe to the picture.
8. Scorpions Stuck in a Compass Tattoo in Black and Gray
The Scorpion is inked in a Black and Gray style, while the compass has little shading or dimension. They appear to be from two worlds, entwined in a weird encounter. This is one of those items that I think is incredibly thought-provoking and would create a good conversation!
9. Scorpion Arm Tattoo in Blackwork with Chain and Ball
You already knew Scorpions were dangerous, but now you know they can also be weapons. This Scorpion, designed after a shackle and a metal ball, is incredibly menacing. With the excellent Blackwork, the artist pulls off this design!
10. Two Scorpions Tattooed on the Stomach in Black and Gray
This one's concept is extremely cool: two Scorpions forming a heart-shaped frame. I appreciate how the Scorpions appear to be revealing what's going on within this client's body. The road, the clouds, the mountains, and the cacti are all stunning!
11. Skeleton tattoo Scorpion with a Luminous Eye
If the ones we've shown you so far aren't frightening enough, this one is probably for you. It's not just creepy; it's terrifying, right down to the last detail. The spiderwebs, the bones, the pointed patterns on the scorpion's body, and the eye "seeing" human hands reaching out for assistance… everything shouts "ghastly"!
12. Back of Arm Scorpion and Dandelions Blackwork Tattoo
Here's another stunning Blackwork painting for you to enjoy. I like how the use of flowers in this one adds a subtle feminine vibe that you don't usually see in a Scorpion design.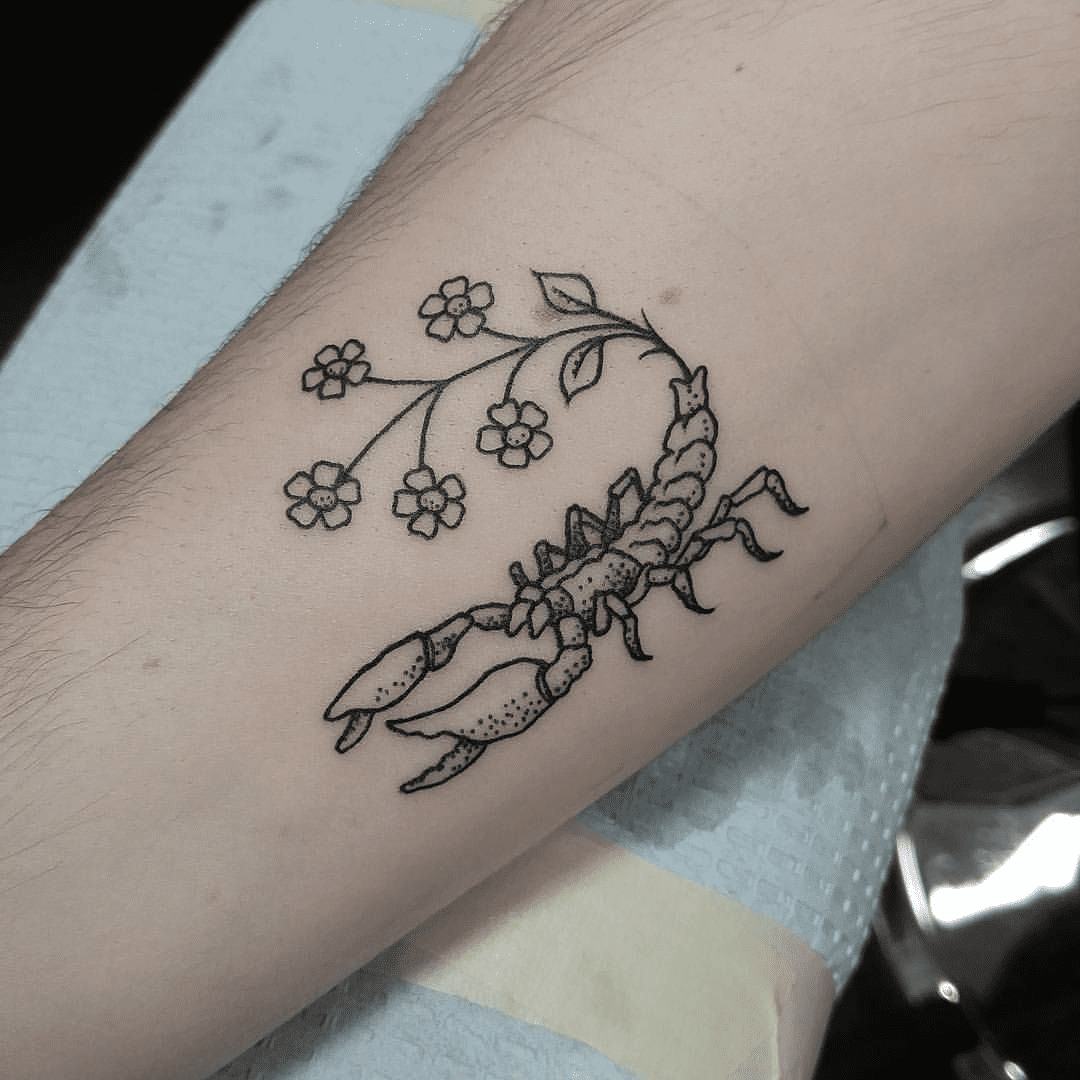 13. Scorpio Fighting Cobra Arm Tattoo in Blackwork
From the classic Blackwork to the design itself, I adore the passion of this entire artwork. Which of these two venoms do you believe will triumph? I appreciate the sketchy lines dispersed throughout the design, which lend so much tension and movement to the composition!
14. Skull and Scorpion Tattoo
A scorpion crawling out of a skull's eye socket is a fantastic tattoo design! You may give it a realistic look by shading it suitably, making it even more intimidating! Other embellishments, such as a cigarette or a bottle of booze, might be added to the design. Death is represented by this scorpion design. Egyptians believe the dead are reborn as half a scorpion and half human. This tattoo offers a hint to the message.
15. Harley Davidson Scorpion Tattoo
A great tattoo is a scorpion symbolizing the well-known motorcycle brand, Harley Davidson. The addition of Harley Davidson completes the renegade look that began with the Scorpion. People motivated by the people who made history get this style of scorpion tattoo. You can use the emblem of your favorite role model to create a tattoo in the same way that Harley Davidson is used in this tattoo. This tattoo represents motivation. It is also one of the most popular Scorpio tattoo designs for males.
16. Neck Scorpion Tattoos
A completely black scorpion can range from very small to exceedingly enormous. It can be worn on various body regions depending on its size. The scorpion shape is common and simple to create. When it's fully black, it just looks like a silhouette. It looks great on your neck, wrist, or ankle.
17. Sketch Scorpion Sign Tattoo At The Elbow
This tattoo has been associated with much symbolism. It deeply represents resilience and danger. You can use it to represent readiness to attack when you feel like someone is messing with you. The scorpion with a raised tail has a motif of serving as a warning. It is best when tattooed by men, ladies with high sensitivity and defensiveness can also get this tattoo for visibility use black ink.
18. Detailed Scorpion Tattoo On The Elbow
If you want the cutest tattoo, go for black inks and choose a detailed scorpion symbol. These designs will first of all hit those who want to intimidate. Tattooing on the elbow will represent resilience, strength, and protection. The color choice enhances the design visibility and adds a very realistic element, especially when the back tattoo color is hued.
19. A Small Outline Tattoo With Stars Background
To make this tattoo noticeable, have it on the forearm. The artist who designed this tattoo harmonized this tattoo style to the natural skin tone and black ink. This tattoo speaks a lot; it speaks about the day someone was also born. The star's constellation in the background reminds us that one is a Scorpio born between October and November. Go with this tattoo if you want something that will always stay clean and less dominant.
20. Scorpion Tattoo Behind The Ear
This tattoo is perfectly tucked behind the owner's ear, but it would be inaccurate if someone calls it subtle. The black used in the tattoo matches well with the skin and the tattoo. It then appears as if the scorpion is crawling behind the head. It makes sense that this stealthy but dangerous animal represents the owner; its fierceness is respected so much. This scorpion will be forever their animal buddy, and it's like life was in a Disney movie.
21. Claws Around The Hand
Claws around the hand are for someone for wants their tattoo to be noticeable at all times. Bold pieces work well in this area which means they should be reserved for something special. The animal of the side of the finger has been given much attention. The details which embark from it automatically renders a fantastic scorpion tattoo. One thing to be aware of is this; hand tattoos fade faster than any other tattoos on the body. It is brought about by the magnitude of using and washing our hands.
22. Detailed Forearm Scorpion Tattoo Traditional
If you love black tattoos and real ink, this scorpion tattoo is one of that kind, and it will look best over the forearm. Forearm tattoos are painful than shoulder tattoos, but the beauty and the show-off that will result from getting this will be worth it all. This one is for a special group called the perfectionist; it brings out precision and eventually dominates.
23. Fine Line Scorpion Tattoos In Red Ink
How about you get a small and delicate tattoo? This red ink fine line tattoo is perfect if you don't want to feel much pain during the process. This tattoo symbolizes a lot, power, love, and passion being among them. This tattoo looks awesome when tattooed on the triceps, and it won't take much of your time to get it completed.
24. Scorpion And Red Rose Tattoo
Getting yourself a scorpion and a rose tattoo means you are someone who is not to be judged. This tattoo speaks too much about the confidence you have in yourself and your style with good taste. It's a design that gives an impression on people that they should be wary when trying to get closer to you, ranging from physically to spiritually. Having a tattoo with a rose in the claws means you are so intimate and can be someone so pleasant.
25. Double Scorpion With Cobra In Between Them
This is the most versatile tattoo design out there that has mystical meanings behind them. The two scorpions are there to protect your world in both the galaxy and the earth dimension. Apart from protecting your world, it is protecting your soul. It is represented by the cobra ready to let the venom out. This tattoo means that you are strong, remarkably untouchable, and if by any chance anything happens, you are ready to defend yourself.
26. Black Small Scorpion Tattoo
This small black tattoo is a gorgeous design. It has various stars symbols used to decorate the whole tattoo. It has a deeper meaning to someone who loves exploring our galaxy and astrology. This one is specially tailored for you if you are a zodiac lover. This tattoo will purely stand for true emotions, extreme love, and deep intentions towards someone. For your pure heart, you will love this ink.
27. A Blackwork Neck Tattoo
Do you want a tattoo on your neck but don't know which one to choose? This tattoo is the best one for you. While tattoos on the neck are increasingly becoming popular, don't miss out on this one. When narrowing down to the design, a scorpion with arose tail means you are a double-edged creature. You can be pleasant, and you can sting badly at the same time.
28. Minimalistic Scorpion Tattoo
For those who think scorpions are just zodiac signs, this could not be further from the truth. Apart from being zodiac, they represent many character traits in a person. Those character traits include; passion, dominance, rebirth, and ardency. Having a scorpion tattoo on your back is of great symbolism. You can have it on your back to represent any of the above traits that initially happened to you.
29. Scorpion Holding A Rose In Its Claws
This is another kind of tattoo that has the deepest meaning ever. The rose has thorns in its stem, a symbol that the person wearing the tattoo speaks of courage and how she has persevered. To add more meaning to this tattoo, the scorpion holding the rose symbolizes that this person needs freedom. You can use this tattoo to express your inner feelings, especially if you're in a bad state in a relationship.
30. Almost Realistic Scorpio Tattoo
There are various scorpion tattoos, but you can opt for a tattoo that is so normal for a scorpion tattoo meant for the tribal. From the tribal varieties, you can choose a small and classy Scorpio tattoo to ink your hand. Everyone couples' goals are so impressive, and you can have your soulmate go for a black panther inking on their biceps. Matching a scorpion to a black panther will make the two of you appear untouchable.
31. Cute Small Scorpion Tattoo
This tattoo is specially tailored for women. Scorpio is the most deadly and attractive sign out there. You seriously would not want to mess with a person identifying themselves in a Scorpio sign. It is a small tattoo that seriously represents your identity. Having it in your finger indicates that you are a very concise person, a virtue people admire. You will never miss expressing yourself in this tattoo.
­­­­­­
Conclusion
You can have any of these tattoos anywhere you want in your body, be it thighs, chest, hands, legs, or your back. The most important thing to consider while getting this tattoo is to get the best tattoo artist. The best artist will give you the best design on your body which creates no room for regrets, especially when going for permanent tattoos. Getting a tattoo is a painful experience, but the outcome will be worth the pain. As you consider getting any of the tattoos above, go for the best.
Other Articles