The tree of life has become one of the most commonly adopted tattoo design. This is because they are normally beautiful and quite symbolic. There are different designs which one can choose for the tree of life tattoo. Good thing with this design is that you can etch at different parts of the body and can decide whether to design it as minimalist or large. In addition you can decide whether to adopt the watercolour design or simply the normal blackish colour. Ensure you get the tattoo etched by a skilled tattoo expert who meets all the health protocols. In this review we will have a look at some of the classic tree of life tattoos which you can comfortably rock with their meanings.
Meaning
The Tree of Life is a cultural and religious emblem of many civilizations. It may be found in both the east and west. A Tree of Life tattoo can symbolize one of several things, depending on the situation and cultural background. In Chinese legend, the Tree of Life is frequently associated with a dragon and a phoenix. The dragon denotes monarchy and endless life, whereas the phoenix represents rebirth. According to Taoism, the Tree of Life bears a peach that grants eternal youth and life to whoever eats it.
The life cycle is represented by the Tree of Life, which connects the heavens and the ground. It is viewed as a link between life and death, creating an eternal circle. Trees have the strength and resilience to withstand storms and survive for hundreds of years. As a result, tree of Life tattoos depicts the wearer's unshakable soul and inner force. Family and love: The branches of the tree of life reach in all directions, representing the expansion of a large family. As a result, the motif might pay honour to family affection and connection.
Designs
1. Tree and Heart tattoo
The roots and soil of this Tree of Life tattoo have been replaced by a beating heart. It's an excellent reminder to trust one's instincts and make decisions from the heart.
2. Behind the Ear Tree Tattoo
Consider behind-the-ear tattoos like this one if you want a tattoo that you can show or cover at any moment. You may reduce your visibility by tying your hair up or wearing it down. In this case, a minimal and simple design will be ideal.
3. Yin and Yang Tree Tattoo
The tattoo artist combines a Yggdrasil with the yin and yang sign in this arm tattoo. Yggdrasil is the Norse equivalent of the Tree of Life, a massive holy tree that grows in the heart of Norse mythology. Yin and yang, on the other hand, is a fundamental philosophical notion in China. It symbolizes the balance of masculinity and femininity. It is considered that only by keeping a yin and yang balance can one be healthy.
4. Tree of Life Spine Tattoo
A tattoo does not have to include simply the tree of life. This spine tattoo is an excellent example of merging many symbols that are important to the person.
5. Celtic Tree Tattoo
The majority of Celtic tattoos include Celtic symbols and knots with specific meanings. Celtic Tree of Life tattoos is no different. The Celts believe that the Tree of Life provides vitality. Everything else in the world receives vitality and plenty from it. It also signifies the three stages of existence that constitute a cycle: life, death, and reincarnation.
6. Tree of Life Armband Tattoo
The ink that wraps around the arm is known as an armband tattoo. However, this one places the Tree of Life in the middle. The roots are linked to Celtic knots that wrap around the limb, resulting in a stunning and complex piece of jewellery.
7. Tattoo design of a Viking tree of life
Viking tattoo components, such as the Vegvisir Viking compass, are frequently used in Viking tree of life tattoos. The Viking depiction of the Tree of Life, like other Viking tattoos, represents strength and power. They are considered to symbolize bravery and dedication to their culture and community.
8. The Lotus Flower and the Tree of Life
The lotus flower's cultural importance is strongly established in Buddhism and Hinduism and has since spread worldwide. A lotus blossom tattoo, in general, denotes peace and purity. It's a gentle reminder to be true to oneself for peace of mind. When coupled with a tree of life tattoo, the lotus provides a feminine and peaceful touch. It is ideal for people who have a profound grasp of life and are looking for inner serenity.
9. Family Tree Tattoo
You are not required to use the conventional Tree of Life iconography. Personalize it instead, like this mother-daughter tattoo.
10. Butterflies and Tree Tattoo
The symbolism of butterflies and the Tree of Life are inextricably linked. Butterflies represent rebirth and change. The Tree of Life, on the other hand, might symbolize reincarnation and the life cycle. A lady with a profound awareness of life who is not scared to change will get such a balanced and attractive tattoo.
11. Cherry Blossom Tree Of Life Tattoo
This pattern has a detailed cherry blossom tree on the thigh. Its natural colours are breathtaking. It is well known that this flower blooms for a brief time before detaching itself from the tree. As a result, it represents the transience of beauty in Japanese tradition. Cherry blossoms are also often commemorated in Japanese festivals. They signify self-knowledge and wisdom in Buddhism.
12. Apple Tree Tattoo
Apples feature in numerous religious writings and are sometimes referred to as mystical. It is referred to as the forbidden fruit in the narrative of Adam and Eve. Apples can also be understood as having a dual nature: they represent Adam and Eve's fall but also wisdom and understanding.
13. Geometric Tree Tattoo
People that prioritize neatness, clarity, and precision in their life frequently choose geometrical designs. This tattoo has a tree of life surrounded by a nice geometrical pattern for a clean aesthetic.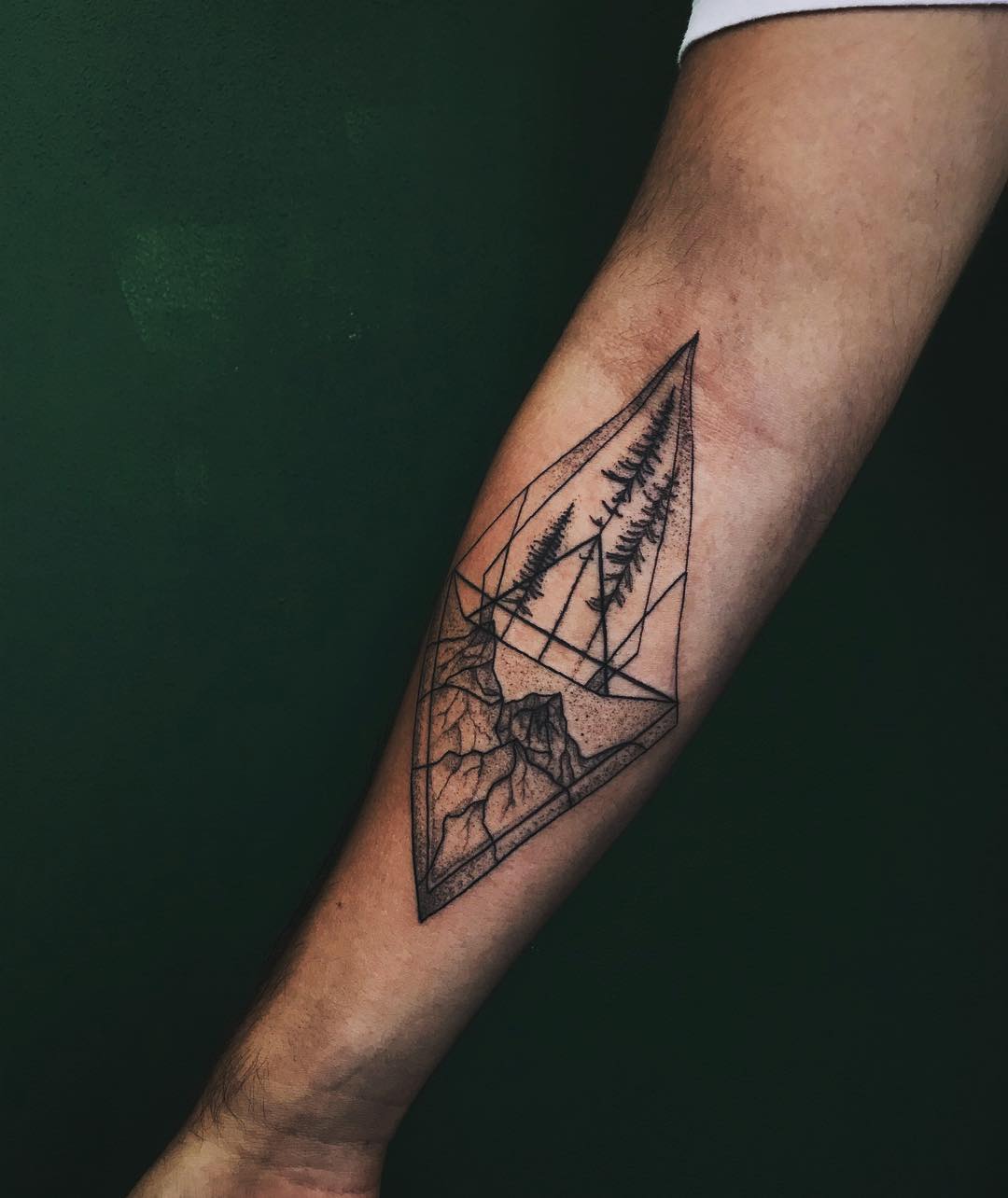 14. Mandala Tree Tattoo
Trees, in general, signify good fortune, security, Mother Nature's bounties, and family stability. A tree mandala design integrates these concepts nicely within the circle, offering a layer of protection. The mandala symbol is considered holy in many cultures and is said to bring good fortune. This design, when combined, provides an even more powerful emblem.
15. Fig Tree Of Life Tattoo
The fig tree's significance comes from the Bible tale of Adam and Eve, who used fig leaves to conceal their private parts after eating the forbidden fruit. As a result, it is frequently used figuratively to convey covering up any uncomfortable or unpleasant conduct that may cause disgrace. Other fig tree connotations include longevity and plenty.
16. Willow tree tattoo
Willow trees have many connotations, including healing, freedom, and lost love. They also represent more mystical concepts such as dreams and magic. These characteristics are frequently seen as feminine. Getting a Tree of life forearm tattoo like the one seen here takes time, but it's well worth it when the tiny lines and intricacy are perfect.
17. Wall nut Tree tattoo
Native Americans associate walnut trees with cultural value. The walnut tree of life represents focus and clarity in Native American culture. People that appreciate excellence and are crystal clear about their life goals might benefit from this tattoo as a reminder. An all-black tattoo like this one and coloring in the tree look great. Place this tattoo in whatever size you like on your wrist, calf, or forearm.
18. Chest Tree Of Life 
Tattoo
This tattoo is one of the most preferred. This is because   it represents endurance, wisdom and strong family ties. The tattoo is basically a tree with shadows and colorful characters that make it interesting and beautiful. The chest is a great place to have this fine art work etched at. Ensure you choose a variety of colors so that the tattoo   can look colorful and beautiful.in addition ensure you get the art done by a skilled tattoo expert.
19. Leg Tree Of Life Tattoo
The legs are a great place to etch tattoo . This is because you can easily cover it up or expose it according to your own convenience. The art is quite symbolic considering your legs are the next step to the life journey. The tattoo is a symbolic representation of stability as root designs are normally incorporated into this tattoo. This deepens the tattoo while creating more interest into it.You can spice it up by decorating the roots with different colors from the branches.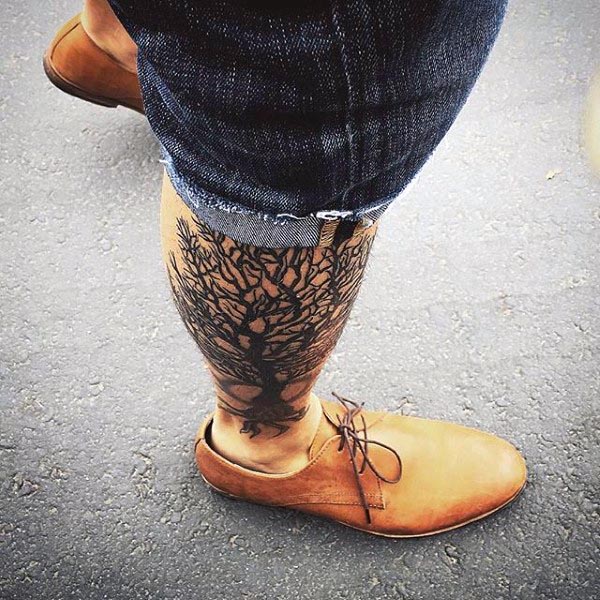 20. Water Color Tattoo
The watercolor tattoo is normally a unique artwork which is quite different from the normal colored tattoo. The designs are normally gorgeous thus resulting to some very unique artwork. Many people are shifting towards this kind of art. Well there is no better tattoo to rock other than the water colored tree of life. The shoulder is a great place to etch this amazing design. It is a symbolic representation of wisdom and strength. Ensure you choose this amazing artwork from a skilled artist.
21. Shoulder Tree Of Life Tattoo
The tree of life has different meanings from different cultures. It all started from the ancient times when there was a tree perceived as evil and another perceived as tree of good luck.it is a symbolic representation of humble beginnings and greatness. Details such as birds, sun and generally the solar planet are added so as bring the tree closer to the sky.It looks great when etched on the shoulder just near the backbone which is the centre of life.
22. Tree Of Life Sleeve Design
This is a huge and noticeable tattoo which all your friends will envy you when they have a look at it.However it requires a lot of time  and skilled expertise to get etched this design . Ensure you surround the tree of life with a snakes design in order to make it look beautiful and edgy. Lots of confidence is required to rock this tattoo and you'll have to cover it up if your work does not allow one to have tattoos.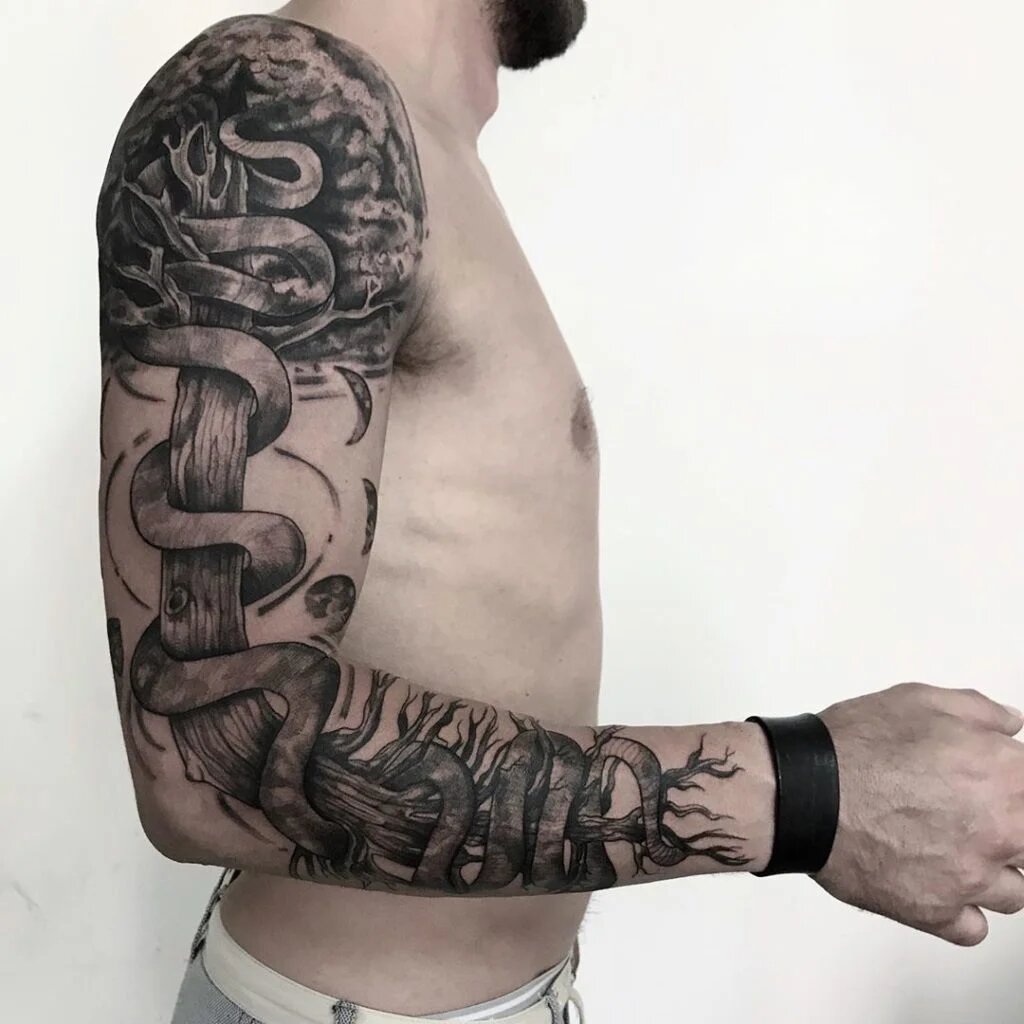 23. Arm Tree Of Life Tattoo
The arm is a brilliant place to have any kind of tattoo etched on it. This is because one can comfortably expose or hide it as per their wish. This makes it a strategic place for a person who works in the corporate world where tattoos are prohibited. The tree of life is a symbolic representation of strength and endurance and there is no greater place to have it rather than the arm.It will constantly remind you to keep going despite the many challenges ahead.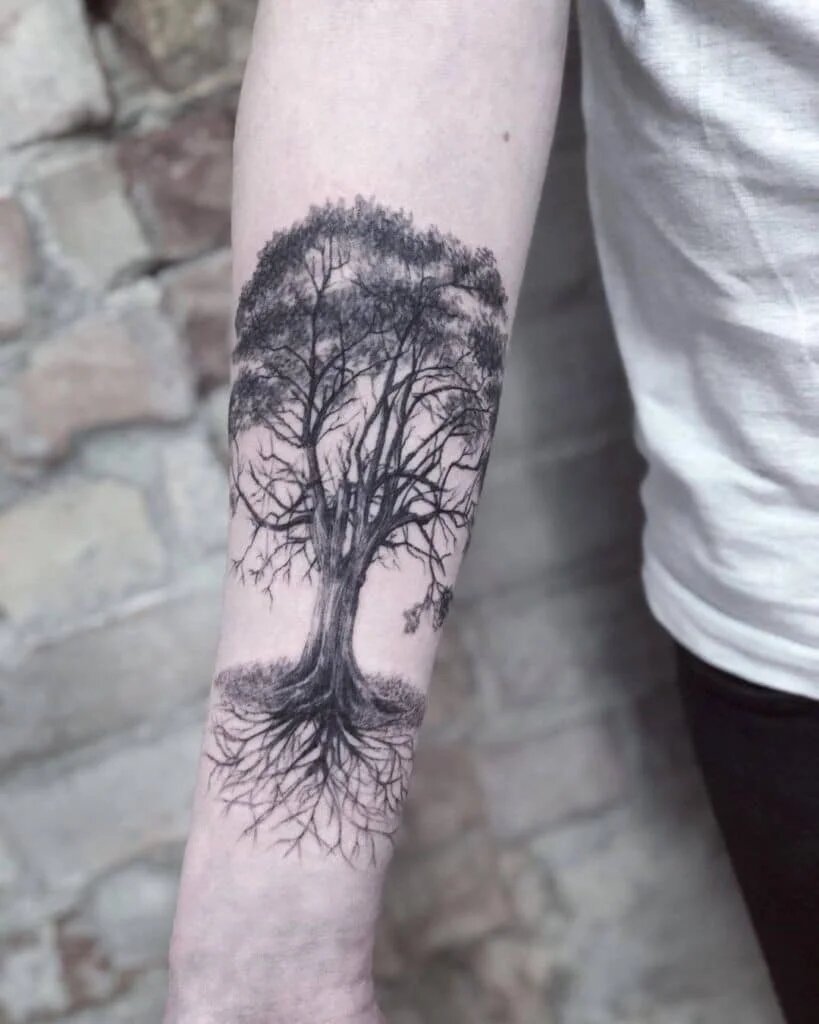 24. Forearm
Colored

Tree Of Life Tattoo

The colored tree of life symbolizes determination and playful personality. It is quite time consuming thus you'll spend a lot of time at your artist in order to achieve this amazing design. However it is beautiful and quite symbolic. Your friends will keep on envying your amazing design. Ensure you get it done by a skilled expertise who will bring out the right design. The forearm is a great place to have this tattoo placed at.
25. Tree Of Life With Symbols
There is a wide range of ways to rock the tree of life tattoo. You can add different symbols on the tattoo to make it look interesting and classy.it does not necessarily have to mean anything. However I  highly advocate for one to choose symbols which are meaningful, you can even choose something as simple as your birth date.in addition you can rock this amazing tattoo at almost any part of your body. However the neck and hands are some of the best strategic places.
25. Moon Phases,Snake And Tree Of Life Tattoo
Different cultures carry different meanings of this 3 in 1 tattoo. The moon phase is a symbolic representation of reincarnation or rebirth according to most Asian communities. On the other hand the snake tattoo represents a start of a new life. In the ancient the snake was said to represent evil and temptation. However the three tattoos combined represent start of a new life after having a bad past. It is quite a good tattoo for someone who has turned over a new leaf.
26. Strength Symbol Tree Of Life Tattoo
This tattoo is represented by a tree, sun and the moon. For a tree to grow it requires sunlight and for the moon to shine it requires the sun. This makes the 3 interrelated.They represent nature and strength in a simple way. During the day the tree emits oxygen while at night it emits carbon dioxide which are essential for human survival. The tattoo looks great when etched on the hip as it is a wide area where the image easily fits.
27. Oak Tree Of Life Tattoo
The Celtic culture valued the oak tree to be supernatural. It was believed to be a supernatural tree of endurance, strength and bravery. This makes this kind of a tattoo to be quite enchanting especially when worn at the forearm. Ensure you get the art done by a skilled artist who will draw the correct image. The tattoo looks great when it's all black.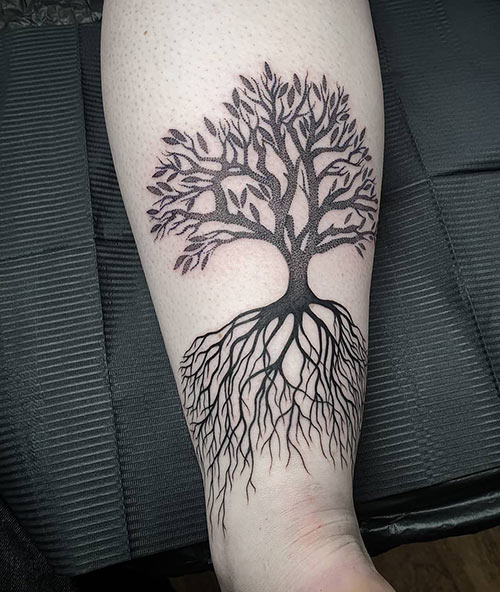 28. Hand That Plants Tree Tattoo
The beauty of human life is planting trees knowing that you may never have a shade under them. Trees are vital for oxygen reproduction and a clean ecosystem. There is no better way to have this representation rather than having it tattooed on your arm. The image is quite symbolic as it represents humanity. You can spice up the tattoo by adding different symbols onto it in addition to using different colors of your choice.
29. Tree Of Life On The Back Tattoo
Having a tree life with geometric patterns at the back is a genius idea as it makes the tattoo look cute. You can decide to have a combination of a sketch and real tree tattoo on the same image, in addition make sure you include the roots too. This kind of tattoo symbolizes the importance of life in plants. Ensure you get this kind of a tattoo from a skilled expert.
30. Geometric Tree Of Life
This tattoo is for people who love nature. You can decide to include any nature element that you like to represent different nature elements and patterns. The art is best placed at the forearm so that it can always remind you to take care and be harmonious with nature.
31. Tree With Moon Tattoo
The tree with a moon tattoo is such a genius combination. It symbolically represents growth, creativity and manifestation. In the ancient Greek culture they believed that the tree and moon combined was a symbolic representation of reincarnation and rebirth.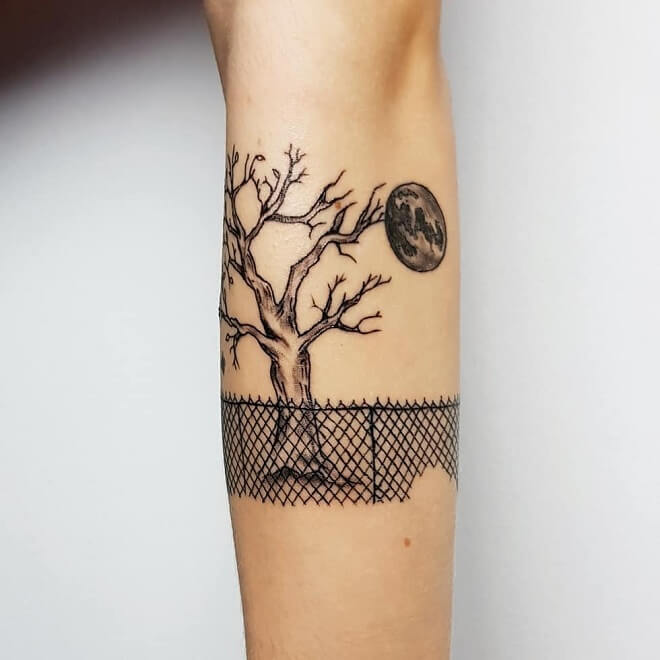 Having had the discussion above you can easily make an informed decision on which tree of life tattoo image you want to adopt depending on your personal preference. And for instance if you simply love nature then you can choose an oak tree, mahogany tree or any kind of tree and represent it as a tattoo. Ensure you get a skilled artist who will bring out the best design as per your wish.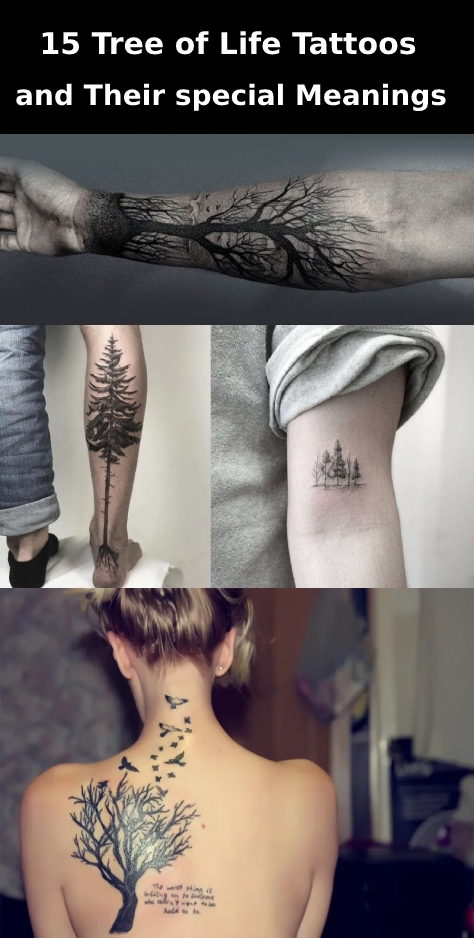 Other Articles