The tree of life has become one of the most commonly adopted tattoo design. This is because they are normally beautiful and quite symbolic. There are different designs which one can choose for the tree of life tattoo. Good thing with this design is that you can etch at different parts of the body and can decide whether to design it as minimalist or large. In addition you can decide whether to adopt the watercolour design or simply the normal blackish colour.Ensure you get the tattoo etched by a skilled tattoo expert who meets all the health protocols. In this review we will have a look at some of the classic tree of life tattoos which you can comfortably rock with their meanings.
1. Chest Tree Of Life Tatoo
This tattoo is one of the most preferred. This is because it represents endurance, wisdom and strong family ties. The tattoo is basically a tree with shadows and colourful characters that make it interesting and beautiful. The chest is a great place to have this fine art work etched at. Ensure you choose a variety of colours so that the tattoo can look colourful and beautiful.in addition ensure you get the art done by a skilled tattoo expert.
2. Leg Tree Of Life Tattoo
The legs are a great place to etch tattoo . This is because you can easily cover it up or expose it according to your own convenience. The art is quite symbolic considering your legs are the next step to the life journey. The tattoo is a symbolic representation of stability as root designs are normally incorporated into this tattoo. This deepens the tattoo while creating more interest into it.You can spice it up by decorating the roots with different colours from the branches.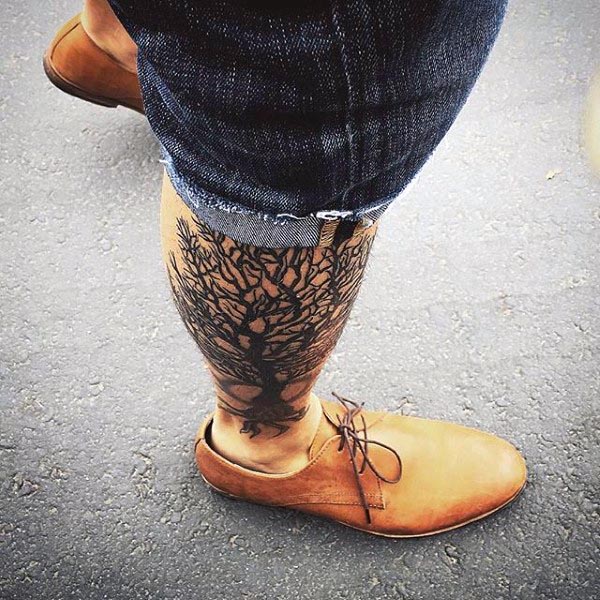 3. Water Color Tattoo
The water colour is normally a unique artwork which is quite different from the normal colouredtattoo. The designs are normally gorgeous thus resulting to some very unique artwork. Many people are shifting towards this kind of art. Well there is no better tattoo to rock other than the water coloured tree of life. The shoulder is a great place to etch this amazing design. It is a symbolic representation of wisdom and strength. Ensure you choose this amazing artwork from a skilled artist.
4. Shoulder Tree Of Life Tattoo
The tree of life has different meanings from different cultures. It all started from the ancient times when there was a tree perceived as evil and another perceived as tree of good luck.it is a symbolic representation of humble beginnings and greatness. Details such as birds, sun and generally the solar planet are added so as bring the tree closer to the sky.It looks great when etched on the shoulder just near the backbone which is the centre of life.
5. Tree Of Life Sleeve Design
This is a huge and noticeable tattoo which all your friends will envy you when they have a look at it.However it requires a lot of time and skilled expertise to get etched this design . Ensure you surround the tree of life with a snakes design in order to make it look beautiful and edgy. Lots of confidence is required to rock this tattoo and you'll have to cover it up if your work does not allow one to have tattoos.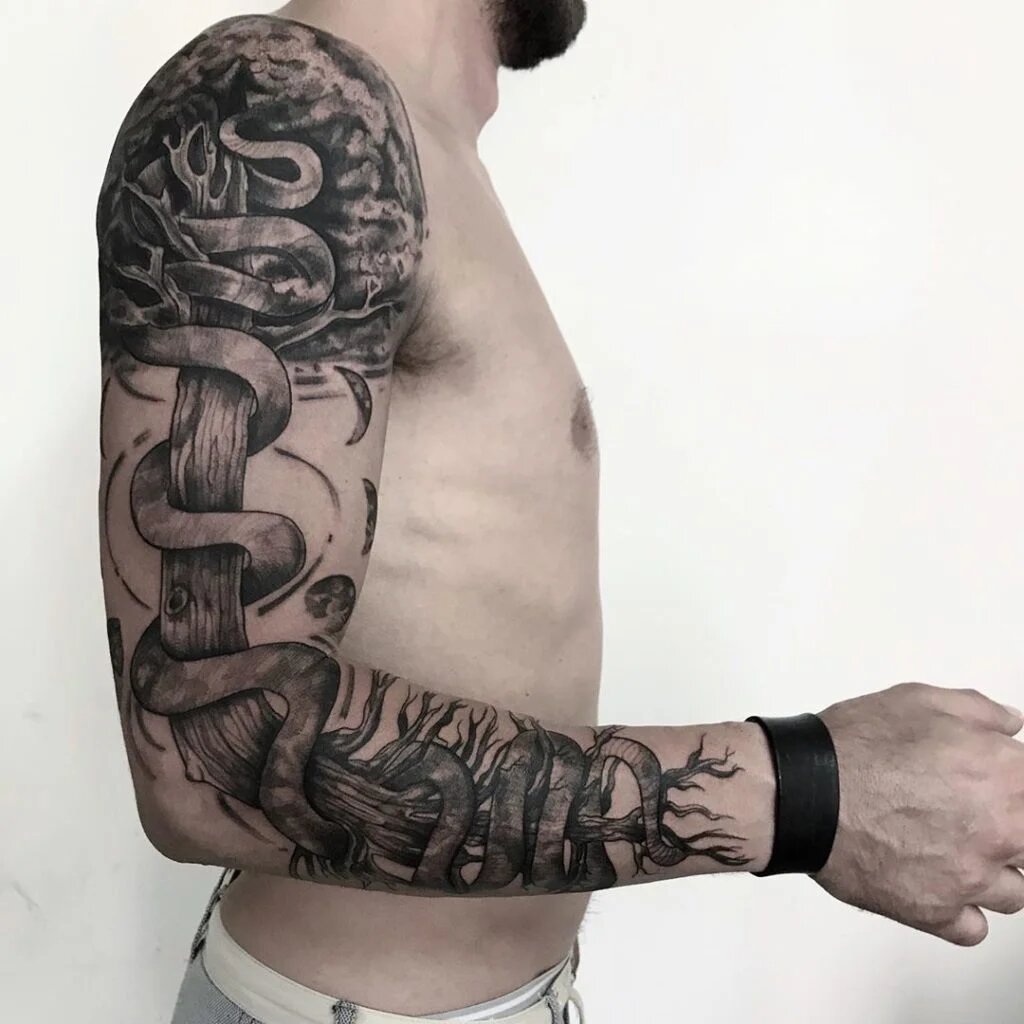 6. Arm Tree Of Life Tattoo
The arm is a brilliant place to have any kind of tattoo etched on it.This is because one can comfortably expose or hide it as per their wish. This makes it a strategic place for a person who works in the corporate world where tattoos are prohibited. The tree of life is a symbolic representation of strength and endurance and there is no greater place to have it rather than the arm.It will constantly remind you to keep going despite the many challenges ahead.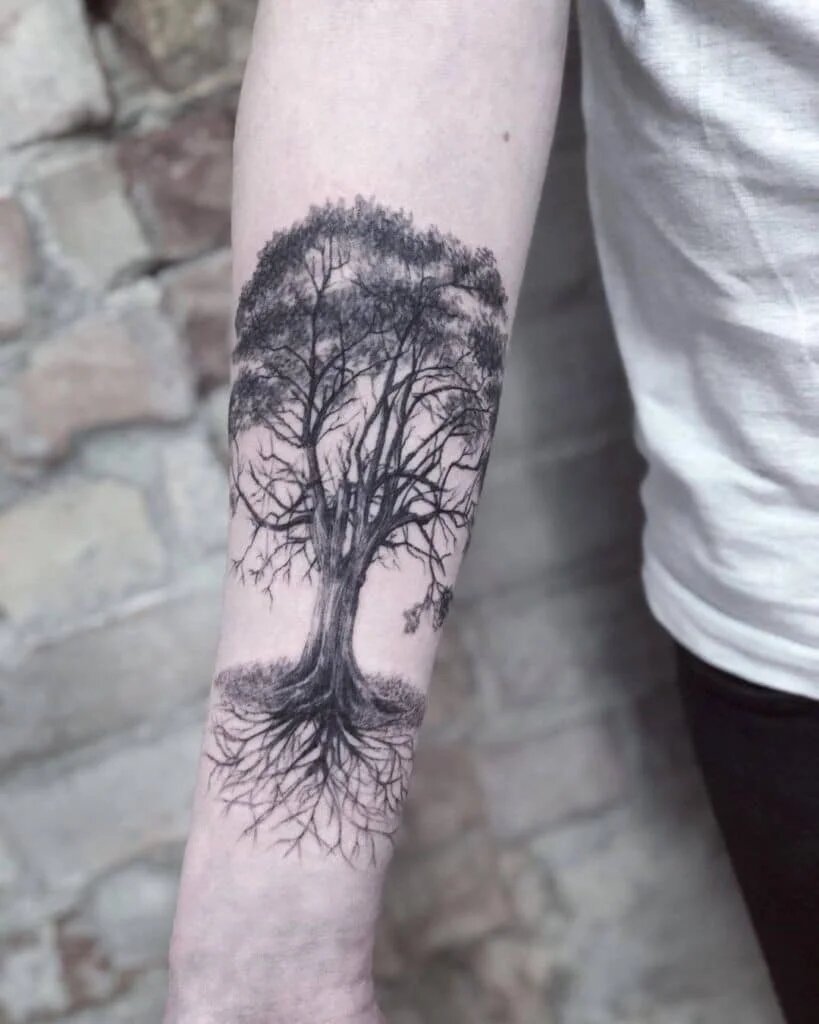 7. Forearm Coloured Tree Of Life Tattoo
The coloured tree of life symbolises determination and playful personality. It is quite time consuming thus you'll spend a lot of time at your artist in order to achieve this amazing design. However it is beautiful and quite symbolic. Your friends will keep on envying your amazing design. Ensure you get it done by a skilled expertise who will bring out the right design. The forearm is a great place to have this tattoo placed at.
8. Tree Of Life With Symbols
There is a wide range of ways to rock the tree of life tattoo. You can add different symbols on the tattoo to make it look interesting and classy.it does not necessarily have to mean anything. However I highly advocate for one to choose symbols which are meaningful, you can even choose something as simple as your birth date.in addition you can rock this amazing tattoo at almost any part of your body. However the neck and hands are some of the best strategic places.
9. Moon Phases,Snake And Tree Of Life Tattoo
Different cultures carry different meanings of this 3 in 1 tattoo. The moon phase is a symbolic representation of reincarnation or rebirth according to most Asian communities. On the other hand the snake tattoo represents a start of a new life. In the ancient the snake was said to represent evil and temptation. However the three tattoos combined represent start of a new life after having a bad past. It is quite a good tattoo for someone who has turned over a new leaf.
10. Strength Symbol Tree Of Life Tattoo
This tattoo is represented by atree, sun and the moon. For a tree to grow it requires sunlight and for the moon to shine it requires the sun. This makes the 3 interrelated.They represent nature and strength in a simple way. During the day the tree emits oxygen while at night it emits carbon dioxide which are essential for human survival. The tattoo looks great when etched on the hip as it is a wide area where the image easily fits.
11. Oak Tree Of Life Tattoo
The Celtic culture valued the oak tree to be supernatural. It was believed to be a supernatural tree of endurance, strength and bravery. This makes this kind of a tattoo to be quite enchanting especially when worn at the forearm. Ensure you get the art done by a skilled artist who will draw the correct image. The tattoo looks great when it's all black.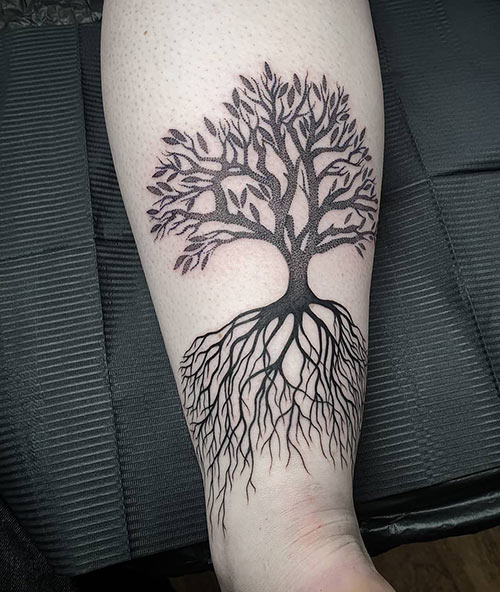 12. Hand That Plants Tree Tattoo
The beauty of human life is planting trees knowing that you may never have a shade under them. Trees are vital for oxygen reproduction and a clean ecosystem. There is no better way to have this representation rather than having it tattooed on your arm.the image is quite symbolic as it represents humanity. You can spice up the tattoo by adding different symbols onto it in addition to using different colours of your choice.
13. Tree Of Life On The Back Tattoo
This is a classy tattoo often opted by people who love neatness and perfection in their lives. Having a tree life with geometric patterns at the back is a genius idea as it makes the tattoo look cute. You can decide to have a combination of a sketch and real tree tattoo on the same image, in addition make sure you include the roots too. The real part of the tree is coloured all black. This kind of tattoo symbolises the importance of life in plants. Ensure you get this kind of a tattoo from a skilled expert.
14. Geometric Tree Of Life
This tattoo is for people who love nature. You can decide to include any nature element that you like to represent different nature elements and patterns. The art is best placed at the forearm so that it can always remind you to take care and be harmonious with nature. In addition it will remind you of the moods and phases that you have been through. Using one colour especially black is recommended for consistency of the artwork.
15. Tree With Moon Tattoo
The tree with a moon tattoo is such a genius combination. It symbolically represents growth, creativity and manifestation. In the ancientGreek culture they believed that the tree and moon combined was a symbolic representation of reincarnation and rebirth. It was believed that when a 'good' person died they would reincarnate into a tree that would provide shade to people for many years. This tattoo looks great when etched at the forearm and one colour is great for consistency.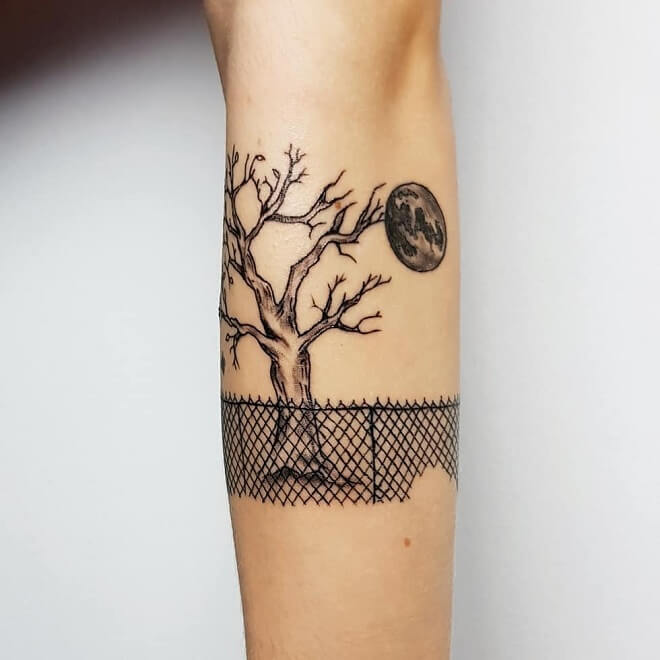 Having had the discussion above you can easily make an informed decision on which tree of life tattoo image you want to adopt depending on your personal preference. For instance if you simply love nature then you can choose an oak tree, mahogany tree or any kind of tree and represent it as a tattoo. Ensure you get a skilled artist who will bring out the best design as per your wish. Also check d-central