Every person deserves to look good and stay in proper shape. For these reasons, we buy lots of outfits to match every occasion along with a bag full of accessories and makeup. But, hair is like our permanent makeup or accessories whatever you want to name it and that hairstyle can be changed every year or so. Yes, it defines our looks and reflects personality. A proper haircut is very crucial to look presentable and boost up your confidence. There are no such hard rules for a haircut. It totally depends on your full body, facial shape, quality of hair, age, profession and of course on your gender. There are lots of standard haircuts for girls and women, but one which stands out constant since 9o's is layered hair. The key is it gets fit easily with any hair-length and facial shapes.
Type of Layered Hair
Everybody owns different hair thickness, length, and texture. It is very important to understand own hair quality before picking any style. Here are some ideas of layered hair:
1. Long cut layers:
Simple long layers look pretty on really long straight hair. Add more layers at the front and gradually shorten the layers on the back. It helps the hair to get a free fall and scope of movement.
2. Medium to short length layer:
Short and medium length hair can be easily manageable when having a layer cut. Add small and less layer accordingly your thickness. You can keep it open without much worried.
3. Face-framing layer:
Adjust the layers accordingly your face structure. Just like frame your face with the length and numbers of layers. It will shape up your face without even makeup.
4. Straight or curl layer:
For giving a new look to yourself, long or short, hair length doesn't matter. Add some strong curls or waves if you have straight hair. Otherwise, straighten your curly hair with a bouncy curl at the end.
5. Feathery layer:
With a straight, silky medium length hair, feathery end twists the whole look. This cut really adds much-needed volume and nice texture to your thin hair.
6. Dramatic layer:
If you love your natural hair colour then give your hair another dimension by adding some extra layer all over strategically. It adds extra volume and texture.
7. Choppy layer:
This look is a modern trend. If you have nice thick hair, try choppy cut. It can be done in two ways, short in front and long chopped layer in the back or reverse.
8. Layer with a Bang: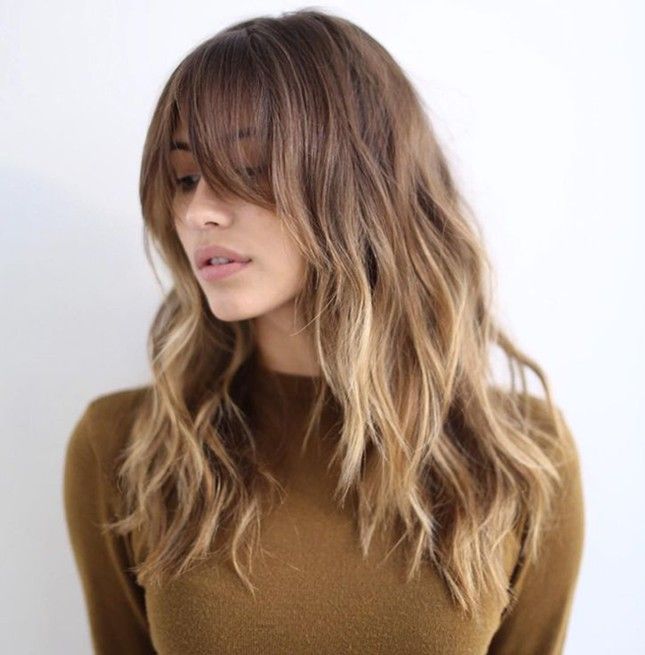 If you have a large forehead, just add some sexy blunt or fringy bangs with your layers. It will turn out as a really trendy look.
9. Side bang layer: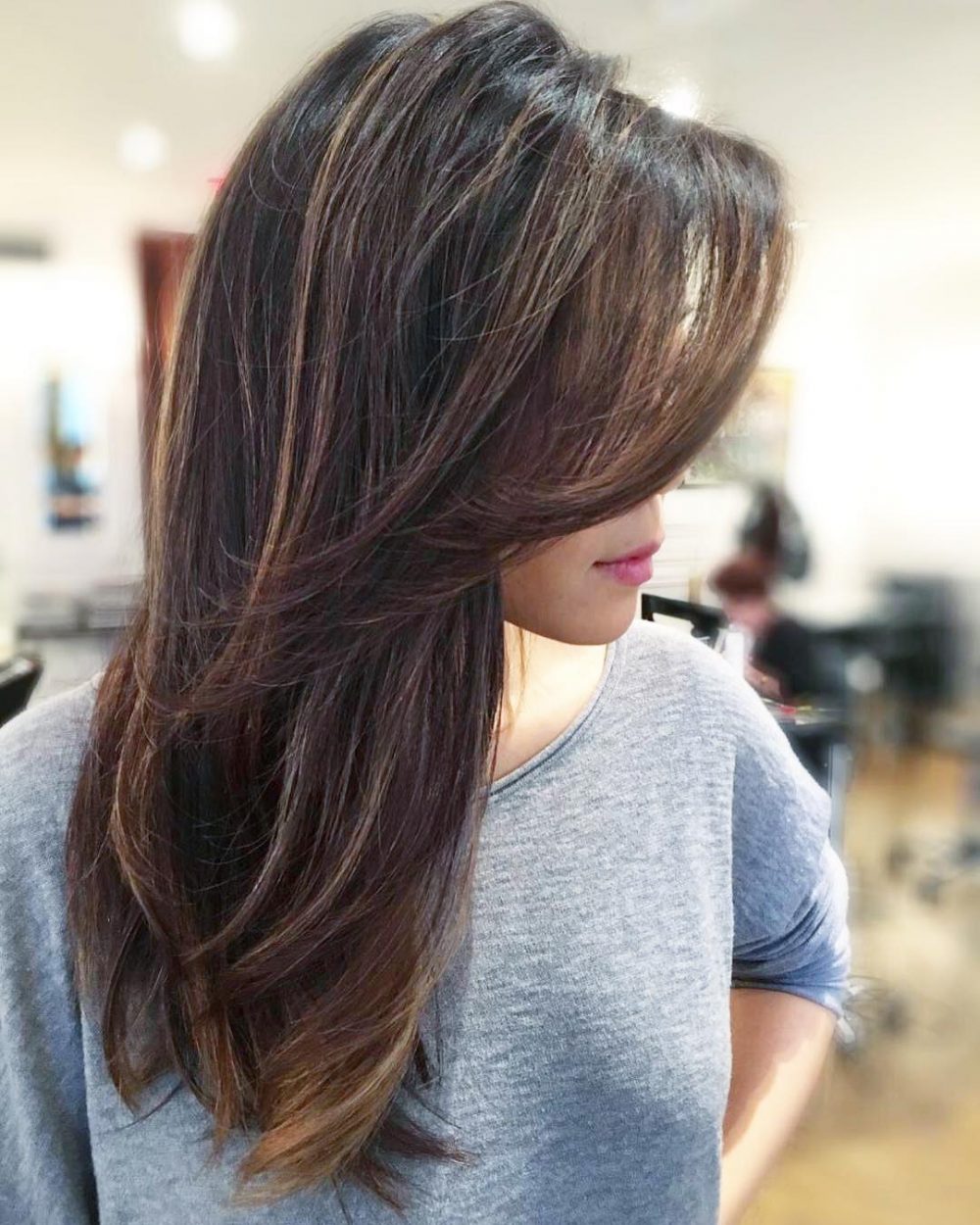 Always adjust your front layer length according to your partition. After cutting layer with centre partition, side bang will not fit perfectly.
10. Highlighting or colourful layer:
Hair may be short or long, chose the colour matched with your skin tone. You can choose ombre waves, strawberry pink, buttery blonde, ash blonde, platinum blonde, or any ethereal colour depending on your hair length and texture. Or just highlight with any striking shades.
Tips to Manage Your Layer at Home
Every haircut looks perfect after coming out of a salon. But it's really hard to manage your layers to maintain its perfect shape. Here are some tips to handle your layers flawlessly:
Trimming: Healthy hair is the ultimate solution for any style. Trim your hair after every 50-70 days. It will help to reduce split ends and add smoothness. It also helps to retain the shape of the hair.
Don't cut unnecessarily: If you tried with over thickness of your hair, don't cut your hair, rather razored your hair. It looks thin and blends with length properly.
Cleaning: Choose perfect shampoo and conditioner accordingly straight or curly hair, coloured hair, dry/ oily hair. Clean and nourished the hair every alternate day.
Nourishment: With every season the moisture level of hair gets change. It is more important and needs to maintain the health of hair whether it's dry or oily throughout the year.
Combing right way: Comb the hair regularly. It not only helps to blood circulation for healthy hair but makes your hair tangle-free. Choose the comb accordingly. Nylon-bristle brush is perfect for straight hair, whereas boar-bristle is for curls.
Heat-protector: Always apply for heat protection before using blow drier, straightener, or curler. For simple layered hair blow, drier is enough. In the other hand, for adding some cute waves use rollers before going out.
Hairspray: Occasionally, you can use light-weight hairspray to fix your hair or curls. It will help to maintain your hairstyle for the whole day. But don't leave it for overnight, wash before going to bed.
Hair serum: Very often, we struggle with frizzy hair. After some time especially, in the day time hair tent to look really messy and undone. To set the frizz-prone hair, use an anti-frizz serum all over the hair. You can also use any shiny serum for smooth, soft fairytale hairstyle.
Apply volumizer: It is very common, that people face problems with flat hair. Don't worry. There is a solution with hair volumizer. Yes, the volumizing product creates an illusion to look fuller, thick, and puffy hair. Apply the product on the routes of the hair, and then normally set your hair.
Maintain Hair colour: Keep changing the hair colour, if you have any. The same colour for long span looks boring and dull. Different colour coat adds brightness to your hair, and enhance the layers.
Try to avoid all the chemical product on a daily basis, it may damage the hair. Go for home remedies if possible.
Ultimate hair solution is to drink the right amount of water every day, eat healthily, do yoga to flaunt healthy hair. If your hair is weak and damaged from inner side no style can be carried perfectly.
Conclusion
Layered hair is the most easy-going timeless hair cut. It goes perfectly with every occasion at any age. Layer adds much-preferred volume and texture to your hair. With layered hair, you are always ready to go out without any other hairstyle. Most important face-framing layer gives you desired coverage according to your face. Whether you have a round face or square, large forehead or thin chin, just add extra layer adjusting the length. But to maintain the smooth silky layer, it's very important to maintain healthy hair. There are lots of products in the market for hair nourishment. Or you can adopt any home remedies for daily care. Before going out use any hair styling product to fix the hair, but make sure you wash your hair before going to bed. There are lots of scopes to experiment with different kind of layers. Keep changing your style with every season. Let your layers shine and reflect your personality.