A cut above the shoulders limits styling options but allows for more image experimentation. It only takes a little inspiration, quality styling, and practice. Look at how to make braids on short hair and what can help you with this.
Features of Weaving Braids on Short Hair
For braids on short hair to look stylish and spectacular, the haircut should be at least 10 cm long. Tight braiding with alternate addition of strands, as in the French braid, allows you to compose something interesting on a 5 cm haircut length, but you will have to work hard.
And the simplest way to achieve a lush hairstyle is to weave braids on short hair, also based on natural length, but with Kanekalon false curls. With this material, you can have almost any length and create afro braids, afro locks, or dreadlocks in hours. A fantastic solution from the braider (a hairdresser-modeler specializing in various braids) for children's and adults' summer vacations.
The first attempt to join the plaids styling will be made more accessible by limiting non-washing care products or stylings. Before you begin, rub a drop of Matrix Oil Wonders, L'Oréal Professionnel's Liss Unlimited Serum, or Biolage Coconut All-in-One Fluid into the palms of your hands.
Such products aid in the fight against frizz, and making smooth and beautiful braids with them is much faster.
Types of Short Hair Braids
The short length is not an excuse to forego stylish experiments; the braiding options are still quite diverse. You can find a hairstyle to suit almost any taste and color (don't forget the colorful "kanekalon"!). Here are some suggestions for braiding short hair.
French Braids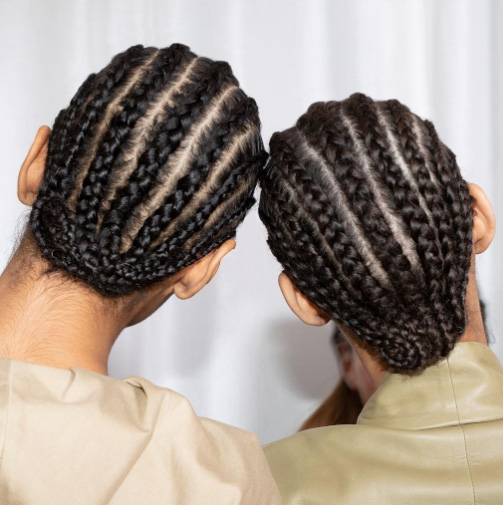 French braids look dynamic and neat on a bob or slightly longer hairstyle. Make a "dragon" braid in the center of the head on one side, braiding it backward: lead from the back and neck, and finish at the crown. Make a few boxy braids instead.
Tip: The luxury of the style is created by fashion hairdressers pulling the strands out of the weave and then fixing them with hairpins and stylings. For example, a spray like Freezing Spray Vavoom from Matrix will provide hairstyle stability for the entire day.
Dutch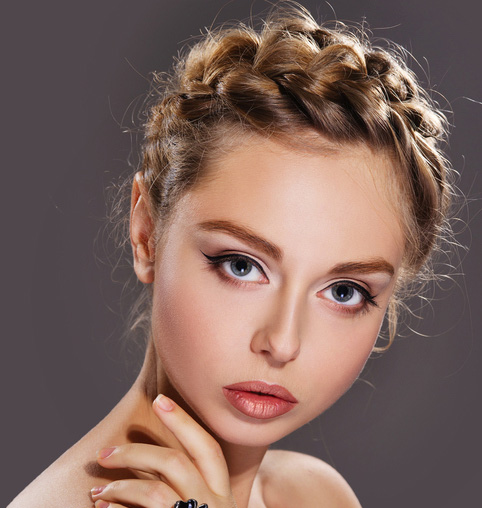 A classic Dutch braid is a three-strand plait with additional strands superimposed at the bottom rather than the top, as in the French braid. The head direction can be standard, from the temples to the back of the head. However, diagonal braiding and two symmetrical braids on short hair look perfect.
Tip: Try to use volumizing care when preparing the Dutch braids for plaiting. Antigravity shampoo and sealing spray from L'Oréal Professionnel's Volumetry range will increase natural volume and give too-soft strands texture and proper stiffness without weighing them down.
The Harness Technique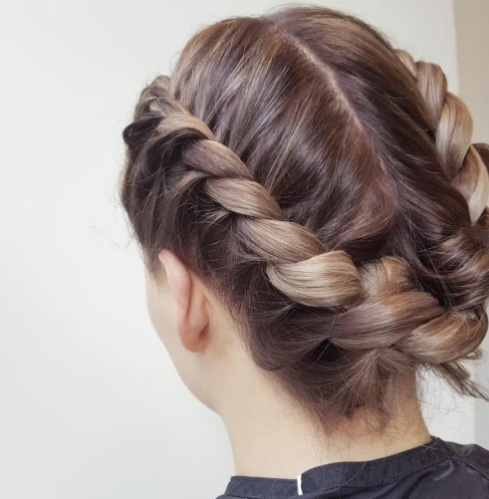 How do you braid short hair if braids aren't working? Take note of the harness technique. It is even appropriate for a haircut with asymmetrical bangs and deep filigree – braiding the strands one by one will result in a stylish and unique gathered hairstyle.
Tip: Owners of fine hair can spray the entire length with L'Oréal Professionnel's Tecni. Art Pli sprays before styling, drying it with a hair dryer and slightly curling it with a styler. Textured curls are the best curl foundation, and the spray has thermal protection properties.
Braids Made from Kanekalon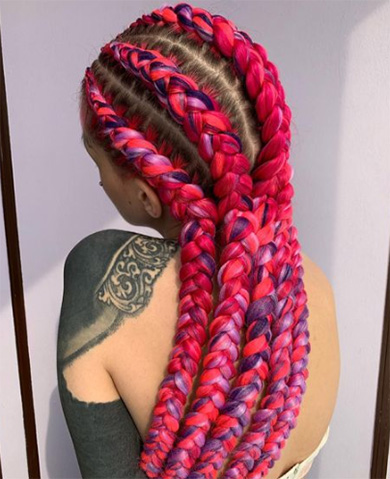 As previously stated, braid hairstyles on short hair can be created using lengthening kanekalon. Because the process is lengthy and time-consuming, it is preferable to outsource it to a braider. However, with practice, you can weave artificial strands on your own.
Tip: High-quality kanekalon should not frizz, but if it does, apply two portions of Matrix Miracle Creator Multifunctional spray to the palms of your hands before weaving for discipline.
After removing the synthetic fiber strands:
Wash them gently with a gentle shampoo.

Apply conditioner for a few minutes.

Gently dry the fibers.

Store them in a box until the next time you need to show off an unusual look.
The Crown Braid
A braid around the head in a crown shape is always a successful braid for short hair. It is a neat hairstyle for any occasion: for a celebration, it can be decorated with flowers or chains; for everyday wear, it does not require decorations and looks great with dresses and rough shoes – thick-soled boots, sneakers, or grunge boots.
Tip: The more voluminous the crown, the more current it appears, but with a short haircut, you must seek the golden mean. A dry shampoo, such as Matrix's High Amplify or L'Oréal Professionnel's Morning After Dust, can help. Apply it to wet hair and use a brush to add volume at the root.
What Can you Braid into Short Hair While Keeping your Face Shape in Mind?
Stylists from worldwide recommend that you choose a hairstyle based on the shape of your face, and we agree. What are the best ways to draw attention to your best features?
1) The round face
Correctly chosen hairstyles for short hair with plaits visually lengthen the features of people with round faces. A puffed braid crown placed as far above the brow as possible is a good option.
2) Square-shaped
Braids on short hair for women can correct a broad face with a square face shape. Asymmetry, Kanekalon volume braiding on one side, and bang braids visually smooth out angular features.
3) Face with triangular and heart-shaped features
Regarding the triangular shape of the face with a broad chin line, braids on short hair in a square and other short haircuts can be voluminous at the top, in the crown and forehead area. Asymmetry and lush falling braids, based on the Kanekalon, are also helpful here.
4) Rectangular and oval shapes
For an elongated face, braiding spikelets on short hair, Dutch braids that run tightly down the back of the head, or a braided crown are all excellent options. Avoid adding volume to the crown.
Braided Hairstyle Ideas for Short Hair
There are many exciting and fashionable images available with braids on short haircuts. Experiment with different braid styles and combinations. For starters, look at these stylish and beautiful hairstyles with braids on short hair that you can recreate at home.
1) Two braids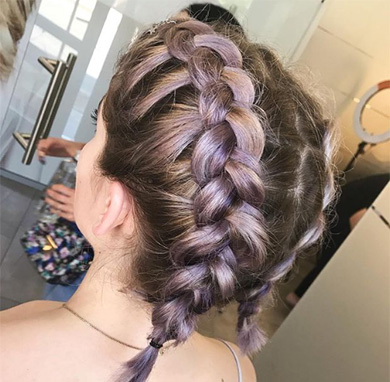 A practical everyday option when time is short, and you don't have time to fix your style. Two plaits on short hair are both functional and attractive!
2) Bangs braided
When you need to remove the bangs from a bob-caree, pixie, undercut, or elongated carriage and the headband isn't appropriate, braid it into a braid. Stylists recommend tucking the tips of the loose strands into the braid, hiding it behind the ear, and securing it with a bobby pin. Or leave it in a free flight – careless styling is in.
3) Malvinas braided or waterfall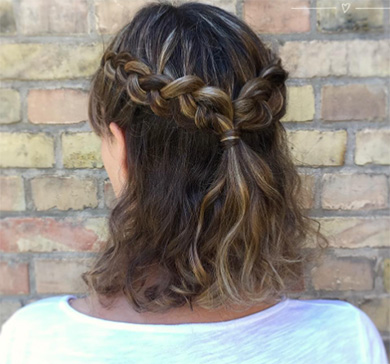 Malvinas with braids will look great with long braids and similar haircuts. You can braid two braids from the temples and join them at the back of the head or create a waterfall with curls that fall from the braids.
4) A braided wreath or a crown
A wreath made of one French braid or a crown made of two braids secured with hairpins is a lovely way to create an original look.
5) One braid
The spike is the same French braid and will look great on short hair for sports and daily activities. And for a special occasion, it is decorated for one day with glitter or bright coloring – a dye spray is applied to the individual strands.
6) Greek braid
It is similar to the crown but more airy and romantic. The Greek braid on short hair can be braided around the entire head, but another stylish option is to braid the bangs with the braid transition on one side. All that remains is to consider the embellishments. What do you prefer: an embroidered headband, ribbon, tiara, or flowers?
7) Braids on the sides or thin braids
Beautiful braiding options for short hair can emphasize youth – thin-zoned braids in temple braids perfectly combined with street clothes. Asymmetrical braids (on one temple only) are a stylish and practical way to change your look.
8) Braids and bun
If you add accessories, a laconic hairstyle with braids on the sides and a bun in the back can easily be transformed into an evening look.
9) Braids leading to a ponytail
Make a few thin braids, but don't braid them to the back of your head. Each braid is secured with a small silicone rubber band, leaving free ponytails. You will have a unique and gentle hairstyle.
Step-by-step Instructions to Braide a Pigtail
If you follow the instructions, the styling will go smoothly. How do you make a simple yet stylish braid? See the fundamental steps.
Make a straight part in the hair and select three strands at the temple where the braiding will begin.

Braid them and begin weaving curls from the bottom of the head to the back.

Finish at the back of your head with an asymmetrical braid on one side of your ponytail and repeat on the other. Alternatively, you can continue braiding in a circle to make a wreath braid.

Secure the ponytail with an elastic band in the color of your hair at the end of the braiding. If you have a wreath braid, hide the tip inside the braid and secure it with a bobby pin.
Other Articles