We will inform you about all (or almost all) of Harry Styles' tattoos. Yes, according to a Page Six report, Harry has more than 50 tattoos, so if you thought you knew everything about him, think again. When it comes to tattoos, Harry has a little bit of everything. Some reflect his family members, while others represent music, personal experiences, and hobbies. Harry received his first tattoo on his 18th birthday in 2012, when he opted to place the outline of a star on his left bicep, which was later filled in. But if you agree, let's move in sections and split the tattoos like a map; while we won't be able to point out every single one, we will show you a few and what we know about their meaning.
1. Sparrows Tattoo
Harry's chest swallows face the same way. This tattoo symbolizes the sailing experience on the chest, wrists, or neck. Swallows symbolize love and travel. Therefore, sailors believed they would transport their souls to paradise. He travels for work, so he is urged to get this tattooed. Harry stated, "[the swallows] symbolize traveling, and we travel a lot." Harry said, "I like that kind of tattoo, like the old sailor kind."
2. Skeleton in a Suit Tattoo
Harry received this scary skeleton in a suit and fedora hat tattoo in 2013. He revealed it on One Direction's Take Me Home Tour after receiving it on Halloween.
3. Rose Tattoo
Rose tattoos symbolize love and affection. Harry got this rose tattooed under his ship tattoo, which he received with Taylor Swift. Since they're apart, this rose honors his lost love.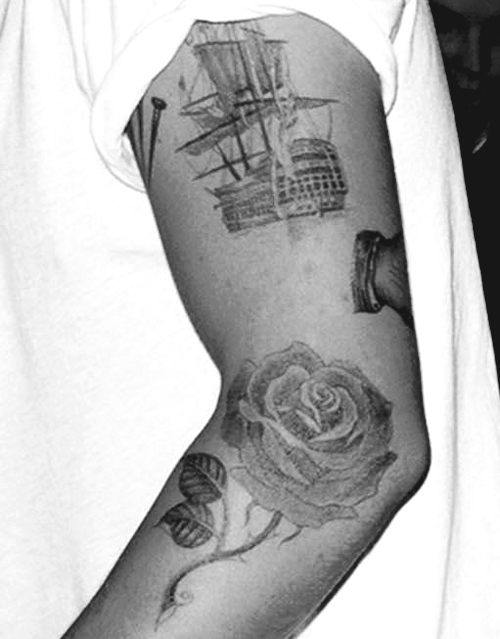 4. Handshake Tattoo
His left bicep has the old-school Handshake. Tattoos symbolize equality.
5. Mermaid Tattoo
Naked Mermaid on the left forearm. Liam Sparkles in the U.K. tattooed Harry's nude Mermaid on his wrist. Mermaid tattoos symbolize danger, temptation, and rebirth. Harry claimed he got this tattoo to be a mermaid.
6. Eagle Tattoo
Eagle tattoos represent bravery and independence. Harry got this ink to hide his "Things I Can" tattoo. He got this tattoo during the peak of his musical career. Thus, Eagle, a beautiful bird, motivated him to get it tattooed to symbolize his solo career.
7. Three Nails Tattoo
Three nails within his left bicep.
8. Coat Hanger Tattoo
A coat hanger inside his left bicep.
9. Star Tattoo
A black star on his inner left bicep.
10. Green Bay Packers Logo Tattoo
Green Bay Packers tattoo on left forearm. Harry Styles promised his friend Cal that if the Green Bay Packers won, he would get their emblem tattooed the next day. Cal assured him they would win. Harry got the tattoo the same day without waiting for the game, and the Green Packers lost.
11. Cross Tattoo
A little cross near his left thumb.
12. Anchor Tattoo
Anchor tattooed on left wrist. Harry's anchor tattoo covers his "I Can't Change" tattoo.
13. Late Late Tattoo
Harry was unfortunate on the Late Late Show. Harry picked the Tattoo box and had to get the show's emblem tattooed.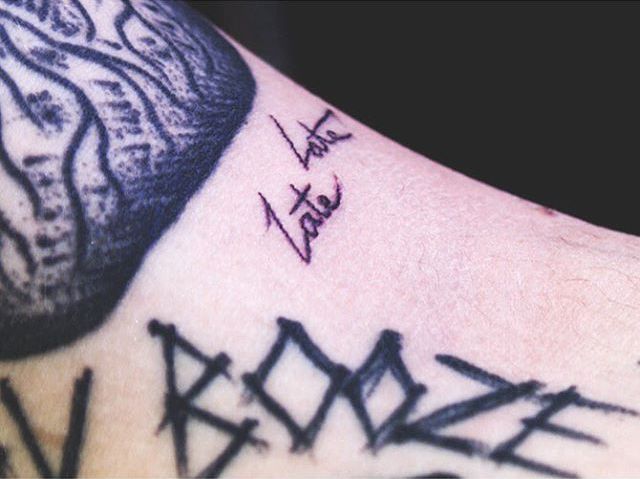 14. Anatomical Heart Tattoo
Huge anatomical heart on his left inner bicep by Liam Sparkles. Harry's purported girlfriend's same anatomical heart tattoo may have inspired this tattoo.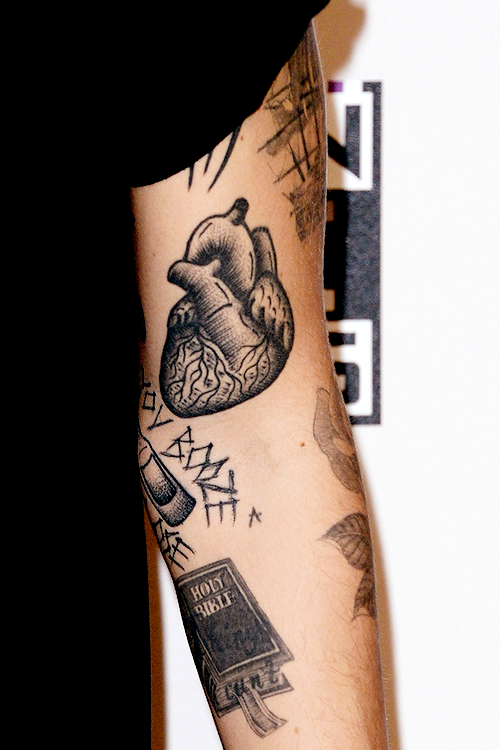 15. You Booze, You Loose Tattoo
YOU BOOZE YOU LOSE and a liquor bottle on his left forearm. Harry's favorite U.K. tattooist, Liam Sparkles, inked this.
16. Bible Tattoo
Harry's devotion to Catholicism inspired this tattoo.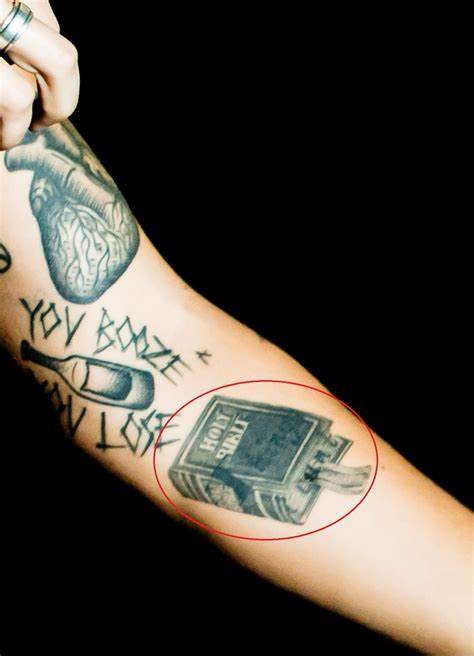 17. A Letter Tattoo
Harry's left arm has his mother's initials, Anne Twist.
18. Hi Tattoo
Inked his left bicep which the word Hi.
19. Iced Gem Cookie' Tattoo
Harry Styles received a tattoo for his older sister, Gemma (Gem). His left bicep has a tattoo of an iced gem cookie. Iced Gem biscuits are British.
20. Can I Say Tattoo
His "Can I Stay" tattoo is above the pirate ship tattoo and below his sister Gemma's Hebrew name.
21. 'N.Y., LA, and Lon' Tattoos
NY, LA, and Lon inked on his left bicep. Probably standing to mean New York, Los Angeles, and London.
22. Butterfly Tattoo
The butterfly symbolizes change. Harry tattooed this to represent his life's phases. Liam Sparkes tattooed it.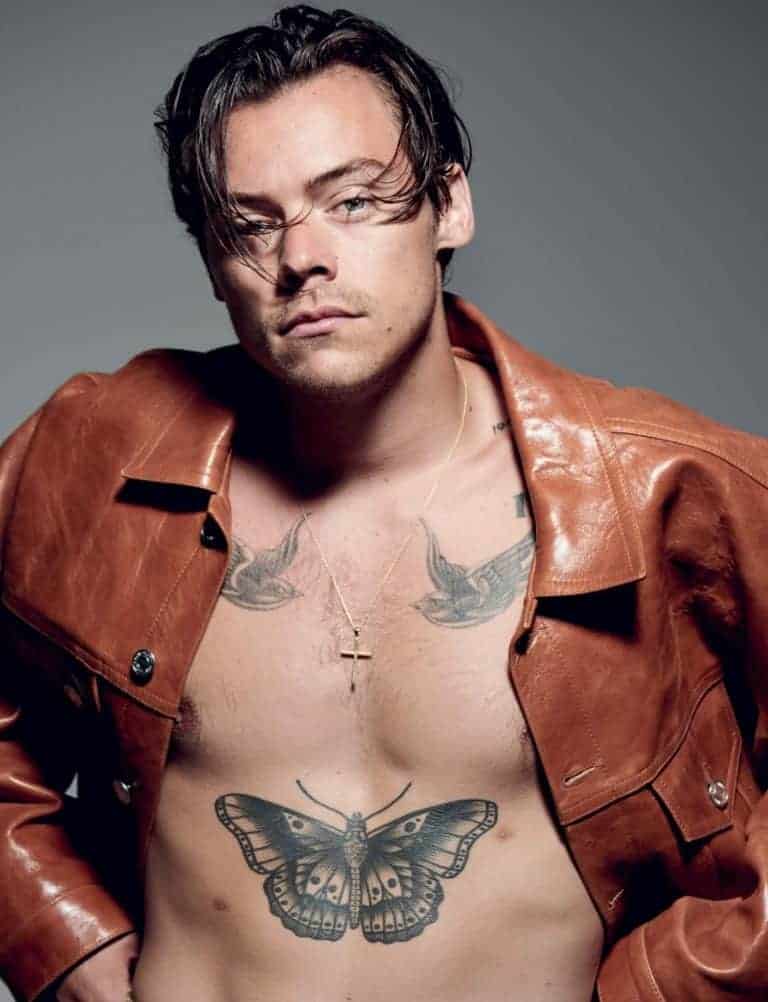 23. Birdcage Tattoo
Harry's birdcage tattoo is on his left ribcage.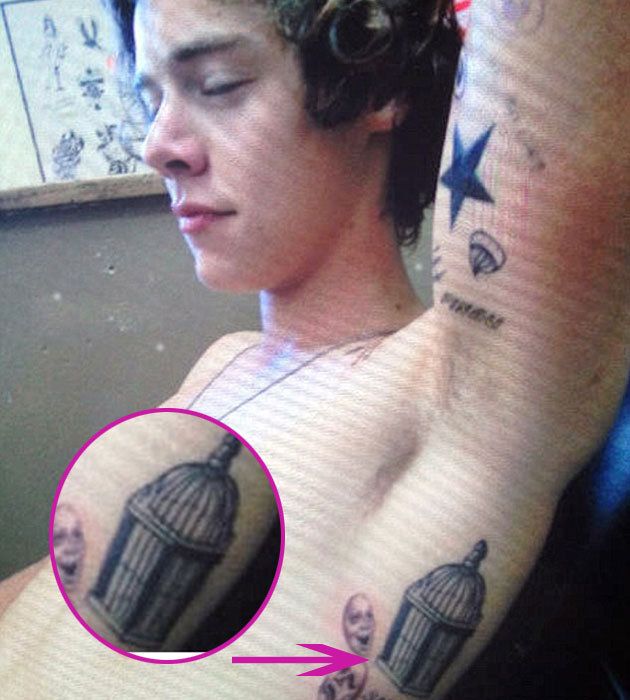 24. Theatre Masks Tattoo
Two tragic play masks are etched beside the birdcage.
25. SNCL Tattoo
Smile Now; Cry Later. It has an inked X.
26. Guitar Tattoo
A minimalist guitar is inked on his left shoulder.
27. Pirate Ship Tattoo
Harry remarked in an interview that this tattoo reminds him of home while he traverses the world.
28. Gemma in Hebrew Tattoo
Isaiah Negrete tattooed Harry. Harry's older sister is Gemma.
29. Jackson Tattoo
Calvin Aurand, One Direction's official photographer and archivist, was Harry Jackson. Harry Godson Jackson.
30. Silver Spoon Tattoo
Silver Spoon on his left arm. Harry's tattoo represents One Direction's success.
31. Arlo tattoo
Arlo tattooed his left arm.
32. R Tattoo
Harry's left forearm is a memorial to his stepfather, Robin Twist, who helped his mother raise him and his sister, Gemma after she divorced Desmond Styles, Harry's biological father.
33. Key Tattoo
Miniature key on left wrist next to padlock tattoo. Harry's Co Band's Louis Tomlinson has the identical key tattoo on his right ankle. Harry's key tattoo is between the padlock and mermaid tail.
34. Padlock Tattoo
Harry's left wrist has padlock ink. On August 13, 2012, Ed Sheeran tattooed Harry. It is netween the key and anchor tattoo.
35. Shamrock Tattoo
Harry's more than 40 tattoos are an homage to L.A.'s Shamrock Social Club Tatto Parlor. SSC is hence tattooed between the key and Aquarius symbol.
36. Aquarius Tattoo
He is an Aquarius. Harry's left wrist bears his zodiac sign in waves.
37. 99p Tattoo
Harry got this tattoo for many reasons. Harry was reared in Britain, where 99p meant 99 pence.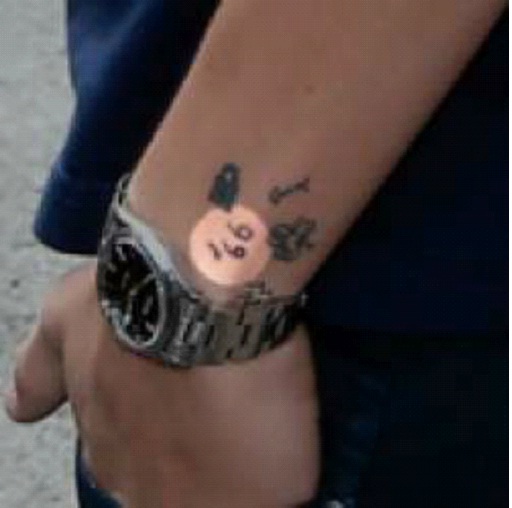 38. Never Gonna Dance Again Tattoo
George Michael's song NEVER GONNA DANCE AGAIN.
39. G Tattoo
Harry's G tattoo represents his affection for Gemma, his elder sister.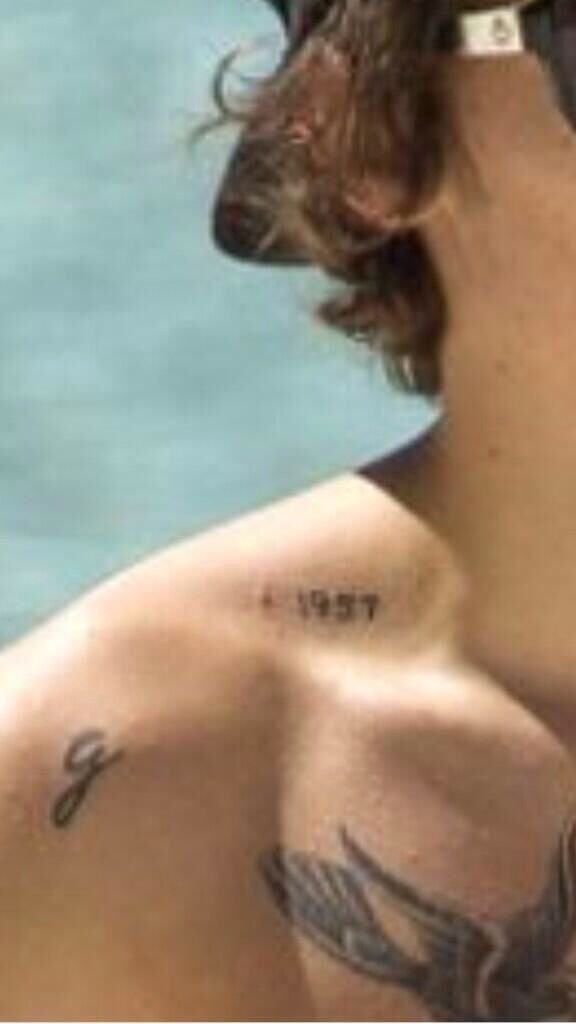 40. Parents' Birth Year Tattoo
1957 and 1967 are his parents' birth years.
41. Cross with B Tattoo
Cross with a right-shoulder B tattoo. Harry gets family tattoos. This cross with B loves his maternal grandfather Brian Selley or paternal grandmother Beryl German.
42. Leafs Tattoo
Ferns represent growth, endurance, and strength. Harry got this massive tattoo to commemorate his life's difficulties. This tattoo covers his "Might as well" tattoo.
42. Brazil Tattoo
Harry was inspired by Rio de Janeiro during One Direction's tour and got this permanent tattoo.
43. Tiger Tattoo
Tiger tattoos symbolize Pride, Passion, and Courage. When asked about his new tattoo on BBC Radio, Harry revealed its true identity. "Roaaar!" he said.
44. Little Things Tattoo
"Little Things" from 2012 Take Me Home album inspired this tattoo.
45. Pingu Tattoo
Harry values the PINGU tattoo. Ed Sheeran has a similar tattoo. However, his is of Pingu. In love with the children's claymation series PINGU's penguin mascot, they got these tattoos.
46. Big Tattoo
The word 'Big' is tattooed on Harry's right toe. Which is a funny way to say he has a big toe.
47. Si and No
Harry also has these itsy bitsy knee tattoos of SI and No on both knees.
48. Palm tree
Harry unveiled a palm tree tattoo on his back during the 2019 Met Gala. His sister Gemma has them also.
49. Black Heart
Harry has a huge heart filled in with black ink on the top half of his left arm.
50. Pink Floyd Triangle
Harry also has this small triangle tattoo on his shoulder.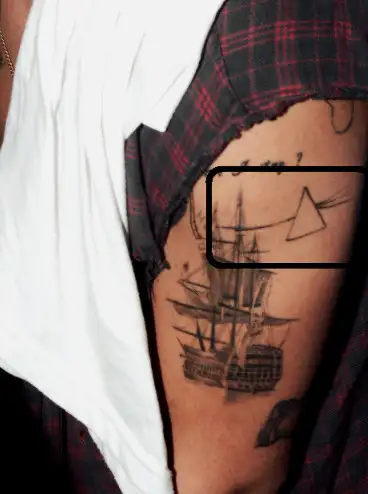 51. 17 Black
Just over the left swallow are the words "17 BLACK," which tattoo artist Kevin Paul said to GQ UK represented Styles' bad gaming hand.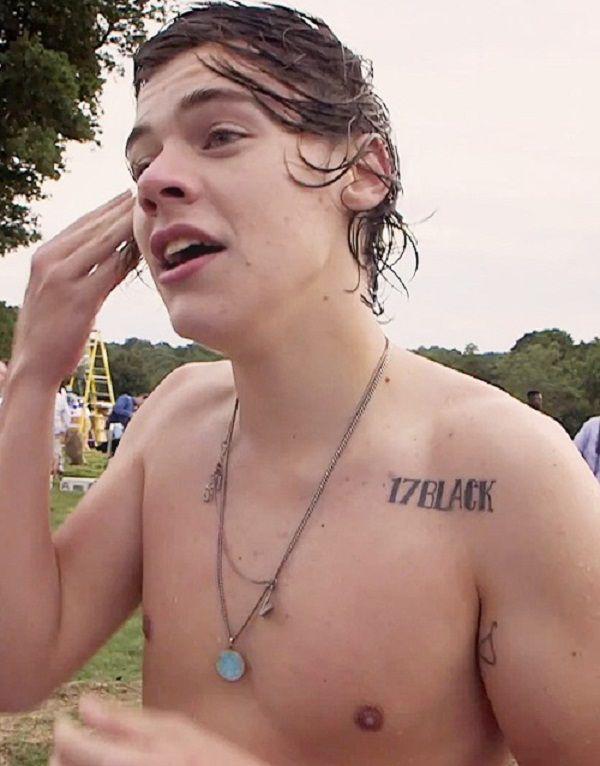 Apart from these, Harry also has many tiny ones on his body. Which makes him have more than 50 tattoos.
Other Articles