Gothic hairstyles are a little unconventional but at the same time very popular among the youth. Although, these hairstyles are not commonly sighted but the internet is a huge fan of these bold and beautiful looks. Today, we will be diving into the details about Gothic hairstyles which are categorized by Boldness, Rebellion, Power, Edge, and Darkness.
1. Widow Bangs
Widow bang is a style if bangs that forms a V shape on the forehead. It is a very popular bang style in Gothic aesthetic of hairstyles.
2. Low Pigtail with Goth Bangs
Goth bangs are generally thicker than usual bangs. This is a simple everyday hairstyle that combines goth bangs with low pigtails.
3. High Pigtail
This is just a slightly different hairstyle from the previous one but gives a major different look. The high pigtail looks more bold and powerful when compared to the low-pigtail. Which gives off an effortless and laid back vibe.
4. Feather Backcomb
Gothic fashion and hairstyles in particular often includes back combed hair and teased hair to make the hairstyle look messy and dense.
5. Witchy Curls
Witchy curls are just usual curls, when combined with a a Gothic black hair and unusually long hair.
6. Spiky Sleek Top Bun
The Gothic style is edgy and bold which often includes spikes. For example spiky choker, bracelets etc. This Spiky bun is very similar to the given examples where the perfectly smooth bun has spikes emerging out of it.
7. Messy Goth Bun
A messy hairstyle fits the Gothic theme very easily. Hence this messy bun is a classic and easily attainable hairstyle.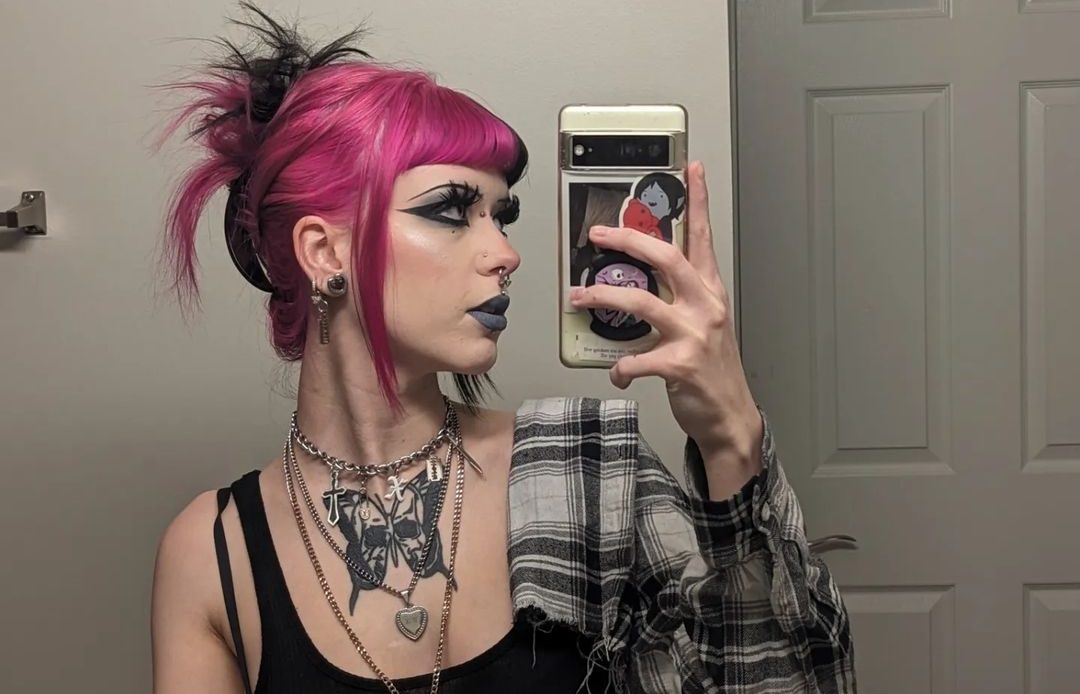 8. Classic Side Swept Hair
This hairstyle is almost nostalgic, not just Gothic but this is also a very popular Emo hairstyle. The hair is parted from extreme left or right and the hair is side swept.
9. Goth Pigtail Braids
This is a very subtle hairstyle and can be attained on any length of hair. In this photograph however, the woman has short braided hair. The overall look is very casual and effortless.
10. Gothic Spacebuns
Space buns are considered among the cute trendy bun hairstyles but if you add some Gothic touch to it, by making it messy, adding volume by teasing the hair and of course the bold colors. Then, you can achieve an amazing Gothic space bun hairstyle.
11. Half up Half Down
Half up and half down hairstyle gives off a Harley Quin vibe which is very bold and edgy. If we are going for Gothic theme then we have to choose bold and edgy over everything else.
12. Anime Hair
This hairstyle is suggested for the soft Goth girls. A mesmerizing blend of edgy look to soft feminine touch. This hairstyle is inspired by Otaku.
13. Goth Wolf Cut
Goth wolf cut is very similar to the normal wolf cut, but the normal bangs are replaced with Gothic bangs. In this particular photograph the woman has an intriguing hair colour where pop of bright shades can be spotted n patches upon her majorly dark hair.
14. Goth Mullets
Mullets are naturally very edgy and bold, hence when they are combined with Gothic dark hair and a long sideburns. This hairstyle becomes perfect for a hardcore Goth enthusiast.
15. Mohawk
Similar to Mullets, Mohawk is also a very bold and edgy hairstyle naturally. The characteristics seem to fit the Gothic theme perfectly and you can also add some extra elements like hair colour and accessories to make it even more Goth.
16. Under-shaved hairstyle
Under shave is a smart move because it can be styled in so many different ways. It's a sign of rebellion and looks very captivating when combined with shave lines.
17. Bixie
Bixie is a hairstyle that falls between pixie and bob. Longer than Pixie but shorter than Bob. The key element that makes a normal Bixie look like Gothic Bixie is the messy strands and hair colour. It's a good style for sort hair.
18. Tripple Bun
This bun idea is very unique and can be worn outside the Gothic theme as well. There are three messy buns stocked up upon each other.
19. Goth Dreads
Dread locks are naturally very bold when worn correctly but you can style them with thread loops and spiked to give the Gothic touch.
20. Cybergirl Hairstyle
The cybergirl hairstyle is characterized to be uneven and asymmetrical. Also, it has a futuristic touch to it, specially the colour and straight ends. It's a very popular style among the E girls.
21. Half Side Braid
This style has emerged from the late Victorian times. We are able to see that the hair is half braided on the side. Adding to which the rest of the hair is loose and open.
22. Gothic Victorian Hairstyle
Here comes a true Victorian Hairstyle. The theme still remains to be Gothic because of the volume and boldness of the style, along with the dark aura surrounding it.
23. Wednesday Adams Braids
The world of Goth remains incomplete without mentioning the Addams family. Wednesday Addams is one of the most popular Goth characters, mainly among the youth. And the Hollywood actress Jenna Ortega added more personality to the character after the Netflix release of the show. Thus, making two sides braids a fan favorite Gothic hairstyle.
24. Frankenstein's Braids
As we all know, Goth isn't just a style but also a literary genre. And Frankenstein happens to be a Gothic novel. This hairstyle is inspired by the same, it aims towards having a peculiar look. And that is done
25. Goth Pixie
The Gothic pixie hairstyle is very popular among teenagers. This hairstyle can be worn regardless of your interest towards Gothic style. Adding to this the overall look is very subtle but powerful which can elevate your personality easily.
26. Goth Shag
A goth shag is exactly what the name suggests. It's a shaggy hairstyle and haircut, combined with Gothic bangs. And that's pretty much it. The hair colour and makeup are the key contributors into making this look more edgy.
27. Bettie Bangs Bun
Bettie Bangs are bangs inspired by Bettie page and they are basically very short bangs. They are very popular among the Gothic culture and can be topped off on any and every hairstyle, like a bun.
28. Buzz Cut
Buzz cuts are the simplest to carry but this right here, isn't just a hairstyle. It's an artistic master piece. It screams boldness, strength and makes it very obvious that you are not afraid of being unconventional.
29. Straight Long Hair
This happens to be one of the most basic Goth hairstyle. Long straight hair, preferably black or some popping shade of colour. Personally, the black hair reminds me of Morticia Addams from the Adams family and it feels very appropriate considering the theme.
30. Long Hair Undercut
Long hair undercut is considered a subtle Goth hairstyle because it doesn't look that different from the top. It's only noticeable when the hair is pulled into an up do.
Other Articles