The dog is one of the most popular and passionate tattoos among all the animal's tattoo. Because a dog is a most loyal friend of humans. They are very close to human and this relation is purely unconditional. Dog tattoo is as cool and as trendy and at the same time emotional. It has a huge craze between pet lovers specifically dog lovers. The dog is a symbol of strength, loyalty, and stability, intelligence, dominance, etc. In another way, a dog is the best human and protector for themselves from evil enemies. Dogs are the symbol of communication; they have a magical power to connect with people psychologically or physically. It will also help you to hold the sweet memory of your beloved pet with you. Always remember that the tattoo is a life-long affair. So, before getting inked, you should know about its whereabouts. Here, we have tried to line up some adorable Dog Tattoo Design Ideas and their meanings. Hope you will enjoy and perceive useful enough to choose the ideal one for you.
1. Disney Inspired Dog Tattoo
Who doesn't love a good Disney tattoo? Laura Boanas, a UK-based tattoo artist, is recognized for her charming tattoo style, which draws a lot of inspiration from Kawaii art forms. The lines in this line work piece are fine, crisp, and densely packed. The nice part about this tattoo is that the client can add color at a later stage if desired. There is ample room to add more, so this might become a whole Disney-themed leg sleeve. We hope you enjoyed this collection of dog tattoos and got ideas for your next piece!
2. Dog Giving a High-Five Tattoo
This tattoo is a mix of minimalism and fine line; the German artist demonstrated her steady hand with these crisp lines. As simple as this painting is, the cartoonish style allows many personalities to shine through. Many individuals prefer getting fine-line tattoos on the inside of their arms, and this one fits perfectly.
3. Circle Color Realistic French Bulldog Tattoo
Isn't this the most beautiful French Bulldog you've ever seen? The Korean artist stuck loyally to the original photo provided by the client, including using the same brown tones for the fur and collar. We like how the pepper coloring in the ears emphasizes the wrinkles, a distinguishing trait of the French Bulldog. When the client misses their furry best buddy, the placement on the inside of the wrist makes it easy to glance at.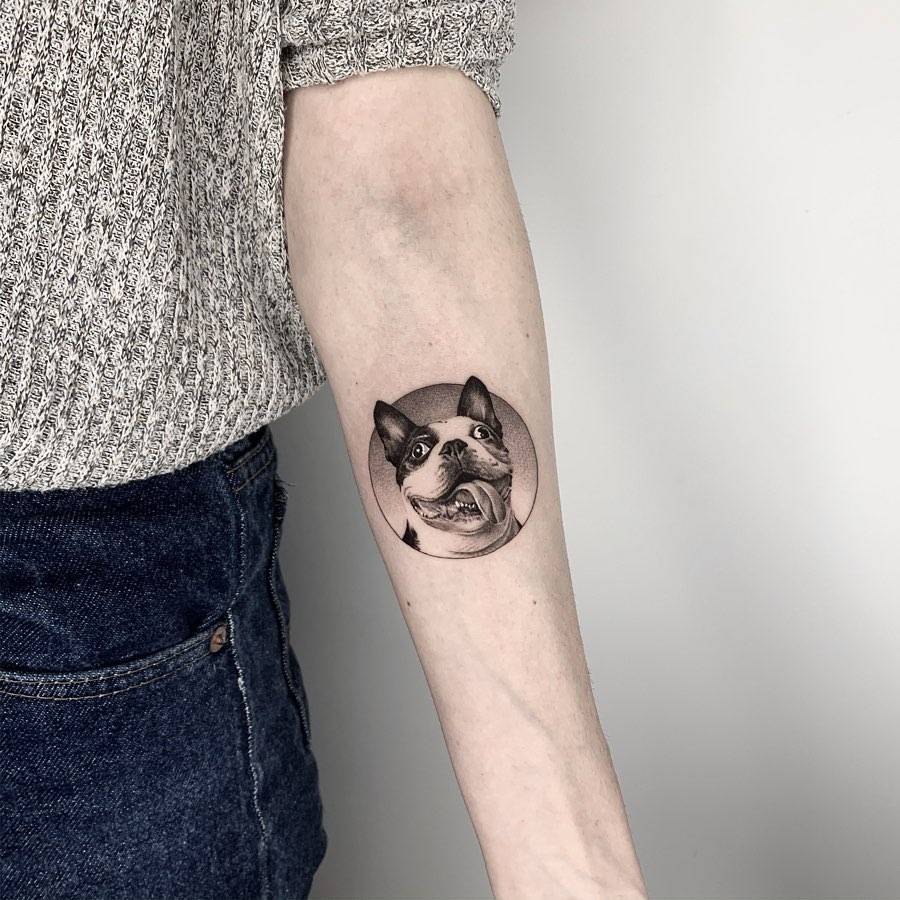 4. Black and Gray Shepherd Tattoo
If you like black and gray work, this Polish artist has the talents you're looking for. Her tattoos are gentle and graceful, and they always complement the region where they are placed. We like how the positioning doesn't take up all of the forearm areas; there are still vacant spots if the client adds more to their arm.
5. Pretty Roses and a Puppy Tattoo
Tattooing this on the ankle was an excellent idea; the shape goes well with the client's petite leg size and fills the space well. This micro-realism tattoo's color pallet is incredibly feminine, which complements the roses and butterflies. Songe, a Korean artist, is known for her love of tiny flower tattoos, so if you ever find yourself in Seoul, visit her.
6. Paw Tattoo Design
Just like human fingerprints, dogs have cute little paws. You can get yourself Pair of these cute little paws inked on your wrist as a memory of your lovely pet. If you do not have a pet dog, you can get it to show your love toward all dogs in general.
7. Dog Ghost Costume Tattoo
A tiny little doggy with a white sheet over his head, pretending to be a ghost. Isn't it the cutest thing ever?
8. Wizard Dog Tattoo
For all you Harry Potter enthusiasts, this portrayal of a Gryffindor pooch is a great addition to anyone's ink collection. The gentle coloring in the face contrasts with the black in the cloak, making the lovely poodle's face stand out. Based in Melbourne, Australia, the Korean artist made this one look like a sticker on the client's upper arm; we love it!
9. Watercolor Shiba Inu Portrait Tattoo
The artist hit the nail on the head with this soft watercolor portrait tattoo of the Japanese Shiba Inu breed. Using bright colors accentuates the sketchy style, while the whip shading adds the final touches to make this piece pop. The forearm is the perfect placement for the shape and size of this tattoo, and we have a feeling the client is going to be showing this off to everyone.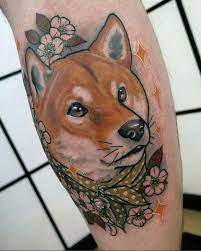 10. Minimalist Dog Tattoo
This tattoo is nicely simple while retaining the charm of the dog enthusiastically running amid the stars. Only black ink was utilized, and a small amount of dotwork shading was used on the rear legs and small patches. The pattern is ideal for the placement on the arm because it does not distort or wrap over. Here are some more Minimalist tattoo designs.
11. Watercolor Dog Tattoo
Watercolor is ideal for anyone who wants to keep things delicate and feminine. The color pallet works well together, while the dark green creates contrast, nearly framing the dogs and tying the whole thing together. Because this isn't a little tattoo, putting it on the calf was a great choice. These adorable buddies were brought to life by the tattoo artist.
12. Dog Wearing a Bandanna Tattoo
It should be evident now that consumers like micro-realism, especially when having a portrait of their pet done. The Argentine artist has incredible technique, demonstrating his ability to bring a tattoo to life. Adding a splash of color with the red bandanna is brilliant since it breaks up the black and white. The placement of this tattoo was carefully thought out because the inner forearm is a terrific place to get tattooed because there is plenty of space. Because it is turned inwards, it provides a great spot to get something personal, such as your four-legged best friend.
13. Balloon Dog Tattoo
Black and gray tattoos allow an artist to show off their shading abilities truly. What we particularly appreciate about this one is that it appears to be made of chrome. The artist effectively employed their gray wash and placed the reflection within the tattoo, creating a realistic balloon look. In terms of placement, this area is ideal for little tattoos and is an easy place to show off when wearing shorts.
14. Puppy in a Costume Sketch Tattoo
Isn't this one adorable? This piece is not supposed to be regarded as perfect, as is typical of sketch tattoos. The crayon-like application of the colors is particularly distinctive, especially in comparison to the almost realistic shading in the face. We admire the artist's use of highlights once again because they provide that extra touch of character to an already charismatic tattoo.
15. Micro-Realistic Dog Gang Tattoo
Micro-realism is a lovely tattoo style and a beautiful way to honor your pet, but there's something about color realism that elevates an image. Fresia's subtle shading and feathering give the impression that things were sketched on. Putting them on the inside of the forearm was another great opportunity to infuse a more personal meaning, as they will constantly be close to the client's body.
16. Graphic Dotwork Yorkie Tattoo on Woman's Forearm
The forearm was an excellent choice for this tattoo, especially for a partial sleeve. What's very cool about this design is that it's not only a portrait but also includes details like a paw print, giving it a very meaningful tattoo. The pepper shading and open spaces make this tattoo stand out; the mild shading in the face contrasts with the heavier shading in the ear, drawing attention to the face. Adding a splash of color to the collar was a lovely touch.
17. White dog tattoo on ankle
This is a cute Maltese puppy tattoo with a sign of love. Malteses are lovable and non-violent breeds. Females love this type of tattoos very much. It shows the innocent and loving nature of the wearer. You can put them as a memory.  Also, a white dog tattoo is an icon for clarity, purification of mind. Simple black and white tattoo are less expensive. But if you choose to place it on the ankle it will cost you a little high. Due to extreme sun exposure, you may need multiple touch-ups. Though, ankle tattoo is cool and trendy.
18. Mirror image dog tattoo
This shiny black far coated French bulldog is an absolute beauty. They are so adorable and hold a loving memory. A person who loves a dog or has a French bulldog, the tattoo is perfect for them. These types' tattoos are so real, that it looks like a mirror image of the real one. The black dog conveys the sacred association. Also, people, who have the courage for passing through the dark phase of life, were black dog tattoo. Here dog tattoo provides a sense of protection. But be careful when you are getting inked at the crease line. It is painful.
19. Touching dog tattoo
A dog is a healer. They are most affectionate among the entire pets. It can help you to recover from any negativity or give you the power to heal others. It portrays that the tattoo owner is very close to her pet. The hand sketch style gives an artistic approach. The inner arm is perfect for a tattoo. Because this area of the hand gets less sunlight and low maintenance. You can flaunt them always. The red heart adds striking beauty to it. Color tattoo cost you high.
20. Love bond dog tattoo
If you are both a dog and cat lover, then this tattoo is for you. You can hold their memory together for a whole life. This is a minimalistic tattoo but conveys a huge story. It displays the love bond. The red heart enhances the beauty of the design. The inner arm is good for a tattoo in terms of maintenance. You can flaunt them, or if needed cover them. The Blackline diagram costs you less. That kind of simple and small size tattoo is ideal for females or teenagers.
21. Human and canine tattoo
This is a lovely meaningful painting. A red dog is lying alongside a little girl. Red dog state victory and manhood. It means, here the dog is a protector or guardian of the little girl. It displays trust and love for each other. A girl, who wants to show off this relationship, will go for this one. The upper arm tattoo is less painful. But fine detailing and color shade is a costly one. But for the sake of love and memory, it is worth.
22. Small gang dog tattoo
If you are a proud parent of numbers of dogs, and you want to frame each of them, this cluster gang tattoo idea suits you. Besides this, people who love a dog and advocate their importance also flaunt like this. The tiny finger tattoo concept is perfect to accommodate multiple numbers of canines. Though finger tattoo is painful, it is very popular among tattoo lovers. Shades of dark grey and black made the tattoo monochromatic which is prominent yet soft and sober. Boys and men love to wear them. Sometimes they wear them to display their strength.
23. Couple dog tattoo
This one is absolutely a lovie-dubby concept. When your partner is also a dog lover, as much as you, then go for contrasting tattoo ideas. All you have to do is, choose two different designs, which are complementing each other. Couples always want to state that they are incomplete without each other. Here one person holding a loving breed where the other one shows off his food or toy. Both your tattoo will make a story together. You can wear them on arms, fingers, or neck. This grey tattoo with fine stroke and dot work is very artistic.
24. Boxer portrait tattoo
Ohh… You can see all the drama on his face. Boxers are very intelligent and playful breeds. They are very loyal to protect their family. Thus the tattoo owners enjoy the sense of security. Boxer tattoo reflects the temperament of the tattoo wearer. They are highly energetic, which influences the owner also. Here the seating posture depicts that whether he is waiting for his loved one or protecting them. This black and grey tattoo is mind-blowing. The intricate features and shades enhance beauty at its best. You can put these small size tattoos wherever you want.
25. Minimalist pet duo tattoo
Here is another cute and adorable example of a simplistic duo pet tattoo. These are the best choice for absolute pet lovers who own the dog and cat at the same place. And in this case dog and cat share a very cute brotherly friendship. Tattoo owner can get inked with this type of idea in the loving memory of her pets. It depicts the unusual relationship. It also can help you to get out of loneliness. You can flaunt them and spreads love all over.
26. Minimalist dog tattoo
People who are not very fond of heavy tattoos can choose the minimalistic approach. The concept is 'less is more'. Few single line strokes can convey a beautiful story. Females prefer this type of cute, small, and simplistic tattoos. it shows unconditional love for each other. The sense of the presence of your loved one is always precious and helps you to fight against all the odd ones.
This way you can design your tattoos by adding your vision and style to dog tattoos to embellish an individual design that fits your personality.
Getting a tattoo is a kind of serious affair, so choose wisely. It won't be wont to say it is like getting married. If you choose the right design, it might end with a lifetime of happiness. Don't even think about getting it removed. Instead, stick to it and flaunt it all the time.  Covering your tattoo, later on, isn't worth it and so take the time to carefully consider your decision first. I hope the above designs will give you a better idea and with the following tattoo designs with its meaning and message, you will end up having an amazing tattoo experience.
Other Articles