Planning to get inked? Then take a second to aspire these cool and unusual armband tattoos. And these tattoos are not just merely random tattoos but they also hold an ocean of deep hidden meanings. The armband tattoos can be categorized by different names for instance wristband tattoos, armlet tattoos, bracelet tattoos. These tattoos are unisex in nature and are quite popular with both men and women. There are plenty of ways to ink an armband tattoo and the best thing is that they are going to stay till the time stops. These designs are never going to fade and always going to make you look more edgy and smart. With these armband tattoos you can always wear your emotions and it will be your guiding line showing you the path to enlighten and connecting you to your spiritual roots.
Looking back into the history, the armband tattoos were derived from the black armband clothes that were traditionally worn as a sign of mourning. While working in the office if you don't want to be the talk of the town and want your tattoos to hide, you can simply pull off your sleeves generously. BOOM IT'S GONE!
The pain is quite bearable other than if you're planning to get inked inside your bicep or your elbow. Pain is temporary but style is permanent. And it's one of a kind experience which you should at least feel once like from the brainstorming part to developing your own tattoo which suits you the best. And you'll be spoilt for choices as from the past few years the trend for armband tattoos has emerged strongly. So let your armband designs wrap around your arms playfully and let it do all the talking. And it's totally worth it! So go for it without a second thought.
1. Landscape armband tattoo
A minimalist yet distinct choice is to go for landscape armband tattoo. Forests and mountains remains one of the most popular choices but you can also opt for cityscapes or skylines. In recent times, the demand for landscape armband designs have elevated to a newer level.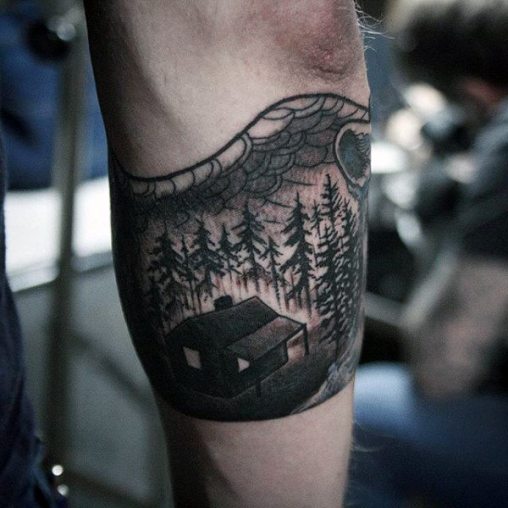 2. Colored Floral Armband Tattoo
Twisty vines and colorful floral designs represent cheerful and happy personality. Few people prefer to spare some skin rather than wrapping the whole arm with an enclosed line. Some says it brings more luck and happiness. Wrapping around floral also feels organic and leads to enthusiasm in every aspects of your life.
3. Vine and line armband tattoo
If you're someone who loves floral design but want to keep it on the minimal side, this armband tattoo is something for you. With a little minimalistic approach and equally beautiful this black outlined tattoo represents good luck and cheerful life. This is more popular amongst the women of new age and you can ink this tattoo around your arms if you're seeking for love and happiness.You can also add a pinch of colors or maybe some abstract forms around your armband to make it look more creative. Also keep in mind the budget, the fancier or intricate side you go the more you will have to spend. Charges also depend on the size of the tattoo.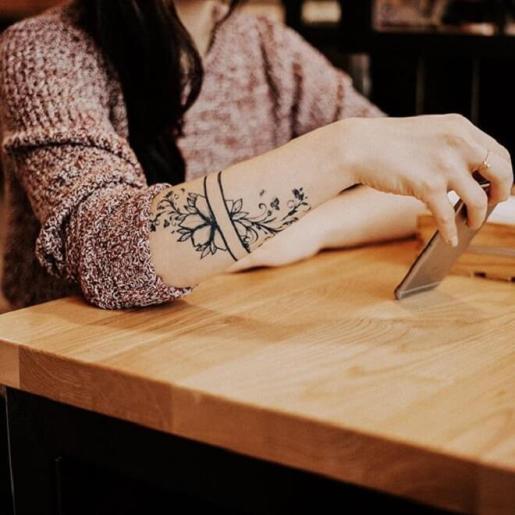 4. Scenic Armband Tattoo
As the name suggests, landscape armband tattoos can represent a person's love for a particular landscape.A landscape armband has a lot of potential to influence a person's views and opinionsand can guide their perspective in style. Wrap your arms with the dreamy mountain landscapes which also radiates a bit of nostalgia.
5. Tribal Armband Tattoo
Tribal designs have been popular from a very long time because it was prevalent in many cultures and traditions. These armbands represent culture and age old civilizations giving it an ethnic look. You will have a plethora of tribal markings to choose from for your armband.Traditionally, an armband tattoo was inked on the upper arm or the widest part of the bicep. If you're a gym freak and have wide muscles these tattoos are best for you as you can flaunt your body with swag.
6. Hawaiian Armband Tattoo
Hawaiian armband tattoos symbolizes love, femininity and courage. It's best for someone who's light-hearted and enjoys life to its fullest.These water-based Hawaiian armbands also symbolize pride in the traditions. These designs are also aesthetically appealing.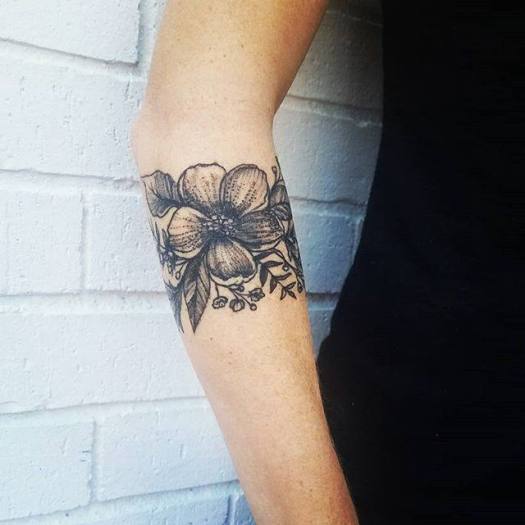 7. Quotation Armband Tattoo
Simple and sweet, these armbands with a little and crisp quotations are on trend these days. Choose a quote which defines you the most and wear your heart on your sleeves.You can get it inked on your arms and flaunt your tattoo with a wide smile on your face.. If you are someone who believes in the concept of 'Less is more', you can also ink around your wrists with few irregular dotted lines to give it more minimalistic approach.
8. Bold line Floral Wristband Tattoo
Vines and floral markings represent beauty and love. And if you love something with more intricate approach then this appealing armband is definitely for you. Ink this around your arms and flaunt it with grace. With this bold floral wristband tattoo add a bit of perspective to your lone thoughts.
9. Triple layered Tribal Armband Tattoo
Tribal markings have different significance when seen through different regions and cultures. These layered tribal markings represent masculinity and strength. The more intricate it is the stronger and edgy your personality is considered.  It also shows the continuity of life.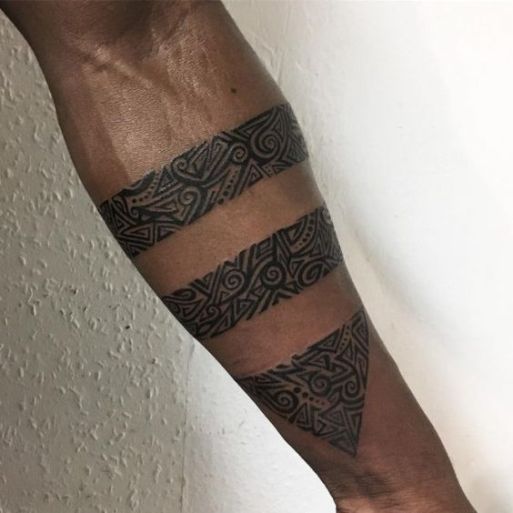 10. Maze Runner Armband Tattoo
Are you a maze runner from inside?Edgy and smart, this maze runner armband tattoo represents that no matter how hard or confusing the situation may get, you will always find a loophole to escape if you have courage. You can never go wrong with these tattoos.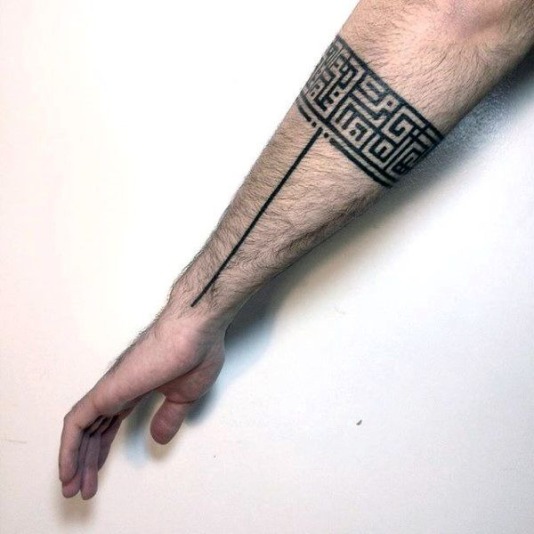 11. Bold-lined Thick Armband Tattoo
Bold and thick armband tattoos also represent good luck and strength. You can add more personalized touch to your armband with a little quotation.  Stop mourning over what's gone and utilize that pain as your inner strength rather than just being cranky. On the lighter side, it also provides luck and strength because the spirits of your loved ones won't want you to be cranky all the time.
12. Dark Floral Armband Tattoo
Floral doesn't always have to be for the women. Even men can get it inked. It represents a lot of meanings based on an individual's personality. A man who respects feminism or nature can also get floral armband inked on his arms.
13. Minimalistic Bold Armband Tattoo
A solid black armband tattoo represents the loss of a near and dear one, as black is considered the color of death and mourning in the western side of the countries. On a less grim side, it may also reflect luck or strength.Black armbands were then worn on the sleeves to represent the death of a loved one. Losing someone you love can be heart wrenching and when you lose someone it stays with you, always reminding you how easy it is to get hurt. So rather than just mourning over the grief choose to ink around your arms so that no matter what happens, they will always be by your side an no death can separate you from your loved one.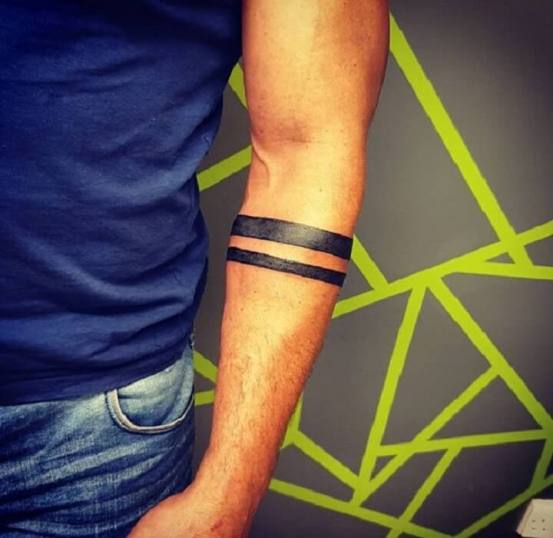 14. Tribal Touch Armband Tattoos
These types of tattoos are very significant in many cultures.  10 to 15 years back these were in trend and then it saw a decline. But again it's coming back to trend as it represents meanings covered in deep sentiments. It resembles a lot like a bracelet and you can easily hide them with your sleeves when needed.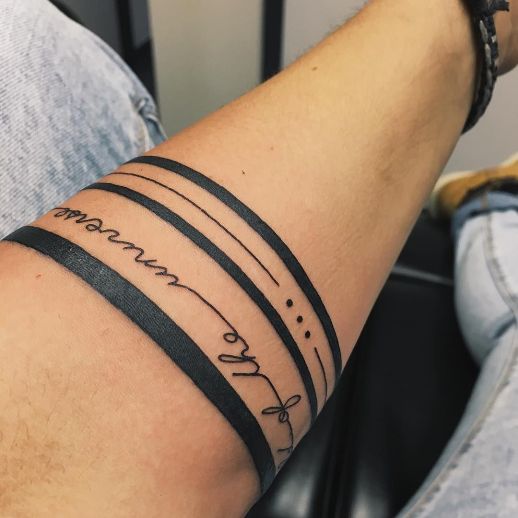 15. Celtic Knot Armband
The grandiloquent Celtic patterns are covered with sentiments that can be traced back to medieval era. These tattoos symbolize love knots, or paths interwoven with one another. Celtic knots also stand for something which is eternal and never ending like humanity or love. The illusion created by interlacing paths lead to amazing effects. If you're someone who loves unfolding mysteries and undying love then this armband tattoo is a must for you.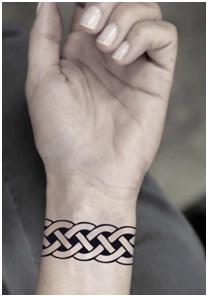 Tattoos are for eternity so, before getting inked decide the placement for your armband. You can get tattooed around the wrist, forearm or sleeves. You can create or customize the designs according your interest. Getting inked is more than choosing just a design, so choose it wisely because it is going to stay with you till the time fades away. And also don't go for a design only because it appeals to you, try to understand the hidden meanings and what that tattoo conveys.
Hope with above stated designs you will get a better understanding of all the armband tattoos. So select an armband marking which fits the most with your personality and speaks about your inner feelings. It's a mark of your own style, add colors to your creativity and give your arms a new style perspective. Choose a tattoo which defines you the best than the rest and adorn it with swag. Happy Inking!