Planning to get inked? Then take a second to aspire these cool and unusual armband tattoos. And these tattoos are not just merely random tattoos but they also hold an ocean of deep hidden meanings. The armband tattoos can be categorized by different names for instance wristband tattoos, armlet tattoos, bracelet tattoos. These tattoos are unisex in nature and are quite popular with both men and women. There are plenty of ways to ink an armband tattoo and the best thing is that they are going to stay till the time stops. These designs are never going to fade and always going to make you look more edgy and smart. With these armband tattoos you can always wear your emotions and it will be your guiding line showing you the path to enlighten and connecting you to your spiritual roots.
1. Lord Shiva Armband Tattoo
Shiva tattoo designs are among the most important and popular tattoos for men today. The tattoo is incredibly beautiful to look at and is undoubtedly one of the best armband tattoos available today.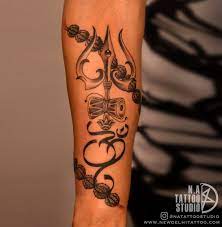 2. Barbed Wire Armband Tattoo Design
Barbed Wire Armband Tattoos have been popular among both men and women. They are a popular choice and come from toxic culture, which was later adopted by Latinos in Southern California. All of them represent security, preservation, and the prohibition of passage. Barbed wires also symbolize the crucifixion of Jesus Christ and have religious significance. It also implies that one believes in the almighty's power. Female barbed armband tattoos are frequently available in small sizes.
3. Native American Armband Tattoo Designs
This tattoo depicts a rope wrapped around the arms. This rope is largely made up of beads with a few feathers dangling from it. You can also use images such as a bull skull, a dream catcher, and other miniatures to give this tattoo a fiery appearance. This tattoo pattern is related to Native American culture. It is also significant in representing Native American pride.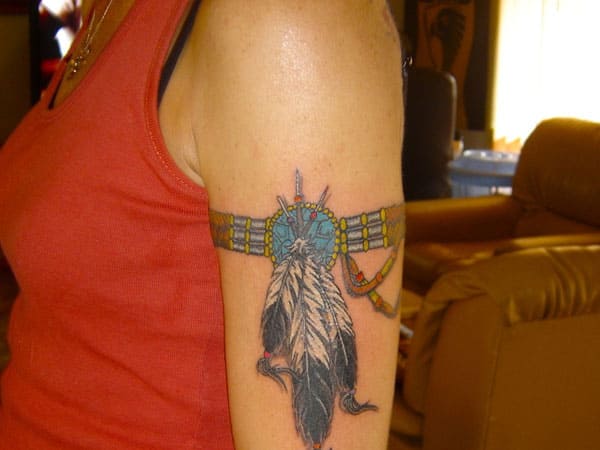 4. Names Designed On Armband
Name tattoos are popular among both men and women. These name tattoo designs feature the name of someone near your heart. So, before deciding on a name, spend a lot of time getting it in ink. This is due to the fact that the name of the letters used might make the name more or less legible to read. The greatest place to start is by styling the name of the armband. As a result, the location is apparent, and your emotions may be easily stated.
5. Geometric Armband Tattoo
Geometric armband tattoo designs are well-recognized for their obsession with symmetry. These tattoos have been around for over 2000 years and were originally discovered on the natives of the Micronesian islands. Geometric tattoos symbolize the desire for perfection and skill in life. These tattoos are incredibly difficult to create because even minor variations can result in a faulty tattoo design. Geometric tattoos are typically done in black. However, they can be colored in. They are related to natural elements that are in perfect symmetry with one another.
6. Musical Armband Tattoos
This is another opportunity for music enthusiasts to show the world their love of music. Music tattoos simply represent a person's love, enthusiasm, and energy for music. This armband tattoo is designed for people passionate about music and who live for it. This one is frequently carved by musicians and artists to demonstrate their love and passion for music. It is possible for both men and women to convey harmony and symphony of life through musical notes in an armband. Get your favorite music symbols carved around your arm in black ink. Furthermore, medium-sized bands look great. Perfect for all skin types, a passion for music is necessary; everything else is optional.
7. Birds Armband Tattoo
Bird armband tattoos are lovely. These tattoos typically include birds perched on a thread that wraps around your arm. A lovely armband tattoo that simply represents your appreciation for all living things. This tattoo pattern is ideal for creating eye-catching tattoos. This is typically done in black, with sizes ranging from small to medium. It complements all skin tones.
8. Chain Armband Tattoos
This is for those who enjoy wearing chains, and if you want a permanent chain on your arm, this is the tattoo for you. Tattoo design that is simple yet lovely for both men and women. Men can get this armband tattoo in thick chain links, while women can get it in a different style. When worn on the wrist, this tattoo will resemble a wrist bracelet. It looks best in black, but you can add a splash of color if you desire.
This tattoo works well in small to medium sizes. It is appropriate for all skin tones. I hope this post has given you some ideas for your armband tattoo design. Aside from finalizing your tattoo design, you need to visit a qualified tattoo artist with experience with such designs. A tattoo cannot be readily removed once it has been applied. Therefore it is best to have a firm idea of the style, size, and location before seeing your tattoo artist.
9. Swirls and Stars Armband Tattoos
The most popular armband tattoo design among males. These tattoos are done in small sizes, yet the meaning they reflect is worth having. They typically represent truth, hope, spirit, hope, and religion. These tattoos necessitate talent and expertise to be precisely etched. They just represent optimism and hope. Get it in black with some lovely hues. Depending on your preference, this can be done in tiny or medium sizes. It looks good on all complexion tones, from dusky to fair.
10. Aztec Armband Tattoo
Aztec Tattoos originated from the ancient tribes viz Aztec. These were known for their tattooing skills. More often than not, their tattoos used to be related to weather, fertility and creativity. And the other symbols could be sun, or moon tattoos, along with crosses and eagles that signify the strength of a warrior. Also, the Aztec calendar and princesses do come in Aztec tattoo designs. This Armband Tattoos make for an eye-catching tattoo design. These tattoos are a great choice for the ones who believe in God. Aztec tattoos are specially done to honor the Aztec God. It is done in black color. You can get this design in medium to large sizes. It suits all skin tones.
11. Unique Forearm Tattoo
Some forearm band tattoos are not unique and interesting but also innovative. This is true if they attain new artistic or visually appealing tattooing exploits. Tattoo innovation can also be seen in the originality or distinctiveness with which a tattoo artist completes a piece.
12. Christian Forearm Band Tattoos
While many tattoos contain references to God or other religious or spiritual views, some are far more direct than others. This is true for forearm band tattoos, as well as many other styles of ink.
13. Animal Armband Tattoo
The fox makes good use of a soft hue to create the mountain band, a nice work of art. The soft color helps the fox dissolve into the background and indicates a mountain stream, especially with the way the fur has been colored to give a cascading appearance. The line work in this artwork is precise at all stages.
14. Element Armband Tattoo
These enormous, majestic beasts have long been regarded as emblems of good fortune, dignity, wisdom, fertility, and protection.
15. Wave Armband Tattoo
The waves depict the restlessness of the vast ocean. It also represents trust, optimism, and joy, even in difficult circumstances. People even get wave tattoos to represent immensity, depth, and continuity. The sea waves lend life to the otherwise lifeless water.
16. Landscape Armband Tattoo
A minimalist yet distinct choice is to go for landscape armband tattoo. Forests and mountains remains one of the most popular choices but you can also opt for cityscapes or skylines. In recent times, the demand for landscape armband designs have elevated to a newer level.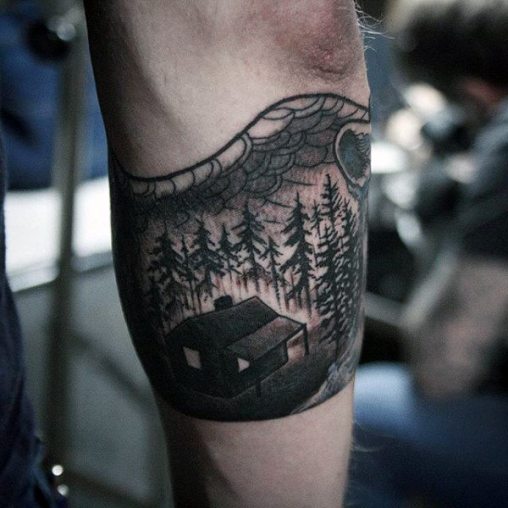 17. Colored Floral Armband Tattoo
Twisty vines and colorful floral designs represent cheerful and happy personality. Few people prefer to spare some skin rather than wrapping the whole arm with an enclosed line. Some says it brings more luck and happiness. Wrapping around floral also feels organic and leads to enthusiasm in every aspects of your life.
18. Vine and line armband tattoo
If you're someone who loves floral design but want to keep it on the minimal side, this armband tattoo is something for you. With a little minimalistic approach and equally beautiful this black outlined tattoo represents good luck and cheerful life. This is more popular amongst the women of new age and you can ink this tattoo around your arms if you're seeking for love and happiness.You can also add a pinch of colors or maybe some abstract forms around your armband to make it look more creative. Also keep in mind the budget, the fancier or intricate side you go the more you will have to spend. Charges also depend on the size of the tattoo.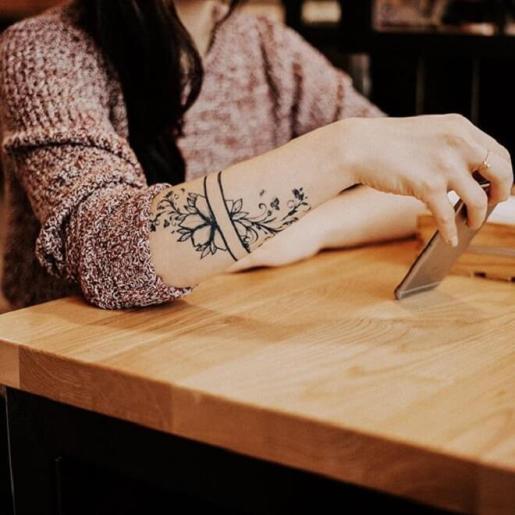 19. Scenic Armband Tattoo
As the name suggests, landscape armband tattoos can represent a person's love for a particular landscape.A landscape armband has a lot of potential to influence a person's views and opinionsand can guide their perspective in style. Wrap your arms with the dreamy mountain landscapes which also radiates a bit of nostalgia.
20. Tribal Armband Tattoo
Tribal designs have been popular from a very long time because it was prevalent in many cultures and traditions. These armbands represent culture and age old civilizations giving it an ethnic look. You will have a plethora of tribal markings to choose from for your armband.Traditionally, an armband tattoo was inked on the upper arm or the widest part of the bicep. If you're a gym freak and have wide muscles these tattoos are best for you as you can flaunt your body with swag.
21. Hawaiian Armband Tattoo
Hawaiian armband tattoos symbolizes love, femininity and courage. It's best for someone who's light-hearted and enjoys life to its fullest.These water-based Hawaiian armbands also symbolize pride in the traditions. These designs are also aesthetically appealing.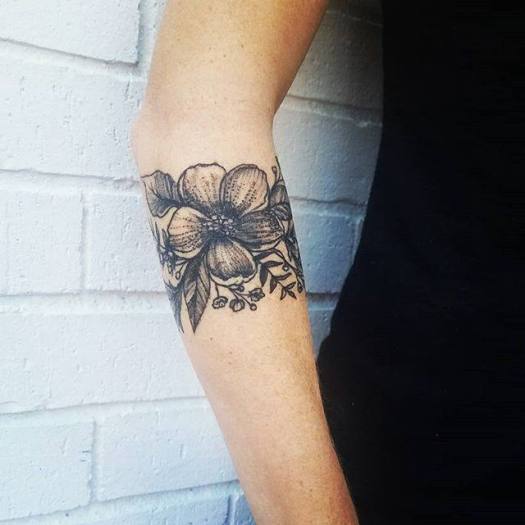 22. Quotation Armband Tattoo
Simple and sweet, these armbands with a little and crisp quotations are on trend these days. Choose a quote which defines you the most and wear your heart on your sleeves.You can get it inked on your arms and flaunt your tattoo with a wide smile on your face.. If you are someone who believes in the concept of 'Less is more', you can also ink around your wrists with few irregular dotted lines to give it more minimalistic approach.
23. Bold line Floral Wristband Tattoo
Vines and floral markings represent beauty and love. And if you love something with more intricate approach then this appealing armband is definitely for you. Ink this around your arms and flaunt it with grace. With this bold floral wristband tattoo add a bit of perspective to your lone thoughts.
24. Triple layered Tribal Armband Tattoo
Tribal markings have different significance when seen through different regions and cultures. These layered tribal markings represent masculinity and strength. The more intricate it is the stronger and edgy your personality is considered.  It also shows the continuity of life.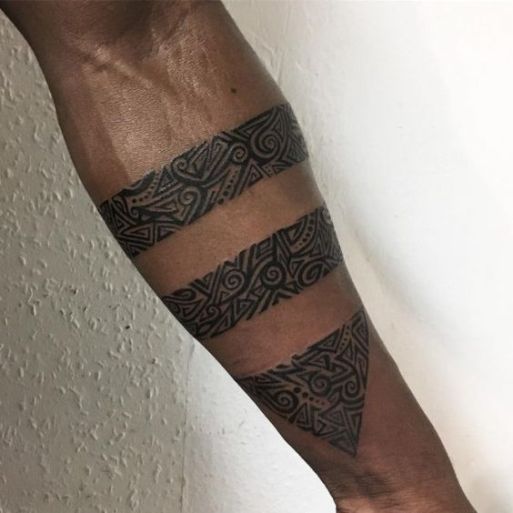 25. Maze Runner Armband Tattoo
Are you a maze runner from inside?Edgy and smart, this maze runner armband tattoo represents that no matter how hard or confusing the situation may get, you will always find a loophole to escape if you have courage. You can never go wrong with these tattoos.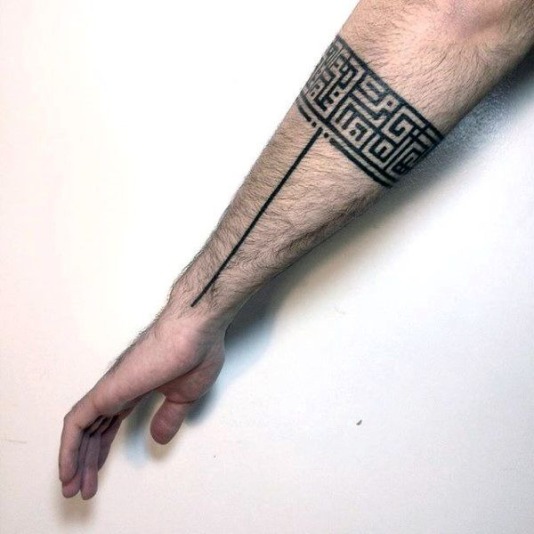 26. Bold-lined Thick Armband Tattoo
Bold and thick armband tattoos also represent good luck and strength. You can add more personalized touch to your armband with a little quotation.  Stop mourning over what's gone and utilize that pain as your inner strength rather than just being cranky. On the lighter side, it also provides luck and strength because the spirits of your loved ones won't want you to be cranky all the time.
27. Dark Floral Armband Tattoo
Floral doesn't always have to be for the women. Even men can get it inked. It represents a lot of meanings based on an individual's personality. A man who respects feminism or nature can also get floral armband inked on his arms.
28. Minimalistic Bold Armband Tattoo
A solid black armband tattoo represents the loss of a near and dear one, as black is considered the color of death and mourning in the western side of the countries. On a less grim side, it may also reflect luck or strength.Black armbands were then worn on the sleeves to represent the death of a loved one. Losing someone you love can be heart wrenching and when you lose someone it stays with you, always reminding you how easy it is to get hurt. So rather than just mourning over the grief choose to ink around your arms so that no matter what happens, they will always be by your side an no death can separate you from your loved one.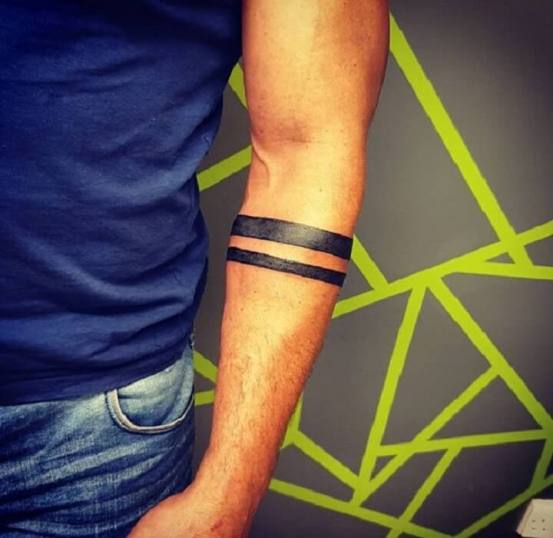 29. Tribal Touch Armband Tattoos
Tribal tattoos are very significant in many cultures.  10 to 15 years back these were in trend and then it saw a decline. But again it's coming back to trend as it represents meanings covered in deep sentiments. It resembles a lot like a bracelet and you can easily hide them with your sleeves when needed.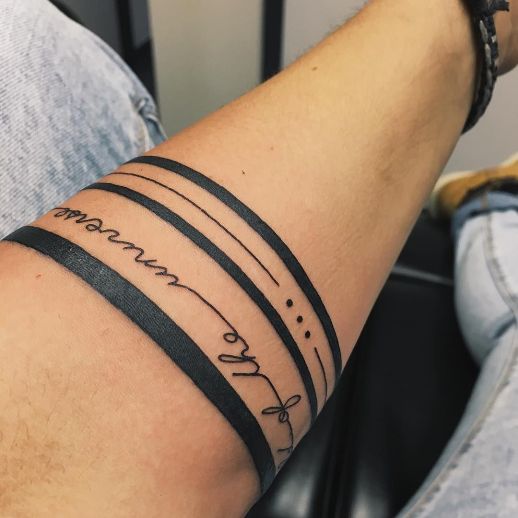 30. Celtic Knot Armband
The grandiloquent Celtic patterns are covered with sentiments that can be traced back to medieval era. These tattoos symbolize love knots, or paths interwoven with one another. Celtic knots also stand for something which is eternal and never ending like humanity or love. The illusion created by interlacing paths lead to amazing effects. If you're someone who loves unfolding mysteries and undying love then this armband tattoo is a must for you.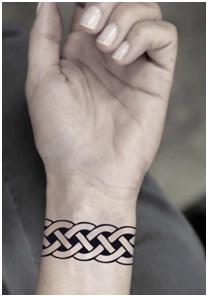 Tattoos are for eternity so, before getting inked decide the placement for your armband. You can get tattooed around the wrist, forearm or sleeves. You can create or customize the designs according your interest. Getting inked is more than choosing just a design, so choose it wisely because it is going to stay with you till the time fades away. And also don't go for a design only because it appeals to you, try to understand the hidden meanings and what that tattoo conveys.
31. City Armband Tattoo
If you love your city and it lives in your heart rent free, then this dot work tattoo is the best pick for you.
32. Forest Armband Tattoo
All that lushly forest green on your forearm is the best option for adventure lovers and nature lovers.
Hope with above stated designs you will get a better understanding of all the armband tattoos. So select an armband marking which fits the most with your personality and speaks about your inner feelings. It's a mark of your own style, add colors to your creativity and give your arms a new style perspective. Choose a tattoo which defines you the best than the rest and adorn it with swag. Happy Inking!
Other Articles