The looks that we are about to present in this article are straight up demonic, unholy and will probably make kids cry. But, if you are daring enough and obviously skilled enough to bring these look alive then you are at the right place. These makeup looks are definitely not last minuet and are very time consuming. prepare a pair of huge dramatic horns because trust me, you will need them. But all the effort and skill will be worth it because these Halloween Makeup looks will make all the heads turn… out of terror.
1. Satan
Like I said, big dramatic horns are mandatory for all these looks, including this one. Fun thing is, you can swap this look with Lucifer's look if you want to. We will go with bright devil red face paint, sharp elf like ears made out of cardboard and prosthetic. Sharp dark eyebrows and blacked out eyes. Use white for the highlights and black to create dimensions and shadows. You can also attach flimsy chains to your horns, dangling on your face. But if that's too much feel free to skip.
2. Belial
Belial stands for wickedness, rebellion, and lawlessness. He is not a Biblical demon but his character got established over the time in many occult cultures. We will again choose red face paint for this, the horns stay mandatory with those sharp prosthetic ears. Create hole like patches using black and maroon. Dark eyes with reptile contact lenses. Also, don't forget to put on a bald cap before diving into the makeup. Very spooky. 
3. Beelzebub
Beelzebub is referred to be a demon prince and a prominent demon indeed. But this look isn't very prominent, but it's fun. Go for any of the demon makeup look but use glow in the dark face paint to draw glowing eyes. Draw a pair of eyeballs on your eyelid and that is it. 
4. Medusa
Medusa is a Greek mythological figure who is frequently represented as a monstrous woman with snakes for hair and a glance that turns people to stone. This makeup requires fishing net to create the snake skin texture. Use dark and light shades of green to get the snake skin. Smokey eyes and reptile contact lenses will help you with the Medusa gaze. Use concealer and green shade for the lipstick to have ombre effect. And as always, extra points for the head band. 
5. Succubus
A female demon engages in immoral behavior with men, usually when they are sleeping. A man can go for Incubus makeup with similar techniques. This look is a little glamorous. Make the horns hot pink for the feminine look. And use pink eye shadow for your eyes and eyebrows. Draw some upside down cross to make it look like you are mocking the holy cross (Learned it from horror movies).
6. Lucifer
You can swap this look with Satan's look as they are considered to be the same by many people. This look requires heavy use of prosthetic to shape the nose, make it bulgy. Conceal the eyebrows, make your head look like it has been burned by the fire of hell. use red face paint in the burned looking area which will be over the bald cap. Some black to create more realistic appearance and also to smudge it around the eye. Finish off with those bright demonic eyes.
7. Asmodeus
He is a nasty and powerful demon or fallen angel. This look again required a bunch of prosthetic to create beast like face with aggressive looking wrinkles. Dramatic horns are obviously a must. Eyebrows should be concealed and eyes should look sunken and dark, use some eye shadow for that. Use a wig to have these matted hair. Pop in a pair of bright yellow contacts and donezo. 
8. Insidious
Inspired by the Insidious movies, we have the "lipstick faced demon". Make use of red and black face paint to achieve this look. You can either go for a complete bald cap or the semi bald one. Stick some white fuzzy hair strands on your chin as well and let the bright yellow contact lenses complete the look.
9. Behemoth
God produced a giant beast as mentioned in the Bible. This look is a little skill based. Horns on the bald cap are necessity but you also have to use some prosthetic to create tiny horns on the center of your head, like a mow hawk. Use white body paint and some back to create hole like texture. Use black eye shadow to give yourself wrinkles and sunken eyes. Finish this look with yellow lenses.
10. Lilith
Created as Adam's first wife, Lilith then turned rebellious. Use white face paint and black eye shadow for the contour and eye makeup. Black lipstick and some prosthetic horns on the side of the face will make you look demonic. Draw cracks under the eye using black eyeliner and to finish the look use two different colored eye lenses.
11. Krampus
Krampus is believed to be a Christmas demon according to European folklore. He punishes the naughty kids. Considering the Christmas vibe, we will go for a light blue and white face paint for this demon. Horns will be there, as always with bright blue eyes. Not ocean blue though, freezing ice blue eyes. use darker blue shades for the wrinkles and eye shadow purpose. Use beast looking wig but you can also simply go for a bald cap. Fangs and the long disgusting tongue adds life to this look.
12. Valak
Good old demon nun, inspired by Conjuring. Hollywood's most popular demon for a fact. The nun costume will save you from the hassle of a wig. Use white face paint and black eye shadow for the details and contour. Draw the ugly smile over your lips so it looks like you are screaming, even with your mouth closed. And of course, the lenses.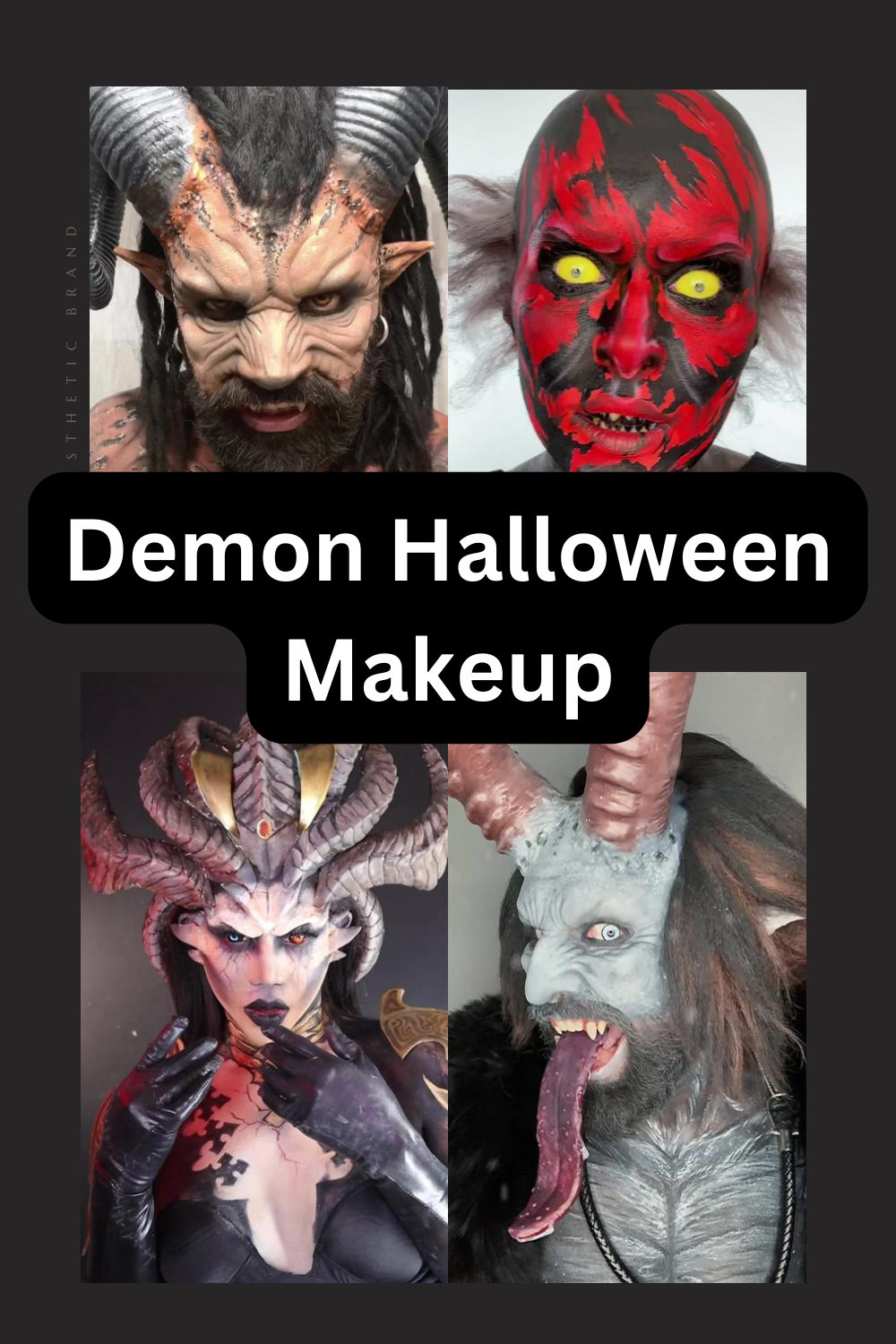 Other Articles