Looking for a Halloween costume that's both enchanting and a little eerie? Consider mermaid-inspired makeup! It's perfect whether you're a makeup newbie or a pro. With our "20 Creepy and Cute Mermaid Inspired Halloween Makeup Ideas for Beginners and Skilled – 2023" guide, you'll be ready to make a statement this Halloween.
1. Classic Mermaid
To create this classic mermaid look, start by applying shimmery aqua or teal eyeshadow to your eyelids. Add scale-like patterns using a fishnet stocking. Complete the look with sparkling rhinestones and long, flowing waves in your hair, and be a stunning mermaid in no time.
2. Mermaid With Seashell Crown
To really nail this cute mermaid look, go with minimum makeup and top it off with a beautiful seashell crown. You can create one using real or faux seashells and pearls. For that extra oceanic flair, add starfish to it, and you are done with your enchanting mermaid ensemble.
3. Mermaid With Scales Makeup
To get that mesmerizing mermaid charm, add some iridescent scales into your look. It's easy! Just use iridescent makeup or body paint on your face and neck. Blend some enchanting shades of green, blue, and purple to nail that realistic underwater vibe. You can also decorate it with accessories and rhinestones.
4. Glittering Eyes
Let your eyes shine like the sea with some sparkly magic. Apply glittering, ocean-inspired shades to your eyelids. To amp up the allure, go for bold eyeliner and false lashes for that captivating underwater charm.
5. Deep-Sea Smokey Eyes
Create a captivating underwater look with deep-sea smokey eyes. You'll need dark blues, purples, and black eyeshadows, expertly blended, for that enchanting allure to make your eyes shimmer like the ocean depths.
6. Mermaid Tears
Add a touch of magic to your mermaid Halloween look with "Mermaid Tears" makeup. Simply blend shimmering, vibrant shades and draw flowing tears over it with liner beneath your eyes. It's a mystical and captivating addition that'll make your mermaid costume truly enchanting.
7. Beautiful Mermaid
Achieve an enchanting mermaid look for Halloween. Start with foundation, use oceanic eyeshadows like aqua and teal, create scales blending oceanic shades with a bit of pink, and use rhinestones strategically placing them along your eyes just as shown. Complete your look with glossy pink lips.
8. Mermaid with Starfish Adornments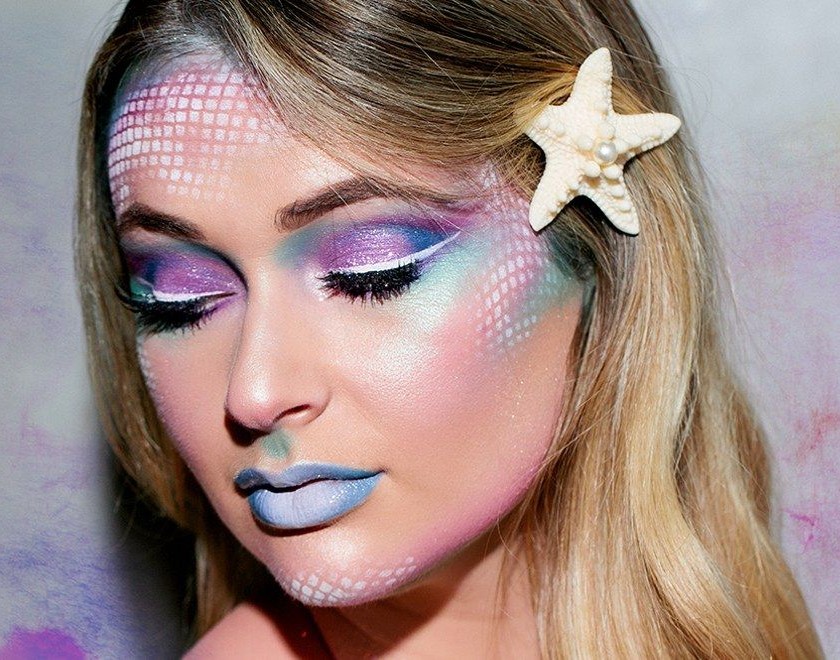 Enhance your Halloween mermaid look with starfish accents. Do your mermaid-inspired makeup as you would like, or you could recreate the above. Later, place tiny starfish decorations for an authentic oceanic touch.
9. Metallic Blue Mermaid Makeup
For an eye-catching Halloween Metallic Blue Mermaid look, start by applying metallic blue eyeshadow on your lids for a stunning shine. Accentuate your eyes with bold black eyeliner and don't skip those shimmering scales for an enchanting underwater charm that's perfect for the spooky season.
10. Mermaid Queen
To rock the Mermaid Queen Halloween look, begin with a seafoam base. Highlight it with shimmering scales, seashells, and pearls. Elevate your eyes with shimmering blue and green eyeshadows and crown yourself with a magnificent sea-inspired tiara.
11. Half Mermaid Makeup
Achieve a striking Half Mermaid Halloween look by dividing your face in two. On one side, go all out with oceanic colors and scales for the mermaid vibe, while the other side keeps your regular look. It's a cool mix of fantasy and reality!
12. Easy Mermaid Makeup
Looking for something simple, last minute Halloween makeup. If so, try this easy mermaid look. It has colorful scales, pearls and tiara made of shell and starfish too. You can create the scales with net and makeup.
13, Colorful Mermaid
To create a colorful Mermaid makeup look, dive into vibrant oceanic shades like blues, and purples. Add shimmering scales, and sparkles. Finish with bold eyelashes and a splash of color on your lips for that enchanting underwater charm.
14. Unique Mermaid
If you prefer something more unique, then this mermaid makeup idea is for you. use subtle scales, pearls and dramatic eye makeup to create this mermaid look. Complete the look with a shell crown and beautiful necklace.
15. Simple, Stunning Mermaid
Want simple Yet stunning mermaid makeup this Halloween? Then this idea is for you. start with soft, iridescent eyeshadow in oceanic shades. Add a hint of shimmer on the cheeks, Decorate your forehead with sea shells, pearls, and glitters. Lastly, add fin to one of your ears and you are ready to rock in this stunning appearance.
16. Glam Mermaid
This Glam mermaid is easy to recreate. It has small scales in blue and purple colors and stunning eye makeup. You can also add a headpiece made of starfish and sea shell.
17. Blue and Purple Mermaid
To achieve a gorgeous Blue and Purple Mermaid makeup, blend blue and purple eyeshadows together for a stunning gradient effect on your eyelids. Line your eyes for definition, add false lashes for drama, and don't forget to sprinkle shimmering scales for that irresistible aquatic charm.
18. Dark Mermaid Look
Create a captivating Dark Mermaid Halloween look by embracing smoky eyeshadow in rich black and purple hues. Highlight your forehead and cheekbones with oceanic-inspired colors, and finish with dark, red lipstick. You can also go with black.
19. Mermaid Makeup with Pearls
This Blue Mermaid look is all about blending pretty pink and blue for eye makeup, paired with dark pink lips. It also has gill-like sections on the face with pearls.
20. Rainbow Mermaid
Create a bold and enchanting mermaid look by using all the colors of the rainbow on your eyes, cheeks, and lips. Blend them together for a vibrant and daring appearance, like a dazzling rainbow over the sea. Let your inner brilliance shine as the most colorful mermaid around!
Other Articles