Just when you thought that you've seen enough. We have a collection of some of the most questionable looking haircuts that women have tried. I feel second hand embarrassment on their behalf because these haircuts are very unexpected. Before you start diving head first into the article, just know that these aren't the real names for these haircuts. I don't even know if they have real names at this point. But, for the sake of tittles, I made them up. Hope this article makes it clear what you should avoid when it comes to haircuts.
1. The Wild Peacock
Yup, we are starting strong. This is a combination of not just an ugly haircut but also a very questionable hairstyle. Why would you allow yourself to do that?
2. The Bowl
The Bowl, because that's it reminds me of, a bowl. The hair is too short for being anything else so it decided to become a bowl.
3. The Ear Window
This hairstyle will make sure you have zero audio disturbance because it allows your ears to peak through. I'm sorry I beg you pardon, it actually provides a window for your ear to peak through. The thought process behind this haircut still remains unclear for me.
4. The Pillow Head
Do you also hate when your hair gets between your scalp and your pillow? Well I don't but apparently some people do. So, here you have it, The Pillow head. To make sure you have nothing coming between your pillow and your scalp.
5. Non Existing Bangs
I sympathize, looks like attempts were made to create bangs. But, unfortunately the hairstylist failed.
6. Long Lost Sister of Mohawk
For a lot of people this might be a fashion statement, but not for me. This hairstyle looks like some long lost sister of the Mohawk haircut, which is also not my favorite.
7. Sad Bangs
Bangs are the most common fails among the hair styling industry and this can be a classic example of that. Her hair has been cut too short for it to be called anything at all.
8.The Hairline Destroyer
Who likes hairline anyway? So why don't we just destroy it with… well, with something. because the thing is, I don't even know what to call this haircut in the first place.
9. Questionable Bangs
This haircut doesn't look half bad from the front angle. But, things change as this pretty lady turns her head.
10. The Bowl 2.0
I don't even know how something can go so wrong. Which leads me to believe that this haircut was probably intentional. And that is even more concerning.
11. Bangs Gone Wrong
Well, this one is the most tolerable one. The bangs are definitely too short but not traumatically short. It can be handled.
12. Crown Cut
Here's the thing, this haircut isn't done yet and I can already tell it's going to be ugly. Any haircut that starts from the crown of your head will lead you with scars. Trauma based scars, caused by bad haircut.
13. Butterfly Haircut Gone Wrong
I can just tell that this hairstyle was intended to be a butterfly cut and the stylist didn't know how to section and layer the hair properly.
14. The Tail
Is it a bob cut or nah? I don't understand the point of this, but so is the case with all the other haircuts in this article. It is what it is.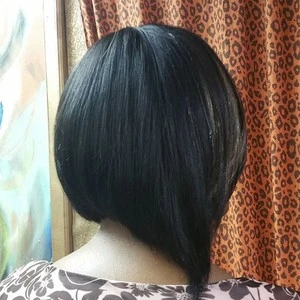 15. Semi Mohawk
This could have been a Mohawk but the hair didn't go all the way down. This haircut could have been saved but they rather chose to shave.
16. Pretty Sideburns
She has pretty little sideburns that are even curly. Good for her because it is trying to compensate for whatever is going on, on the top of her head.
17. The Paradise Flycatcher
This hairstyle just reminded me of the paradise flycatcher because why not? Look at it, the tail and everything, minus the orange colour.
18. Wolf Cut Gone Wrong
I am assuming that the goal was to go for a wolf cut but somehow, we are here.
19. Wacko Spikes
I call this one the wacko spikes because it is spiky, if anything. And you have to be a little wacko in the head to get this haircut.
20. Paradise Flycatcher 2.0
What is with people trying to look like exotic birds? the bad haircut is understandable but why would you willingly leave that tail on your head?
Other Articles