If you are one of those who adore the spooky season but find yourself in a bit of a pickle when it comes to nailing that perfect Halloween makeup look. Don't worry; we've got your back! In this blog you'll will find 32 Halloween makeup ideas for beginners that'll help you unleash your inner Halloween spirit without the hassle.
1. Scarecrow Makeup
Bring a touch of whimsy to your Halloween look with a scarecrow-inspired makeup. Use warm eyeshadows, draw stitch-like lines on your cheeks and nose, and paint on a stitched smile.
2. Pumpkin
Go for an adorable pumpkin look by painting your face orange and adding triangle-shaped eyes, a crooked smile, and a green stem on top.
3. Gothic Girl Makeup
If you're aiming for a glamorous gothic makeup look this Halloween, take a Look at this. It is easy to achieve this style with any makeup you have. It's also an excellent choice if you're going for a fancy vampire costume.
4. Zombie Chic
Looking for a quick spooky makeover? Go for zombie chic! Apply pale foundation for a lifeless complexion, and add dark circles to your eyes. Top it off by tousling your hair for that disheveled undead appearance – it's a quick and eerie Halloween look!
5. Pop Art Comic Book Character
Channel your inner comic book hero with this pop art makeup. Jazz up your face with vibrant, striking colors, outline your features with bold black lines, and add comic book-style shading for a look straight out of the pages of a comic strip!
6. Classic Cat
For a purr-fectly simple but striking look, embrace the classic cat. Grab some black eyeliner, draw a cute cat nose and whiskers, and add some dramatic cat-eye eyeliner. Complete the look with a pair of cat ears, and you're ready to prowl the night!
7. Glamorous Vampire
Get the Glamorous Vampire look effortlessly! Start with a pale foundation for that undead glow. Add dark red lips, smoky eyes, and a subtle drip of fake blood from your mouth's corner. You're now a stunning vampire ready to rock the night!
8. Creepy Clown
Clowns might be scary, but this makeup isn't! Use white face paint as a base, draw exaggerated red lips, and add colorful eye makeup. Black eyeliner for dark circles and a red foam nose complete the look. Don't forget to grin!
9. Classic Skull Makeup
To achieve a classic skull makeup look, get yourself some black and white face paint, and you're good to go!
10. Maleficent
Get this Maleficent-inspired Halloween look with ease. Go for dark eyeshadow, winged eyeliner, and bold red lips. Define your cheekbones with contouring. Don't forget the black horned headpiece or crown; you can also use your hair to get this look, just as shown in the picture.
11. Bat Makeup
Creating an easy bat Halloween makeup look is a snap! Use black eyeshadow to draw bat wings around your eyes, add a bat-shaped nose and mouth with eyeliner, top it off with black lipstick, and be a spooky bat in no time!
12. Cleopatra
To rock Cleopatra's look, aim for bold cat-eye makeup, colorful eyeshadow, and fancy jewelry. Don a jeweled headdress to complete the regal style of the iconic Egyptian queen.
13. Beautiful Angel
Use soft, glowing makeup with shimmering highlights to become a lovely angel. Wear delicate wings to complete the look, radiating serenity and grace as you embody the beauty of celestial realms.
14. Werewolf
Get your inner werewolf on point! Use gray and brown face paint to mimic fur, and add fierce eyes and sharp teeth. Incorporate faux fur for a realistic transformation, and you'll rock the lycanthrope look.
15. Medusa Makeup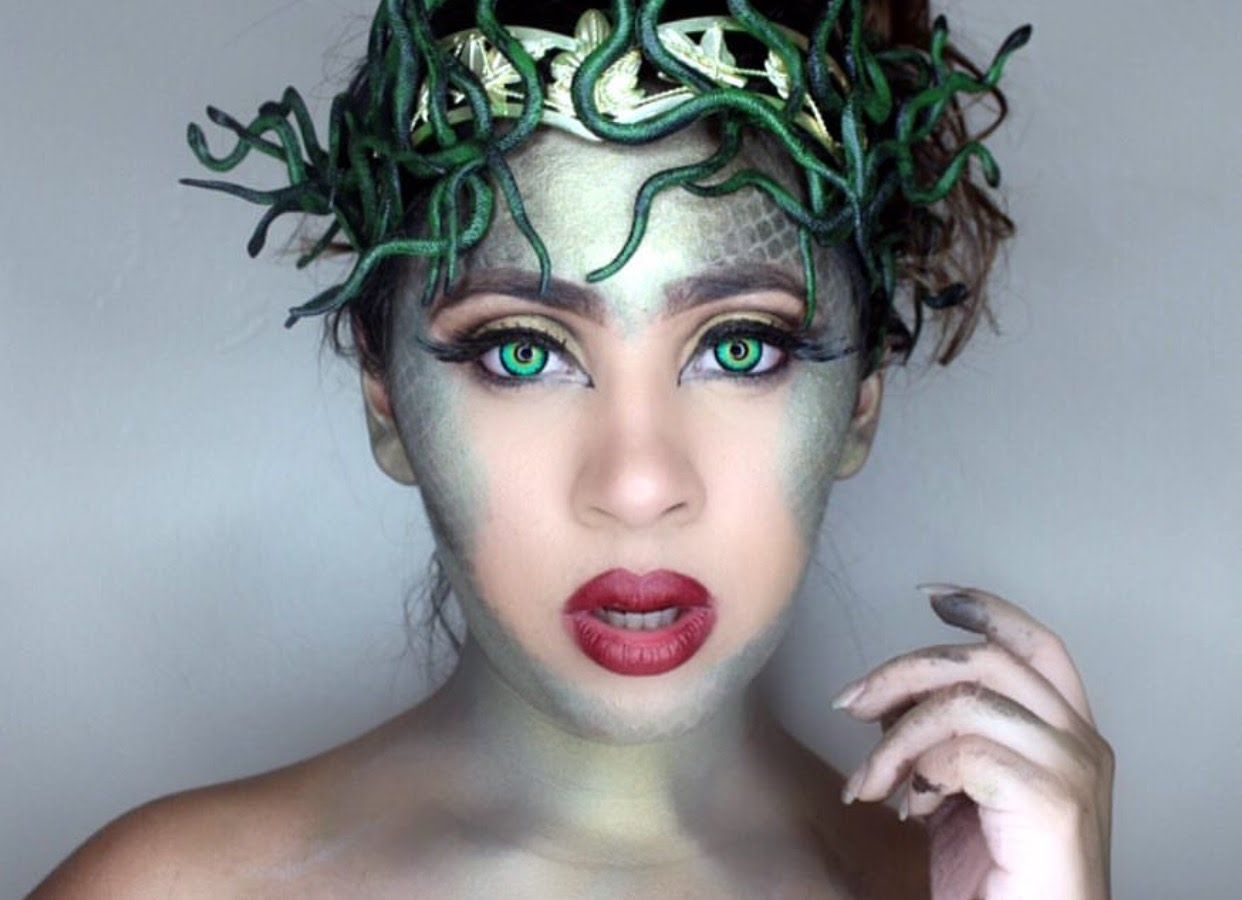 If you want to rock this Medusa look, go for shimmery green and gold eyeshadow, snake-inspired makeup, and pop a crown of toy snakes in your hair. You'll embody the enchanting allure of this mythical legend in no time.
16. Skeleton Halloween Makeup
Want to spook everyone out as a skeleton? Grab some black and white face paint, and get creative. Paint haunting hollow eyes, a bony nose, and eerie teeth. This classic Halloween is a great choice that'll give everyone the chills.
17. Doll
To pull off the creepy doll look, use eyeliner to exaggerate your eye size, add some rosy blush to your cheeks, and, if you want to up the eerie factor, draw on cracked lines on your face.
18. Ghost
For a quick ghost costume, wear all white and use pale face paint. To add a spooky touch, make your eyes a bit darker to create that haunting ghostly gaze. It's a simple way to embrace the Halloween spirit with minimal effort.
19. Mermaid
Getting a mermaid-inspired Halloween look as a beginner is easy and enchanting. Use shimmering blues and greens to evoke the ocean's allure. Accessorize with seashells and don a flowing wig for the full underwater effect. This mystical transformation is perfect for making a splash at any Halloween gathering!
20. Masquerade mask
To create an enchanting masquerade mask for Halloween, begin by matching your base with your costume. Use eyeliner and face paint to draw intricate designs around your eyes and cheeks. Don't skip the shimmer for that added touch of mystery, and be the star of the masked ball!
21. Fairy Makeup
Get ready to bring some enchantment to Halloween with a magical fairy makeup look. Begin by applying a gentle, iridescent base. Add dreamy pastel eyeshadow with a touch of glitter. Create dainty wing patterns on your eyelids and embellish them with sparkling rhinestones. Rosy cheeks and lips will complete your mystical fairy transformation, and you'll shine brightly at any Halloween event!
22. Cruella de Vil
For a show-stopping Cruella de Vil Halloween look, start with a flawless base and emphasize your cheekbones. Dive into bold black and white eyeshadow, dramatic eyeliner, and striking red lipstick. Add a faux fur stole and a chic black-and-white hairstyle for that iconic villainous charm.
23. Black Swan Halloween Makeup
Achieve a bewitching Black Swan look this Halloween with ease. Begin by applying a pale foundation for a porcelain base. Create dramatic, smoky eyes with black and white eyeshadow. Define your eyes with bold eyeliner and add striking red lips. Finish by pulling your hair into a sleek bun.
24. Butterfly Makeup
Unleash your inner butterfly this Halloween with a burst of vibrant colors, intricate wing patterns, a sprinkle of glitter, and fluttery false lashes.
25. Spider Makeup
Transform into a creepy spider this Halloween with simple but eerie makeup. Start with smoky eyes using dark eyeshadow, then draw spider legs at the corners and add a red hourglass shape on your forehead. You are ready to creep everyone out.
26. The Nun
Embrace the eerie atmosphere of "The Nun". Begin with a pale face, then add dark and eerie veins around your eyes before covering up with those creepy black veils. With this look you'll own Halloween night and send shivers down people's spines!
27. Poison Ivy
Try this Poison Ivy makeup and unleash your inner seductress.. Grab some green eyeshadow and face paint for a bewitching botanical vibe. Add faux leaves and vines as accessories, and be the irresistible villainess at your Halloween party.
28. Jack-O'-Lantern
Turn yourself into a Jack-O'-Lantern by painting your face a vibrant orange. Grab some black eyeliner to carve out those classic triangle eyes and a mischievous grin. Now you're the spookiest pumpkin in town, all set for Halloween fun!
29. Pennywise (IT)
Get ready to give people the chills as Pennywise the Clown! Start with a white base on your face, add vivid red around your mouth and eyes, and finish with eerie black lines to create that spine-tingling Pennywise grin.
30. Unicorn
Let's make some unicorn magic with this easy Halloween makeup. Grab those lovely pastel colors – pinks, purples, and blues – and paint them on for a whimsical unicorn vibe. And, of course, you've got to fashion a unicorn horn out of a cone-shaped paper cutout to complete the look.
31. Cheshire Cat
Be mysterious like the Cheshire Cat from Alice in Wonderland. Make a wide grin on your face using black and white liner or paint, and add some cat-eye makeup for an enchanting touch.
32. Harley Quinn
It's time to let your inner Harley Quinn out. All you need is red and blue face paint. Blend those colors, add a touch of dark eyeliner, and you've got your very own Harley Quinn masterpiece!
Other Articles