Here are some amazing looks that celebrities of H town went for. Let these looks inspire your makeup and outfit for this year's Halloween. And don't worry some of these looks are even good for last minuet. 
1. Chloe Bailey as Lola from Shark Tale
By dressing up like Lola from Shark Tale, Chloe Bailey gave the cartoon character a more mature vibe. While the costume was the focus, it was complete with vivid purple eye makeup, thick lashes, and big lips.
2. Alessia Cara as Amy Winehouse
For Halloween, Alessia Cara embodied the late Amy Winehouse. You can recreate the singer's distinctive cat eye and crimson lips with items you already have at home.
3. Jordyn Woods as Little Red Riding Hood
Little Red Riding Hood is a wolf's fantasy, thanks to her lovely and vibrant makeup. You can make your eyes look gorgeous and alive with thick lashes and a cherry red lip.
4. Paris Hilton as Cinderella
Paris Hilton adopted the Cinderella look by donning a stunning silk gown and applying full glam makeup. Bring out your cheekbones for a majestic appearance.
5. Normani as a sexy goldfish
The art of beautifying a goldfish has always been complex. It simply requires excellent makeup. Finish with a glossy orange lip to complete the matte overall appearance.
6. Cardi B as a witch
The witch never goes out of style.
7. Camila Mendes and Madelaine Petsch as Velma and Daphne from Scooby-Doo
In these adorable Velma and Daphne costumes, get ready to uncover some secrets. Use cream-based makeup products to keep it dewy and a moisturizing setting spray to set it.
8. Kendall Jenner as a fembot from Austin Powers
When it comes to cosmetics for this outfit, think radiant and lovely. With bronzer and defined rose cheeks, you can add a seductive shine.
9. Liza Koshy as Anna Wintour
It would be best if you won this outfit at every Halloween party you attend. The exquisite appearance requires little to no makeup. Pick a lip balm that is light in color so you may wear it all night.
10. Bella Hadid as Fred Flintstone from The Flintstones
Bella Hadid makes putting on a Fred Flintstone costume seductive. Make sure your makeup is equally expressive as your costume by creating a smokey eye that transitions into a cat eye with winged-out lashes.
11. Karlie Kloss as Marilyn Monroe
Through glam eye makeup and a distinctive beauty mark, Karlie Kloss resembled Marilyn Monroe. To duplicate the vintage look, use a red lip, black eyeliner, and white cream eyeshadow.
12. Georgia Fowler as Holly Golightly from Breakfast at Tiffany's
Dewy and freshness are key when paying homage to Audrey Hepburn's infamous character from Breakfast at Tiffany's. As a bonus item, take your oversized black sunglasses with you.
13. Aubrey O'Day as a unicorn
This stunning appearance is vibrantly colored. Choose your favorite pastel hues, then highlight the eyes with a dramatic look and glittery creases. If you want to add a whimsical touch, bring your makeup brush down the bridge of your nose rather than stopping at the eyes. Remember to highlight your entire face, including your top lip's cupid's bow.
14. Olivia O'Brien as a fairy
This season, do you intend to dress up like a fairy? If so, be inspired by Olivia O'Brien's understated fairy makeup. It has neutral colors with delicate accents in mellow tones.
15. Maitreyi Ramakrishnan as a zombie
This Halloween, use your artistic talents to add pouring blood down your face to accentuate this terrifying eye costume. Red eyeshadow gives the appearance that the eye is on fire. For added drama, remember to apply some lashes.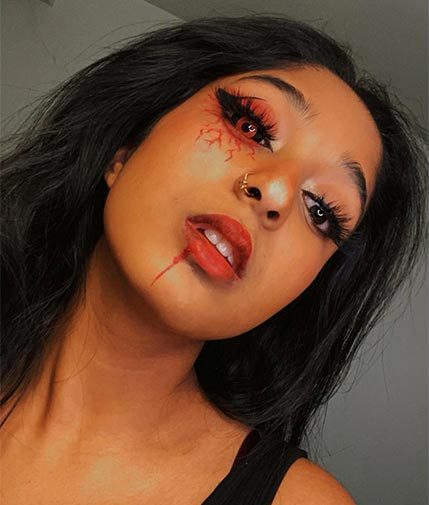 16. Bella Hadid as Poison Ivy
Try this costume if you like to play around with bright makeup. To portray Poison Ivy, Bella Hadid donned a green and orange outfit. Use orange eyeshadow and forest green eyeliner or eyeshadow to define your creases and lids.
17. Halle Bailey as Janet Jackson
Halle Bailey wore a Janet Jackson costume, and it was excellent. All you need for this look are deeply lined lips and eyes.
18. Dua Lipa as a Bridgerton babe
You can wear Dua Lipa's romantic makeup look anytime, not just on Halloween. Consider rich eye makeup, thick brows, and big lips. Remember to wear a hairbow!
19. Halsey as Emily from Corpse Bride
The focus of this cartoon-like makeup look is the brows and lips. Ask your makeup artist to apply thin brown and bubblegum pink lips to finish your Halloween outfit. To make the appearance even more exaggerated, contour your cheeks.
20. Megan Thee Stallion as Sailor Moon
The makeup on Megan Thee Stallion is equally adorable and endearing. Instead of lipstick, choose a tinted lip gloss to channel Sailor Moon. Add a dark, smoky eye and thick-winged eyeliner to complete the look.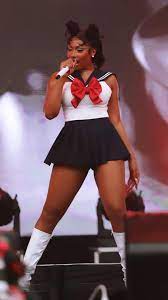 21. Olivia Rodrigo as Elvira Hancock from Scarface
As singer Olivia Rodrigo did in 2021, combine a light pink cheek with shimmering gold makeup and a matte lip to resemble Michelle Pfeiffer's Scarface role. Add a blonde wig to complete the look.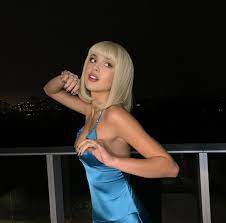 22. Blake Lively as a black-and-white character
The persona played by Blake Lively needs a dewy finish and cheeks that pop. Apply a moisturizing spray to prepare your skin, and then use a primer that holds makeup in place while locking in moisture. Next, apply a dewy foundation, highlighter, and cream blush to create the appearance of rounded, pink cheeks. To stay on trend, remember to add thin brows.
23. Kylie Jenner as Christina Aguilera
The main focus of this Christina Aguilera costume is grungy makeup. Kylie Jenner enhanced the sexiness of her nude lip with dark eye makeup.
24. Rihanna as a Teenage Mutant Ninja Turtle
Rihanna is excellent in everything she does, especially her Teenage Mutant Turtle costume. Make your eye makeup stand out with a shimmering shadow, and your lips pop with a crimson gloss, even though most of the costume is body paint.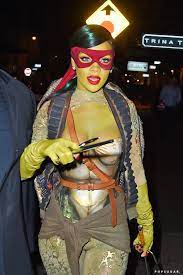 25. ​​Miley Cyrus as Lil' Kim
Everyone at your upcoming Halloween party will remember the Lil' Kim attire. Grab some fake lashes, eyeliner, and a dark brown lip liner if you do your makeup at home.
26. Gigi Hadid as Sandy from Grease
More Olivia Newton-John-inspired Sandy outfits are likely to be worn this season. Follow Gigi Hadid's lead and combine a stunning red lip with sexy eye makeup.
27. Nina Dobrev as Billie Eilish
It's always noteworthy when famous people dress like other people they admire. Looking for a quick, five-minute Halloween makeup look? Apply heavy black makeup that drips down your face to imitate Billie Eilish's well-known appearance.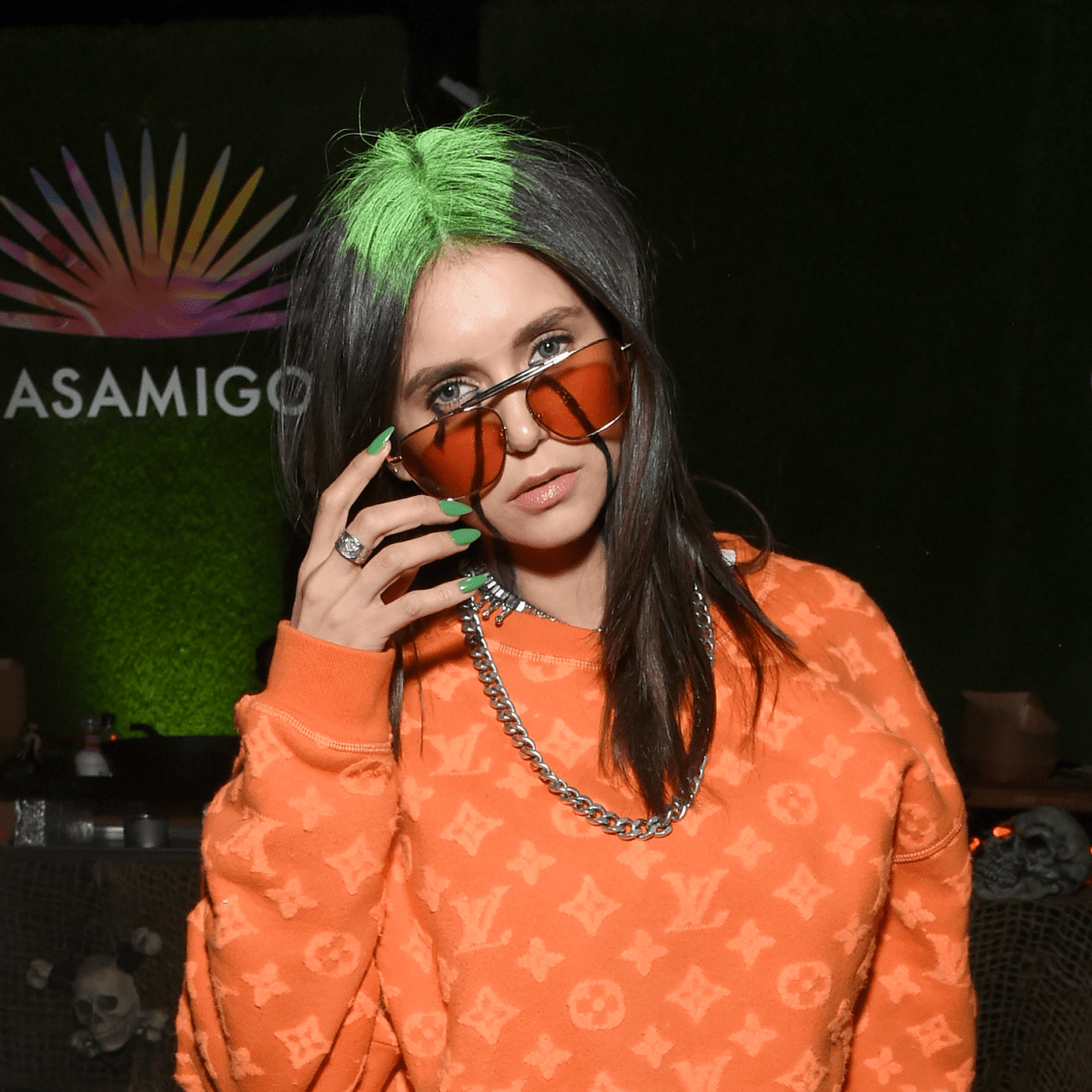 28. Hailey Bieber as Britney Spears
This Halloween, harness your inner Britney Spears and dress up as one of her many music video looks for a classic costume. For Halloween in 2021, Hailey Bieber sported a lot of Spears-inspired attire. She combined a red latex catsuit with baby blue eyes that recalled Y2K and a dark, smoky eye for one costume.
29. Cardi B as Morticia Addams
Cardi B's Morticia Addams outfit reflected her evil side. Make sure you have your best cosmetics collection if you decide to play this role. First, body paint with an intense hue is required to achieve Morticia's ghostly pale complexion. Add thick eye shadow and your characteristic red lip once you've painted your entire body.
30. Khloé Kardashian as Storm from X-Men
Take out your favorite highlighter, and prepare to glow. Makeup is used to create Khloé Kardashian's Storm look from the X-Men film. Apply your regular face makeup, including a black eye, and add more highlighter to your cheeks, chin, and nose bridge. Finish by applying silver face paint to your forehead and silver hair spray.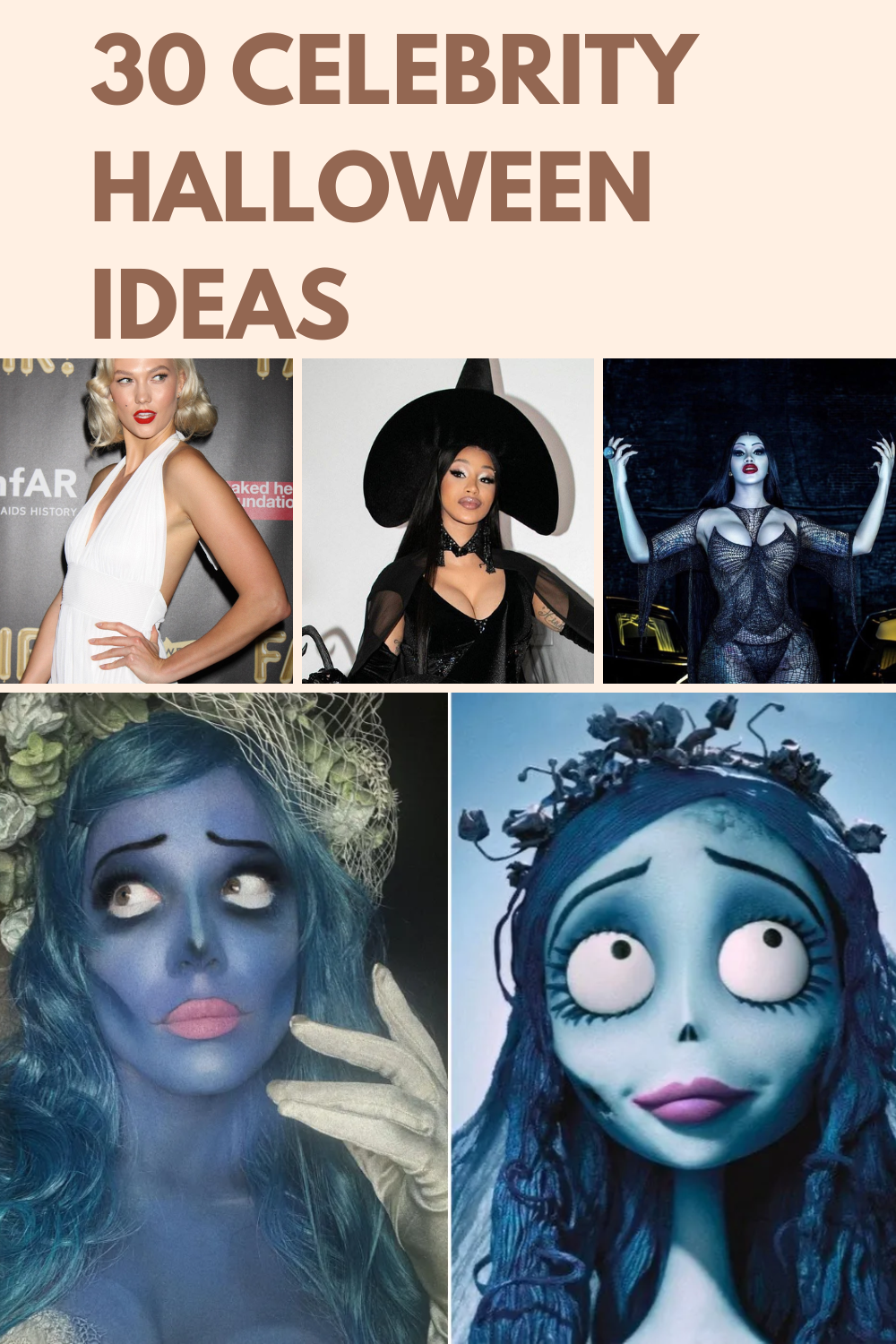 Other Articles