Ideas for beautiful tattoos may be found in one's birth flower. Everyone has one, and Birth Flower Tattoos are distinctive tattoo concepts that may be used to represent oneself. It's not a problem if you don't like your natal flower; you can always get a new tattooed to signify someone else's birth month. The following is a list that we have compiled of the birth flowers associated with each month of the year. These tattoos of birth flowers may be executed in several different styles, and each one displays the individuality of the tattoo artist who created it. The tattoos of people's birth flowers will likely encourage you to get a new tattoo. Consequently, relax, take some time to stop and smell the roses, and take pleasure in this beautiful bouquet of ideas for birth flower tattoos.
Carnation and Snowdrops for January
The carnation and snowdrop are the first birth flowers on our list, and they represent the month of January. Carnations, whose name derives from the Greek phrase "flowers of the gods," are a popular choice for birth flower tattoos. Depending on the hue of the carnation tattoo, they can also have a variety of various meanings, including the following: The colour red represents adoration and intense love, whereas white represents innocence, yellow represents disillusionment, and the stripe represents regret. Snowdrops are the first flowers to blossom in the yard and represent both sympathy and celebration. Snowdrop birth flower tattoos are an excellent choice if you want a light tattoo.
Violet and Primrose for February
Violet and Primrose are the February natal flower tattoos. Violets are the ideal birth flower tattoo for folks who enjoy various colours. Violet is the most prevalent hue, although it also appears in yellow, white, blue, and multicoloured varieties. Violet tattoos may represent various things, including innocence, fidelity, and eternal love. Large groves of primrose were regarded to be portals to the fairy realm, as well as to ward off negative spirits and to bring love and protection. Primrose birth flower tattoos look fantastic and are a great alternative to typical rose tattoos, even though the primrose isn't a rose at all but rather a primula.
Daffodil and Jonquil for March
The gorgeous Daffodil and Jonquil are the March birth flower tattoos. The tattoo of a Daffodil birth blossom might symbolise rebirth or fresh beginnings. Daffodils are generally white, yellow, or a combination of the two; however, new types include pink and orange, so you may have your daffodil birth flower tattooed in the colours you like. Since Roman times, daffodil has been acclaimed for its therapeutic properties, and it is presently being employed in therapy to delay the onset of Alzheimer's disease. Jonquil and daffodil are often used interchangeably since they are the same flower.
Daisy and Sweet Pea for April
Daisy and Sweet Pea are eloquent April natal flower tattoos. Because the daisy opens during the day and closes at night, the name Daisy derives from the combination of the words Days-eye; thus, if you are searching for an eye-opening birth flower tattoo, the daisy is a fantastic choice. A daisy birth flower tattoo can symbolize many things, including purity, innocence, and love. They also come in various colours, so there is something to suit everyone's preferences.
Lily of the Valley and Hawthorn bloom for May.
The beautiful Lily of the Valley and Hawthorn are the May birth flower tattoos. A Lily of the Valley is a beautiful natal flower tattoo; unfortunately, they are not true lilies; rather, they are members of the asparagus family. The Greeks thought that Apollo created the lily of the valley for sylph to walk on, whereas Christians believe it grew from Eve's tears when she was expelled from the heavenly Garden of Eden. Hawthorn birth flower tattoos have long been regarded to represent hope, to be connected with fairies, and to aid in the healing of a broken heart. Hawthorns are still widely used in May Day celebrations, most notably in May Day garlands.
Rose and Honeysuckle for June
The traditional Rose and the fragrant Honeysuckle are June's natal flower tattoos. The rose is one of the most well-known and identifiable natal flower tattoos. A Rose is an ideal birth flower tattoo since it has over 100 distinct species and comes in every rainbow hue. The honeysuckle gets its name from its ability to drink delicious nectar right off the blossom when harvested. The Honeysuckle, like the Rose, denotes affection and new love, which, along with its wonderful aesthetics, makes the Honeysuckle an excellent birth flower tattoo.
Larkspur with Water Lily for July
July's birth flower tattoos are the Larkspur and Water Lily. Larkspur birth flower tattoos normally represent love; however, the Larkspur has multiple meanings depending on its colour: White represents nature's happiness, blue represents elegance, purple represents first love, and pink represents fickleness. Water Lily's birth flower tattoos symbolize grandeur and purity. These lovely blooms not only look wonderful, but they also provide shade for all the creatures who dwell in the pond where they grow.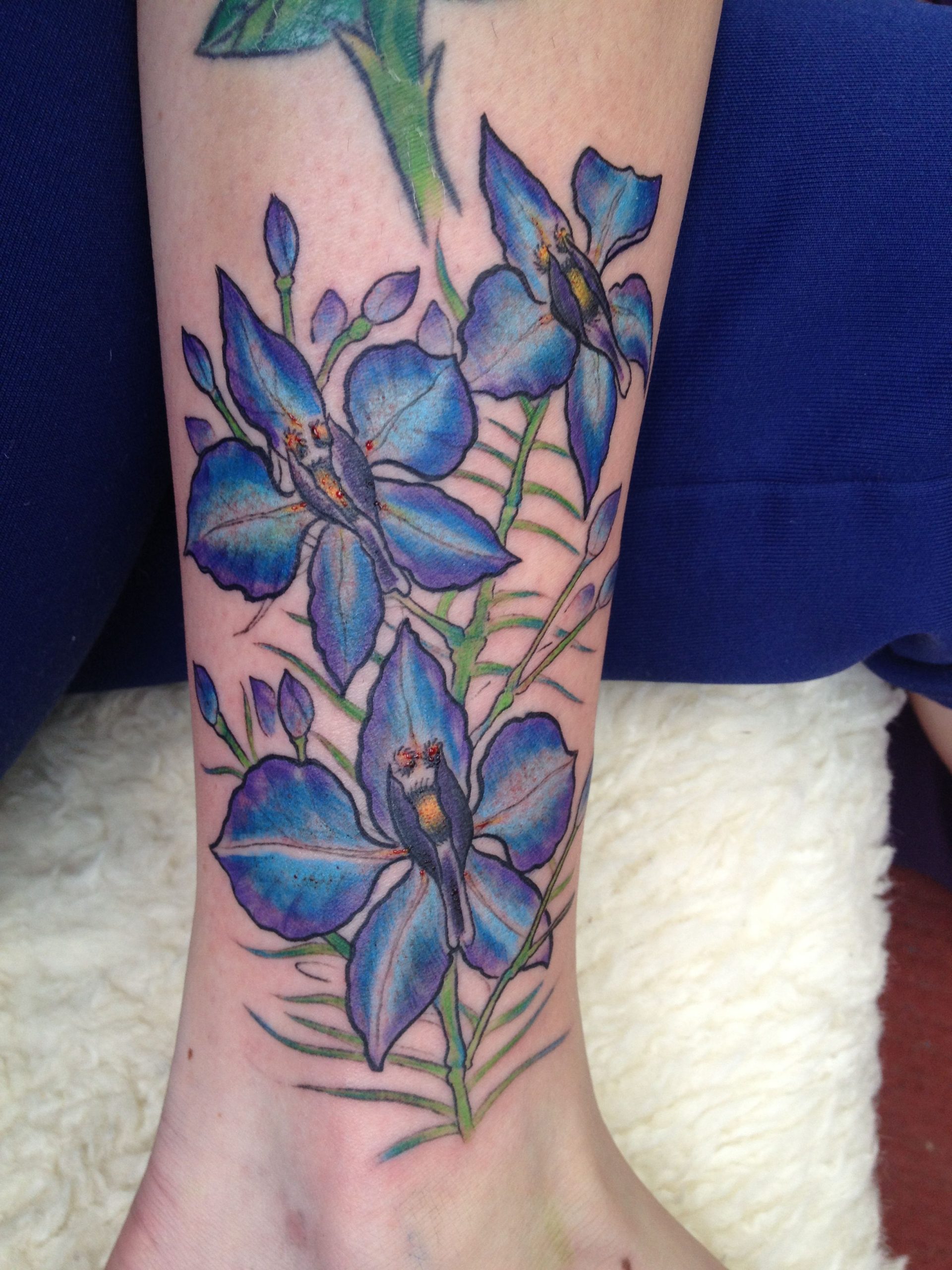 Gladiolus and Poppy for August
For birth flower tattoos, August provides the Gladiolus and Poppy. A Gladiolus birth flower tattoo symbolizes peace, recollection, and honesty. A Gladiolus, sometimes known as the "Sword Lily," can represent the heart being stabbed with love. Another vivid August birth flower is the poppy. Poppy tattoos, with their strong and vibrant hues, can represent joy, fortune and success, or consolation.
Aster and Morning Glory for September
The beautiful Aster and Morning Glory are September's natal flower tattoos. The Aster was used to fend against serpents in mythology and is a potent emblem of love, knowledge, and trust. Aster, which means star in Greek, is a natal flower tattoo ideal for those who enjoy brilliant and bold colours. Morning Glories open wide in the morning and close later in the day, giving rise to its name and the notion that they are born in the morning and die later in the day. Birth flower tattoos may represent love, life, and even death.
Marigold and Cosmos for October
The colourful Marigold and Cosmos are the natal flower tattoos for October. Because of its likeness to the sun, marigold birth flower tattoos are frequently associated with the light that resides inside us, power, and strength. A Cosmos natal flower tattoo is ideal for any October Libra. It represents order and peace. The symmetry, proportion, and simplicity of the flowers exemplify this order and harmony.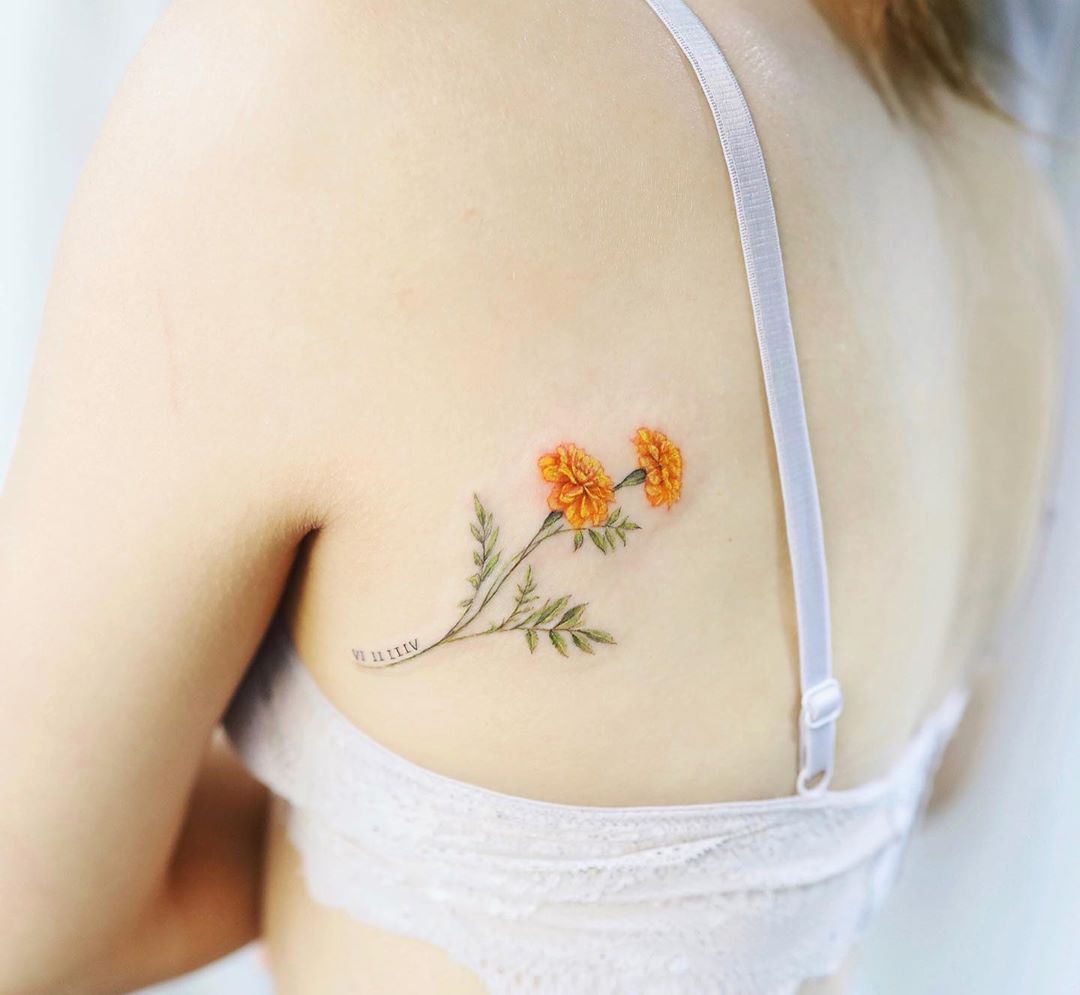 Chrysanthemum and Peony for November
The stunning Chrysanthemum and Peony are November's natal flower tattoos. A Chrysanthemum birth flower tattoo is great for individuals who adore gold. But they are now available in a wide range of colors to suit everyone's taste. The Chrysanthemum symbolizes joy, companionship, and well-being. Peony birth flower tattoos represent goodwill, love, money, honor, and happiness. With their delicate but rich texture, peonies make for absolutely lovely tattoos.
Narcissus and Holly for December
The December birth flowers Narcissus and Holly round out our list. Narcissus, a well-known figure in Greek mythology, fell in love with his reflection. Narcissus birth flower tattoos are so lovely that you may feel the same way. Holly's birth flower tattoos symbolise tradition and a desire for domestic harmony. Because Holly is an evergreen, it may also symbolize longevity and optimism.
Other Articles