Are you tired of being deceived by hair myths that leave your locks longing for the truth? Well, fear not, because "The Truth About Hair Myths" is here to liberate your tresses from the clutches of misinformation! In this blog, we embark on an epic quest to debunk the most notorious hair myths that have been holding you back. Say farewell to the notion that cutting your hair makes it grow faster or that shampooing too often leads to a barren scalp. Not necessarily! It depends on your hair type. Let's bust a popular hair myth that has been floating around for ages and unlock the secrets to maintaining luscious, thriving hair.
Myth 1: Cutting your hair frequently causes it to grow faster.
Fact: Cutting your hair does not affect its growth rate. Hair growth occurs at the scalp, and cutting the ends does not stimulate the hair follicles to grow faster. However, regular trims can help prevent split ends and breakage, which can make the hair look healthier and fuller.
Myth 2: Shampooing every day is necessary for clean hair.
Fact: Washing your hair on a daily basis can strip it of its natural oils, causing dryness and damage. Shampooing frequency is determined by your hair type and lifestyle. For most people, washing their hair every 2-3 days is enough to keep it clean and healthy.
Myth 3: Plucking one gray hair causes more to grow.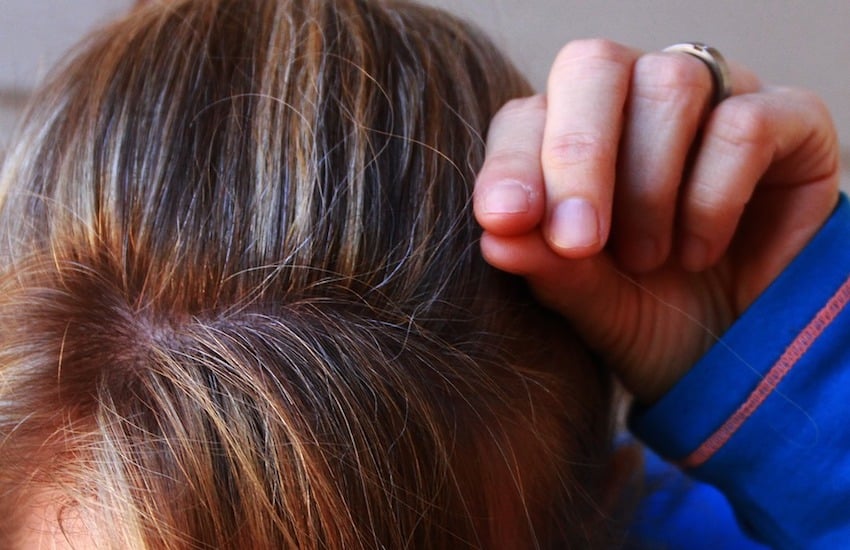 Fact: Plucking a single gray hair will not cause more to grow in its place. However, excessive plucking can damage the hair follicle, potentially leading to hair thinning over time. It's best to embrace the natural aging process and use hair color if you prefer to cover grays.
Myth 4: Brushing your hair 100 times a day improves its health.
Fact: Excessive brushing causes friction and damage to the hair shaft, resulting in breakage and split ends. Brush your hair as needed to remove tangles and distribute natural oils, but brushing your hair excessively is both unnecessary and harmful.
Myth 5: Rinsing with cold water makes your hair shinier.
Fact: Cold water doesn't have a significant effect on hair shine. However, using cool water can help seal the hair cuticle and reduce frizz.
Myth 6: Trimming your hair makes it grow thicker.
Fact: Genetics and overall health determine hair thickness, not trimming the ends. Trims only serve to keep hair looking healthy.
Myth 7: Coloring your hair causes permanent damage.
Fact: While some hair treatments can damage your hair, modern coloring techniques, when done correctly, can minimize damage. It's important to use quality products and seek professional assistance.
Myth 8: Brushing wet hair causes it to fall out.
Fact: Wet hair is more fragile and prone to breakage, but brushing it gently with a wide-toothed comb can help prevent tangles without excessive hair loss.
Myth 9: Dandruff is caused by a dry scalp.
Fact: Dandruff is often associated with an oily scalp and is caused by a yeast-like fungus called Malassezia. This fungus feeds on the natural oils of the scalp, leading to skin cell turnover and flakes. Using an anti-dandruff shampoo with active ingredients like ketoconazole or zinc pyrithione can help treat dandruff effectively.
Myth 10: Wearing hats or caps causes hair loss.
Fact: Wearing hats or caps does not cause hair loss unless they are extremely tight and cause constant friction on the hair and scalp. In most cases, hair loss is genetic or due to other factors like hormonal changes, stress, or medical conditions.
Myth 11: Split ends can be repaired with products.
Fact: Once hair ends are split, they cannot be repaired. Trimming is necessary to remove split ends and prevent further damage.
Myth 12: Dry shampoo can replace regular shampoo.
Fact: Dry shampoo is not a substitute for regular shampoo. It helps absorb oil but does not cleanse the scalp and hair thoroughly.
Myth 13: Heat styling tools always damage hair.
\
Fact: Heat styling tools can damage hair if used improperly or excessively. Protect the hair with heat protectant products and use lower heat settings.
Myth 14: More expensive hair products are always better.
Fact: The price of hair products does not always indicate their quality or effectiveness. Look for products that suit your specific needs.
Myth 15: Shaving facial or body hair makes it grow back thicker.
Fact: Shaving does not change the thickness or rate of hair growth. It may appear coarser due to the blunt ends.
Myth 16: Hair can become immune to certain products over time.
Fact: Hair doesn't build up an immunity to hair care products. If a product stops working, it's more likely due to changes in your hair's condition or the product itself.
Myth 17: Stress is the main cause of gray hair.
Fact: While stress can contribute to premature aging, genetics play a significant role in determining when your hair starts graying.
Other Articles