Tattoos on your arms or body parts must be unique and must look grand too. When that beauty signs on you with colours and cuteness, how would that look like? Having some birds with enchanting colours on your arms at your back top is the best idea about the same. A sparrow or a set of birds chirping at each other is not only beautiful to look at but is also perfect to express what you like in your personality.
Here are some of the best paintings like that, which you would surely like to be placed as a tattoo on your different body parts. Enchanted with multiple colours, try out these designs and feel the beauty of tattoos. Each and every design stated below is sophisticated designed for your passion. So, check them out and try out any one of them.
1. Tattoos of Owls
The owl has been connected with many different civilizations throughout history and the world. Many cultures consider owls to be protectors and guardians of the deceased. Owls represented wisdom to the Greeks and Native Americans. Several civilizations believe that the owl follows the soul to the afterlife. Owls have also been linked to sorcery, astral projection, and mystery. Owls are also associated with medicine, weather, and death.
2. Tattoos of Parrots
Many people adore this vibrant and brilliant bird. They come in various bright and beautiful colours, making them a perfect bird tattoo design. They are known to be the most intellectual birds on the planet, not just a brilliant, appealing design. Parrots are well-known for their ability to copy other species; they can mimic human speech and build rudimentary sentences. Parrots are excellent communicators, are very gregarious, and can solve problems quickly. These birds are symbols of fun, wit, and friendliness.
3. Tattoo of a Paradise Bird
One of the most popular bird tattoos is the bird of paradise. A cause for that is that they are visually appealing with their vibrant colors and graceful shapes. Birds of paradise, according to mythology, fly from heaven and never settle on Earth. Birds of paradise are popularly worn by African tribes to symbolize grace and beauty. They are linked to both heaven and hell.
4. Tattoo of a Peacock
A peacock tattoo is rich in symbolism and has numerous interpretations. The peacock is a Christian emblem of resurrection. The peacock denotes expanding the mind in Buddhism. Peacocks, with their bright jewel tones, symbolize hope, belief, and optimism. This bird is a sign of grandeur and glory in several civilizations, and it is connected with direction, dignity, and protection. The peacock was the chariot for Lakshmi, the Hindu goddess of wealth. Peacock feathers were also utilized in kings' and queens' crowns. Peacocks are now connected with self-assurance and flirty behavior.
5. Eagle Tattoo
The eagle represents strength, wisdom, and spirituality. This bird has recently become connected with America. It's a symbol of courage and focus, as seen on the flag of the United States. Eagles were a sign of manhood and vitality in Ancient Greece. Eagles are considered the messengers of the gods in Native American culture due to their capability to fly high over the mountains without being harmed by the sun.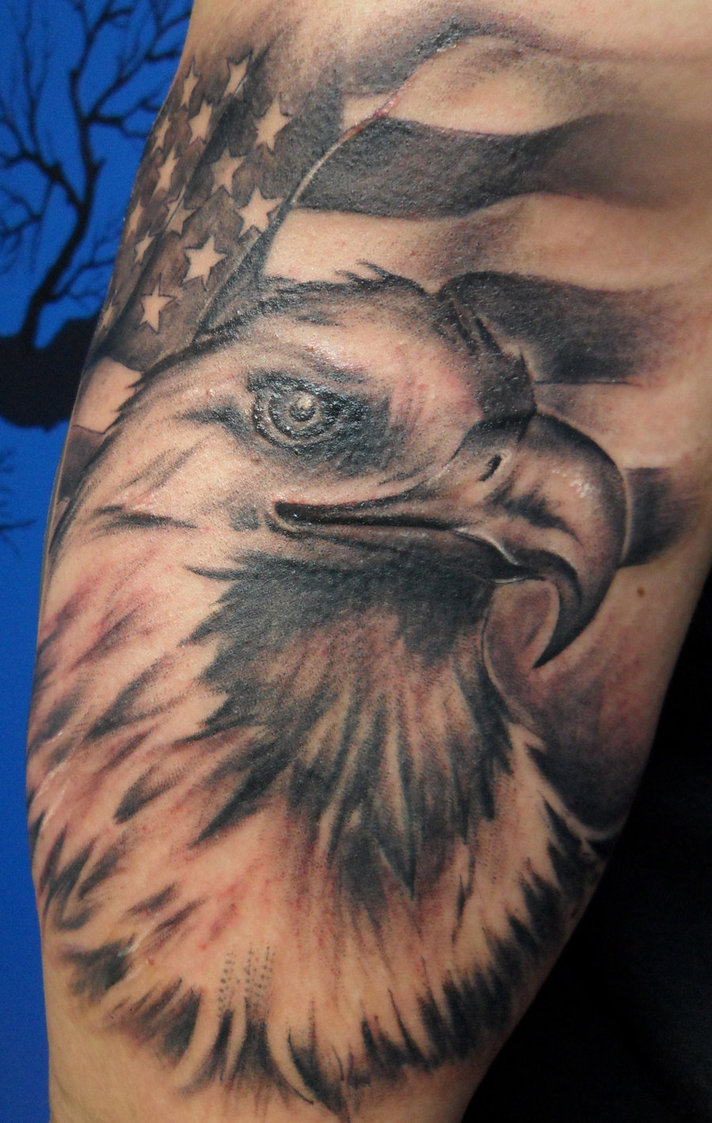 6. Tattoo of a Vulture
Vultures are powerful birds of prey that exemplify adaptability in any situation. They are majestic and formidable, despite being fierce and even wicked. They have particular traits that make them ideal for body art. Vultures, according to the ancient Mayans, hovered over the dead and could also bring them back to life. They have a horrible image of being near death, but they are educated, loyal, and provide for their families.
7. Tattoo of the Phoenix
One of the most well-known symbols of rebirth and renewal is the phoenix. This mythological bird regenerates after rising from the ashes. This concept appeals to anyone who has survived or is going through a terrible incident or period. Getting a phoenix tattoo represents rebirth, boldness, and elegance. It could be tattooed to signify what you have overcome or to remind you that you will emerge from the ashes of your current challenging phase.
8. The Crane Tattoo
Cranes are revered in China and Japan, where they are thought to bring good fortune. They are frequently folded into wedding kimonos because they offer good fortune. Cranes symbolized peace and optimism in Japan during World War II. The crane tattoo represents grace, peace, and wisdom. The crane was praised in Ancient Greece for its endurance and organizing skills because it is a bird that is able fly nonstop between places.
9. Tattoo of a Paradise Flycatcher
Bisushima's symbol is the Japanese paradise flycatcher. Its music sounds like "tsuki-hi-hoshi, hoi-hoi-hoi" in Japanese, which translates to "Moon-Sun-Stars." This is where the name sankocho – meaning "bird of three lights" – derives.
10. Woodpecker Tattoo
Woodpeckers represent hope, new opportunities, and innovation. The woodpecker represents new beginnings, creativity, optimism, courage, motivation, rejuvenation, self-actualization, balance, communication, protection, and discernment. This bird is most closely associated with new beginnings and opportunities.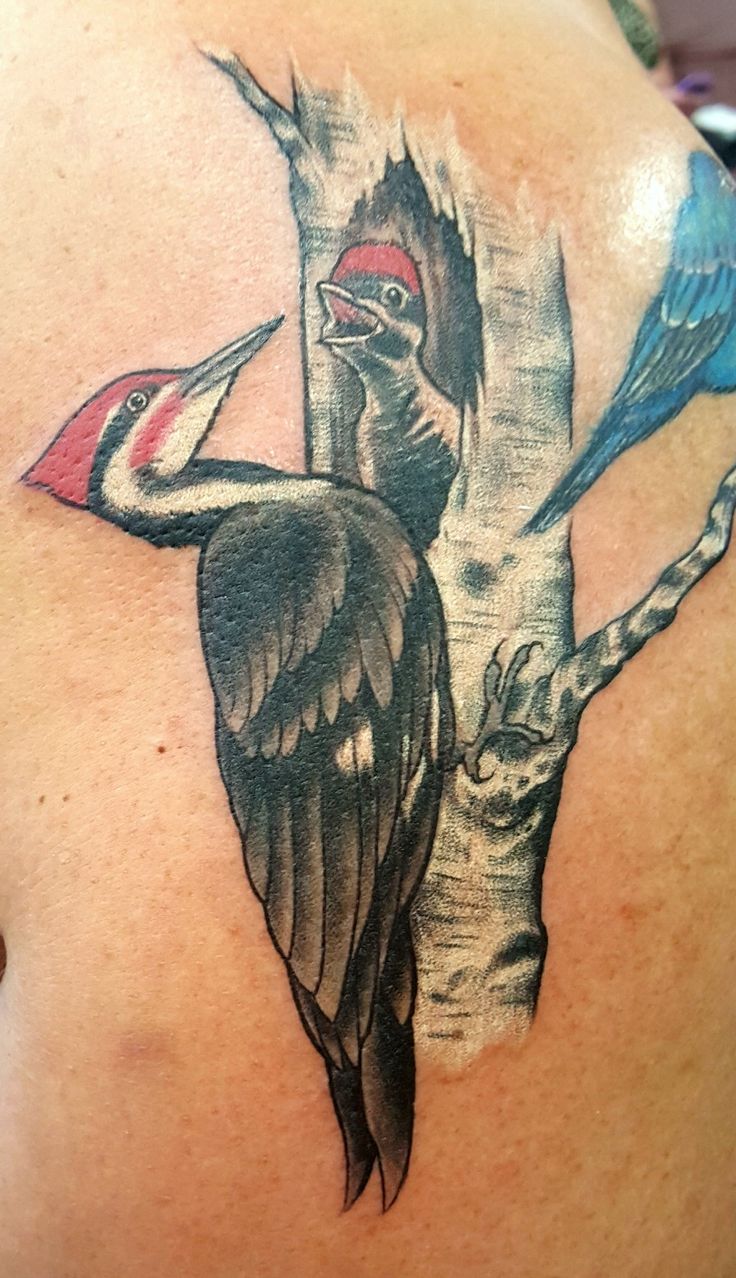 11. Donald Duck Tattoo
The Walt Disney Company produced Donald Fauntleroy Duck as a cartoon character. Donald is a white duck with an anthropomorphic yellow-orange bill, legs, and feet. He normally wears a sailor shirt, cap, and a bow tie.
12. Tweety Tattoo
Tweety is a character of a yellow canary in the Warner Bros' Looney Tunes series of animated cartoons.
13. Flamingo Tattoo
What Do Flamingos Stand For? Beauty, balance, potential, and passion are all represented by flamingo symbolism and meaning. These meanings frequently originate from the distinctive traits they possess. Their natural grace and ability to stand on one leg represent balance and harmony in life.
14. Ostrich Tattoo
Pliny the Elder wrote about the mythological capacity of the ostrich to eat iron and glass, earning the bird a reputation as an iron eater and symbolizing strength through the resistance and difficulties. In the medieval and early modern Europe, the ostrich egg represented the Virgin Mary's Immaculate Conception.
15. Pelican Tattoo
The pelican spirit is frequently associated with humility, sacrifice, generosity, and unity. They are dependable, loyal, and trustworthy.
16. Horn bill Tattoo
Many tribes still incorporate the bird's feathers into their clothes to symbolize their undying love. Alternatively, it is thought that the Hornbill's feathers bring prosperity and good fortune.
17. Sparrow Tattoo
It's an awesome idea to get sparrow inked. The bird is seen clawed on a thin branch having beautiful leaves. The monochromatic bird is detailed minutely. The bird also has a sharp look with a pointed beak.
18.  Flying bird
The two sets of bird in witnessed flying spring out all its wings. The wings are detailed in such a way that each shade of the wings adds a versatile tone to the flying bird.
19. Watercolor Bird Tattoo
Colours are seen scattered around the primary object, that is, the bird. The body of the bird is painted in a shade of blue and black. Beside the bird is a candle wrapped in wire.
20. The Trio
The image portrays a trio of a bird flying in their own ways. The image points out the different ways by which a free bird flies in the open blue sky. The birds are depicted flying in a way that conveys the message of friendship.
21. The Mixture
This tattoo contains a bird, a cup of tea. The cup has a tea bag having the alphabet G written on it. Parallel to the tattoo is written 'Chin-Chin' vertically.
22. The Friends
Two birds are facing each other in a way that they are about to produce an image of togetherness. Although the faces are not seen distinctly, the eyes facing downwards produces an effect which suggests a significant bowing down due to age. Both of them are flying with the wings stretched to the fullest.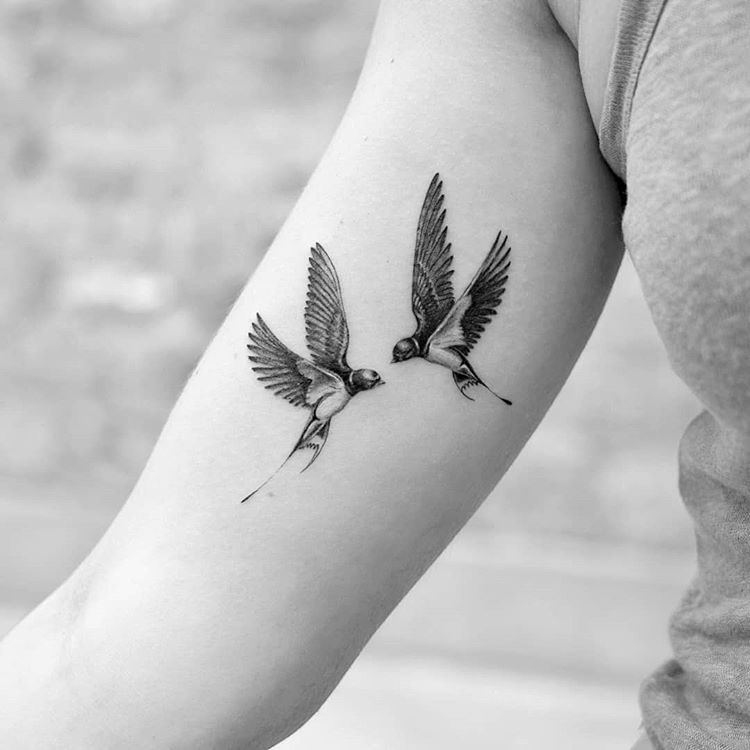 23. Funny Bird Tattoo
The tattoo itself is attractive in a pretty or endearing way. The salubrious bird wears black and red tulle around its neck. It also has a red charming mole on its cheeks.
24. The Flock Tattoo
There are eight flying birds facing different directions. The image depicts the different stages of a bird's flight in an upward direction. Thus the birds are drawn from the smallest to the highest.
25. Blue Bird Tattoo
A bird painted in shades of blue and white. The bird is sitting on a single branch. From the branch outgrows two leaves both of which are painted in turquoise blue. Two adjoining semi circles are drawn hanging from the lower side of the branch. At the end of one semicircle a cross symbol is drawn beside which a drop of water is seen.
26. Black Birds
Five flying birds are drawn in this tattoo. The motion of the flight is traced in the light shade of black with a tincture of blue. The birds are drawn in solid black.
27. Narrow Neck Bird Tattoo
This is an image of a bird with a narrow neck and red beak. The claws are painted in red as well. The wings are drawn with a comparatively bold shade of black as compared to the rest of the body.
28. Floral Bird Tattoo
This tattoo contains a thorny flower along with a bird whose claws are placed in such a way that it is ready to snatch the flowers. The body of the bird is drawn with an exceptional shade of yellow.
29. Neck Bird Tattoo
This amazing tattoo has a rhododendron at the base. Petals of the rhododendron are seen flying along with six birds making a journey in the upward direction. The birds are painted in solid black. The petals are drawn with lines of black.
30. Unique Bird tattoo
This is a multi-coloured tattoo having a combination of red, peacock blue and black. The outline is drawn with black colour and the body of the bird with a shade of dark ocean blue. The bird is pointing upward as if ready for a flight.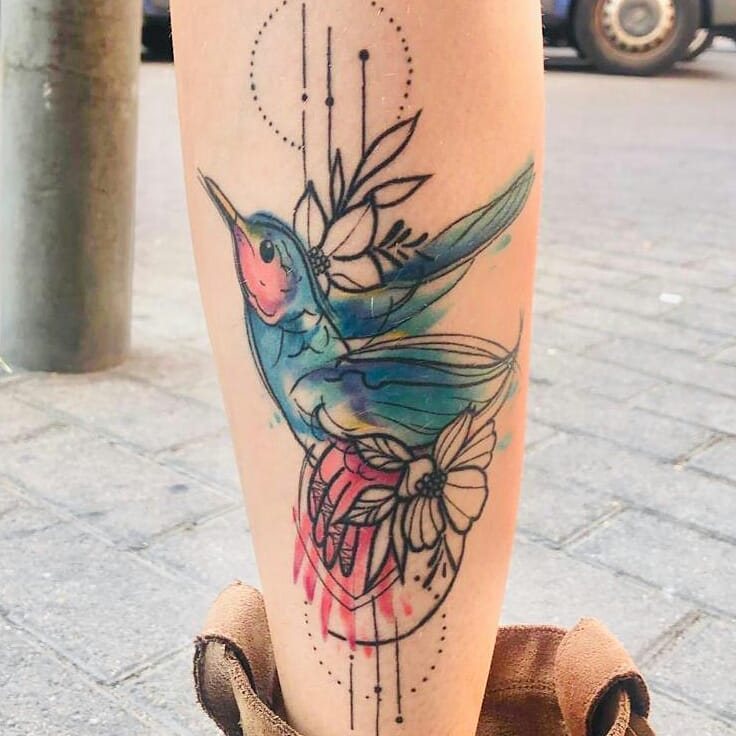 31. Skull Bird Tattoo
This is a bird sitting on the top of a semi-visible skull. Out of the skull sprout outs flowers and twigs. The image is drawn in such a way as if a skull is being placed over a flower. The remaining of the flower peeps out from one side. The bird has a big eye. The work is carried out primarily with black colour. At places, a pinch of grey colour is used to give it an extra texture.
Other Articles