If you want to jazz up your look with minimal effort then try considering bandana hairstyle. Not only this versatile accessory can instantly elevate your look from 0 to 100,it can also be styled in many different ways. So if you are looking for adding a twist to your hairstyle with a simple accessory, then you came to the right place. We will share with you "20 Stylish Bandana Hairstyles to Try Today" that is easy to achieve. Whether you are going for a casual vibe or gearing up for a more dressed up look, Don't worry because we have bandana hairstyle for every occasion.
1. Classic Headband Style
This is one of the easiest and classic ways to style your bandana as a headband. Achieve this look by folding your bandana into a long strip and wrapping it around your head like a headband. It is simple and adds a pop of color to your everyday look.
2. The Boho Chic Bun
If you are looking for something bohemian, this one is for you. This stylish look is perfect for music festivals or any casual outing. Simply make a bun as you would like. Then, fold your bandana into a triangle and tie it around your bun.
3. Rosie the Riveter Look
Try the Rosie the Riveter look for a cool vintage vibe. It is super easy to create. Take your bandana and fold it into a wide strip. Lay it flat on your head, then tie it under your hair at the back of your neck. Let the ends hang down, and you will instantly feel like you have stepped back in time.
4. Bandana Turban
A bandana turban hairstyle is a cool way to style your hair. To achieve this look, fold a bandana into a triangle and place the long edge on your forehead. Tie the ends together at the back and ensure that they are tucked. It gives you a stylish look ideal for any casual occasion.
5. Breezy Boho Bandana Braid
Get bohemian vibes with the Boho Bandana Braid. Begin by braiding your hair in a traditional braid. Then through the braid, weave a bandana. Rock this look is also a great choice for  beach days or music festival.
6. Bandana Bubble Ponytail
Make a statement with this bandana bubble ponytail. Secure your hair into a high ponytail and add multiple elastic bands down its length, creating "bubbles." Then, wrap a bandana around the base of the ponytail, securing it with a knot. It is a playful and stylish choice that is sure to turn heads.
7. Half-Up Half-Down
Get a flirty and playful style with this bandana half-up half-down hairstyle. This look is sure to elevate your overall appearance. All you need to do is take the upper section of your hair, secure it with a bandana, and let the rest cascade freely.
8. The Headscarf Wrap
Use your bandana as a headscarf for a classic, pin-up look. Start by folding your bandana into a triangle. Then, tie it under your chin and let it sit stylishly on your head. This will also keep your hair in place, especially on windy days.
9. Bandana Scarf Braid
Another way to style your bandana is by incorporating it into a braid. After tying your hair in a loose side braid, wrap the bandana around it for a pop of color, giving your regular braid a fun twist for a casual day out.
10. Bandana Ponytail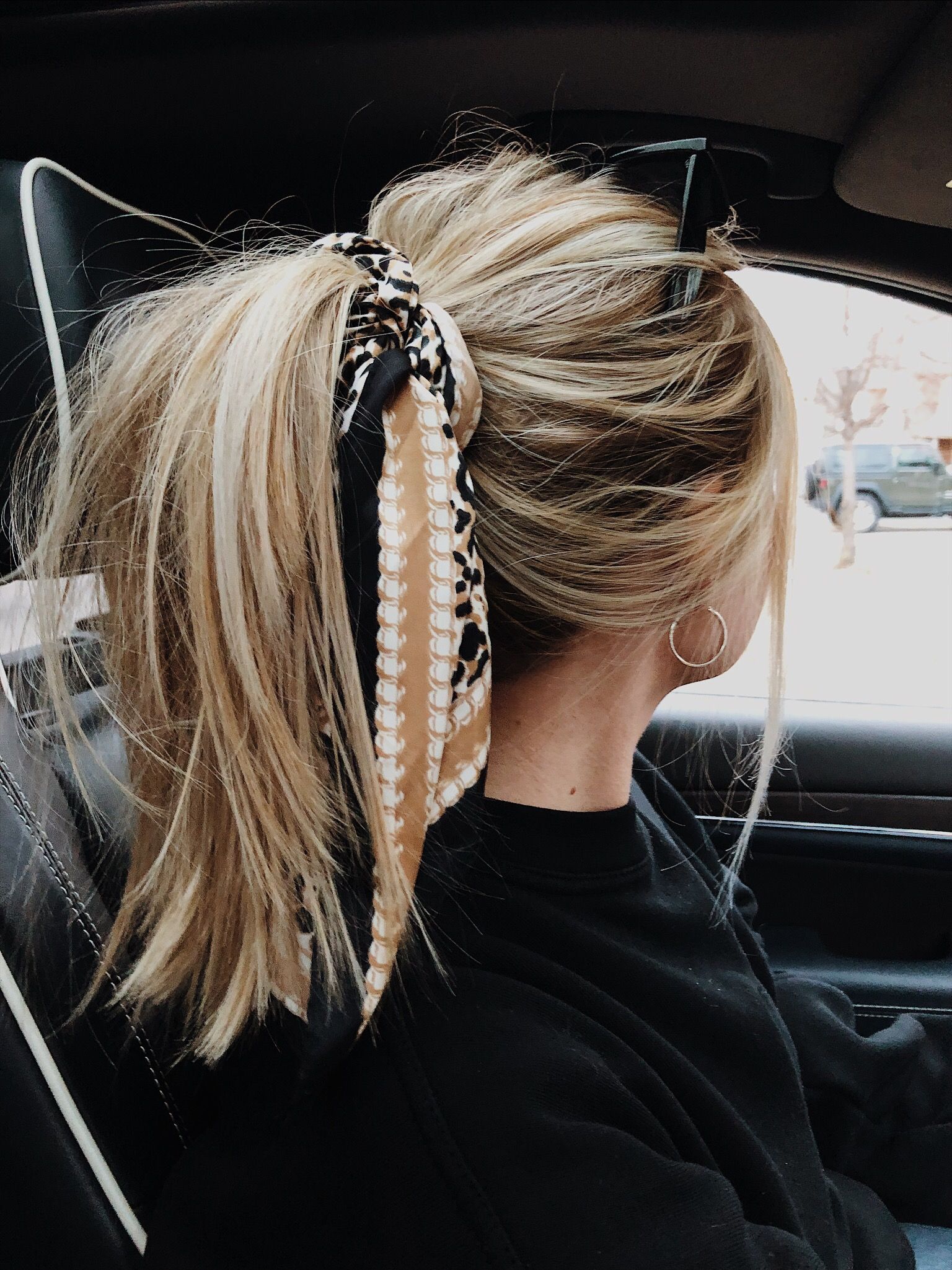 Take your simple ponytail to the next level with This knotted Bandana hairstyle. This is a playful and easy-to-achieve hairstyle with vintage charm. Simply take a bandana, tie it around the base of your ponytail, and let the ends flow freely.
11. Messy Bun Wrap
Try pairing a bandana with a messy bun for a bohemian vibe. To achieve this effortless look, all you need to do is tie a bandana around your messy bun and let a few strands hang loose for that carefree touch.
12. Swept Back
When you don't know what  hairstyle to do, go for this look. The swept-back bandana hairstyle is a super cool and easy-to-pull-off look that adds some flair to your style while keeping your hair out of your face.
13. Front Wisp
Simply wrap a bandana around your head and let your wispy bangs hang freely in the front. This laid back and chic look is ideal for casual days out or when you're soaking up the sun at the beach.
14. Bandana Pin-Up Curls
Bandana pin-up curls blend the best of both worlds: vintage charm and modern style. Curl your hair, and tie a bandana with a chic knot on top. This hairstyle effortlessly elevates your look, making it ideal for parties or boosting your everyday confidence.
15. Top Knot
When you add a bandana to  your top knot, it becomes effortlessly stylish and can be achieved in less than a minute.  This combo not only looks great but also prevents stray strands from escaping.
16. Bandana Updo with Tendrils
Pull your hair into a updo at the back, and use a bandana as a stylish headband. Leave a few loose strands to frame your face, adding a touch of softness to the edgy vibe.
17. Bandana Pigtails
Go for Bandana pigtails if you want a fun and carefree look. Make two ponytails on each side of your head and wrap a bandana around its base. It is a quick way to inject some personality into your style and have fun with your hair.
18. Bandana Afro Puff
Simply tie your afro puff with a bright bandana for a vibrant and fun look. This style is great for a day out with friends or for rocking at a music festival.
19. Bandana Knotted Low Ponytail
Sometimes a little effort creates a big impact, just like adding a piece of accessory can elevate your appearance. Take your everyday ponytail to a new level with a little twist. Simply gather your hair into a low ponytail and bind it with a bandana, forming a stylish knot.
20. Low Bun Bandana Hairstyle
This pretty look is as simple as it looks. Twist your hair into a bun and wrap a bandana on it creating a knot . You can also choose a different scarf that goes well with your outfit. This is ideal for a night out or any casual outings.
Other Articles