African hair is just beautiful, right off the bat. The specific hair texture that they have, is often recognized by the term 'kinky hair'. The specific hair follicles in African population are more of an oval shape, which causes their hair to grow curly. Now, as if the hair in itself wasn't beautiful enough, they braid it traditionally, making it look even more pretty. This traditional African hair braiding is called cornrow or canerow. The name comes from the black slaves working in agricultural fields. This hairstyle is not only beautiful, but it is also a fantastic protective style in terms of hairstyles. Canerows are popular among black people because they represent embracing black pride while also keeping them connected to their roots.
Type of Cornrows
Cornrows can be made in various ways, including various patterns, various hair accessories and braiding techniques. But apart from that, there are broad categories into which the type of cornrow can be divided into.
Cornrow Bob
As the name suggests, its a bob cut hairstyle but all the hair strands are braided into cornrow or cane row braids.
Cornrow Bun
Cornrow bun is a very protective hairstyle. Where all the braided hair is put into a bun. This bun can be either low or high, based on your preference, and you can also use any accessory of your choice.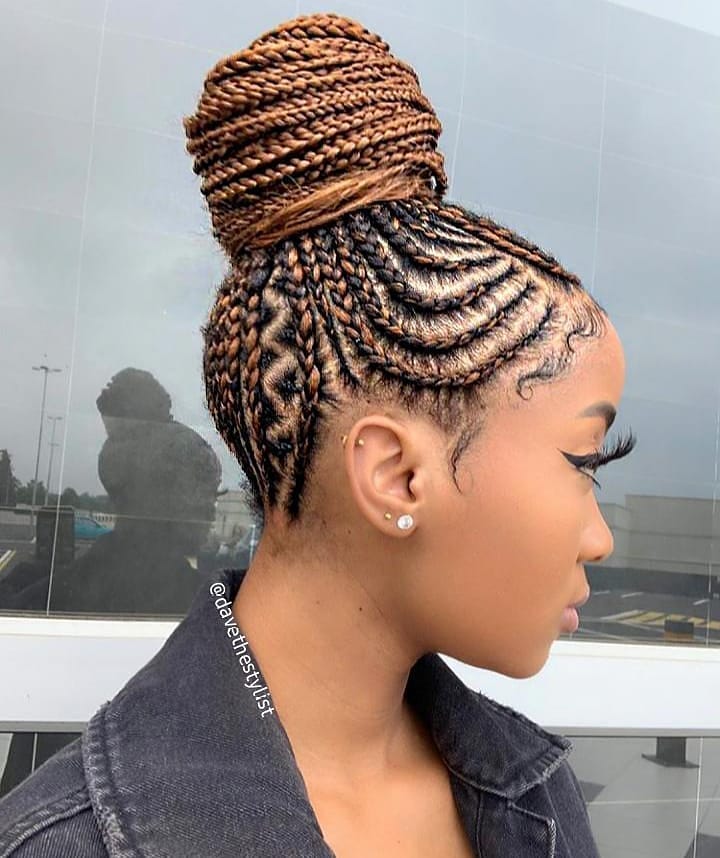 Two Cornrow Braids
It looks cute and funky, when all the hair is braided and then divided into two half. Which are then braided into two big braids. Depending on the length of the hair, these two braids might be lengthy or short.
Side Part Long Cornrow
This one is very common and simple. All the cornrow braided hair in styled by sectioning it from the side and parting it into two parts.
Cornrow Ponytail
A pretty ponytail, made out of corn braid hair. Now this pony could vary, based on length, volume, height etc. all depending on your choice and hair.
Half cornrow
This is where half of the hair is braided into cornrow braids and the rest is in its natural state, which could be ranging from, curly, frizzy, coiled or matted. Some people also like to straighten up the remaining loose hair. It's a personal pick.
Accessories
Also there are numerous hair accessories that can be added into cornrow hairstyles to enhance their appearance. Like, Bandannas, Hair scarfs , Beads, Threads etc.
Bandanna
Many people consider a bandanna to be a head scarf, however some argue that bandannas have their own individuality.And the size of the head scarves is substantially larger. Whatever you call it, these pieces of apparel can be worn with cornrow hairstyles to make them look even more fashionable.
Beads
Consider some bead-encrusted braids. Beads are amusing accessories that are popular among children, but they are not the only ones. And as a cherry on top, you get many colors to choose from. 
Thread
Threads are commonly used in cornrow braiding to add color to the braids. They are also a popular choice among children and females.
Styling Ideas
In addition to the hairstyles and accessories described above, we have a wide variety of unique and gorgeous braiding styles to pick from. Here are some examples
Flat Cornrow Braids
This braiding method involves splitting hair in the middle and keeping it simple and straight. Long braids of varying sizes.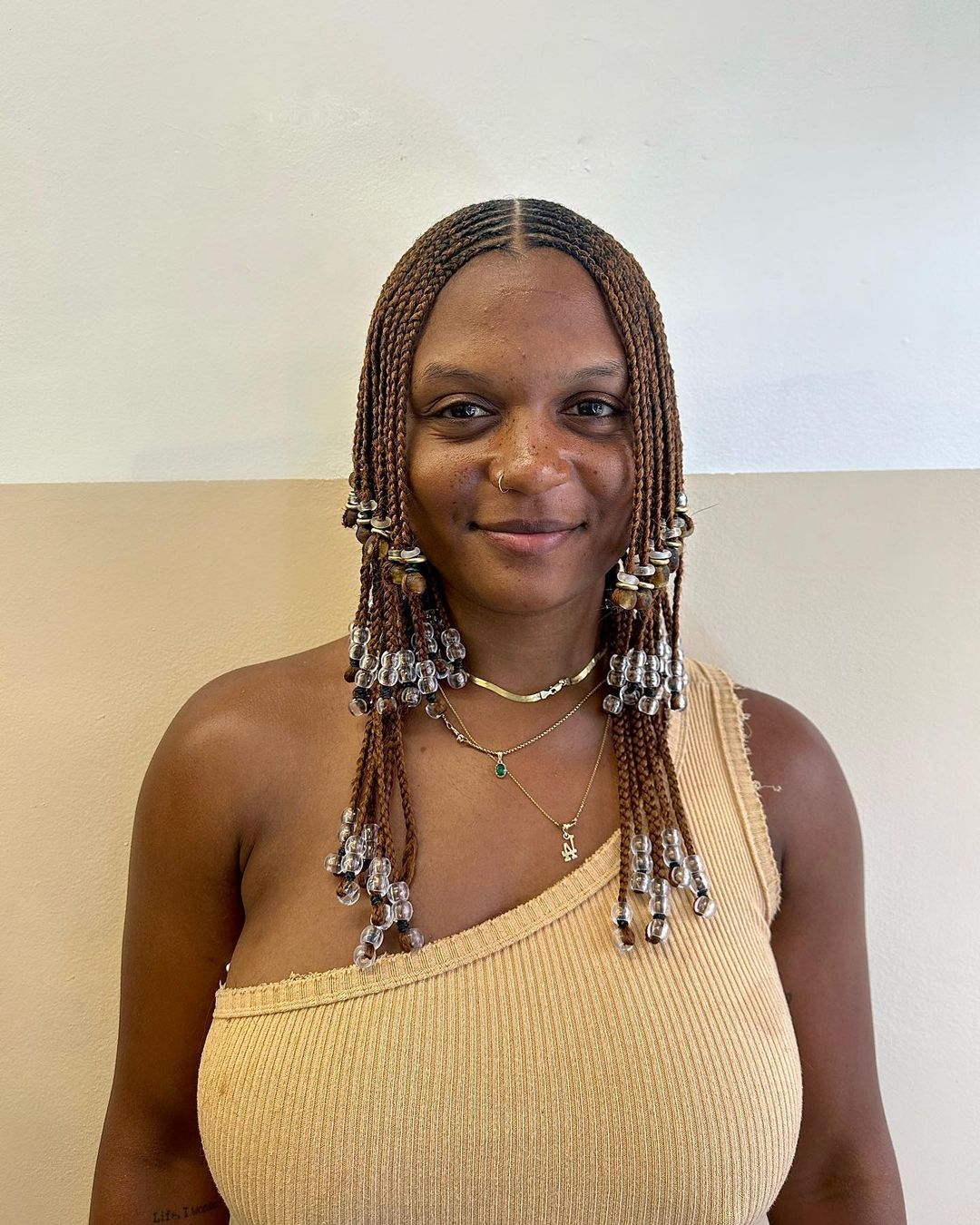 Middle Part
It's as simple as it appears, with only two large cornrow braids.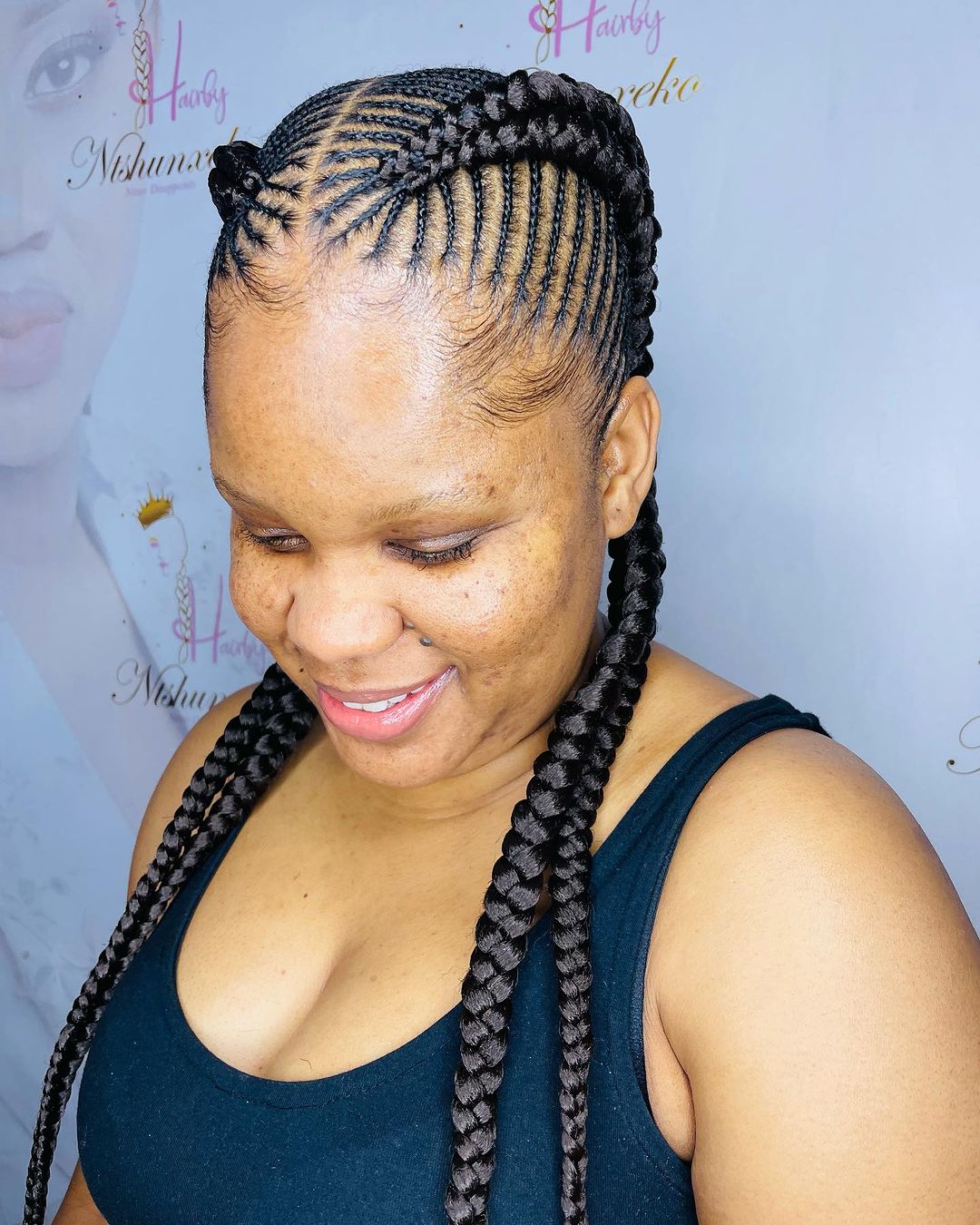 Heart
This one is both adorable and inventive. The hairstylist has created a beautiful tiny heart within the cornrows here.
Box Braids
This haircut can endure for a few weeks on men. However, it varies depending on the length of the hair.
Goddess Braids
I'm calling it a goddess braid since that's exactly what it looks like, divine.
Swirl Magic
It's the swirly magic, and I have to admit it's one of the most interesting cornrow braid styles I've seen.
Other Articles