When you choose to talk about Leonardo DiCaprio's hairstyle, the word you use the most is "iconic." His hairstyles have become legendary over the years. From the 1990s to the 2000s and 2010s, he has had a series of trendy and influential hairstyles.
We aim to provide you with the best hairstyles out of all of these options. So, keep reading to find out about the most stunning Leonard DiCaprio hairstyles.
1. Smooth Pompadour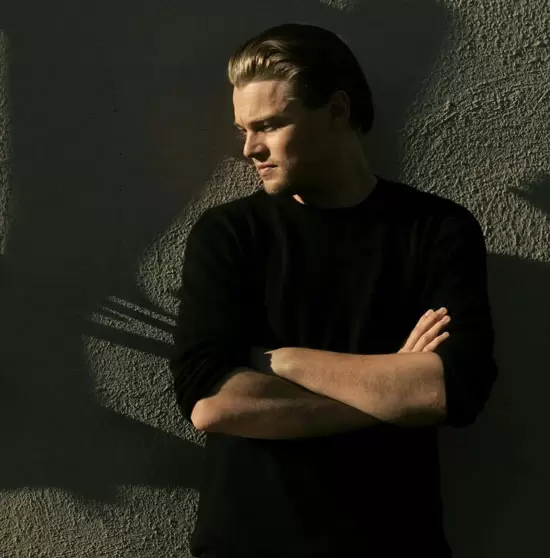 One of the most dependable styles for modern men is the most recent Leonardo DiCaprio haircut on this list. When modern men look for a dapper look, they almost always opt for a pompadour. It is sophisticated, sleek, and elegant. It's precisely the sophisticated hairstyle you'd want for a formal occasion.
2. Long Hair with a Mid-parting
Another movie-inspired Leonardo DiCaprio haircut. This hairstyle was inspired by the film The Man in the Iron Mask, in which Leo portrays King Louis XIV. This is a stylish way to wear your long, wavy hair. Make a parting in the middle that runs from the front to the upper middle of your hair.
3. Combed Back
Another simple but stunning hairstyle. This look works well with both short and medium-length hair. This hairstyle's title explains how to achieve it. You must brush your hair and make it stand up, paying particular attention to the front and top hair.
4. Bangs in the Front
Another Leonardo DiCaprio haircut from the 1990s. This may have been the first hairstyle that drew attention. He wore it in the early 1990s when he was very young. It's a simple hairstyle to master. You'll need slightly longer hair in the front, and you'll need to brush it down, so it falls over your brow.
5. Messy Wet Appearance
This is one of Leonardo DiCaprio's most relaxed and laid-back hairstyles. This is a very appealing look for a casual occasion. You'd also need Leo's signature long bangs for this look. On one side, his long front hair has to go past his eyes.
6. Hairstyle with a Retro Middle Part
Throughout history, men's hairstyles with middle parts have been popular. However, it has recently attained new fame and attention. Everyone is attempting their version of the mid-part style, from K-pop icons to Hollywood celebrities to Instagram/TikTok influencers.
7. Man Bun with a Full Beard
Let's return to one of Leonardo DiCaprio's most recent hairstyles. Given his preference for long hair in recent years, it's no surprise that Leo has experimented with the man bun. He does an excellent job of it. The man bun is a popular hairstyle, but not everyone can pull it off. On the other hand, Leo is the absolute master of the look.
8. 90's Bowl Cut with a Center Part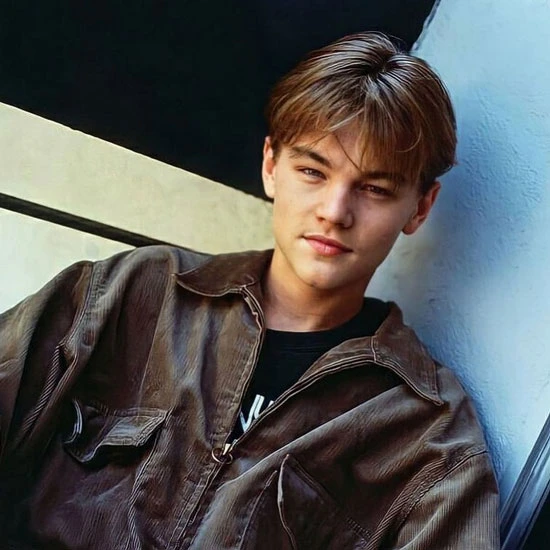 The title suggests that this is the bowl cut from the 1990s. We don't want to keep saying it, but this 90's Leo haircut was also popular. It's as if he didn't make any bad decisions during that time. He just kept creating unique hairstyles that everyone loved and appreciated.
9. The Quiff Style
This is one Leonardo DiCaprio haircut he hasn't worn too often. It's a shame because he looks great with a quiff. This style's hair on the sides and back will be medium length. The longer hair in the front will be required. You must backcomb the front hair and make it face up.
10. Curtain Bangs
It's time for another '90s Leonardo DiCaprio hairstyle. This was also a trendy look, and he wore it in several 90s films. To achieve this look, start making a straight part in the middle of your hair. The hair on both sides of the parting must then fall to your face and pass over your eyes.
11. Long wavy Hair Parted to the Side
Consider one of Leonardo DiCaprio's most long hairstyles. He's had some incredible long hairstyles over the years. However, we chose this specific style from his New York film gangs.
Aside from his outstanding performance in the film, this stunning hairstyle has captured the audience's attention. It turns out that allowing Leo's hair to grow out causes it to become wavy.
12. Crew Haircut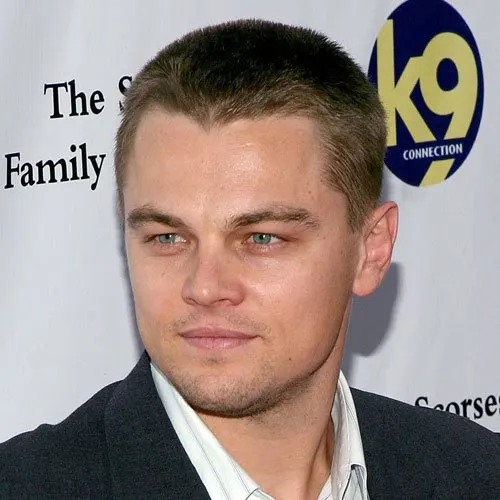 This is most likely Leonardo DiCaprio's shortest hairstyle. As a result, this style is for those who prefer short hairstyles. The butch cut or crew cut is a military-inspired hairstyle. For military personnel, having short hair has tactical advantages. This style provides a sharp and intense appearance for ordinary people like us.
13. Iconic Hairstyle from 'Titanic'
Leonardo DiCaprio's 1990s haircut is well-known throughout the world. When Leo appeared on Titanic with this hairstyle, he won everyone's hearts. There can be no fundamental research into why this hairstyle received so much attention. Leo brushes his hair back and opts for a straightened-back style. However, he looked stunning with this hairstyle.
14. Leonardo DiCaprio's Undercut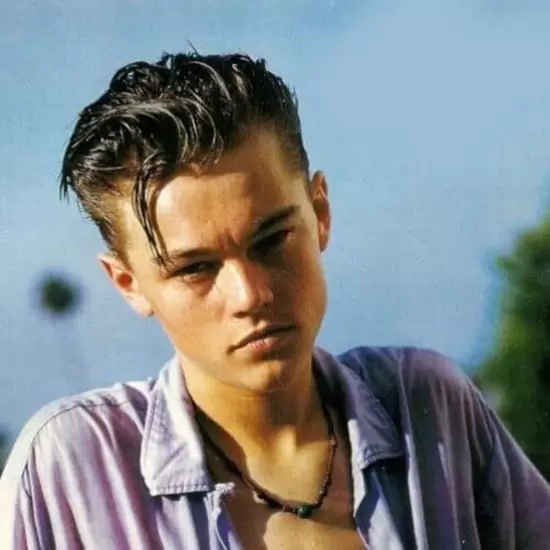 We now have a hairstyle worn by a very young Leo DiCaprio. When we consider the time, it was a very bold and eye-catching style. Also, while it could be called the Leonardo DiCaprio undercut, it is not the modern undercut style. Leo shaved the sides and back of his hair, as is customary for an undercut. But, unlike modern undercuts, he did not shave it entirely or leave it extremely short.
15. Spiked-up Style
Leonardo DiCaprio's hairstyle from the 2000s. He wore this looked around when he starred in Martin Scorsese's film The Departed. It would help if you shortened the sides to achieve Leo's spiky style. You must also use a hair product to tip the hair in the front and on top. Because of the shortened sides, you draw attention to the spikes on top.
16. Brushed Up with a Side Part
We transitioned from the side-parted hairstyle of yesteryear to the side-parted hairstyle of today. This hairstyle is equally appealing and has been one of Leo's go-to looks for several years. It's a simple side-parted hairstyle. Leo wears his hair straight and styled. It also adds height to his hair in the front, similar to a pompadour. This hairstyle suits him perfectly now that he is more mature.
17. Long Fringe with a Parting
Let's begin with one of Leonardo DiCaprio's most recognizable hairstyles. With this haircut, Leo dominated the 1990s. It would not be an exaggeration to call this hairstyle's popularity a global phenomenon. Leo was also aware of the hairstyle's popularity. At the time, he was constantly repeating this style. Several films took advantage of the popularity of this style, and he appeared in several films with this haircut throughout the 1990s.
18. Classic Slicked-back
Another pompadour/quiff look swept in the opposite direction, with some suitable geometry falling down the sides. This hairstyle with a side parting can help visually soften the recession on older men with slightly receding hair. The recession is minimized by parting to one side and concealing the opposite side. (To be fair, Leo has kept things close and loaded through that hairline).
19. Elegant Pompadour
Another hairstyle on the opposite side, with a pompadour effect in the front, which we rarely see on Leo. With the swirl in the bangs, it's tricky, but he pulls it off. If you have a swirl like that, use a blow dryer on high heat to comb it through.
20. Ingenious Short-cut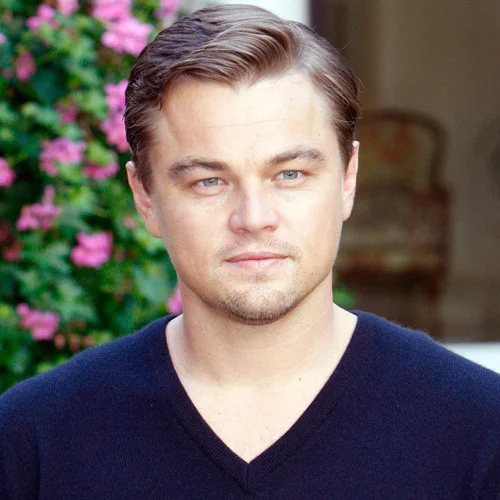 Anyone with long hair on the sides should trim the edges every couple of weeks to keep them looking groomed at all times. You can tell it's time to fine-tune the details from the look around Leo's ears.
21. Wavy Side
Another take on the carefree backswept look, this time with the wave coming from the sides and flowing back instead of falling through and over the top. It only takes five minutes of blow-drying with styling products in the morning.
22. Swooping
Again, the middle parting is combed to the opposite side, while the rest of the hair is combed against the natural middle parting. American Crew Pomade ($16) should provide the desired shine and medium hold.
23. Extra Length
Leo's signature hairstyle reappears, this time with added length. The wet look is simple because you don't need to blow dry your hair. Apply a heavy wax to towel-dried hair and comb it with a wide-tooth comb.
24. Short and Clean-shaven
A little color, a close shave, and side-parted hair can make a big difference in your appearance.
25. A Deep Mid-part
This is an excellent example of mid-parted hair done against its natural tendency, most likely with messy fringe and medium shine.
26. Perfectly Sprayed
The proportions are nailed to perfection here. This hairstyle requires a good blow dryer/pre-styling spray and a generous amount of strong, dry mud wax. For this look, you'll need a wide-tooth comb.
27. Long and Wavy in the Ocean Waves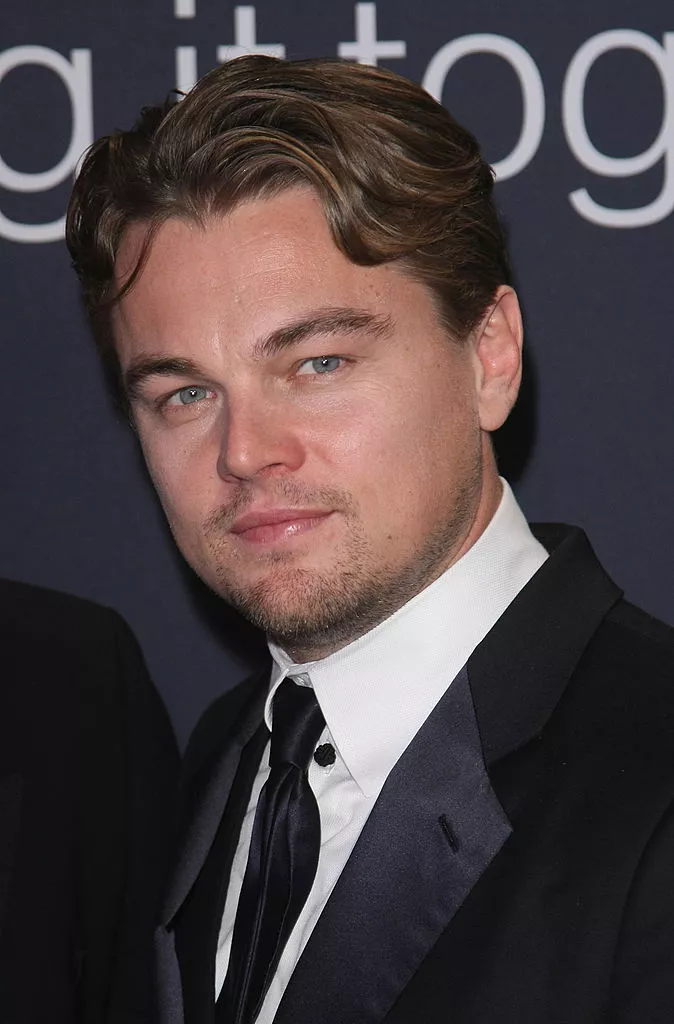 With that swoop that falls across her forehead, this modern take on the slick back has a signature Leo embellishment. This is a loose and light style with volume and texture on top.
28. Lengthened and Gelled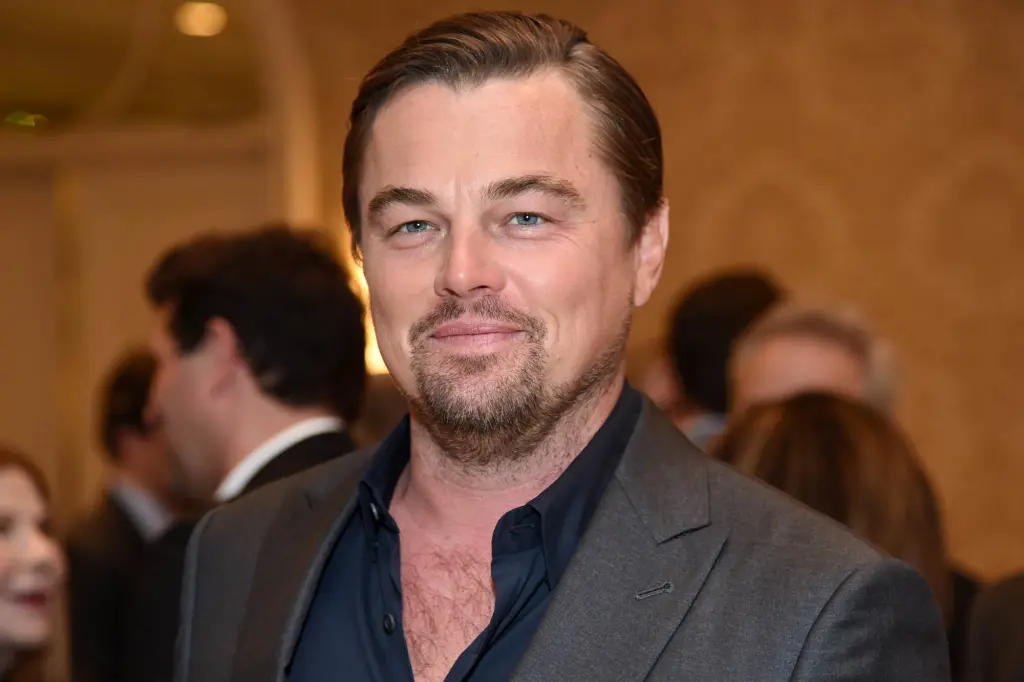 This is one of the riskiest looks on the list, and we're not sure how well Leo pulls it off. It's a forced part that contrasts with his cowlick center parting. However, we're all for taking chances, and in this case, he most likely styled and blow-dried his hair with a high hold, medium shine pomade.
29. Longer at the Front
This style is similar to the previous one except for the longer front part. I recommend shorter, sharper sides to modernize the hairstyle for a clean, defined look.
30. Taller at the Top
This is a timeless hairstyle for those who don't want to draw too much attention to themselves. Style with your hands and your favorite high-hold product. It's straightforward.
31. A Tangled Back
This is a more relaxed take on the slicked-back hairstyle we've seen before. It almost appears to be a second-day look, restyled with dry shampoo.
32. Textured and Layered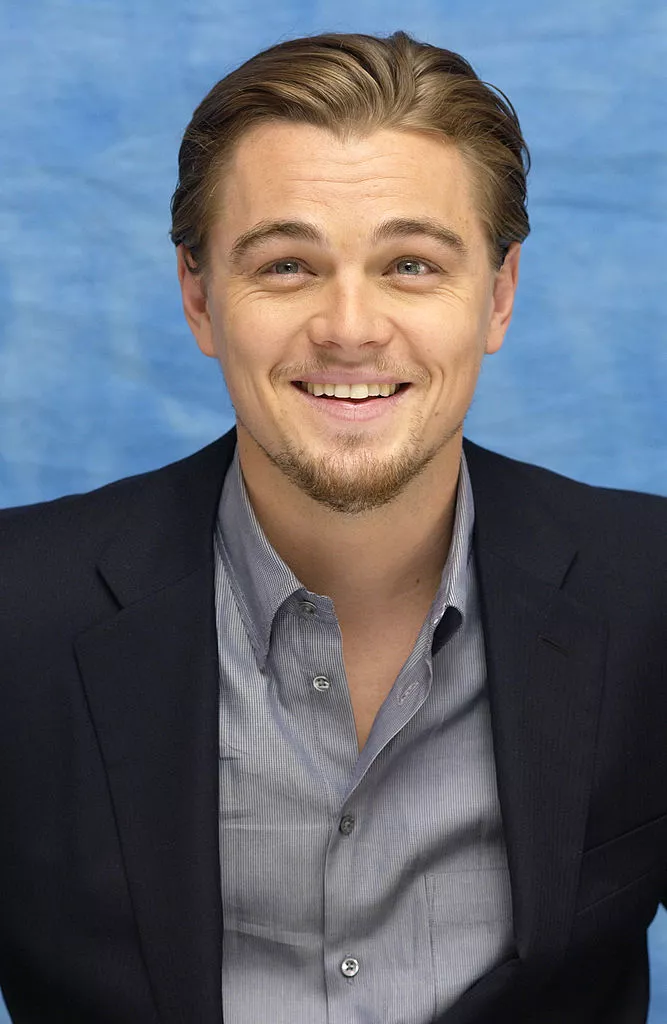 This is a shorter version of the previous hairstyle, with texture in the layers. The key to achieving this look is blow-drying. Apply a light styling product to wet hair, part the hair, and blow dry. And you're finished.
33. Elegant Bun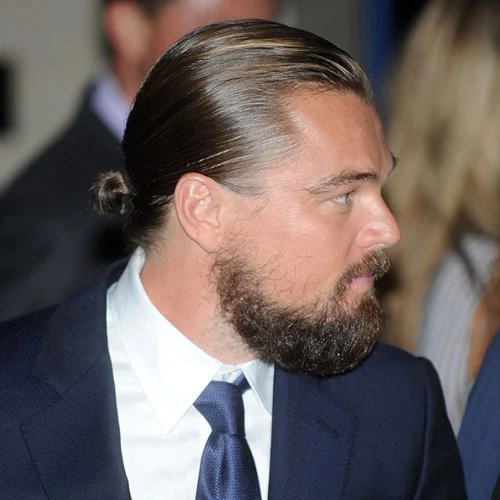 The men's bun is still alive and well. You either love it or despise it. Whatever you think of the hairstyle, we can all agree that Leo pulls it off well. It necessitates length and, in addition to the hairstyle, maintenance in hair care.
34. Shaggy
This look contributed to Leo's status as the '90s heartthrob. This is a traditional Leo look. Bangs and a side part. Straight hair is required to achieve it. Again, it's simple to maintain because the length can vary, and the hairstyle will still look good. To achieve this look, spray towel-dried hair with pre-styling heat protectant spray and blow dry in place with a skeleton brush. Apply a high shine and high hold mud wax to almost dry hair.
35. Loose Bowl Cut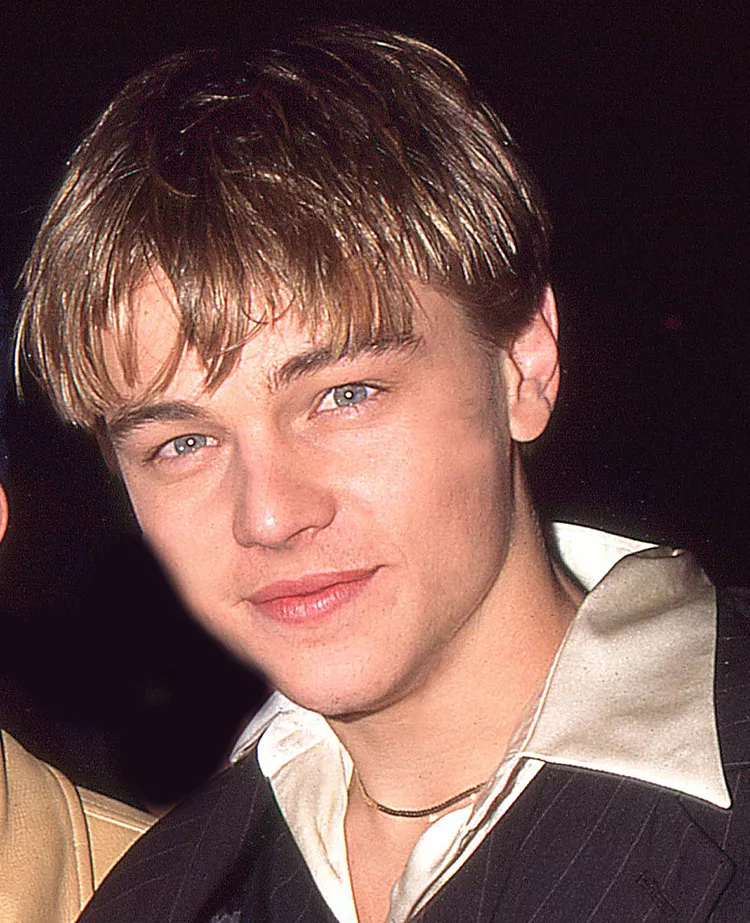 It could be from 1995, but it could also be from today. It's what a lot of young men are wearing these days. It's a simple, easy-to-maintain hairstyle. You don't need many styling products to keep your hair straight. Make use of a good leave-in conditioner or hair oil.
36. One-sided Fringe
Another look with fringe and a side part. This time all you need to do is keep your hair dry and take all your fringe to the side. Leo's hairstyle is not very popular, but it is a good-to-go hairstyle.
37. The Messy Look
An unruly and carefree hairstyle for all the men there. Try highlights or continue with your natural hair, like Leo's blonde hair. Create a shaggy and messy look by taking all your bangs to the face.
38. With a Headband
Try this one if your hair is long and messy and you want a sporty look. Select a classy headband; no, it's not feminine at all. Get inspired by DiCaprio's look and tie your hair back with an accessory.
39. Short and Soft Spiky
We have already tried the popular pointed hairstyle. Now, it's time to try this soft spiky hairstyle. Gel your hair, or try this on your damp, wet hair. With your fingers, create soft messy spikes and done!
40. Messy Fringe to the Sides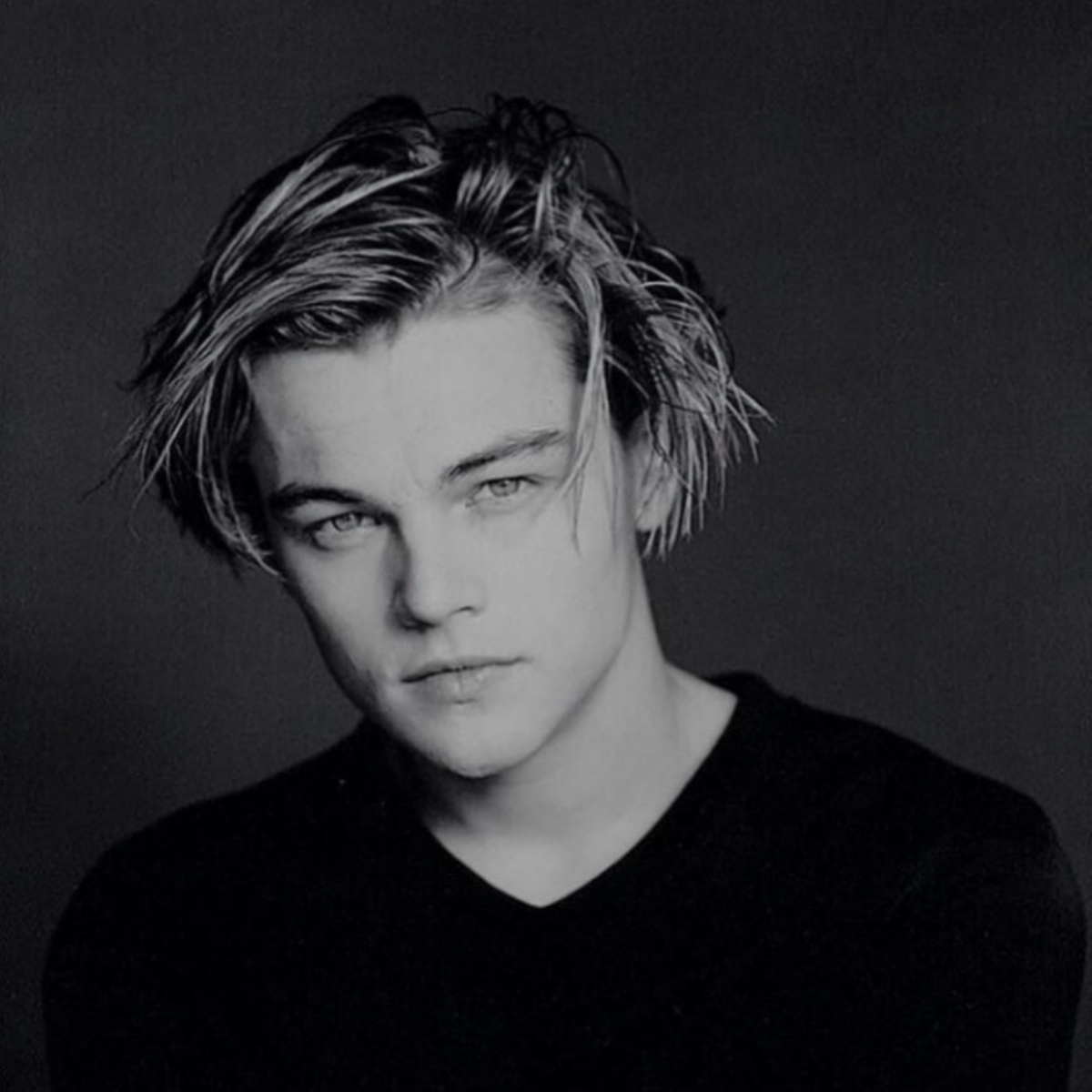 Similar to the curtain bangs but with a slight twist. Wear this hairstyle on your wavy or straight and messy hair. Keep your front locks to the sides, covering the edges of your face and get-set-go.