On February 14, you can complete your sensual look with our top 30 hairstyle ideas that leave your partner 'jaw-droping'. We offer you some romantic, messy, effortless, and daring hairstyles.
Without a doubt, effortless hairstyles have completely conquered us, and if these hairstyles triumph for anything, their relaxed and unstructured style makes them so fresh and charming.
Their simple shape makes them look very cool, and they are also one of the simplest to do because the only rule is that they need to look better. A great way to celebrate Valentine's Day without looking like you put in too much effort. So, keep reading and be ready to shine your light on Valentine's Day.
1. To Get a Bob
A bob looks best with a half-updo or a semi-collected with a high bun. If the mane is undone, textured with long waves, and adorned with a scrunchy in the style of the 1990s, it will look fantastic.
2. Waves in a Semi-updo
A mane with waves is always appealing, but when we play with the semi-updo trend and give it a more casual look, we get this exciting result.
This half updo was created by taking two strands from the sides and connecting them with several knots, giving it that neat but casual look that makes it unique.
3. Ponytail with Texture
Textured ponytails with that effortless finish are one of my favorites, owing to their wildness. To achieve this effect, you must first work the hair, making broken waves and then backcombing the length of the hair to add volume and achieve that fantastic messy and messy finish.
4. A Loose Ponytail with a Bow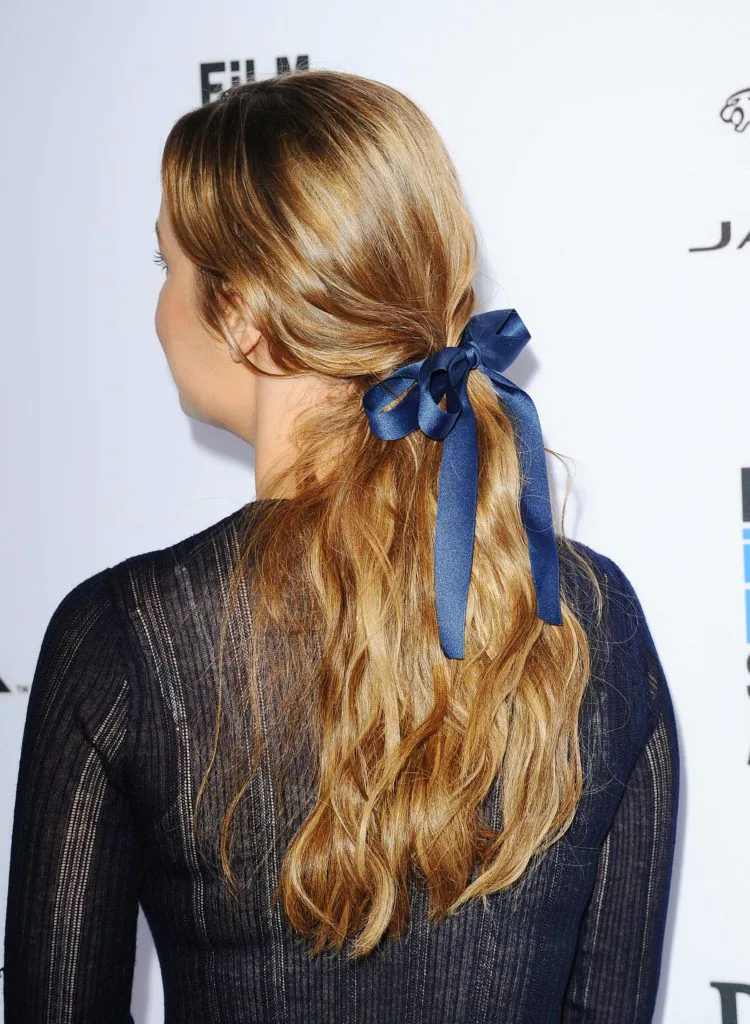 Side ponytails have that simple and childish touch that we love, and when paired with a bow, they become more elegant and relaxed. This ponytail is done with the fingers, and you can add volume by applying volumizing products from the roots.
5. Bent Ponytail
This high ponytail is very fashionable; it is a ponytail that, rather than falling backward, is bent forward, creating the effect of a high bun and ponytail simultaneously. The strands towards the face are essential for achieving a more attractive profile.
6. Three Punk Buns
This three-churro bun updo with loose strands is a fun option for those looking for a fresher and more playful hairstyle. The buns have been punched with safety pins for a more daring look.
7. The Effectiveness of a Barrette
This is the classic updo for pulling your hair back at the nape of your neck for comfort. The hair is twisted from the nape of the neck and pinned up with a barrette, with the ends shaped into a fan. In this case, the accessory takes center stage and adds something special that makes it look cool.
8. With a Wet Look
The effortless updos can also have a wet finish, which looks like the typical beach bun with damp hair to be more comfortable. The key to this updo is applying gel fixative to all hair and creating a knotted bun with loose ends on the neck's nape. A double parting with a spiky finish has been added for an extra special touch.
9. Bun Nest
There is nothing like a perfect high bun to stylize the face and neck. The nested style is characterized by being large and lush, which is achieved by backcombing the length of the ponytail that will then form the bun. The loose strands close to the face enhance the overall appearance.
That tangled look is precisely what you're looking for to make it look less perfect. Of course, combining it with flawless makeup makes the result look this good.
10. The Loose Ballerina Bun
I adore this messy version of the ballerina bun, a relaxed and fresh style with that point that can only be achieved after a wild night, which is the result of this updo. There are a lot of loose strands, a slight frizz, and a round bun with two open ends on the sides. It's not lovely.
11. Embroidered
Hairstyles with decorations such as inlays or, in this case, stars throughout the hair add a more unique and bright touch, elevating an otherwise casual look. In this case, an undone bun-ponytail transforms into a special updo, thanks to the stars.
12. Semi-braid
This updo is a cross between a braid and a ponytail, resulting in a lovely semi-braid updo. The braid begins at the crown of the head, leaving the strands loose and "imperfect," and is sealed at the nape of the neck with a strand of your hair as if it were a ponytail. The key, once again, is to pre-texturize the hair to create a soft natural wave.
13. A Low Updo
Low updos are the most refined version of messy hairstyles; in the image, we see an ultra-casual style of a bun on the nape of the neck with many strands left loose, creating a more voluminous and unstructured effect.
The key is to create volume at the head's crown and prepare the hair beforehand by creating a broken wave to add texture.
14. Romantic High Updo
You've decided to wear a spectacular gown tonight, but it's getting freezing without too much cleavage.
Choose a high updo. Remember that it is a romantic evening. So, make a bun with strands on top and some loose for a casual and bohemian look, add a simple hairpin and enjoy the love.
15. Valentine's Day Crown Updo
Make two classic braids on each side of the head, and gather them at the top to form a crown out of your hair.
Sprinkle flowers or pearls on a hairpin for a more feminine touch. This romantic hairstyle will astound you. You will be the heart's queen.
16. Braids for Straight Hair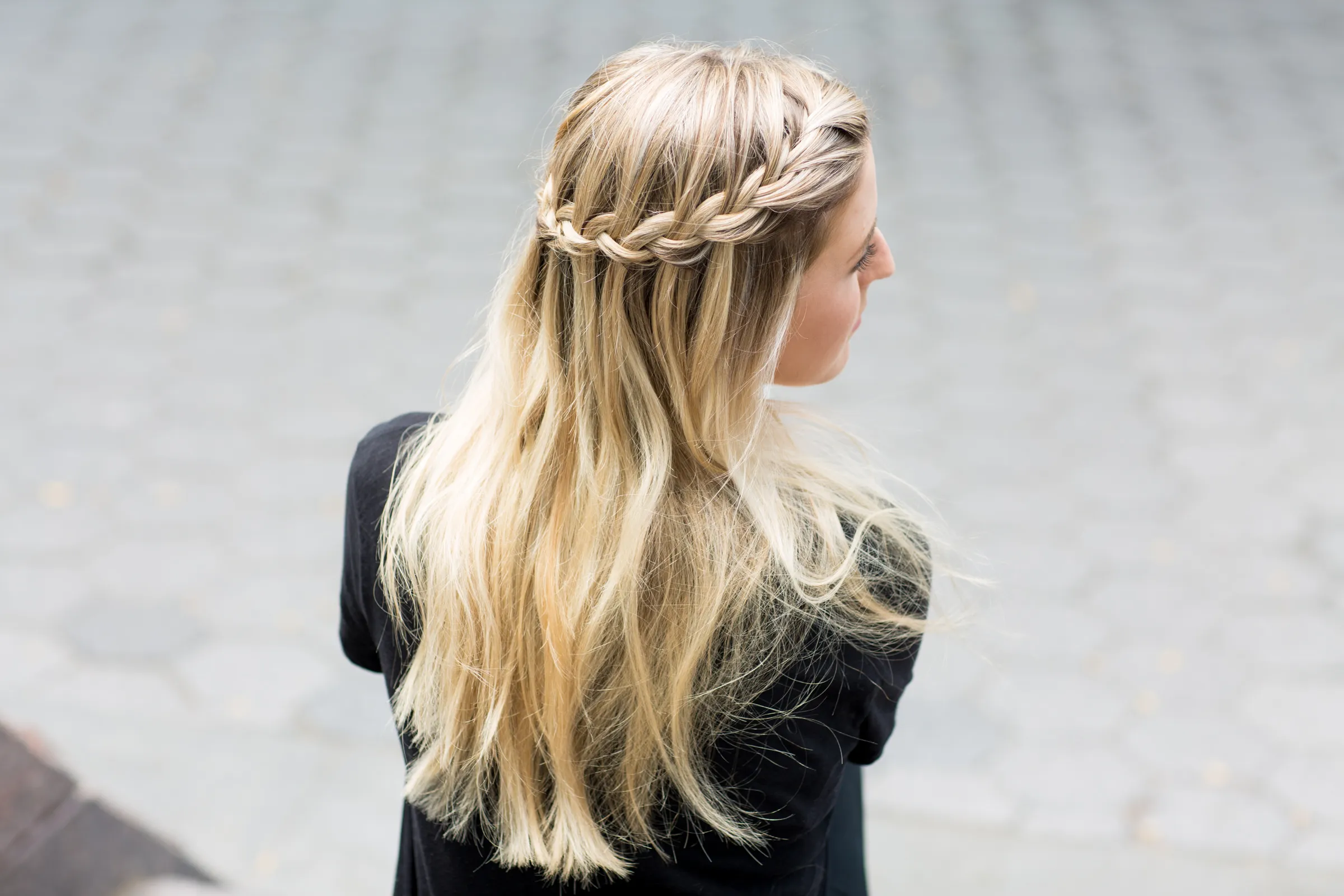 Begin with a half-updo of two braids. Make a braid on each side of your head with two strands, join them at the nape of your neck with a small rubber band, and undo it until it has more volume.
You are now ready to flaunt your abilities and enjoy the love.
17. Curly Hair Braids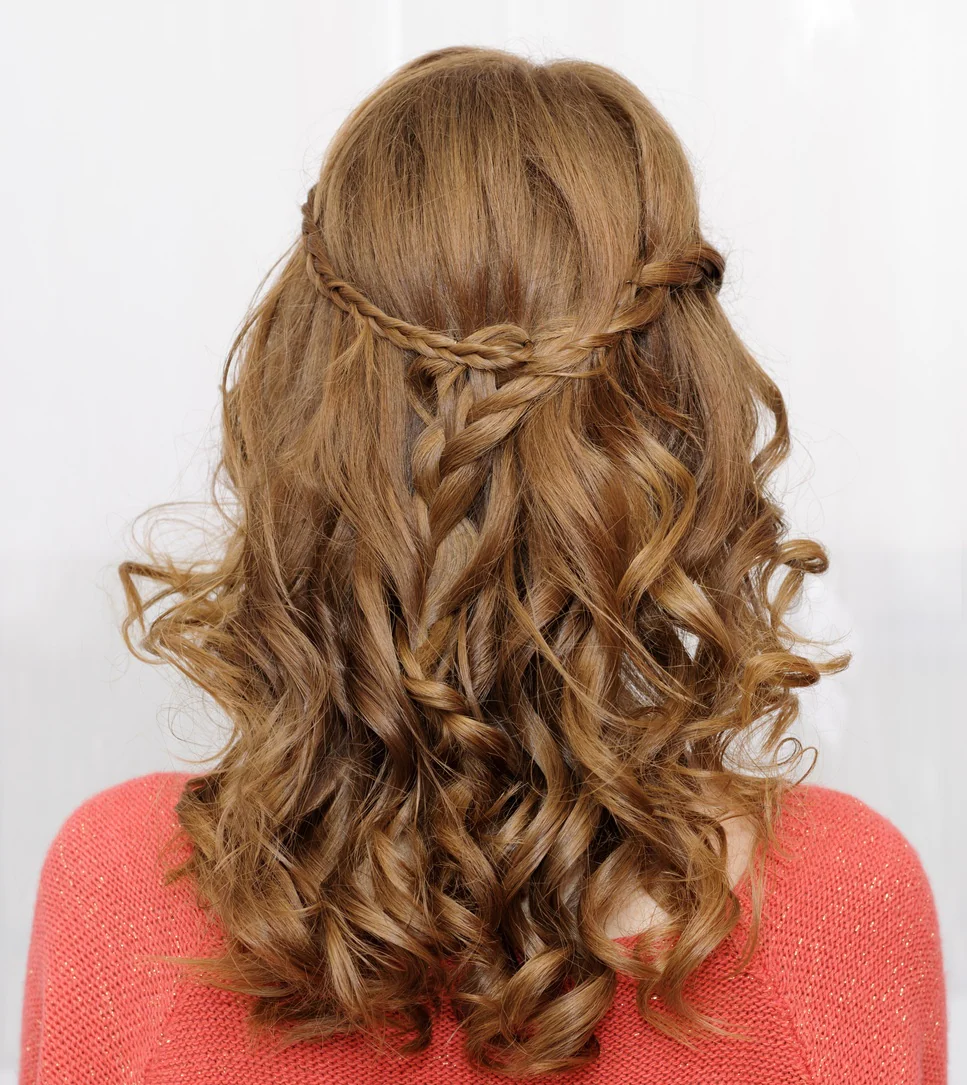 Begin a braid on the left side of your head and work your way to the right, allowing the braid to fall over your shoulder.
This hairstyle can be done with a herringbone braid or, if you don't have much time, a simpler one, beginning by wrapping the hair from the side to continue with the braid. In any case, remember to let some strands hang loose to add a romantic touch. And eager to capture hearts and eyes.
18. Pixie Hair with a Bouncy Touch
If you have short hair, gum it back into a wig or add a touch of glamour and mystery to the ultimate night of love. Style your short pixie-cut hair with gel or hairspray and give it a voluminous look.
19. Half-updo with Glitz
Make a puffy half-up hairstyle if you have dense and long hair. You can accessorize your half-updo or semi-collected hair with a rhinestone tiara if desired. This magical night will shine because of you.
20. Low Ponytail
Pull all your hair back, but the first part is to one side to create an incredible wet effect. Make a ponytail at the nape of the neck, and cover the rubber band with a broad strand of hair or a similar accessory as shown in the image to hide it.
Prepare for a magical evening. It's that easy.
21. Voluminous High Ponytail
Make a tuft in the front and gather your ponytail high; also, cover the ponytail's rubber band with a wide strand. Then, backcomb the ponytail at the elastic part of the ponytail to add volume.
Perfect for experiencing love in all of its forms.
22. Entangled
Scarves can be the ideal accessory for Valentine's Day hairstyles. Select one in a color or print that reflects your interests. They look amazing intertwined in braids, especially if it's a half updo or half ponytail with braids like this one.
23. Headband
You don't always have to go to great lengths. A low ponytail with a voluminous headband never goes out of style. Significantly if the color contrasts with the color of your hair, a middle parting and a small whisk at the crown can add a special touch.
24. The Top Knot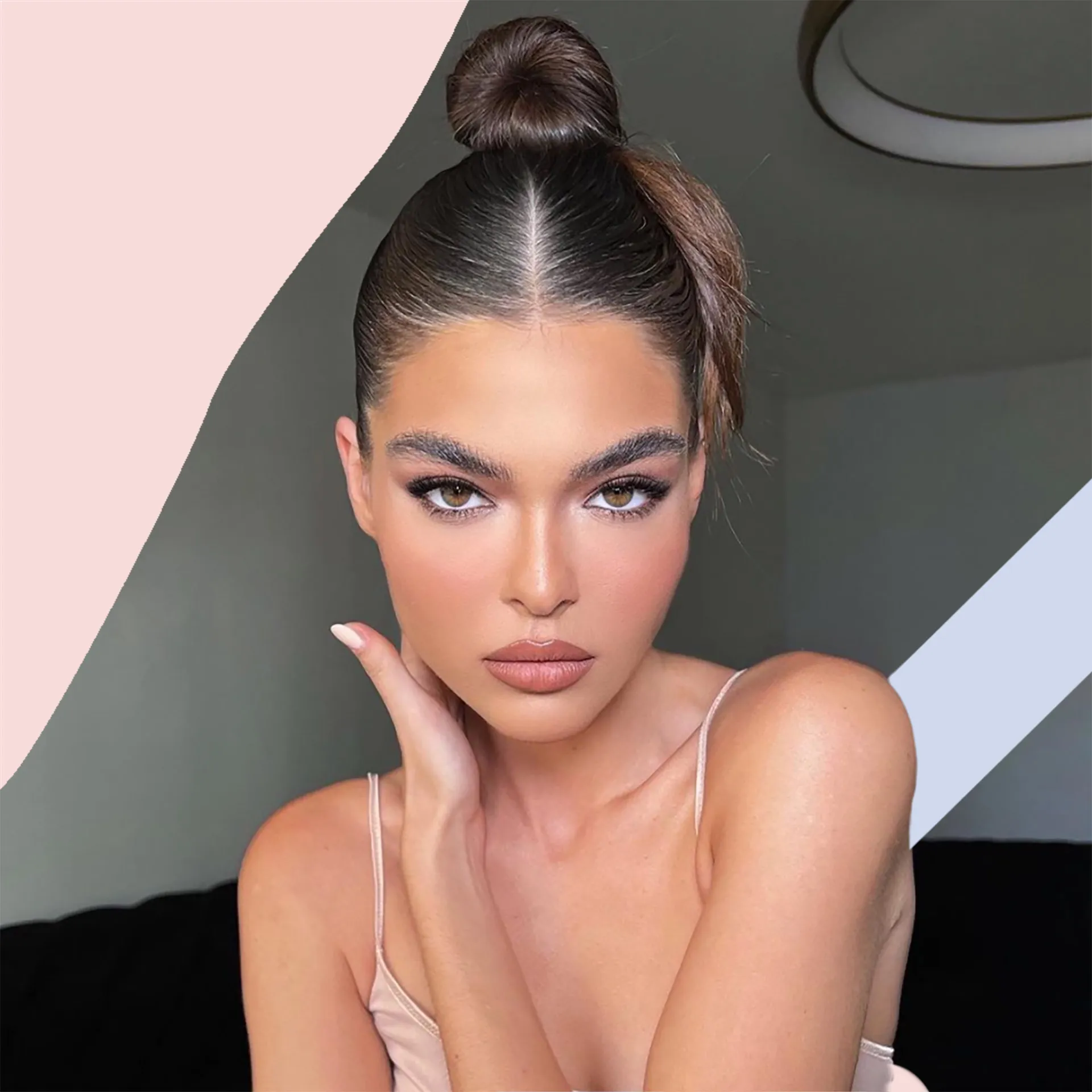 Some boyish hairstyles are appropriate for Valentine's Day. You can add a thick pastel ribbon hugs a top knot in a wide bun. You can do it neatly and polishedly, or you can let a few unruly hairs peek out here and there.
25. Bow
This look is similar to the previous one in some ways. The distinction is that this one has volume and is pinned at the back rather than the top. Of course, we saw it, and the XL bow takes care of the rest. We can't deny that it's a lovely hairstyle. Who wants to give it a shot?
26. Pearls
Pearls are synonymous with purity due to their unparalleled elegance. So, show your hair your undivided attention with a  beautiful pearl pin or a handful of pearl buckles and a tousled half-updo. A few waves in loose hair will give just the right texture for a style like this.
27. Semi-collected Two Braids
A simple but unique Valentine's Day hairstyle: two rope braids on your semi-collected hair, you can also top it with a floral accessory. The tousled hairs on the top of her head are styled on purpose in her look. If you don't like this vibe, skip that part and go for a more traditional version of the look.
28. Retro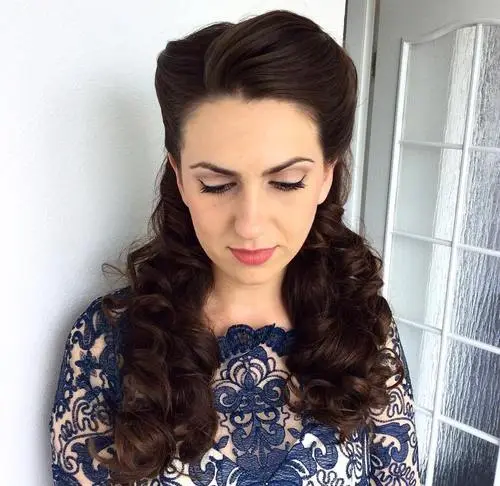 These Valentine's Day hairstyles appeal to the nostalgic as well. The play of volumes is the beauty of this half-up look. On the one hand, the top part is well combed and close to the head, with a side parting. On the other hand, the hair is semi-collected and curly in the most outlandish style.
29. French
The French hairstyle is an unmistakable Valentine's Day to wear on this date, elegant and chic from every angle. We like it because it is suitable for all hair types and appears more elaborate than it is. Make a twisted French roll bun and you're ready for your party.
30. High Strappy Ponytail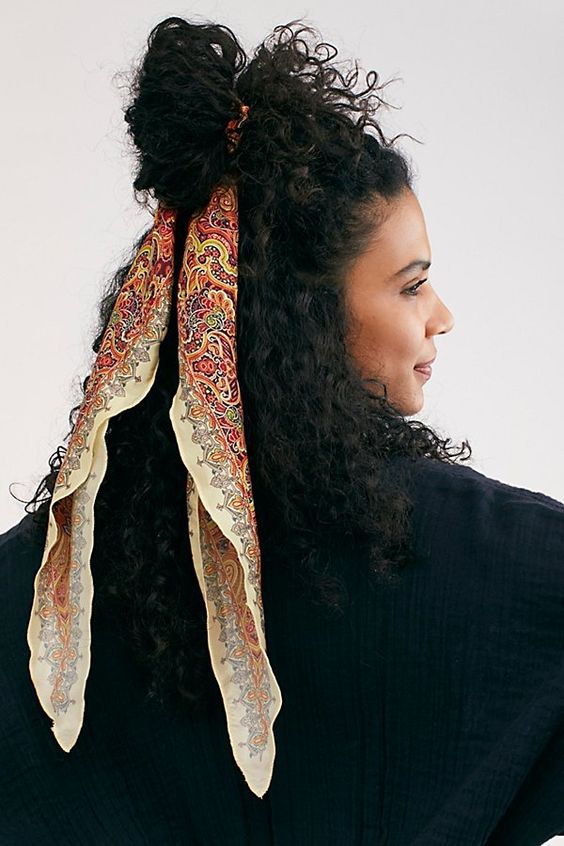 For obvious reasons, an easy hairstyle with curls enters our selection of Valentine's Day hairstyles. A scarf that falls in the back holds this tight high ponytail in place or you can also try a high semi-updo hairstyle as shown in the image. Maxi buckles on the sides ensure that everything stays in place. The perfect combination.
We hope you enjoyed Valentine's Day hairstyles and that they help you enjoy love the way you want, with whom you wish to, and where you want, but always with a perfect look. We hope you have a wonderful day filled with true love, happiness, and the strengthening of friendships.
You are always looking your best and feeling like the queen of your life. Valentine's Day greetings!