Undercut style haircuts for men are becoming increasingly popular, so your salon or barbershop must be prepared to serve this customer anytime. There are numerous styles of men's undercuts, so this article will discuss the most classic versions and some hairstyles that can be achieved with this haircut.
What is the meaning of the men's undercut? The undercut is distinguished by thinning hair on the sides and back of the head, with longer hair on top. Numerous versions and styles of this cut can be perfectly adapted to the various needs of your clients.
Whether you have curly hair, wavy hair, thick hair, or straight hair, a few bob-cut styles will suit you. Let's look at these 23 new trendy men's undercuts and how to style them.
1. Messy Layered Undercut Style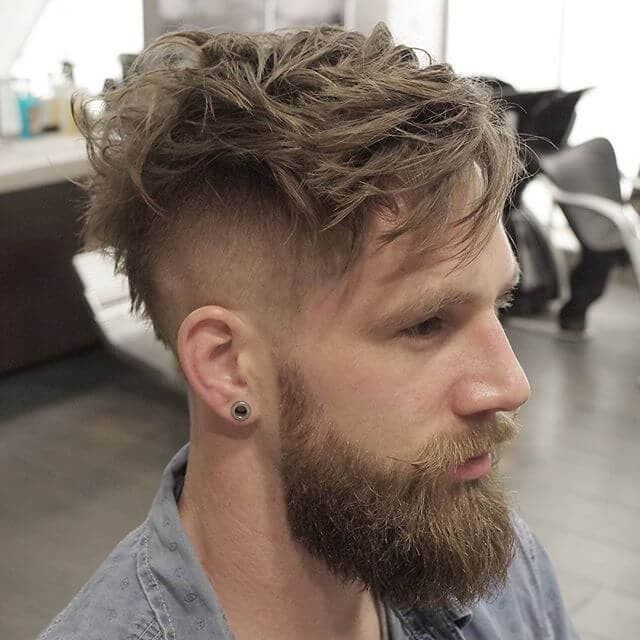 Depending on your preferences, you can combine this cut with any undercut, classic, or fade. What distinguishes it is that the long hair is cut in different layers, missing a lot of movement and volume. It gets its name because the different layers of hair create a tousled effect.
2. Traditional or Disconnected Undercut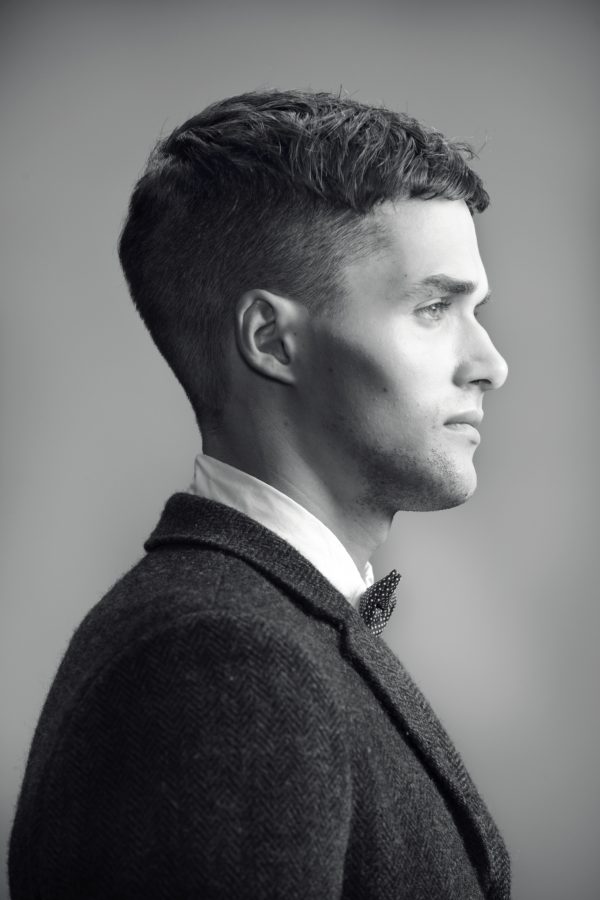 This type of men's undercut is distinguished by the fact that the part that is cut short is usually at the same level, i.e., there is no fade effect. The top hair is left a little long, so it can be combed back or to the side, but not long enough to require products. It is a classic and elegant style that will appeal to almost any clientele.
3. Reduced Curtain
This is an excellent example of a men's undercut with long hair. It's perfect for men who have long, straight hair and want an undercut but don't want to use hair products. It is the same concept as a classic undercut (no fade or gradient), but the uncut portion falls over the sides in a curtain effect because the hair is longer. It is a daring but beautiful cut that is very popular among young people.
4. Rockabilly with an Undercut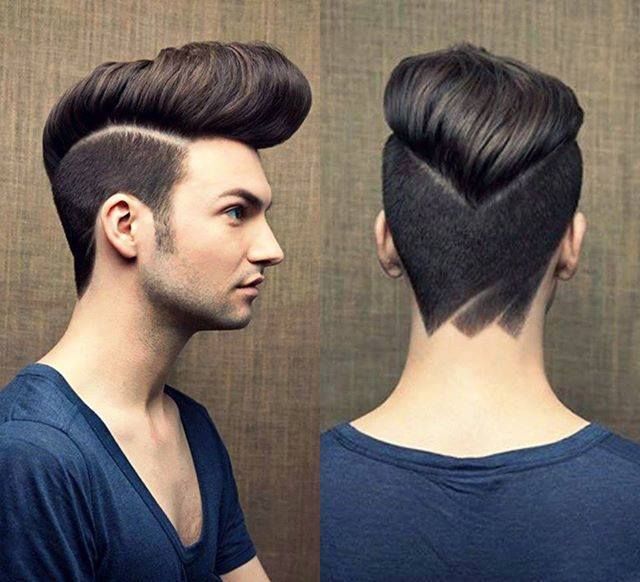 We've all seen this style of undercut, which is very 1970s and was popularised by the film Grease or Vaseline. The haircut is a classic undercut, but the hair that is not trimmed is left much longer, allowing you to comb it back and create the illusion of a toupee. To achieve this look, your client must have medium-length hair and be willing to use styling products; otherwise, it will take time to complete this distinct look.
5. With Long Hair and Faded Beard
This is an undercut with long hair styled in faded sections back and to the sides. A slight faded touch is on the beard too which makes this style a good choice.
6. Having Long Bob (one side undercut)
This is a very cool-looking long haircut hairstyle for men with long waves. To achieve this look, apply a pomade with a bit of shine to damp hair and then blow dry with your fingers to style.
7. Two Cuts in the Same Style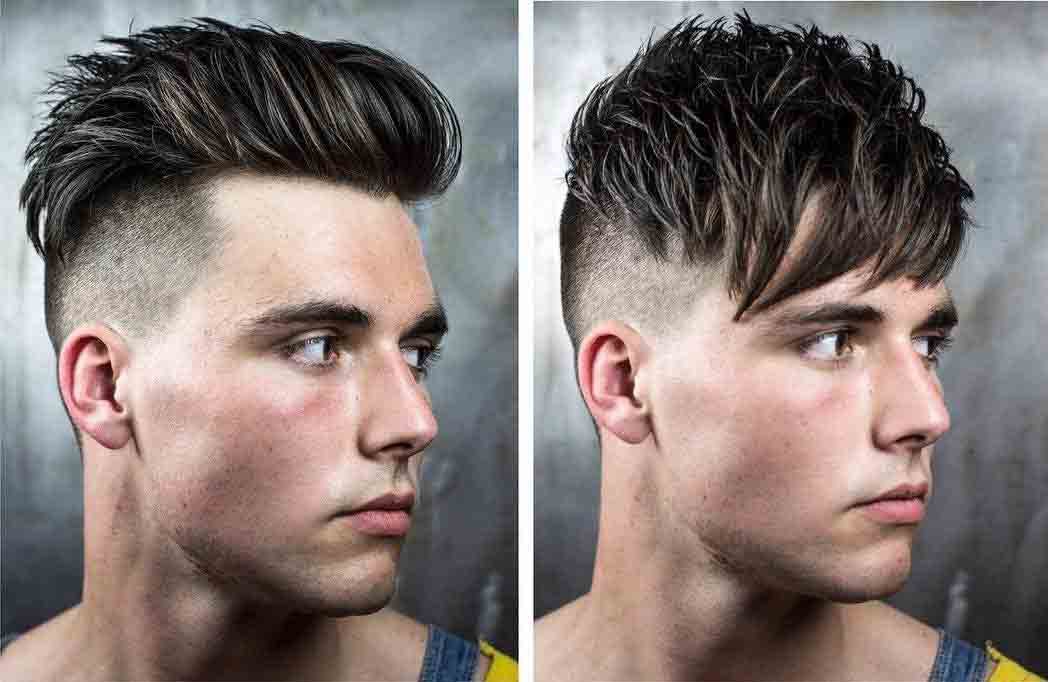 This a perfect example of how versatile a men's undercut can be in terms of styling. A haircut styled in two very different ways is shown here. The hair on the left has a lot of volume thanks to a blow dryer. Use a more substantial hold pomade and comb the hair forward if you have thick hair like this model. The textured hair on the right has been combed from back to front in a messy style. Two men's undercut hairstyles!
8. Wavy or Curly Style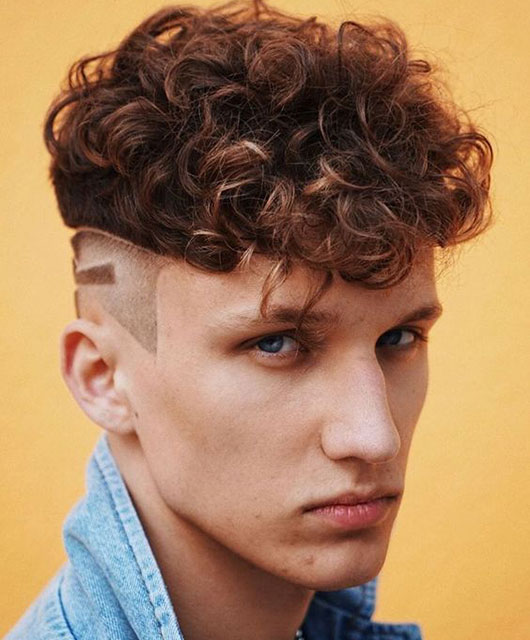 Another stunning look, but this time with curly hair and a beard. We have a bleached-down-to-the-skin gradient that stands out against the thick curly hair. Use a medium hold pomade to add life and bounce to your curls. Curly short haircut hairstyles for men are very fashionable.
9. Hairstyle with Medium Length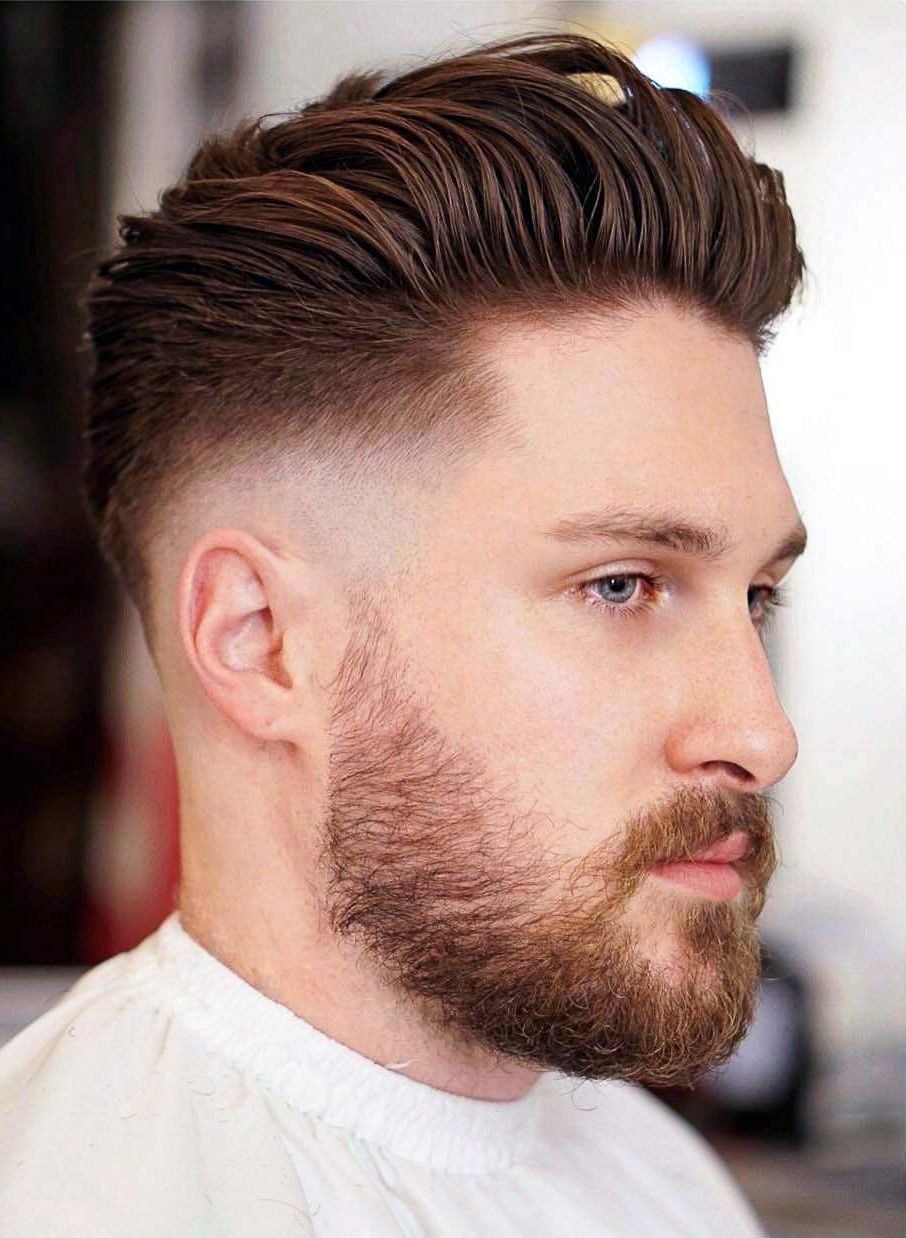 This is an excellent haircut for men with medium-length hair. To moisturize the hair, apply a strong hold matte finish pomade and style it. Try a combed-back hairstyle and you're ready with your highly impressive look.
10. The Bald Style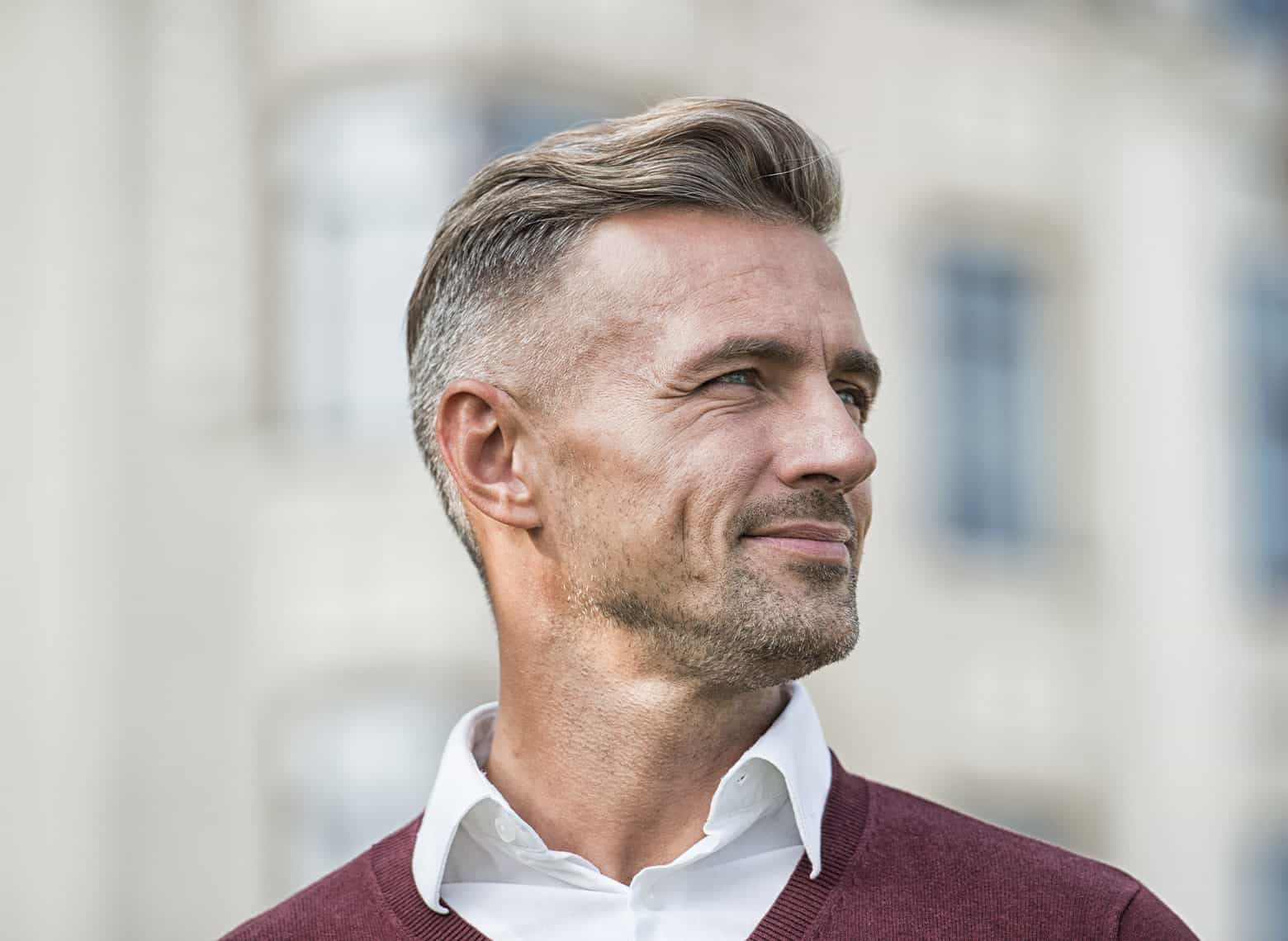 A great short haircut for men. This haircut has a classic hairstyle and is separated from the bald part. As the name suggests, it gives men with receding hairlines an option to style in a completely different manner.
11. Hairstyle with a Side Parting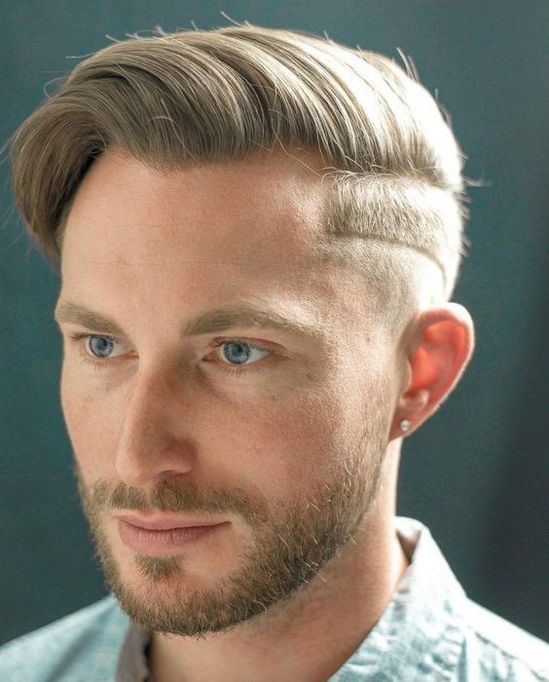 Longer natural hair is brushed to one side. Apply a medium hold pomade evenly to damp hair and blow dry for added volume. Brush your hair back into place.
12. Having Short Hair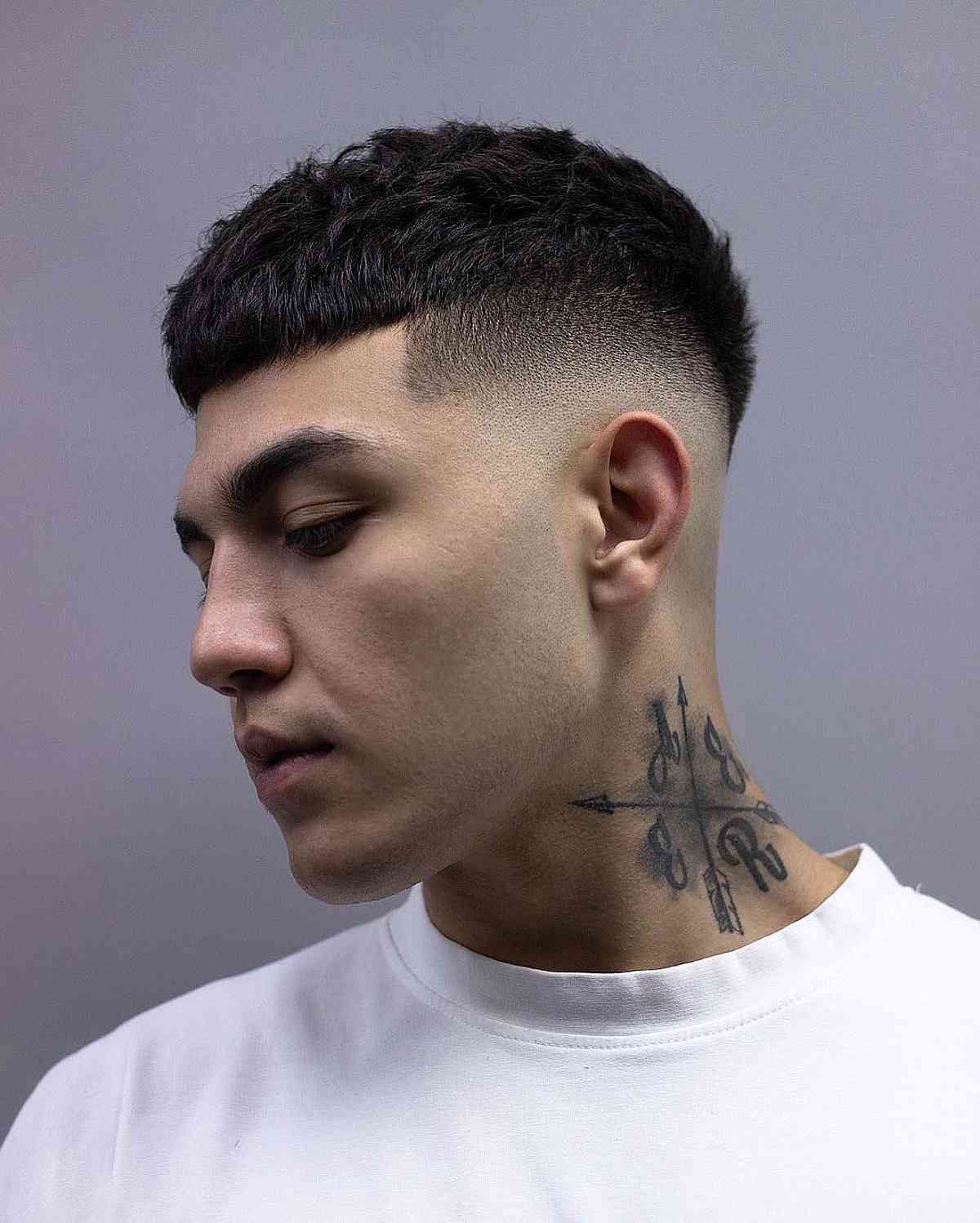 This short, skin-grazing bob haircut is stunning. To achieve this look, blow dry your hair. A classic but very cool look.
13. Long Hair Undercut around the Head (without fade)
Long hair complements the undercut very well. Again, the short sides are cut relatively high, giving the long hair a lot of movement. Backcomb the hair with a blow dryer to style this undercut. After the hair has dried, apply small amounts of medium hold pomade to the back and sides of the hair.
14. Mohican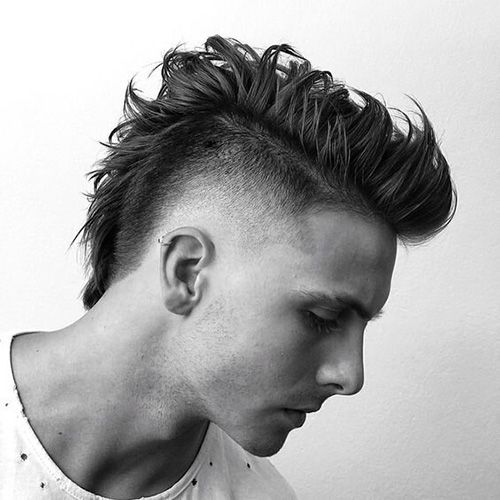 The well-defined gradient creates a Mohawk look. This hairstyle is seemingly distinctive and a good choice for people who love the Mohican effect.
15. Ocean Waves Undercut Design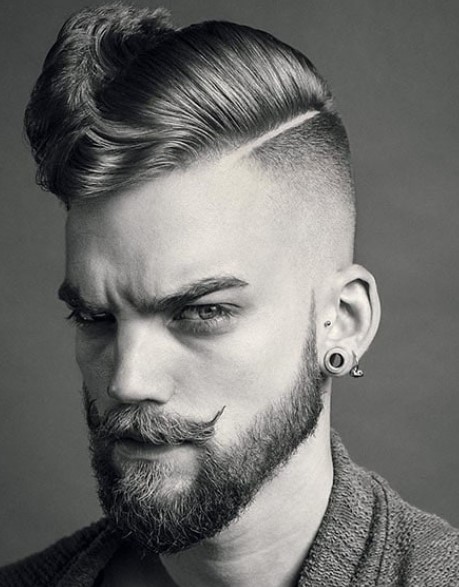 This undercut is fantastic. This haircut is one of the most creative and impressive. Medium length, thick wavy hair, neatly styled on top with bangs upwards like ocean waves. It was disconnected with a well-groomed beard that complements this incredible men's hairstyle—the best option.
16. Curly Fade Bald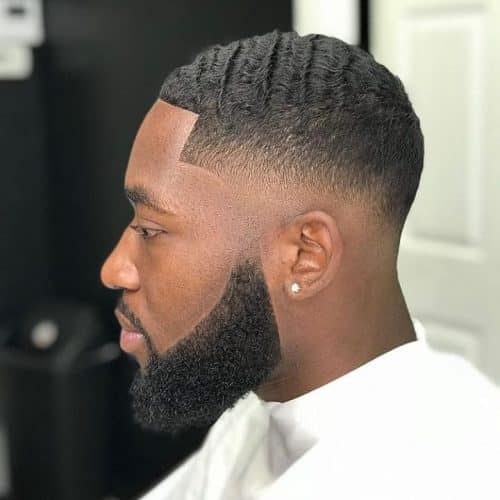 A high bald fade abruptly separates the long flowing hair on top. To style this undercut, towel dry or blow dry your hair and brush it away from your face. The curly hair here is the cherry on the cake.
17. Fantasy Undercut
Another excellent example of how to style an undercut in an imaginative way. Try the most unique and funky cut out of your imagination. You can go for different colors, different shapes as well as different textures.
18. With Fade to Skin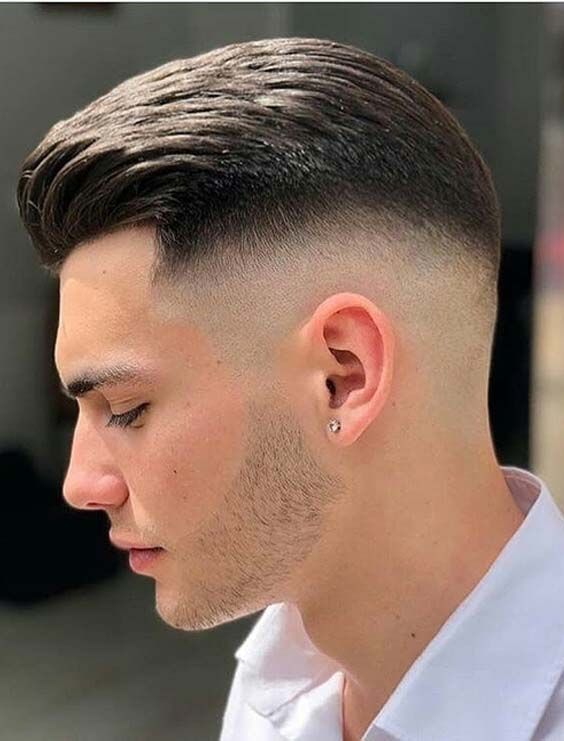 The fade is worn up to the hairline of the brow. The medium-length hair is combed back into place with a blow dryer for a more natural look.
19. Having Thick Hair
This is a very contemporary undercut style. The high bald skin fades, revealing thick black hair on top, styled in calm-looking waves or a quiff version.
20. With Wavy Pompadour
Another shaved part and disconnected hairstyle. The longer hair on top is blow-dried in a wavy manner for a more natural appearance. You will notice the linear-looking wavy look which is a unique feature of this hairstyle.
21. Long Messy Fashion with Patterns
One of the best men's hairstyles we've seen in a long time. This is a mash-up of several different styles. The undercut has longer textured hair on top that gives it a messy, spiky look and is styled in a longer fringe hairstyle cut from back to front. To keep choppy textures intact throughout the day, apply a strong hold pomade to slightly damp hair. What makes this hairstyle more attractive is its pattern at the shaved side.
22. Cool Pompadour
Another pompadour hairstyle that can completely transform your appearance. Blow dry your hair and apply a complete pomade to achieve this look.
23. Long Bangs
A completely different approach to styling a cut that has been cut differently than our previous examples. The sides are shaved short but not to the skin, and the bangs are left longer and hang down to the brow. This is a more natural-looking cut with less product and more to one side.
Other Articles