The hairdos worn at Coachella are an integral part of the festival. Everyone is either going to or performing at Coachella, as it is one of the largest music festivals that takes place each year. When going to Coachella, attendees typically plan their outfits several months in advance to look their absolute best, but what about their hair?
The music festival Coachella provides an opportunity to wear whatever you want and to sport a stylish and current hairstyle. If you're attending Coachella this year and are trying to figure out what to do with your hair, try one of these 25 different hairstyles, and your look will be finished.
1. The Bohemian Coachella Hairdo
Many girls want to look stunning, so they choose the best hairstyle. So, to look attractive, try the Boho Coachella Hairstyle. This look is perfect for a festival like Coachella because it is classic and elegant. You can easily manage your hair in this style. Combining a braided strand and open wavy hair creates a messy but stylish appearance.
2. Loose Double Braids with a Red Ribbon
Some young women prefer a slightly messy and unkempt appearance rather than a perfectly brushed and polished one. Any girl would look stunning wearing this loose double braid with the red ribbon. If you have hair approximately shoulder length or longer, you should try this one out for Coachella.
3. A Ponytail and Four Braids in Total
You will need to make 4 braids, with 2 on each side of the parting.
Make a ponytail out of the entire head of hair, and then fasten it with an elastic band. It can be pulled back into a low, medium, or high ponytail, but the higher it is, the better it looks because it provides more support and holds.
And now, we get to the part we've all been waiting for: applying for the ponytail extensions! This will completely change the appearance of your hair and will round out your overall appearance. Insert the clip into the base of the ponytail, then wrap the remaining small section around it and secure it with bobby pins. It's as simple as that.
4. Double Boho Buns with Twisted Braids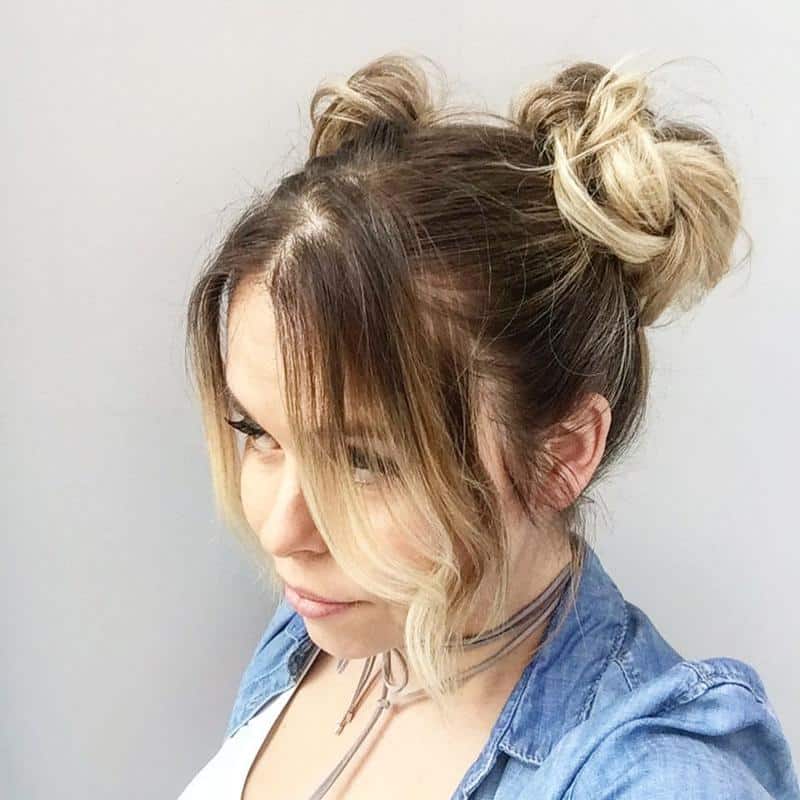 Double buns are a one-of-a-kind, boho-gypsy adaptation of the standard bun. The very first thing people notice about you is likely to be the way your hair is styled. The popular hairstyle of the 1990s, known as either double buns or space buns, is making a comeback.
5. A Relaxed Updo with Bobby Pins
If you have blonde hair that is medium length and you want a unique hairstyle, then the casual bobby pins updo is the hairstyle that you should try. It will be the perfect fit for you. When going to the Coachella festival, this slightly unkempt and uneven look creates the adorable appearance you are going for. To achieve the perfect look for this haircut, you should pull your hair back into a messy bun and tie it behind your ears.
6. Two-tiered Buns Braided Together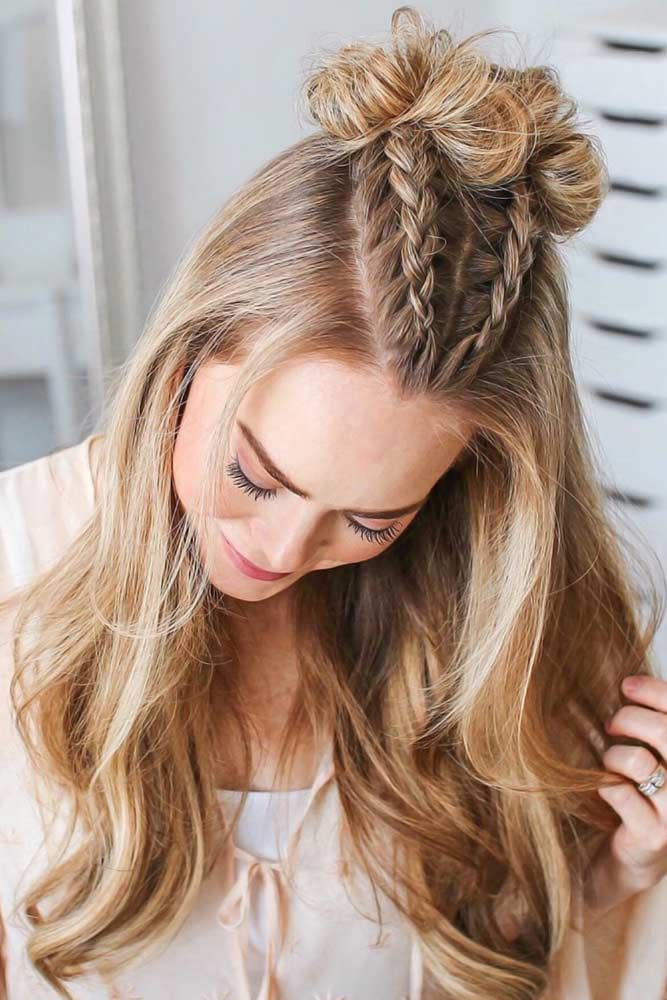 This particular haircut and style have been hovering below the radar for the past few months, but it will finally make a splash this spring.
Two braids should be done on each side, then those braids should be twisted into buns. This Coachella hairstyle is appropriate for use in any environment and has a very pretty appearance.
7. Gradation from Dark to Light, Long and Layered
Your hair's volume and movement can benefit from adding long layers. You can wear your hair up or down, as it is a versatile hairstyle that allows for both options. How you wear it is entirely up to you; regardless of how you arrange your layers, they will look fantastic.
8. Straight Cut in Medium Length with a Flower Crown
The straight cut is easily distinguishable from other styles because its shape is similar to that of layered cuts. Trying out this medium straight cut with a flower crown can be the perfect solution if you want to balance the volume in your hair's front and back. This hairstyle looks great with loose hair and is best suited for medium-length hair. In addition to that, it is simple to control.
9. Single French Centre Braid
The hairstyle known as a French braid has stood the test of time. They can be worn in various situations, look good on almost anyone, are comfortable, and exude sophistication. Because of this, they will always be relevant in fashion. This year, the French braid's already skyrocketing popularity appears to be reaching an all-time high.
10. Fishtail Braid on the Side with Medium-length Hair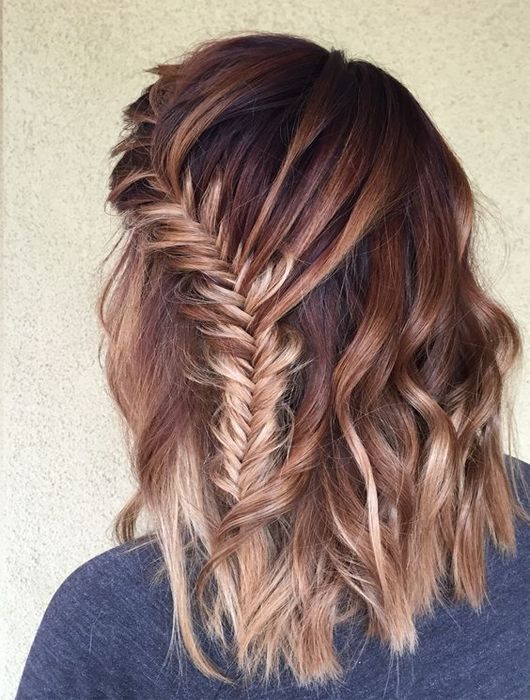 The French braid with a single center section is noticeably less difficult to execute and simpler and more elegant, and it can last for several weeks. The key to avoiding a messy and tangled appearance with this particular hairstyle is to keep in mind that the smaller the twist, the longer it will continue to look that way.
11. Messy Braid with Layers
This side braid has a messy appearance, perfect for achieving the laid-back style required for Coachella. You won't overheat as you move to the beat of the music, and it will take little effort to accomplish.
12. Layered Hair in a Light Blonde Wave Texture
Are you head over heels for your dark-brown hair that's so long? To put it simply, happiness is unavoidable. This particular haircut contributes greatly to the overall stunning appearance. The feature and highlight of the hair is the long blonde hair that is layered and wavy, and the style is also ideal in terms of how easy it is to manage the hair.
13. Hairstyle with Layers and a Braided Headpiece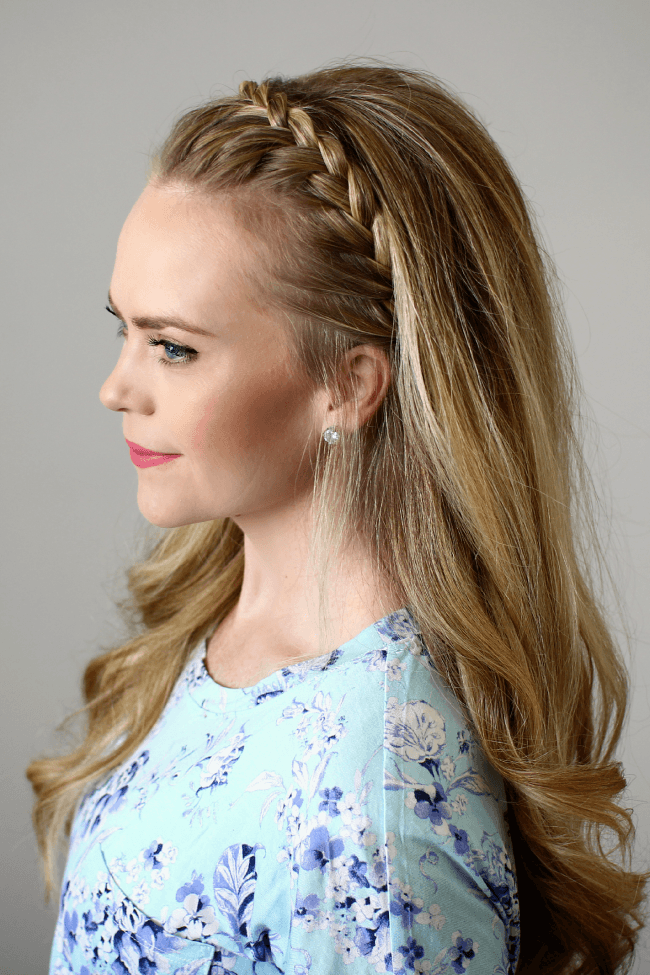 Try out a layered braided hairstyle for a timeless and sophisticated look. This style works well with medium to long hair and blonde hair. You might have some trouble getting the hang of it at first, but once you do, braiding your hair will be second nature to you in no time at all. After you have created the middle parting, you will need to braid your hair in three different ways. Your appearance can be elevated to a new level by adding braids down the middle of your head, front, and forehead.
14. A Disorganized Fishtail Side Braid Braid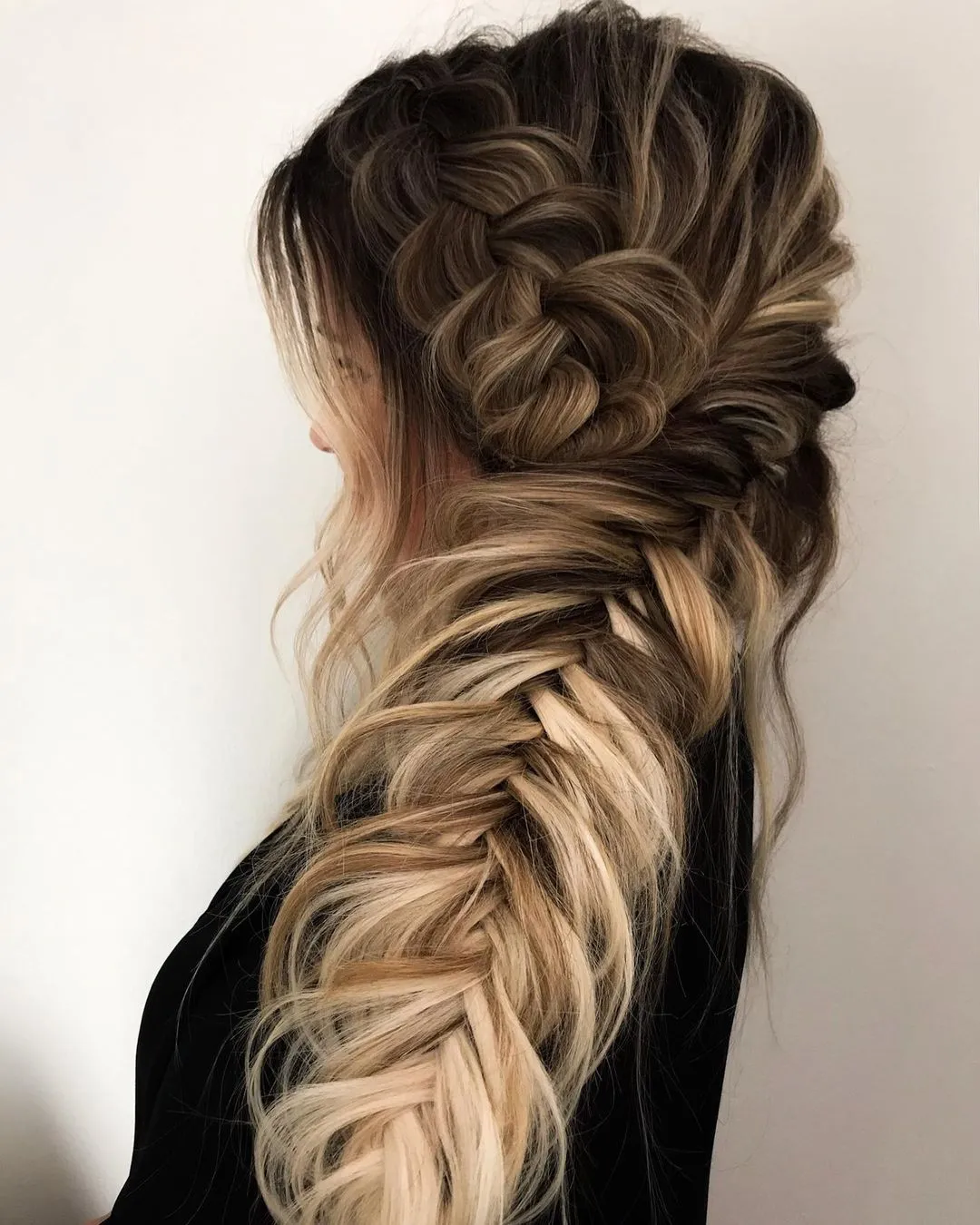 For this particular style of braid, we are required to section the hair and then braid it in the form of a fishtail toward our chosen side.
We must complete the braiding with the remaining hair, so let's get to it.
At the very end, to make the braid wide, we will need to extend out the braided knots. This will cause the braid to be flatter, giving it a more messy appearance, and it will also draw more attention to itself.
15. A Long, Black Hairstyle with Side-swept Bangs
Anyone and everyone out there who, despite jet-black hair, always chooses to go for the stunning look. This is certainly one of the gorgeous hairdos they have chosen for themselves. If you want a beautiful and confident personality, try this long black hairstyle with a side sweep. This hairdo is not only simple to maintain, but it also works wonderfully for curly or wavy hair types.
16. Lengthy Braids of Rainbow Colors in Pastels
This pastel-long tree braids hairstyle begins as a French braid at the nape of the neck and works its way toward the front of the head. You will first need to create very smooth braids to achieve this look and then allow them to flow upwards in front of and behind the face. Your appearance stands out from the crowd thanks to the multiple braids that are intricately woven throughout your hair.
17. Hairdo with a Wavy Double Bun
In recent years, many female attendees at Coachella have expressed a desire to experiment with the double bun wavy hairstyle to achieve a more refined and stunning appearance while attending the festival. It can be of tremendous assistance to young ladies who have hair of a finer texture. Additionally, the volume of the hair appears to be quite impressive.
18. Middle Parting Fringe Medium Hair
If you have medium-length hair and want a look that will make you stand out from the crowd, the middle parting with bangs is the one that will give you the best results. The length of the haircut extends beyond the shoulders. In addition, the honeyed waves provide the appearance of dazzling shine. Your appearance can be sophisticated and laid-back if you wear your hair in a shoulder-grazing length and give it a wavy texture.
19. Strawberry-blonde Curly Hair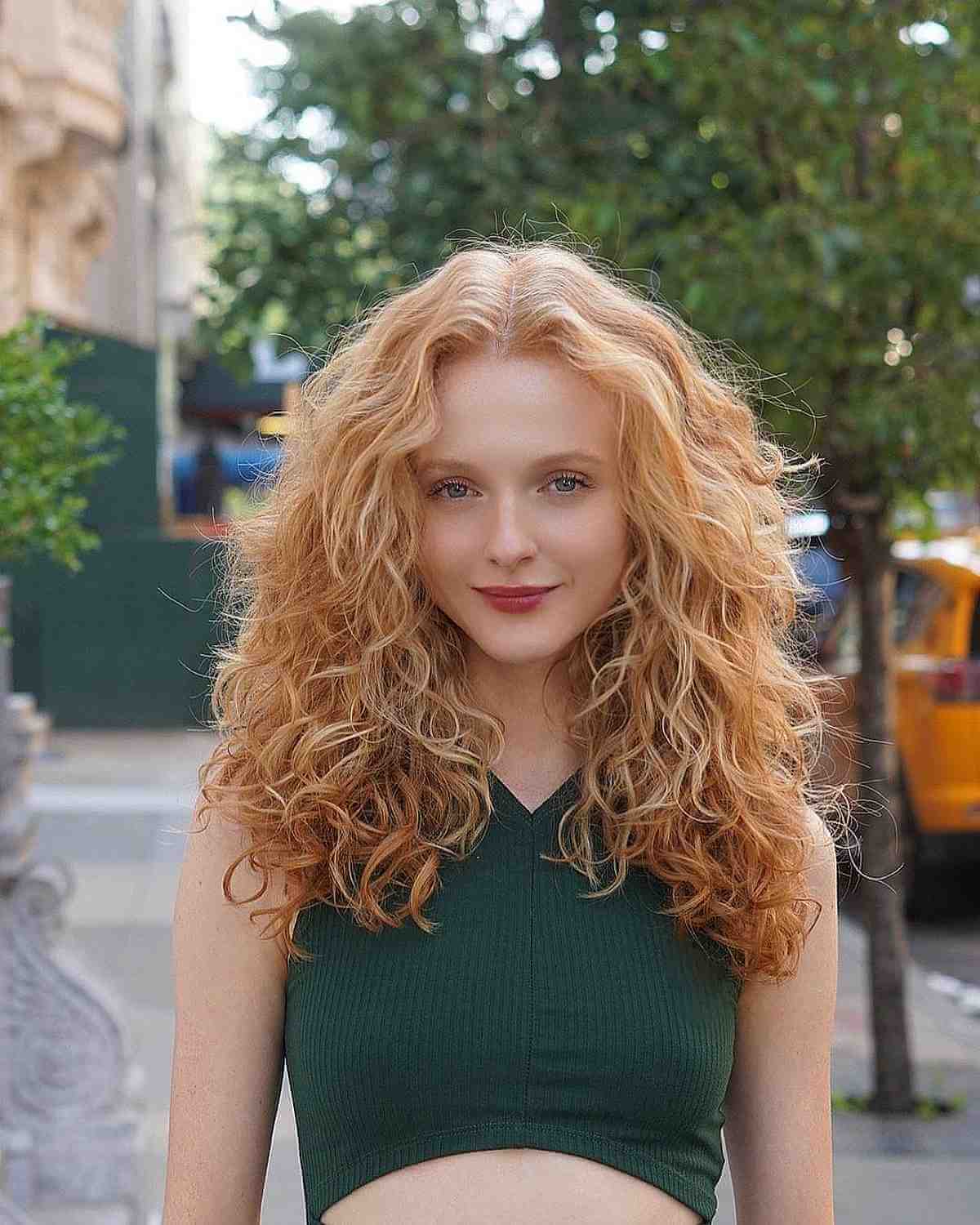 If you have long hair that naturally has waves, you need to make sure that you use this particular hairstyle so that you can look beautiful as well. People don't want their hair to be completely blonde, so strawberry blonde with long curls is the ideal hairstyle for those people. This hairstyle idea is the best.
20. Rose Gold Blonde Hair
Not only the color but also the most recent hair texture can give you the very best and most amazing look there is to have in terms of your personality. The honey blonde and rose gold highlights in your hair are also important components of your overall appearance. This long style that is soft and smooth style gives an even more positive impression by using the most recent hair highlights.
21. Multicolored Fishtail Braid with a Bun with Twists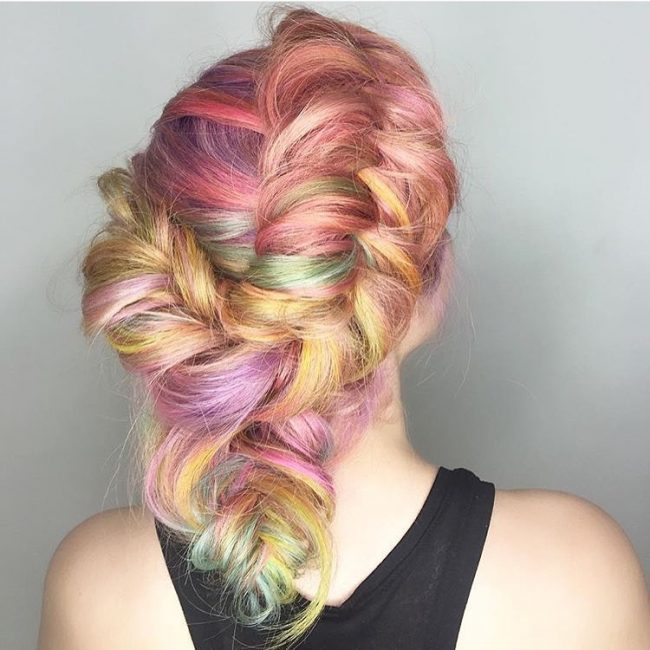 In addition to the brown, ash, or purple color, trying out the rainbow color on the head will look great on a girl. These colors are monochromatic. The rainbow fishtail braid topped with a twisted bun ought to do the trick for the rainbow color, and the gorgeousness and funkiness of the hair color contribute to the elegance and beauty of the look.
22. Glitter Highlight Double Bun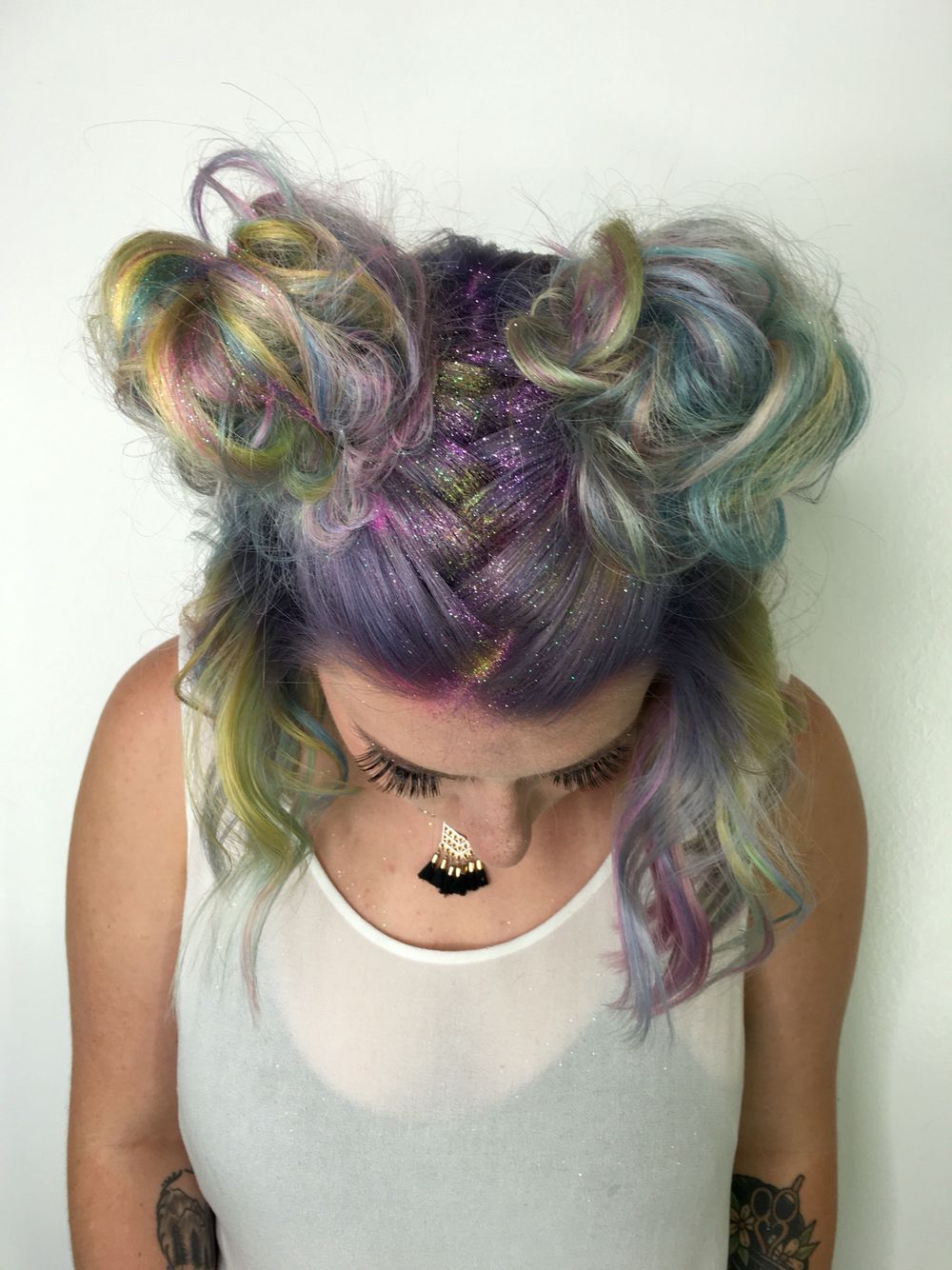 Girls with medium or long hair can achieve a fashionable look with minimal effort by creating a double bun with glitter highlights like the one pictured here. In the same vein, if you have some straight black hair that is shoulder length and shiny, you will be able to look very elegant if you do this particular style to your hair. This bun can conceal a lack of volume in the hair and thinning hair.
23. Pastel Green Choppy Bob
Coloring or highlighting the hair is one of the amazing and enjoyable things that women can try. This is one of the reasons why selecting a style like the Pastel Green Choppy Bob will look stunning at the Coachella festival. Those individuals in the crowd who enjoy having a disheveled appearance might find that this is their preferred mode of dress.
24. Macrame Side Braid with Short Hair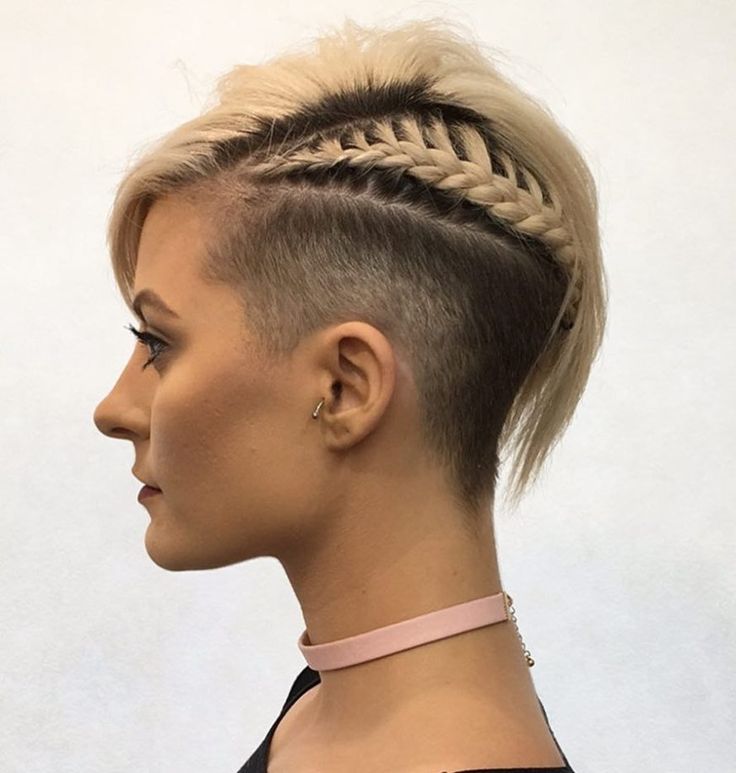 A macrame side braid can be created with short hair by crossing two braids at the nape of the neck and wearing them around the head in a circular pattern. They are flirtatious and fun, and they work best with hair that is longer. At the Coachella music festival, try out this low-maintenance look.
25. Dreadlocks Rainbow Braids
There are many different braids styles, but if you want to give your personality a fresh spin, try getting Dreadlocks Rainbow braids. If you try this particular hairstyle, you will appear very daring, fashionable, and attractive. Your appearance will stand out from the crowd if you use these colors and your hair in conjunction with each other. To achieve the most desirable appearance, first, you must section off the middle section of your hair, and then you must braid your hair.
ReplyForward