Getting a Taurus tattoo is unusual, especially among those who believe in horoscopes and the zodiac, as Taurus is one of the most popular Earth signs. Those interested in astronomy and constellations may have heard of the Taurus constellation, following the belief in astrology and horoscopes. Aside from that, several Taurus tattoos designs are available, such as bulls, deer, and others.
Whatever the case may be, you've arrived here because you're seeking distinct Taurus tattoo meanings. In addition, you will get the most extraordinary Taurus tattoo designs that we found and believe are worth looking out for and getting inspired by. Just keep scrolling through the Taurus tattoo list below to get the best tattoo that will suit your class and style.
1. Red Heart And Bull Skull Taurus Tattoo On Finger
A bull deer skull tattoos represent gentleness and kindness. It is culturally and spiritually significant, and it is thought to represent the passage between life and death. These days, antlers are pretty popular. Thoughtful tattoos ink produces some stunning deer skull tattoo designs, as well as their meaning and importance. Deer tattoos convey the same impression of power or protection as other animal tattoos. This tattoo is masculine hence meant for men who want something nice and easily noticed.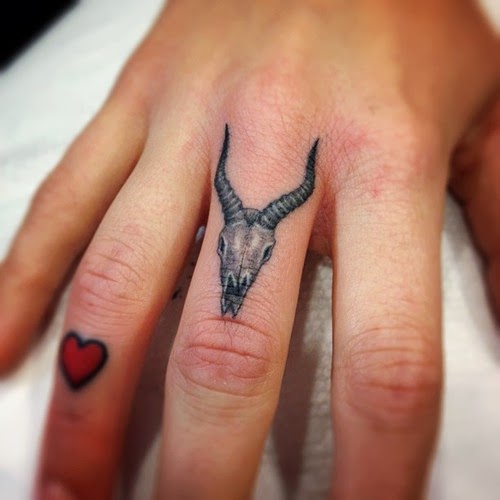 2. Geometry Taurus Tattoo
Geometric Animal Tattoo Ideas, such as this one, are pretty popular these days. From teenagers and adolescents to adults, almost everyone seemed to be head over heels in love with them. If you are a tattoo enthusiast tired of the same old tattoo ideas, the alternative above will provide a breath of fresh air. Getting a tattoo is a beautiful way to show the world how devoted you are to your profession or personal connections. They offer a classy look, and if you are that person who would like to get attention once in a while, this is the best tattoo for you.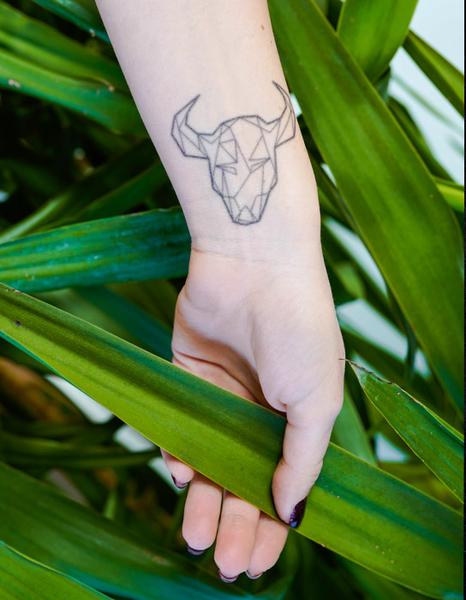 3. Taurus Bull Geometric Dot Work Tattoo
The geometric style of tattoos can resemble the appearance of a tribal tattoo; there is a comparable use of lines, patterns, shading, and negative space. Geometric dot work tattoos, on the other hand, tend to seem more minimalist than tribal tattoos. Tribal tattoos create a big statement with a big piece, generally on at least half a sleeve or leg. Geometric dot work shapes will have less shading in black and will generally allow for a splash of colour. Get this tattoo, and you will stand out of the norm and the crowd.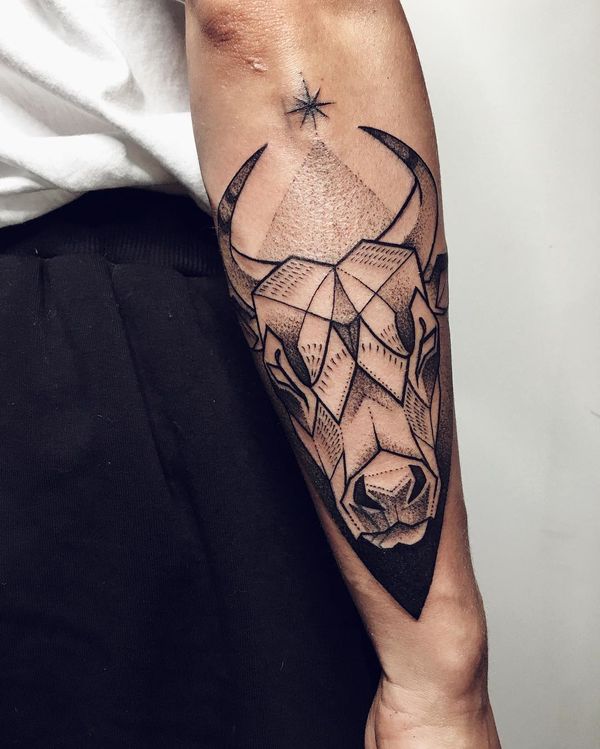 4. Taurus Zodiac Sign Tattoo
As one of the twelve Zodiac signs, Taurus is a popular tattoo design concept, much like any other Zodiac sign. Taurus people have a cautious, sensible, and persistent nature. It may be tattooed as a tribal Taurus tattoo, a powerful declaration of your strength, or a simple Taurus tattoo. Zodiac signs are a common choice for individuals interested in having body art done on their skin. Taurus zodiac tattoo is one of the most common ideas connected with emotion rather than an actual sign.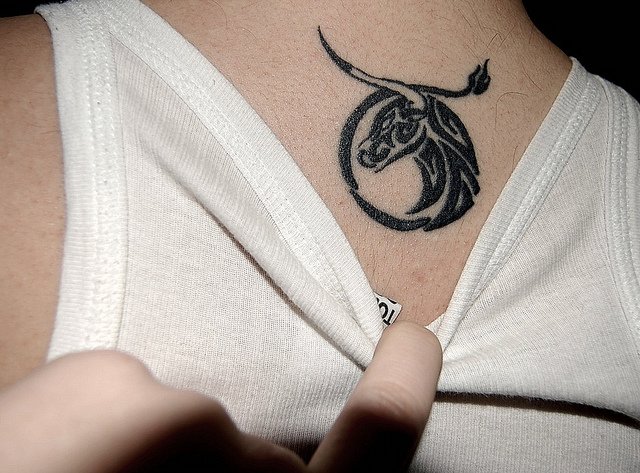 5. Small Taurus Hand Tattoo
Black Taurus tattoos are a trendy alternative. This is especially true when it comes to portraying reality. This is because it may produce a strong contrast on the skin without being overly crowded or bogged down in details. As a result, if you have a minor area or want to draw attention to one bull feature, choose a black or basic colour design. This can emphasize characteristics rather than being too distracting to the eye.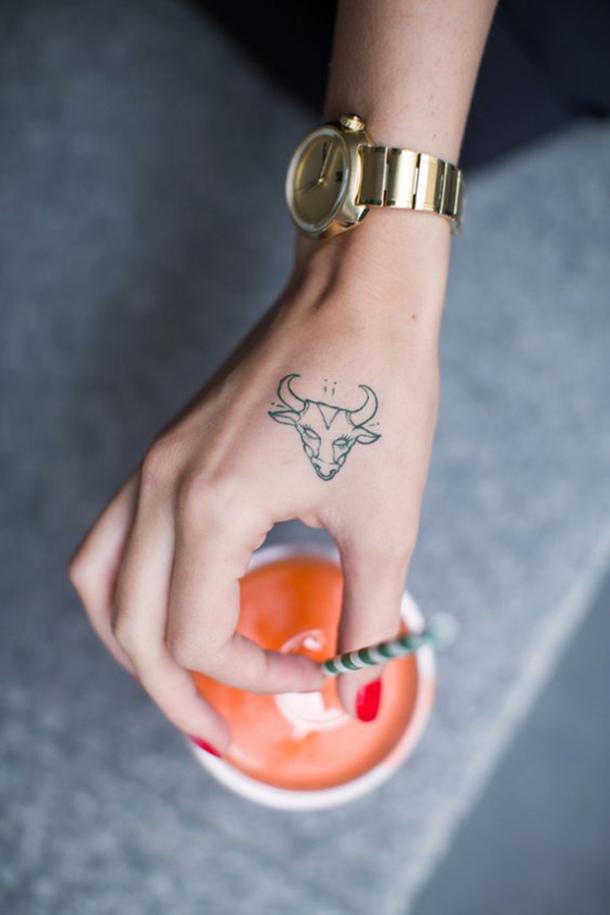 6. Taurus Longhorn Tattoo On Hip
The longhorn skull tattoo is a cow skull tattoo distinguished by its long, slender and gently curved horns. These cows and bulls are highly robust to severe environments. If you are from Texas or a rancher family, they are a fantastic tattoo choice that will help describe your love for ranching life and where you come you were born and brought up.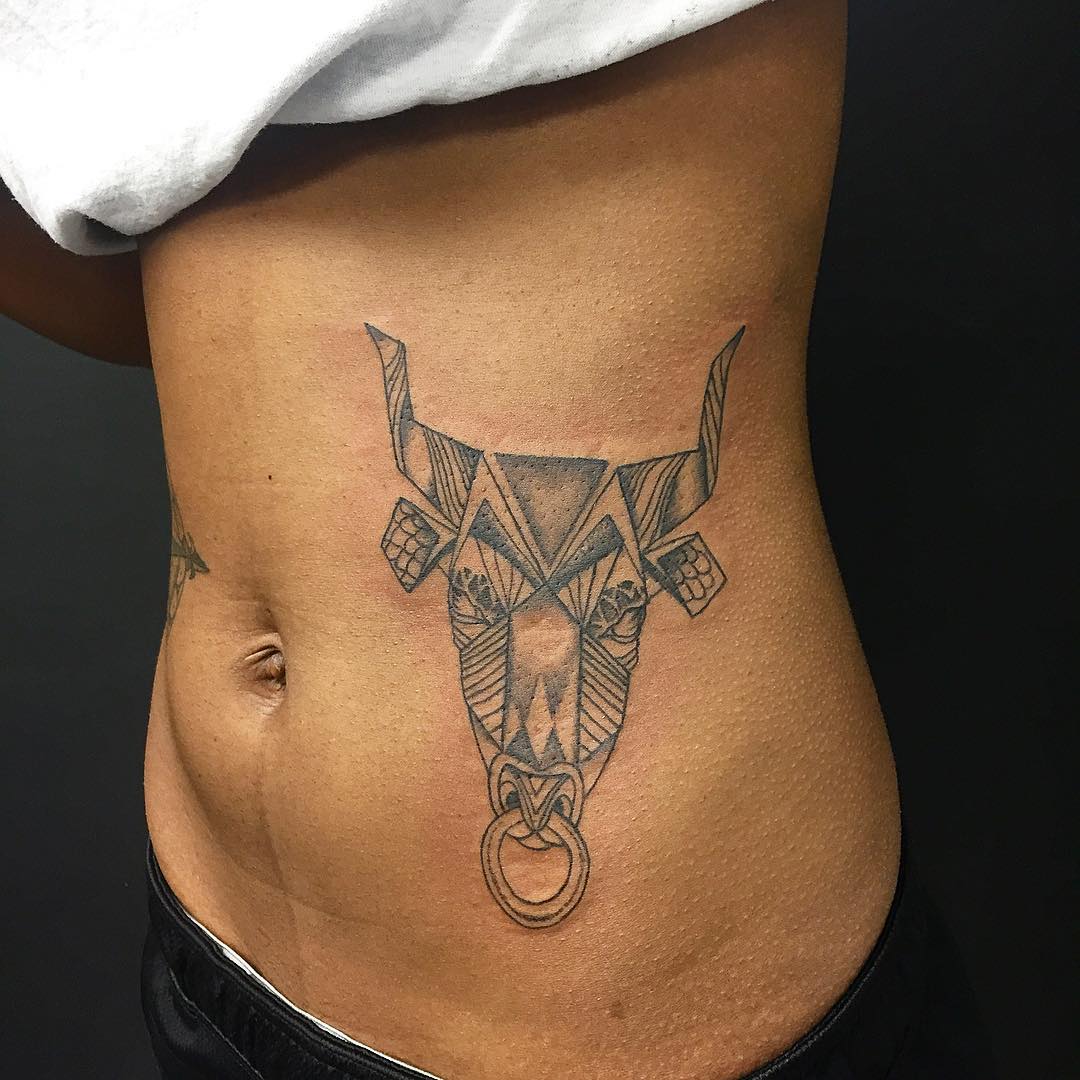 7. Bull Skull Tattoo
Bull Skull tattoos show off high amounts of testosterone while also evoking traditional Western notions. These horned countenances represent a genuinely high concept of manliness for several reasons. Bull skull ink brilliantly captures the unwavering power of a rough steer. In essence, these frightening powerhouses represent a commanding presence and a high level of confidence.
8. Taurus Tattoo For Men
Taurus skull tattoos are more often worn by guys and may be done in various designs and patterns. It is popular among westerners in the United States, Native Americans, and even Mexicans, depending on one's interpretation. With its bare skeleton of a face and horns, this bull skull tattoo might be interpreted as a symbol of death and destruction. Because of the large scale of the design, the bull skull tattoo is ideal for any part of your body.
9. Biceps Taurus Tattoo
Many people like to get tattoos that are basic yet have a more profound significance. Since a result, basic bull tattoo designs are an excellent choice for them, as the bull may be shown simply while simultaneously representing courage, power, and fierceness. It also exemplifies the elegance of simplicity, which may convey a more significant meaning through subtle design. This is one of the most incredible bull tattoo designs for men.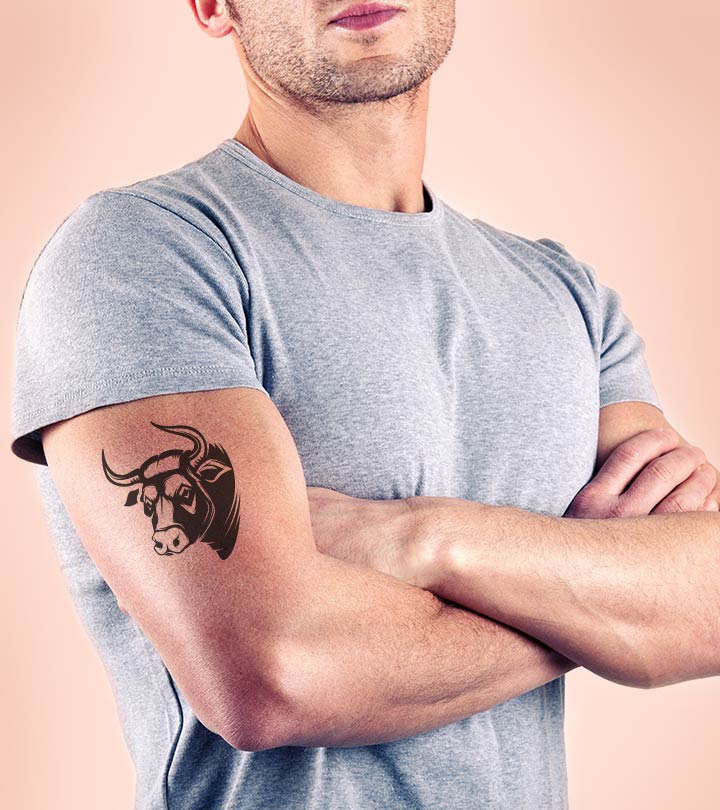 10. Tiny Wrist Taurus Tattoo
Taurus, the second sign of the zodiac, is an Earth Sign. In nature, any Earth sign is beneficial. The bull symbolizes Taurus, and it is preoccupied with making and saving money. Taurus is a Venus-ruled zodiac sign. But don't forget that Venus also controls Libra. However, in Taurus, the Earth sign, Venus is fond of materialistic items such as jewellery, real estate, and the like. Getting this tattoo will speak a lot about your personality without explaining the kind of person you are.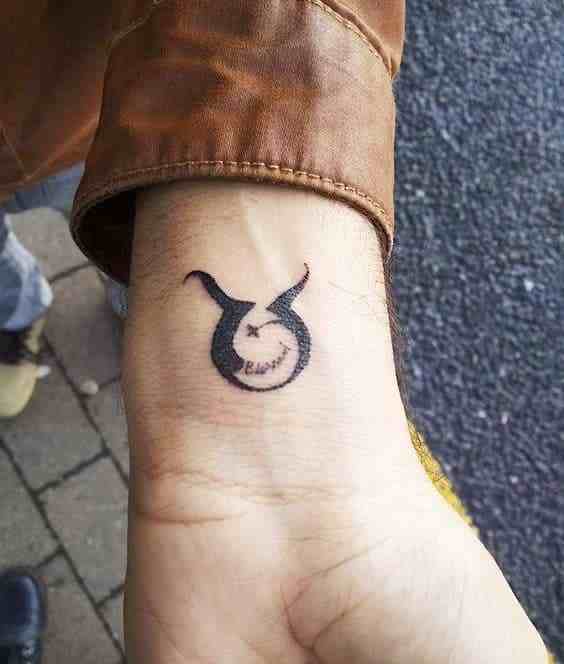 Conclusion
Before making a selection, make sure you do your research on your tattoo concept. Make sure that you fully comprehend what your tattoo signifies and stands for. You don't want to be tattooed and then find you didn't grasp the image's significance. It is conceivable that the tattoo you receive will not represent your beliefs or values! All the best as you get the tattoo off your selection.