Taurus is the most humble of the zodiac signs; they value tranquility and tolerance, which is why they are labeled as dull. However, if you know Taurus well, you will see that this is not the case. They are not seeking adoration, and they make excellent friends and lovers. Taurus is not as outgoing as Sagittarius or Aries, and they do not express themselves well. They do, however, have a strong sense of beauty because Venus, the goddess of passion and beauty, rules them. They are constantly attractive and have a wide range of clothing options. Taurus tattoos are no exception; there is no more imaginative or dramatic hue. They are, nonetheless, timeless and profound, and you will like them after many decades.
1. Small Taurus Zodiac Symbol Tattoo
Many individuals appreciate tattoos but are hesitant to show them off; even while tattoos have been more widely recognized around the world, there is still some stigma at schools and workplaces where people try to hide them. That is why small tattoos are becoming popular among those who are concerned about what others may think of their tattoo design. The most well-known little Taurus tattoo design depicts the Taurus zodiac sign's insignia. There are also other miniature designs, such as an ox, a bull, or a tiny star. If you wish to hide your tattoo most of the time, we recommend a zodiac sign, as they are quick to ink and easy to conceal.
2. Bull Taurus Tattoo
Males seeking Taurus tattoos typically choose a modest Taurus zodiac sign or a minimalistic design as their date of birth. If they want a massive tattoo, they can get a bull across their biceps, back, or shoulders. Bulls are aggressive and strong animals, which appeals to males who prefer a robust, furious, and striking design. One of the best Taurus tattoo designs for men.
3. Minimalist Taurus Tattoo
Simple Taurus tattoos can be completed in a few hours or in a single session and look exquisite without shading or different colors. These tattoos are quite appealing, and most of the time, simple forms and colors are enough to make anyone fall in love with the tattoo.
4. Feminine Taurus Tattoo
Many female magazines and television presenters make female versions of zodiac signs in order to depict them in a more delicate and feminine light. A floral tattoo, for example, is the most popular Taurus tattoo for women. Flowers may transform everything into something gentler, softer, and more passionate, such as a bull. Flowers are wonderfully arranged with a bull, as seen in the tattoo.
5. Aggressive Bull Taurus Tattoo
A bull is considered an aggressive animal. Furthermore, a bull is a bold beast with immense strength. All of these characteristics may be seen in this tattoo, which is done in grey and black tones. The tattoo represents strength and manliness, and it is one of the greatest Taurus tattoos for men.
6. Red Taurus Tattoo
Bulls are notorious for their short tempers and are associated with the color red. In this tattoo, the bull is artistically outlined in red, and it's a great concept for a Taurus tattoo.
7. Taurus Glyph Tattoos
The bull's horns are the most energetic and alluring portion of its body, and the Taurus glyph in this inked design emphasizes the horns. It's one of the cool Taurus tattoo designs.
8. Bull Skull Taurus Tattoo
A bull skull tattoo can be inked in a variety of patterns and motifs and is most commonly seen in men. This is one of the coolest Taurus tattoos available. It is more common in the westernmost of Mexico, Native America, and the United States. The bull skull tattoo represents destruction and death.
9. Charging Bull Taurus Tattoo
This tattoo depicts a bull with its horns pointed, heels kicking, and head down, ready to strike; it represents power and masculinity. It is the most popular Taurus man tattoo.
10. Taurus Celtic Tattoo
Bulls have long played an important role in Celtic culture. These tattoos, which represent fertility and courage, are popular among people of the Celtic culture. This tattoo of a bull's head with horns is worn as a decorative piece of art on the right shoulder. It will look great on both men and women.
11. Calm Taurus Bull Tattoo
A Taurus possesses many aggressive characteristics such as possessiveness, jealousy, and a relentless attitude, yet they also have a soft inner side. They are loyal, generous, and genuine in their friendship. This tattoo is wonderfully done in brown and black tones that appear to depict the tender inner side of a Taurus.
12. Taurus 3D Tattoo Design
3D tattoos are very popular. This pattern appears to be an image that was purposefully taken from the bull and pasted on the skin. 3D tattoos are appropriate for both men and women, and they can proudly display the ink everywhere they go.
13. Tattoo of a Taurus and a Poppy
The Taurus symbol's birth flower is the poppy. However, it does not signify beauty or love. Instead, it signifies the difference between life and death. So this little tattoo has a deep meaning and is an excellent Taurus tattoo for women.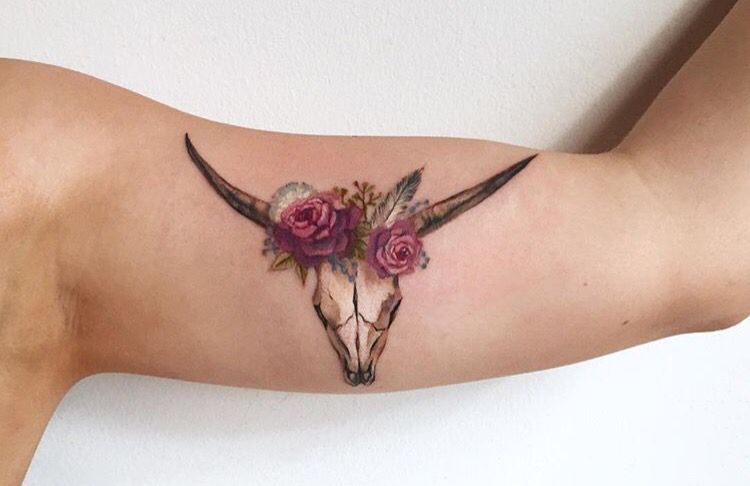 14. Taurus Constellation Tattoo
The Taurus constellation is one of the most common Taurus tattoo symbols. It's a wonderful option to consider while getting your tattoo done, whether you're an astronomy enthusiast or your Taurus zodiac sign dominates your behaviors and demeanor. You can also replace the stars in the constellation with flowers, foliage, or other vital features. If you want to give it a more realistic cosmos and galaxy vibe, you may also use different shading colors or add satellites, planets, or comets. Whatever you pick, constellation tattoos take much less time than more intricate patterns and can go almost any place you desire.
We applaud the tattoo artist's hard work and dedication in bringing these ideas to reality. We're confident it'll look even better once it's healed.
15. Large Taurus Tattoo
Unsurprisingly, many people wish to make their zodiac sign or their attraction to Tauruses stand out. As a result, there are numerous enormous tattoo ideas to consider while creating your own. A little line art goes a long way, looking clean and professional while also adding to the distinctiveness.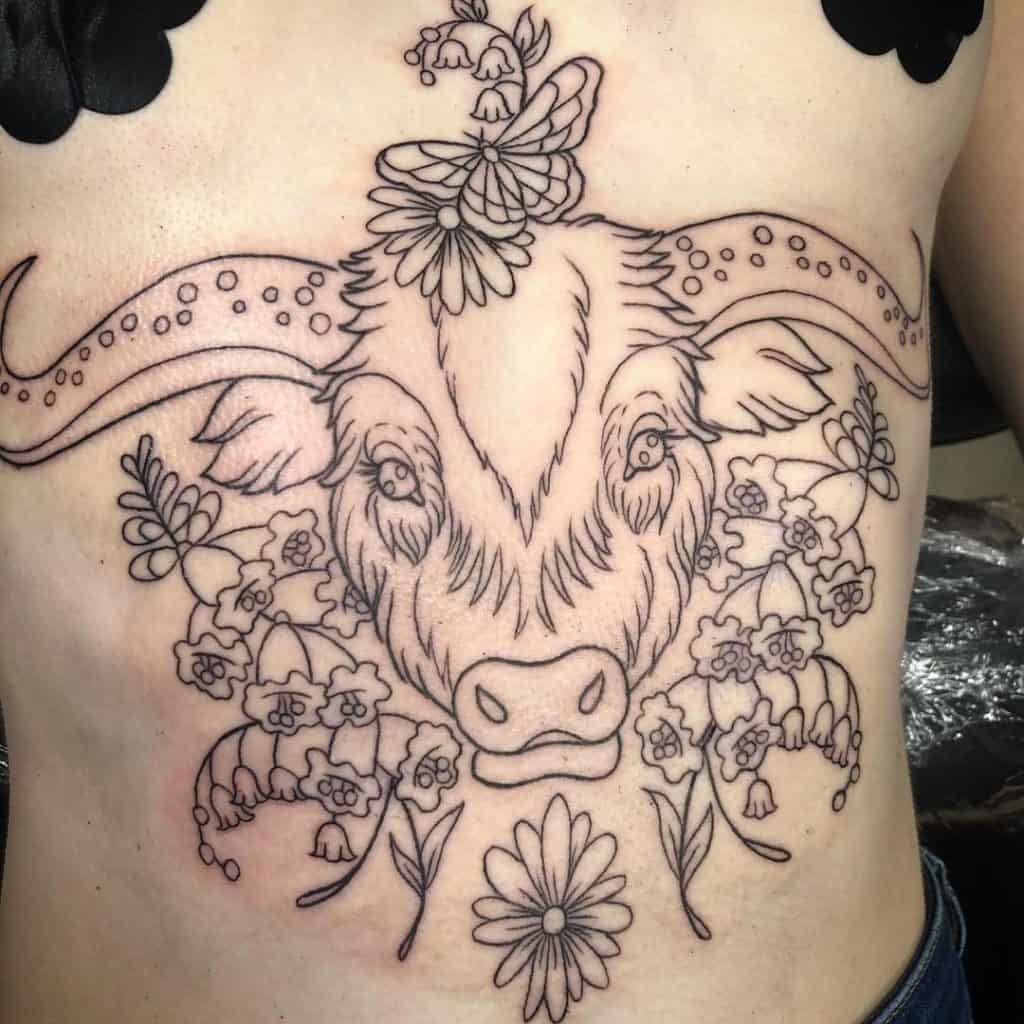 16. Watercolor Taurus Tattoo
People may get a look into your spirit and soul if they see your bright tattoo, which is exactly what we're aiming for with diverse tattoos. The second design investigates several Taurus tattoo representations, such as the zodiac, constellation, and bull. It employs a certain level of geometry as well as a palette of stunning colors.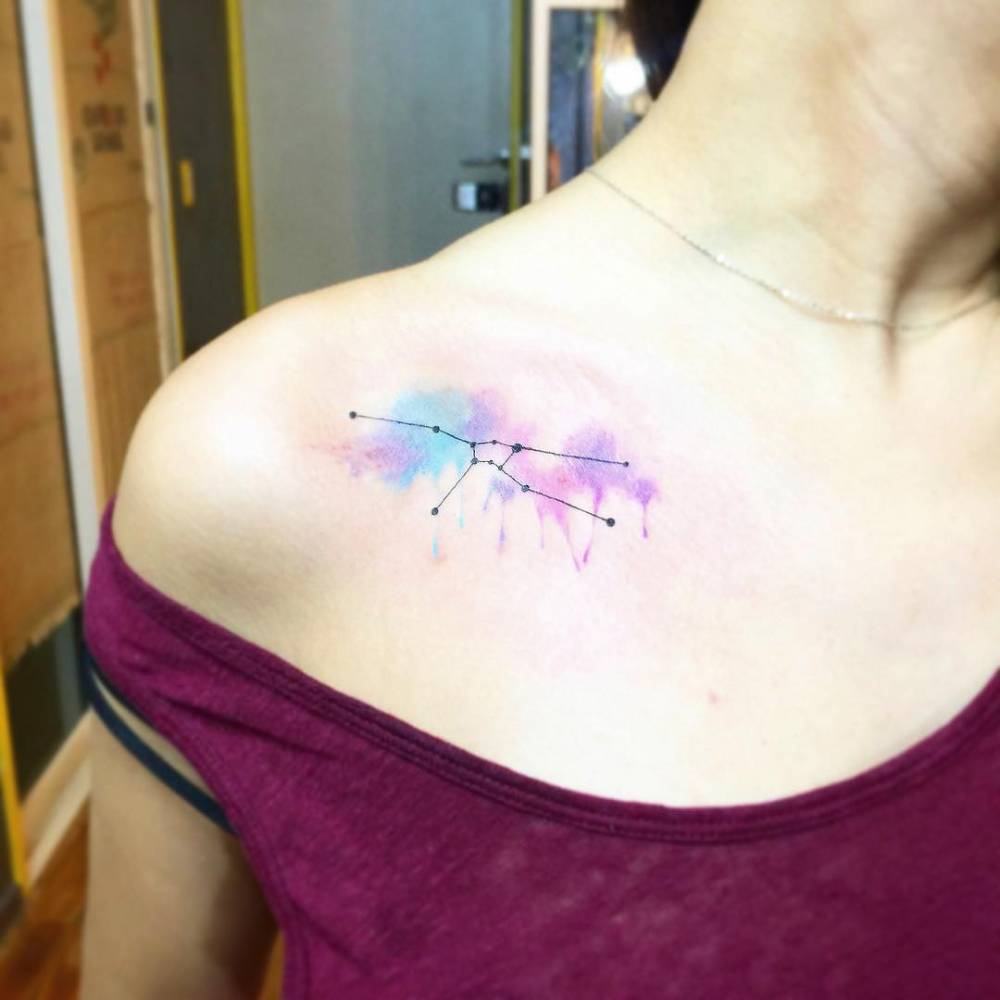 17. Tribal Taurus Tattoo
As you may know, Taurus is quite popular in the Native American tradition, which is why there are often bull tattoos covered in Native American adornments. The bull can also be tribal with geometrical symbols and knots that are a signature representation of the Celtic culture. You can even combine several shapes and cultures into one design of a Taurus. However, bear in mind that it'll make the tattoo more difficult to make and may take considerably longer. Consider adding some feathers, knots, leaves, flowers, and other decorations to make the design more tribal.
18. Circle Taurus Tattoo
Simple bull design inside a circle, representing Taurus. A great yet simple manner of adding creativity to a bull tattoo. These tattoos are mostly smaller in size and are not much detailed.
19. Mandala Taurus Tattoo
Mandala art is one of the most popular art designs among the youth. Adding these funky mandala patterns to your Taurus tattoo is going to make it more captivating.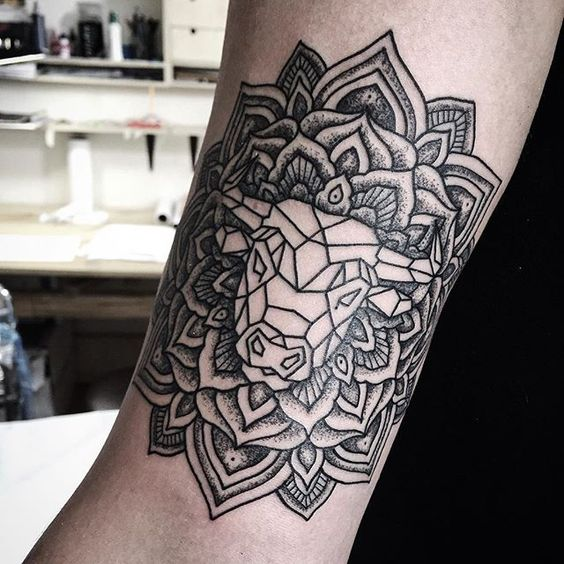 20. Geometrical Taurus Tattoo
The design of Taurus, either bull or the zodiac symbol, is represented within geometrical patterns. It looks very systematically planned and sharp because of the edges.
21. Galaxy Taurus Tattoo
The shades of galaxy layering upon the bull design or Taurus symbol. The colors look divine and add a hint of spiritual meaning to your Taurus tattoo.
22. Floral Taurus Tattoo
Flowers can add femininity to almost everything. Adding flowers to your Taurus tattoo can make it look more feminine. At the same time, it can point toward the soft characteristics of a Taurus.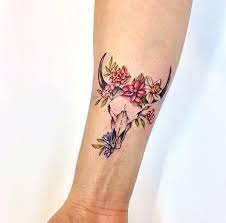 23. Cute Cartoonist Taurus Tattoo
This a cute approach to making a Taurus tattoo. It is for those who don't want to go with an aggressive aesthetic. This cute and funny-looking bull tattoo will make a statement in no time.
24. Face with Horns and Poppy Flowers
This is a unique design that an artist can make. It includes the face of a person whose sign is Taurus, with Horns and poppy flowers as their crown. Poppy flowers are the birth flower of the Taurus, and horns represent the Taurus bull.
25. Bow and Arrow Taurus Tattoo
The bow and arrow with a Taurus head growing out of it. It symbolizes the fighter spirit of the Taurus people.
26. Mountain with Taurus Tattoo
Incorporating mountain ranges with a bull or the Taurus glyph is a great way of adding nature to your Taurus tattoo.
27. Finger Taurus Tattoo
A minimalist tattoo of a bull or the Taurus glyph on one of the fingers. People usually choose the longest finger, which is the middle one.
28. Venus Taurus Tattoo
Venus is known to be the ruling planet of Taurus, which is a great way of adding creativity to the Taurus tattoo.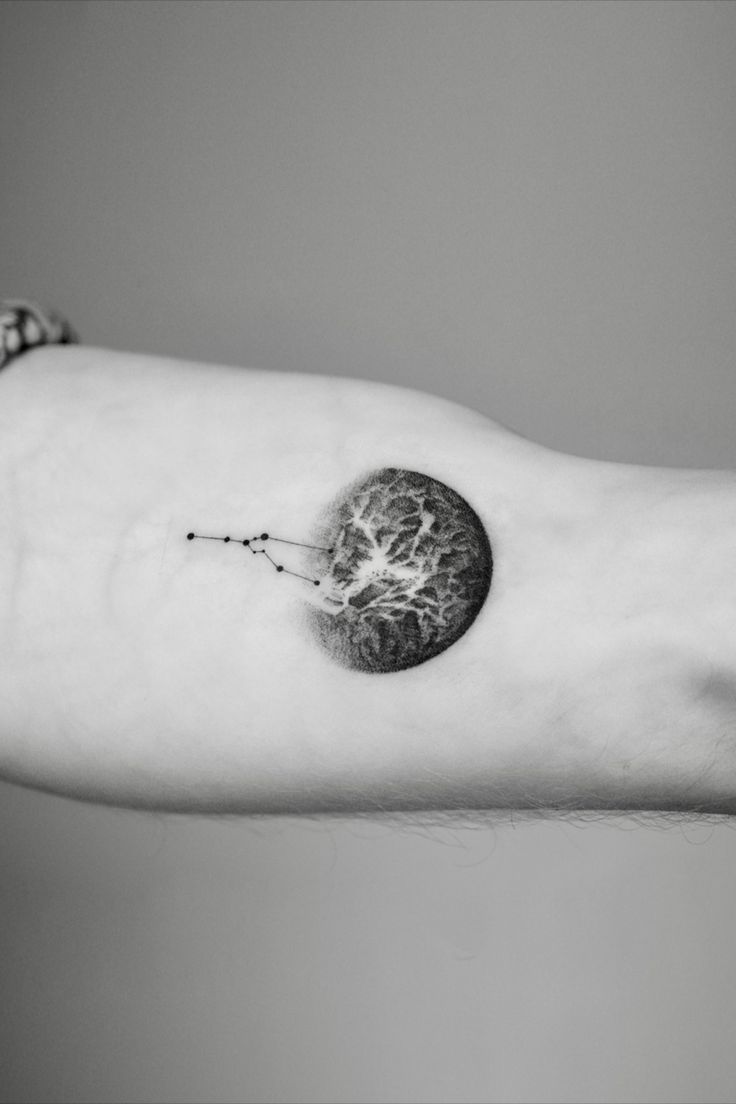 29. Dream catcher Taurus Tattoo
A Taurus tattoo that also looks like a dream catcher is perfect for those with creative instincts. It also serves a boho aesthetic at the same time.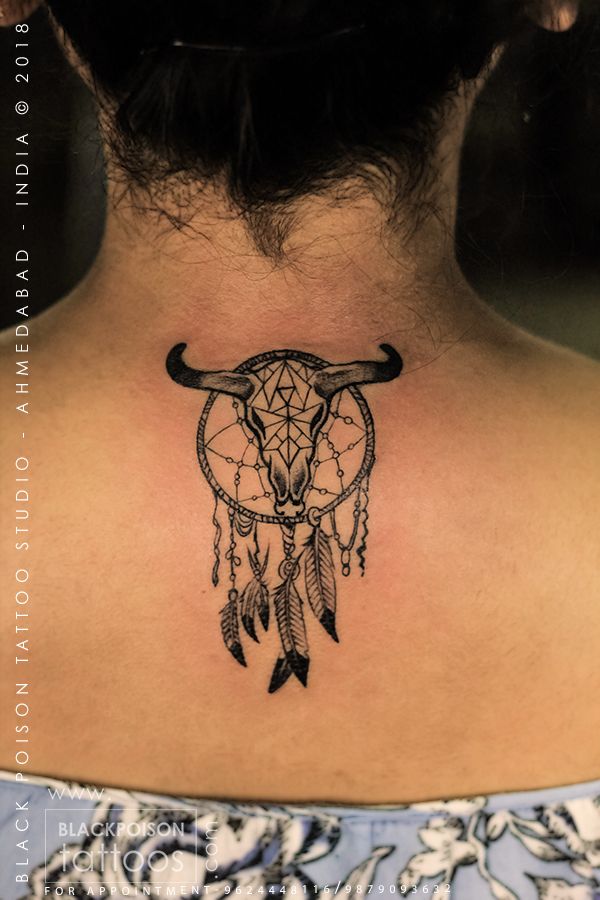 30. Heart Shaped
Turning the Taurus glyph into a heart shape is a simple yet effective move toward making your tattoo look more unique and less cliche.
Other Articles