The triangle is a popular tattoo pattern due to its diversity of symbolic meanings and connections in people. If you're searching for a meaningful tattoo idea, the triangle is a flexible choice. From the Eye of Providence in Christianity to themes of masculinity, femininity, and the shape's link to the number 3, a triangle is a varied option. There's more to the triangle in tattoo culture than simply the first idea of mathematics or geometric shape.
In numerology, three is also a substantial number; one represents force, two represents an opening, and three represents the knowledge generated by combining the two principles. Two triangles joined can signify humanity, and these tattoos frequently symbolize creativity as well. Below are triangle tattoos that carry a lot of meaning; keep scrolling through the list to get a tattoo that matches your selection.
1. Triangle Tree Tattoo
A tree growing in a triangle chalice has significant symbolic significance. The triangle's tree represents the Tree of Life. Immortality, knowledge, wisdom, strength, protection, abundance, and growth are all represented by a Tree of Life tattoo. All of these reflect a close-knit family, and this stunning triangle tattoo is the glue that keeps it all together. This tattoo is simple, sleek, and appealing, with deep significance. This tattoo can be applied to your arm, shoulder, or the back of your neck.
2. Triangle Feather Tattoo
This exquisite feather is featured in this skillfully crafted triangular tattoo. The feather is constructed so that it passes through the triangle and looks magnificent. The triangle represents a gateway to higher learning in Greek culture, while a feather represents spiritual protection and courage in Native American tradition. This tattoo can be placed on your arm, neck, thigh, or leg.
3. Geometric Triangle Tattoo
This basic and elegant geometric triangle tattoo is charming and minimalist. If you are a working lady who likes tattoos but cannot display them at work, this geometric triangle tattoo design is for you! You can wear it towards the back of your neck to conceal it under tops or dresses. This tattoo contains numerous triangles, giving it the ideal geometric triangle tattoo that is not overly intricate but still looks subtle and exquisite. This tattoo design can be inked on your wrist or foot. To make it more interesting, color each triangle separately.
4. Cool Triangle Tattoo
This lovely triangle tattoo offers a simple design with a splash of color. These two interlaced triangles, black and color, look lovely against the skin. To lighten up the tattoo, fill in the triangles with colorful motifs. This would make a lovely matching triangle tattoo design for you and your friends, family, or spouse. You can get it inked on your arm, wrist, neck, or ribs.
5. Infinity Triangle Tattoo
Infinity triangle tattoo designs are very popular among teenagers. Sophie Turner has a lovely infinity triangle tattoo on her left upper arm, which is attractive. An infinite triangle tattoo is made up of two or more interconnected triangles. This geometric pattern appears to be two or three overlapping triangles, but it is one continuous line that weaves over and under itself. These infinite triangle tattoos are often known as sibling tattoos' because they are typically obtained by siblings.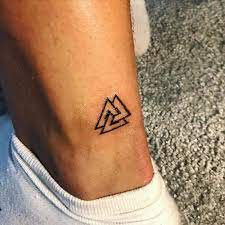 6. Simple Triangle Tattoo
Nothing beats a simple line tattoo of any design, and this simple triangle tattoo is not any exception! You do not have to worry about designing or positioning it. This small tattoo can go almost anyplace! You can wear it on your finger, wrist, neck, or behind your ear. Because its three sides symbolize the Holy Trinity, a basic triangle tattoo is frequently used to signify the Christian faith. Each side of the triangle represents the Father, Son, and Holy Spirit.
7. Three Triangle Tattoo
Who knew that three basic triangle-line tattoos could look so good? This three-triangle tattoo design exemplifies why simple designs are so popular today! These three triangle tattoos, elegantly placed along the upper arm, are glyph symbols used in the Greek language. This three-triangle tattoo can be inked on your fingers, wrist, or arm.
8. Two Triangles Tattoo
This gorgeous tattoo features two triangles overlapping and pointing in the same direction. In alchemy, two stacked triangles represent the elements of imagination and spirituality, fertility, birth, and expansion. In general, it represents creation and construction. This triangle tattoo has a beautiful flower motif added to it to make it more feminine and adorable. It's inked on the upper arm, although it can also be placed on the wrist, neck, back, or ankle.
9. Floral Triangle Tattoo
Three triangles overlap to make a black triangle tattoo in the center of this gorgeous tattoo. Its beauty is enhanced by a delicate vine crawling from the base to the top. It is delicate yet striking, and it will immediately catch the eye for all the right reasons. This pattern can be tattooed on your arm, back, shoulder, neck, or foot.
10. Triangle Rose Tattoo
Flowers and triangles look great combined as a tattoo. A rose with a black triangular outline is shown in this tattoo. Some of the rose is inside the triangle, while others are on the outside. The meticulous workmanship and delicate grey shading on this triangle tattoo make the rose appear lifelike and 3D. This triangle rose tattoo will look great no matter where you put it! You may even liven it up by adding some colors to make it more appealing.
11. Open Triangle Tattoo
An incomplete delta tattoo with a small opening in the triangle indicates that the person is open to new experiences. This beautiful open triangle tattoo is inverted and features a beautiful sunrise with mountain views etched within it. Only the sun is colored, while the trees and mountains are done in black and gray ink. This tattoo represents the person's openness to new experiences and willingness to go on a new route in life. Isn't this a lovely triangle tattoo with a meaningful meaning? This lovely triangle tattoo can be applied to your shoulder, neck, wrist, or upper arm.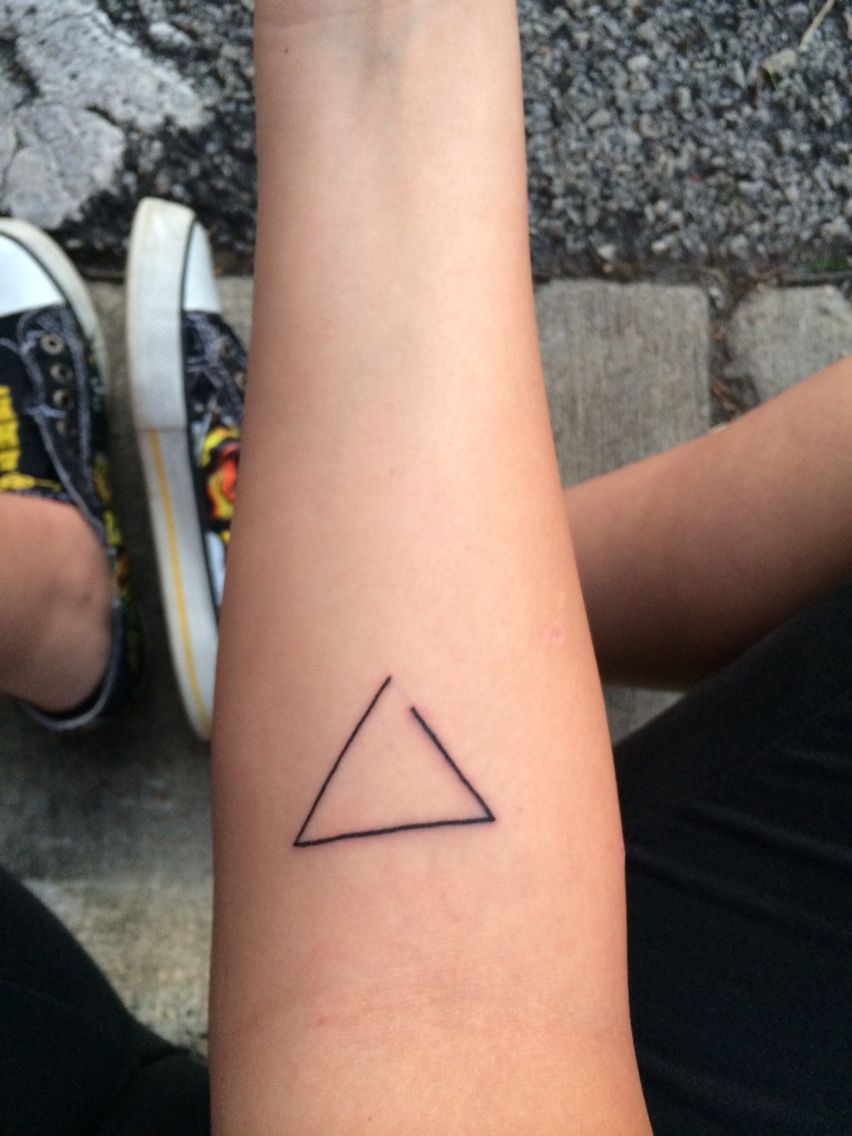 12. Three Triangles With Quote
This interlaced three-triangle tattoo is stunning and is elegantly put on the back with a quotation. It's called a 'equilibria' tattoo because it represents an equal balance of the past, present, and also the future. While the past and the future are unfinished and open triangles, the present is a complete triangle that holds everything together. This triangle tattoo design can be shrunk down and placed on your finger. You can even ink it with small lines on your foot, thigh, or shoulder, or do each triangle in a different color to reflect each stage of your life.
13. Red Triangle Tattoo
Ellie Goulding's first tattoo was a beautiful red triangle on her wrist. The red triangle tattoo, like the black triangle tattoo, represents the same symbolism. With its unfinished borders and hazy lines instead of clean, straight lines, this triangle tattoo appears to be water colored. If you're tired of the same old straightforward triangle tattoos, try this one, which isn't very unique but has a nice twist. It can be worn on a finger, wrist, neck, or behind the ear.
14. Celtic Triangle Tattoo
This Celtic sign is made up of three interlocking spirals and is known as the 'Spiral of Life.' It represents motion, mobility, and the mysticism of pure enlightenment as a journey through life. The three spirals, according to the Celts, depict the celestial realm, the mortal world, and the other world. If you believe in God's supremacy, this tattoo is for you. It also represents your embrace of being one with the infinite universe. Before getting married, it is common in Ireland for couples to acquire matching trinity knot tattoos. It can infect your arm, the back of your neck, or your leg.
15. Triangle With A Circle Inside
This amazing triangle and circle tattoo is captivating and stunning! The circle appears embossed, while the surrounding area is fuzzy and darkened. Putting a circle inside the triangle represents your belief in numerous lifetimes and that humans are born again and again, giving them a chance to set things right. This lovely triangle with a circle tattoo was created using the dotting technique, which produces a spray paint impression. And this tattoo, which is inked on the back of the neck, is truly stunning. You can also get it tattooed on your upper arm or shoulder.
16. Deathly Hallows Triangle Tattoo
If you're a Harry Potter fan, you'll appreciate this tattoo and understand its significance. The triangle represents the Invisibility Cloak, while the circle within the triangle depicts the Resurrection Stone, used to remember loved ones who have died. The Elder Wand is represented by the vertical line running across the center of the triangle. This triangle tattoo is ideal for Harry Potter lovers since it serves as a reminder of how you may get through difficult periods in your life. This tattoo can be worn on your wrist, upper arm, or back.
17. Love Triangle Tattoo
Love tattoos never get old or boring! And this one is no different. This lovely triangular tattoo features the word 'love' etched within its lines. This is an amazing choice if you want simple and minimalist tattoos. You can add a little heart or write the word in another color. Experiment with this design to make a unique love triangle tattoo.
18. Jewish Triangle Tattoo
The Star of David tattoo is another name for the Jewish triangle tattoo. It consists of two triangles that have overlapped to form a star and is a religious emblem that connects to Judaism and represents God's perfection. It represents the three corners of the world, heaven and Earth. A person who has this tattoo is said to be under God's protection. This tattoo is commonly worn on the wrist, neck, or any other body portion where it may be seen or flaunted.
19. Greek Triangle Tattoo
The triangle symbol in Greek is the letter delta, which represents positive change. It's a straightforward but important tattoo. The space within the tattoo denotes being open to change, while the triangle tattoo design represents strength and transformation. This lovely delta tattoo is made in a contemporary and chic manner. This tattoo is a gorgeous minimalistic design with thin lines, dots, and a stunning leaf branch. This tattoo is inked on the ribs rather than the traditional sites such as the wrist or arm. Doesn't it look lovely?
20. Egyptian Triangle Tattoo
Considering the Egyptian mythology, the Eye of Horus is a triangle with an eye. It signifies that God is always watching us, does not matter what we do or where we end up going. It also represents humanism, concentration, perception, and protection from evil. This gorgeous tattoo is placed on the back of the neck. You can also tattoo it on your arm, chest, leg, or back.
21. Triangle Couple Tattoo
If you want to obtain a couple of triangle tattoos, the orientation of the triangles might affect the connotation of masculinity and femininity. Masculinity is represented as a triangle pointing upwards. In this example, a triangle tattoo depicts qualities typically associated with men, such as aggressiveness and power. A downward-facing triangle, on the other hand, indicates femininity concerning a woman's womb. This is also a symbol of passivity, refuge, and motherhood.
22. Splashy Triangle Tattoo With A Rainbow On Arms
Did you know that rainbows represent faith, bright days ahead, hopeful thoughts, and hope? Everyone is aware that light emitted by a prism disperses into the colors of the rainbow and seems incredibly beautiful. It's a fantastic tattoo design that's been created for the arm. The scattered colors are also striking inside a triangle, which is a popular style right now.
23. Watercolor Nature Tattoo
It's no secret that people love small tattoos, as seen by the number of individuals who get them, watercolor tattoos being among their favorite small tattoos. The vibrant colors, exquisite details, and playful patterns combine to create works of art that we didn't realize we needed. There are so many various methods to adorn your body that make watercolor tattoos so unique.
24. Geometric Triangle Tattoo
This essential and beautiful geometric triangle tattoo is adorable and minimalistic. If you're a professional lady who likes tattoos but isn't allowed to show them off at work, this geometric triangle tattoo design is for you! You may wear it towards the back of your neck to conceal it with undershirts or skirts. This tattoo has several triangles, giving it the ideal geometric triangle tattoo that is not overly difficult but still looks subtle and exquisite.
25. Double Triangle Tattoos
This tattoo is be used to communicate a variety of messages. Depending on how they are arranged, they may create a variety of designs. Because it is a basic design, you may experiment with the location, size, and several triangles. If you like patterns, the tattoo is designed so that the lines contact each other, forming a consistent pattern over the tattooing area.
26. Wrist Triangle Tattoo
The triangle symbol is simple, but it has significant implications, and it frequently appears in new school tattoo designs. One of the most popular areas to be tattooed is on the wrist. It's a great spot if you want to stare at your tattoo all the time. Also, in the past, the wrist was thought to radiate spiritual energy, making it an ideal location for a meaningful symbol. Triangle tattoos have a deep spiritual value in Christianity since they symbolize the Holy Trinity.
27. Inverted Triangle With An Eye
This sign, also known as the Eye of Providence, is sometimes referred to as the all-seeing eye. The all-seeing eye is a primary yet powerful symbol that may be readily adapted to fit any tattoo style. It works well as a standalone piece or as a potent symbol inside a giant tattoo. A triangle with an eye in it is known as the Eye of Horus in Egyptian mythology. It means that God's sight is always watching over us, no matter what we do or where we go. It also stands for humanity, focus, vision, and protection from evil. This tattoo is placed on the arm and looks stunning. You can also get it inked on your neck, chest, leg, or back as well.
28. Impossible Triangle Tattoo
It shows an item that could never exist. The Impossible Triangle cannot exist because the rules of Euclidean geometry would have to be broken for it to exist. It's termed an impossible triangle since it's hard to tell where the triangle begins. This is a lovely yet easy unimaginable triangle tattoo design. This one was created using only black and gray ink. Wear it proudly on your sleeve, arm, or wrist, and this incredible tattoo will make you stand out and always get noticed.
29. Penrose Triangle Tattoo
What better way to display your appreciation for optical illusions than to have a Penrose triangle tattooed on your body? Its designer envisioned the Penrose triangle as an impossible item; the Penrose triangle is also known as the Penrose tri-bar. The Penrose tattoo is a two-dimensional triangle that appears three-dimensional. This Penrose triangle tattoo has a lovely mandala pattern surrounding it to liven it up even more. Isn't it breathtaking? This Penrose triangle tattoo with a mandala pattern is to be applied anywhere on your body.
30. Triangle Tattoo On Ring Finger
This particular style is an excellent method to express a variety of aspects of a relationship. The tattoo triangles might be a sign representing your partner's nobility or a personal emblem. They might resemble mountains, symbolizing the strength and beauty of your love. Depending on what it signifies to the wearer, it might mean something entirely different.
Having Said All That
Aren't these triangle tattoos incredible? The list for triangle tattoos is endless; you may be creative with your triangle tattoo to make it stand out and give it a spiritual meaning. Triangles represent a variety of things and are utilized in a variety of tattoo designs. Triangle tattoos, no matter how simple they appear on the surface, contain more meaning than not. Choose a layout and personalize it with your life events and tales. We hope these lovely triangle tattoo designs have convinced you to get one triangle tattooed on your body!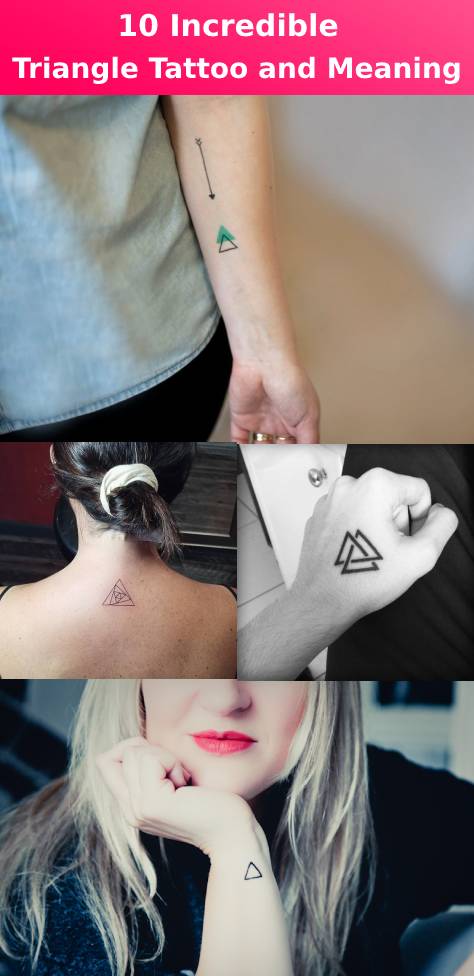 Other Articles