Women and their hair accessories are inseparable. She is a queen and deserves to dress up like one. The hair accessories or the hair jewellery as they adorn her mane, simply make her feel like a queen. Hair accessories are limited not just to the tiaras but have gone a long way and now have become an integral part of her style statement. There is a wide array of the hair accessories for you to choose and add the oomph factor to your personality. Hair accessories are a great way to add the sparkle to your hairstyle. The best part is that grown-ups also can have lots of accessories as why should only kids have fun.
When the options are limitless, you may be confused as to what may be the best suiting hair accessory for. Here are a few tips that can help you to select the hair accessory as per your face type.
1. For Oval Face
Blessed are the ones who have an oval face as they can rock their look with any of the hair jewellery or accessory.
2. For Round Face
The only factor that you need to consider while selecting accessory for your round face is that it should take a bit of roundness of your face and not add to it. Also, let a few strands of hair fall on your face to give it a bit of shape.
Heart shape face looks good with accessories like simple hairpins or hair comb pins on one side of your head. These accessories will give frame to your face as one side of the hair will fall teasingly on your face. Also do not push the entire hair back instead tie them at the top or leave a few strands loosely on your face.
3. For Long Face
A long face can also pull off most of the hair accessories only if it can focus on the special features of your face. A headband can be your best friend as it will make the forehead look smaller and drive attention to the eyes.
4. For Square Face
Any hair accessory can tie your hair pulling back tightly will be the best option.
Let's Explore The Beautiful World of Hair Accessories
Bow Hair Accessories
Bow: The cutest hair accessory that is wardrobe essential for girls irrespective of their age. A ribbon can also be used to tie a bow on your hair. Or simply make a bow and add Velcro or clip to it and use it to add style and cuteness to your look.
Hair Comb Pins Accessories
Hair Comb Pins: They were the first hair accessory ever and were there in existence even before the stone age. They look elegant and can be used for any hair length. Even they are a good option if considered for wedding hair accessories.
Hair Clips Hair Accessories
Hair Clips: Hair clips are the most common and the versatile hair accessory that can add a bit of beauty and sass to your hairdo. The options are limitless which includes barrettes, banana clips, duckbill clips, flat clips and so many others.
Hairbands Hair Accessories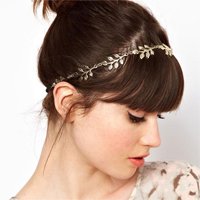 Hairbands: Hairbands have become widely acceptable from kids to grown-ups from girls to boys all are simply going nuts after these hairbands. Here also the option is limitless from thin to broad, round to elastic ones, just as per your need select any of the options.
Elastic Bands Hair Accessories
Elastic Bands: They are an essential hair accessory, and on a bad hair day they are the saviours. With the changing fashions even decorated hair bands are now available.
Headbands Hair Accessories
Headbands: They have stood the test of time and distance and are being widely used even now.
Pearls Hair Accessories
Pearls: They are the most classy and elegant hair accessory, and even they find a place in the wedding hair jewellery. The pearl necklace that is in your necklace section use it as a headband or combine it with your bun and look all the more ravishing.
Flowers Hair Accessories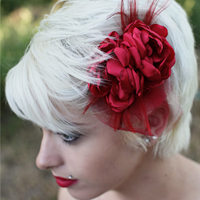 Flowers
: Nothing can make women look more feminine and elegant than flowers. They have been a women's best friend since ages and continue to do the same. Artificial or real they are your wardrobe special. Even for a wedding, hair jewellery flowers look very classy.
Hair Pins Accessories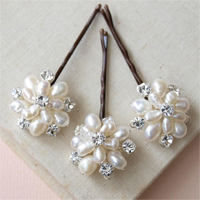 Hair Pins: While the pins are efficient but they look awesome. A small simple pin can add class to your entire hairstyle. Pins come in varied shapes and of material, and they look incredible.
Big Hair Clips Accessories
Big Hair Clips: These are the essentials in the list of your hair accessory. Grab a designer big length hair clip to adorn your mane. Even for wedding hair jewellery, they are one of the best options.
Hats Hair Accessories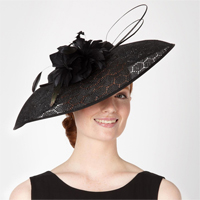 Hats: Perfect rescue for your bad hair days or the sunny day or a windy day at the beach, they are simply your best friend. Hats can add mystery and elegance to your overall look. A veil with hat adds sophistication to your look.
Scarves Hair Accessories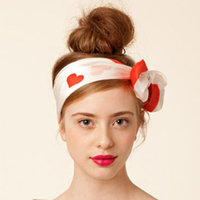 Scarves: Scarves are versatile they protect your face from heat and dirt and add oomph to your outfit or simply rock your hair.
Tiara Hair Accessories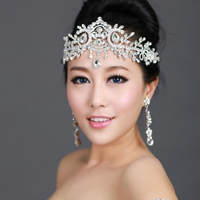 Tiara: We all have dreamt of putting that tiara on your head. The small ones or big ones they just make you look like a princess or queen. There are a lot of tiaras be it simple or sophisticated they make you look fashionista with it on your mane. Importantly it will not make you look childish but make you look like a diva.
Hair Jewellery Hair Accessories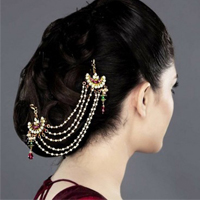 Hair Jewellery: Indians have always worn it as a part of their traditional wear but now they can also be worn with modern trendy dresses. They make you look elegant and beautiful.
Hair Rings Hair Accessories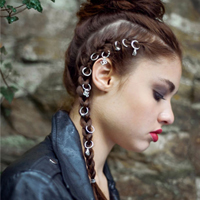 Hair Rings: The new entrant in the market of hair accessory is this hair rings. They look stunning and take your look to another level. These rings look super cool on anyone.
Beanies Hair Accessories
Beanies: Beanies are not only the best winter wear, but they look cool on your short or long hair. They help to give a perfect shape to your face. A lot of celebs are also sporting this beany as a part of their ensemble.
Feathers Hair Accessories
Feathers: They have been in fashion since time memorial. Feathers add drama and style to your look.
Ribbon Hair Tie Accessories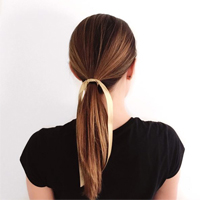 Ribbon Hair Tie: Simple and very cheap they are playful to wear. You can get a makeover with this ribbons use either thin or broad ribbons they will look stunning.
Hair Coils Hair Accessories
Hair Coils: They are the best for thin braids or twists. Large options are available in the coils right from beads to crosses to leaves and stars and any other cute looking tiny creature.
Wreaths Hair Accessories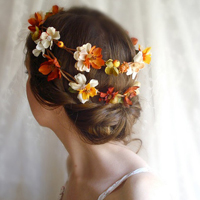 Wreaths
: Flowers add happiness to your face and life. Try the flower wreaths or the leaves one they will add elegance and volume to your hair.
Verdict
Whatever may be your hair length or texture, or hair colour there is a perfect accessory for your style to make you look super ravishing and take your look to another level.
Other Articles