You may want to get the sun tattoo and the moon tattoo individually on your skin, but if you want a beautiful tattoo, you should not ignore combining these two ancient symbols. Since the dawn of time, these symbols have been essential in all societies. Are you thinking of having a sun and moon tattoo? Continue reading to find out what the meaning of these tattoos is, as well as the different varieties that exist! Who knows, you could even get some ideas for your future tattoo.
Significance
Each has its symbolism, but when combined, they have special connotations that, as we will discover in greater detail later, speak of life and the passing of time. And, given how popular it is among men and women, it's hardly surprising that it has such clout. The moon symbolizes creation and feminine mystery, while the sun provides energy, light, and heat. In a tattoo, the sun and moon are two opposed poles that come together to form a harmonious one, much like the Yin-Yang symbol.
Emotional stability is another significant sign of sun and moon tattoos. Moon and sun symbolize the two extremes of human nature and balance, especially on a mystical level. These tattoos also symbolize day and night. Wearing shows the other. He discusses life, its cycles, and how time changes us all. Nature's light and darkness, power and energy, depict man's journey on Earth for many cultures. The moon is passive, and the sun is active. The sun and moon tattoos' the following meaning is activity-passivity. We leave it in love or intimacy!
Designs
1. Sun Moon Tarot Card
Sun and moon iconography in tarot depicts mental clarity, instincts, trust, sentiments, and perceptions of the past, present, and future. Tarot cards typically have a mysterious moon and sun motif. The tarot card-inspired sun and moon tattoos can be black and white or colored.
2. Intertwined Sun and Moon
The sun and moon are typically interwoven in tattoos, with the moon inside the sun. Instead of strife, this shows opposites uniting. Such tattoos can be black and white, but sometimes they're colored or shaded to accentuate the sun and moon's separation.
3. Sun Moon Face Tattoo
Many individuals choose a sun and moon design with faces to give it more meaning. The tattoo's meaning and sensation rely on facial expressions. Moon and sun tattoos are commonly interwoven.
4. Sun Moon Fine-line Tattoo
If you want to emphasize the sun and moon as geometric shapes, a line-work design may be preferable. Simple line-work may sometimes convey meaning better than bold, elaborate, and bright sun and moon tattoos. For people who want a wonderful tattoo but want to save money by preceding details and color, line-work may be as basic or elaborate as you wish.
5. Small Sun and Moon Tattoo
Simple sun and moon tattoos are cheaper than elaborate ones. These basic tattoos have minimal linework. Shading and dotting can add dimension but increase the tattoo cost. However, subtle tattoos may be as beautiful and intriguing as enormous, bold ones.
6. Kissing Sun And Moon Tattoo
The sun and moon tattoos' kissing design is intriguing because it signifies the lovers' unification and balance despite their initial disagreements. The simple design emphasizes kissing over the sun and moon. Most tattoos are grey with shading or linework.
7. Hand-Holding Sun And Moon Tattoo
Now, if you're searching for a simple way to get a sun and moon tattoo captivating, just make them appear like they're being held by hands. These tattoos often have religious meanings, where the hands symbolize God, while the sun and moon symbolize His creation. The design can mean anything you want it to mean.
8. Yin Yang Sun Moon Tattoo
We like the yin-yang sun and moon tattoo. This design has it all—appearance and purpose. It can demonstrate the need for the sun-moon duality or evil in a balanced universe. No of the message. The tattoo design looks great and may be customized. These tattoos commemorate the yin-yang symbol by being black and white.
9. Sun Moon Finger Tattoo
Our first tattoo is adorable and fashionable. The inside of the finger has a little moon, sun, and star tattoo. For a little, unobtrusive tattoo, this is excellent. Recreate this or use the sun and moon sans the star.
10. Colorful Sun Moon Tattoo
Next is a vibrant design. The big sun and crescent moon are tattooed. The moon and sun have tattoo-like faces. The rich hues are gorgeous. My favorite design will look great on anybody. It can be worn practically everywhere.
11. Sun Moon with Waves Tattoo
Considering a tattoo with your best friend, lover, or family member? If so, get this tattoo. These two picked a moon-and-sun pattern. One has the moon, the other the sun. Ocean wave tattoos match. It's a nice tattoo that demonstrates you need two people.
12. Sun Moon Back Tattoo
We love this tattoo! A huge crescent moon with a gorgeous sun within. The tattoo placement on the back is great. It's a great tattoo for vintage tattoo fans. Recreate or color this.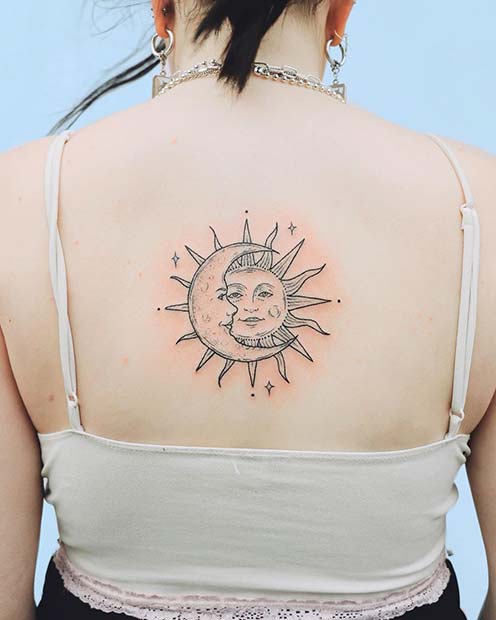 13. Arrow Sun Moon Tattoo
You may have individual sun and moon tattoos with matching designs. Great tattoo idea. Both arms have sun and moon tattoos. Both tattoos contain arrows and gorgeous designs. Try similar or different sun and moon tattoos. These leg tattoos are fantastic too.
14. Cute Sun Moon and Clouds Tattoo
Want a nice, elegant tattoo? This may suit you. Beautiful sun with a crescent moon. Clouds and the sun and moon are awake and asleep. It depicts the cycle of life. Recreate or color this black-ink artwork.
15. Sun Moon Foot Tattoo
If you enjoy the individual moon and sun patterns, check this out. Both feet have sun and moon tattoos. Elegant tattoos. Two tattoos like this make a statement, but a moon and sun on the same foot are more discreet.
16. Sun Moon Geometric Tattoo
Want a distinctive tattoo? See this. Stylish sun with black ink moon. Sun and moon have modern geometric motifs. Waves and galaxies decorate one triangle. The patterns and forms make this tattoo unique. This body art will set you apart.
17. Floral Moon Sun Tattoo
Another thigh tattoo concept. This artist added beautiful flowers. The moon and sun are gorgeous! For people who prefer bold body art, this tattoo is perfect. Recreate this or attempt another sun and moon tattoo on a different body area.
18. Ornamental Sun Moon Tattoo
Next, a lovely back tattoo. It has a huge decorative moon and a smaller sun. Both are well-shaded and detailed. Unique and bold tattoo. Recreate this, or get a smaller version.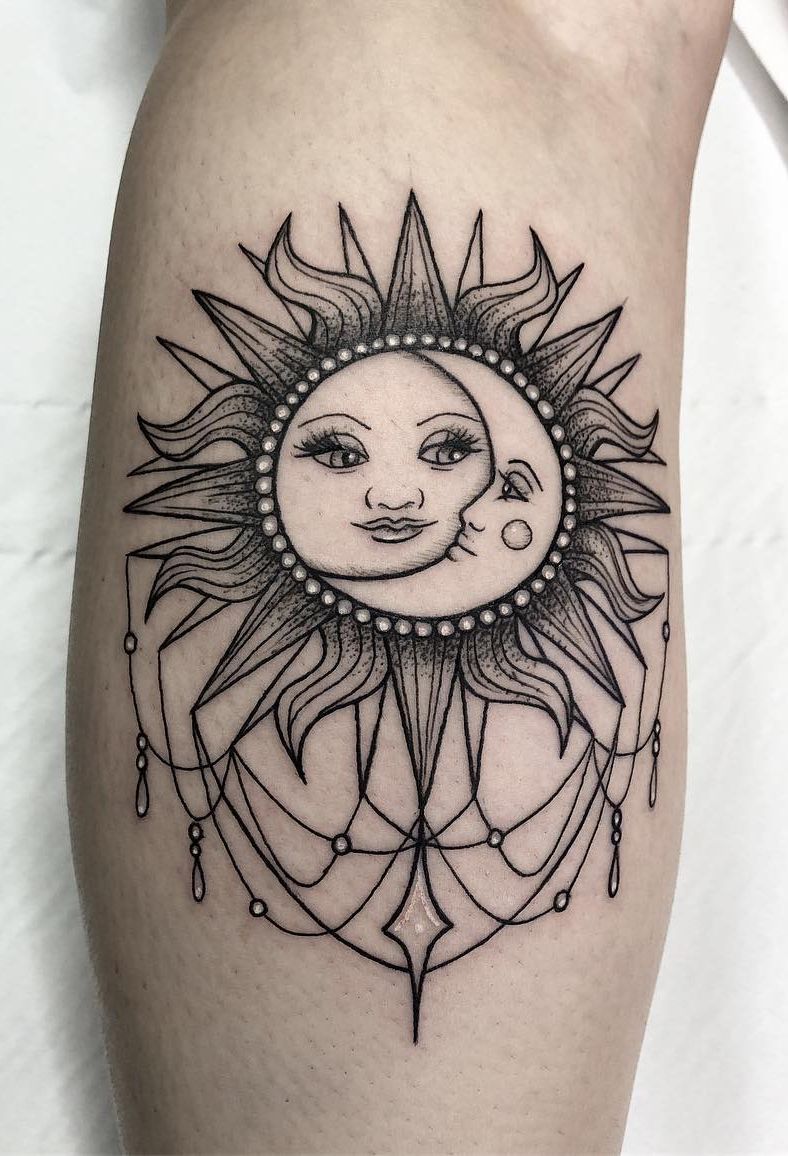 19. Half Sun Half Moon Tattoo
This tattoo is trendy, charming, and distinctive. This tattoo has a half-moon and half-sun. Minimal and stylish. You may use the moon outline without shading to make a simpler version. This little tattoo suits everyone.
20. Skull Moon Tattoo
The next tattoo is great! A crescent moon tops this artsy sun. Skulls decorate the moon! It's an unusual and amazing idea. Skeletons, skulls, and darker tattoos suit it. This design fits wherever. Try something similar, or use a different sun and skull moon.
21. Sun Moon Stars Tattoo
Another moon, sun, and star tattoo follow. Arm-side design. Black ink, tiny. A sleek, simple tattoo. This is an excellent first tattoo for folks who want delicate body art. Recreate or enlarge.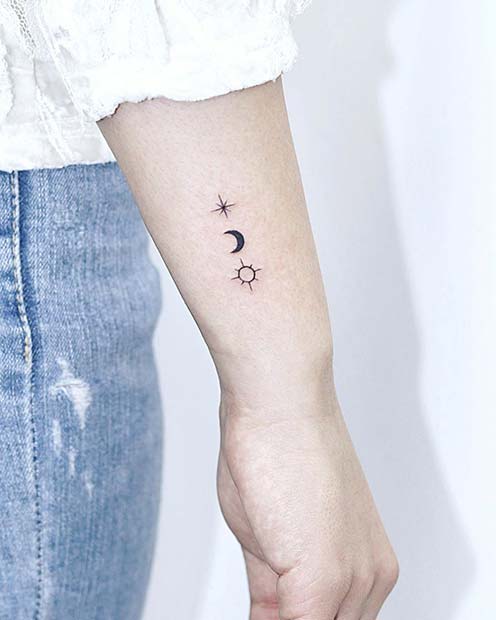 22. Tribal Sun and Moon Tattoo
Tribal tattoos. The legs have a moon and sun tattoos. A tribal sun and a crescent moon with stars are on each leg. The sun's swirl is stunning. Try this tattoo or add designs on the moon. Place the sun and moon together.
23. Bold Sun and Moon Tattoo
Next, another daring tattoo! Sunlight with a crescent moon is huge. Beautiful sunshade. This elegant, easy-to-wear style suits everyone. You may resize it and put it anywhere on the body.
24. Mandala Sun and Moon Tattoo
Sun and moon tattoos with mandalas were seen earlier. If you enjoyed that concept, try this! The rib has a new design. A gorgeous black ink tattoo with a mandala, chains, stars, sun, and moon. It's gorgeous and looks amazing on any body area.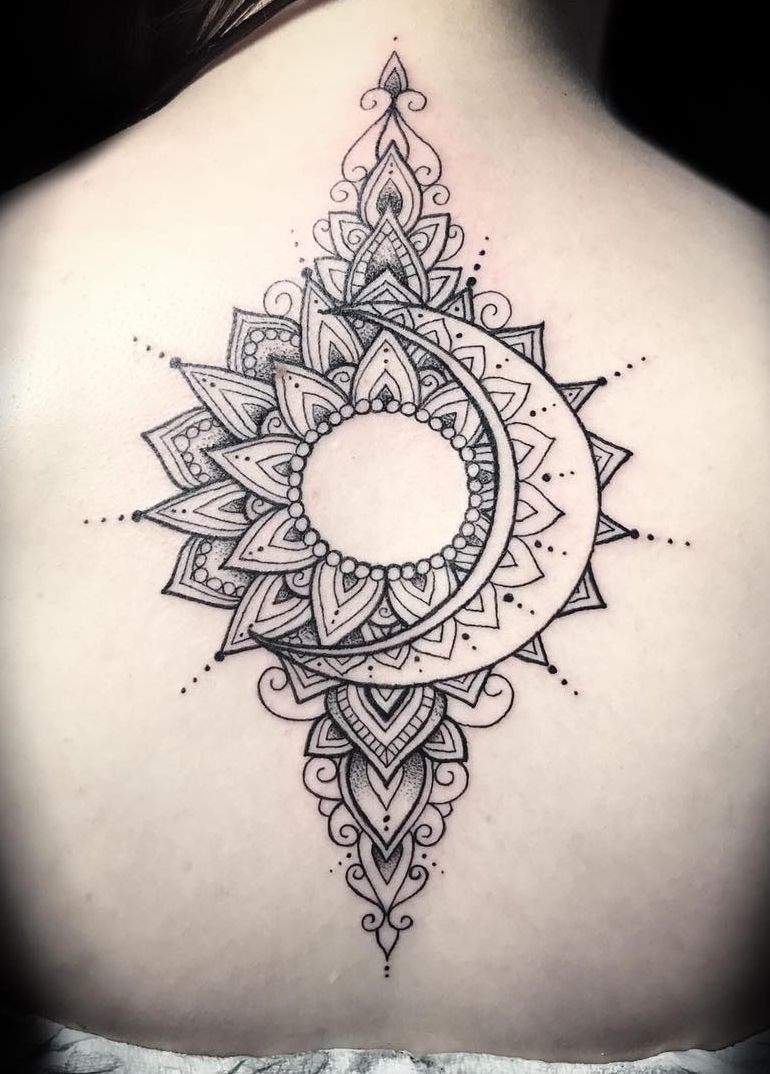 26. Sun Moon Shoulder Tattoo
A smart tattoo design follows. A sun and a moon were tattooed on each shoulder. The two-shoulder tattoos are awesome! Fun and bold. Recreate this sun and moon or use a new design in the same area.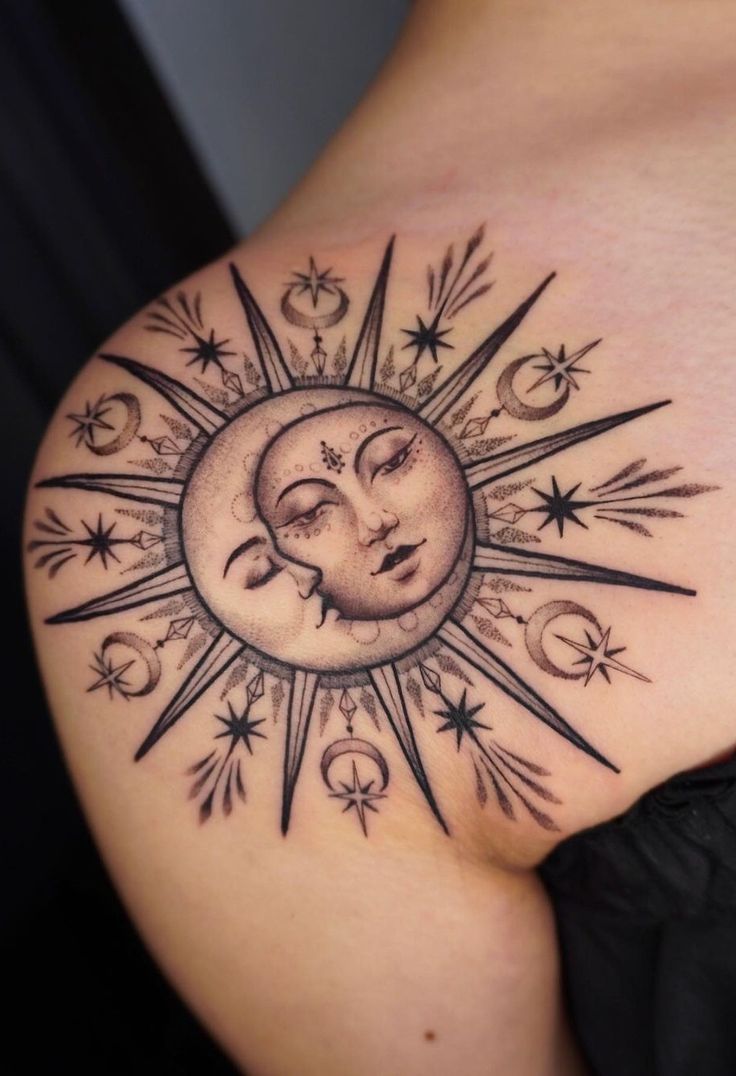 27. Sun Moon Matching Tattoos
These next tattoos are more mystical and can be utilized for matching friends, family, or couples. Mandala designs decorate the sun and moon. Patterns, shading, and charms make these tattoos enchanting. This fits everyone, can be worn anywhere, and can be colored.
28. Sun Moon Ankle Tattoo
Another great tattoo follows. Its out-of-this-world design includes a small sun, moon, star, and planet on your ankle . Space lovers will adore this charming design. Recreate this or select a planet. This tattoo would look great in color. A bigger version can be worn on the arms or legs.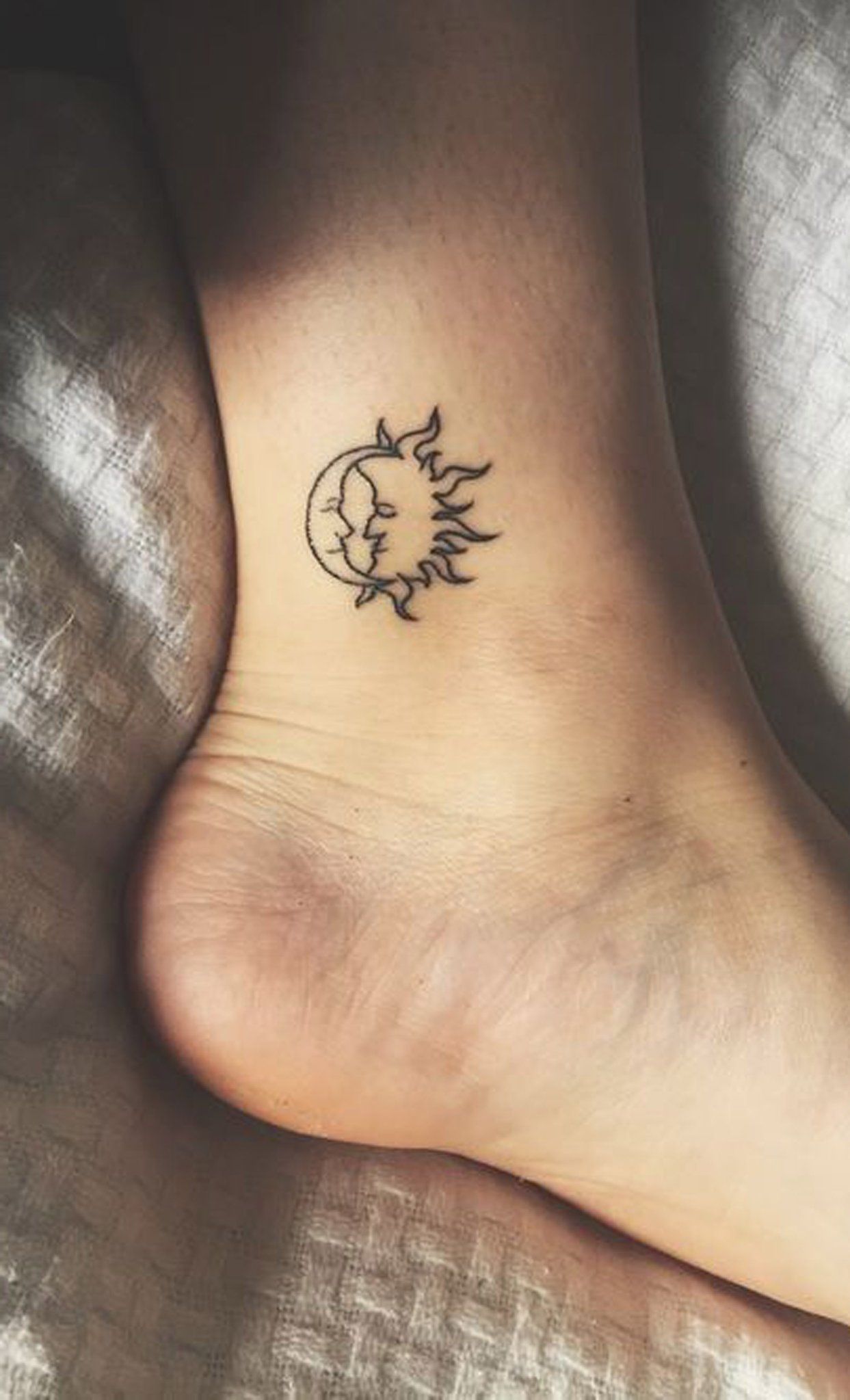 29. Sun Moon Arm Tattoo
This is for odd-design fans. A slim design with an unusual sun and crescent moon. Sunlight is like a wonderful flower. A hanging pendant finishes the moon tattoo with stars. Unique tattoo lovers will love this tattoo.
30. Dot-work Sun and Moon Tattoo
Next, a popular design idea. Sun and moon tattoo. The moon seems to obscure the sun. Dots decorate both patterns. It's a beautiful tattoo that looks good on anybody. We adore it!
31. Sun Moon Rib Tattoo
Bold rib tattoos are next. This sun-and-crescent moon pattern covers much of the rib. Charms adorn the tattoo. Beautiful and interesting tattoo. We adore the shading. This pattern would be beautiful on the thigh!
32. Minimalist Sun and Moon Tattoo
We adore this basic tattoo. A circle with a dark crescent moon signifies the sun. Each also has a line. The tattoo is trendy and edgy but subtle. This pattern looks fantastic on the arm, sternum, leg, or back of the neck.
Other Articles