Lower back tattoos are known by a variety of derogatory nicknames, including "tramp stamp," "slag tag," "bulls-eye," and "target," among others. Low-rise jeans and crop tops might occasionally draw attention to them. Although some guys, including some celebrities, have lower-back tattoos, they are not commonly acquired by men.
Origin of Slag Tag tattoos
Low-rise jeans, worn at the hips rather than the natural waist, became the go-to fashion for women's denim in the late 1990s, and the term "tramp stamp" gained prominence. The odd peep of a lower back tattoo seemed to make a statement to passers-by; its location and visibility implied this woman was indiscriminately promiscuous; a vagrant.
In the early 2000s, lower-back tattoos were trendy and fashion is anything to go by, they are coming back within this decade! Get yours here for free, right now!
1. Rose Tramp Stamp Tattoo
Roses have represented some of our most powerful emotions, like love, passion, and adoration, over the years. There is a rose for every feeling and circumstance, whether you wish to communicate love, friendship, or delight.
2. Bow Tie Tramp Stamp Tattoo
The bow tie suggests Old World iconoclasm, a fusty dedication to a contrarian point of view. The bow tie symbolizes intellectualism, real or feigned, and occasionally technical expertise, maybe due to its difficulty tying.
3. Sun Tramp Stamp Tattoo
The sun symbolizes life, but it is also associated with energy, power, positivity, and clarity. The sun is a natural force beyond our control, yet it also lights the world around us, aids living species in navigation, and nourishes many vital ecosystems.
4. Tweety Tramp Stamp Tattoo
Tweety is a yellow canary from the Warner Bros. The Looney Tunes cartoon series. The name "Tweety" is a fun play on words because it originally meant "sweetie," and "tweet" is an English onomatopoeia for bird sounds.
5. Eagle Tramp Stamp Tattoo
Eagles stand for integrity, truth, majesty, strength, courage, knowledge, power, and liberty. They are thought to have a special link to God as they fly across the skies.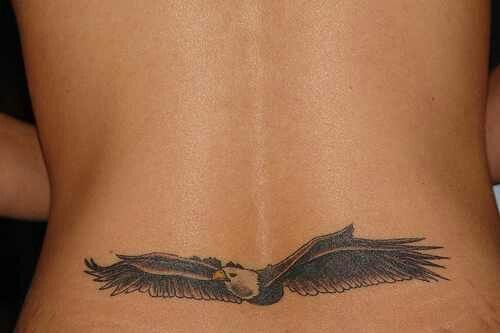 6. Mandala Tramp Stamp Tattoo
A mandala is an idealized representation of the universe, and its creation represents transforming a suffering universe into one of bliss. It can also be utilized as a meditation aid, assisting the mediator in visualizing how to become the perfect self.
7. Lotus Tramp Stamp Tattoo
The lotus denotes spiritual enlightenment, beauty, fertility, purity, prosperity, and eternity in Hinduism. It is thought every Hindu has a lotus flower in their heart, and when this lotus blooms, the person achieves enlightenment. In Hindu tantric tradition, the lotus is also an essential emblem.
8. Tree Tramp Stamp Tattoo
Trees are symbols of strength, individuality and expression, calmness, growth and the interconnectedness of everything.
9. Feather Tramp Stamp Tattoo
For example, a feather is a profound symbol of reverence and a connection between the owner, the Creator, and the bird from whom the feather was derived. It represents trust, honor, strength, knowledge, power, and liberty. It is a highly cherished object and a symbol of great distinction.
10. Wings Tramp Stamp Tattoo
Wings, used by birds, angels, insects, and aircraft, allow a creature to soar and reach heights that would otherwise be impossible. Because of this function, wings have significant symbolism, making them an ideal symbol for various meanings, such as achievement, aspiration, purity, and freedom.
11. Bird Tramp Stamp Tattoo
What does a bird represent? Birds are frequently regarded as a sign of liberty, hope, and new beginnings. They may also represent happiness, serenity, and wealth. They can also represent qualities such as bravery, strength, and intelligence.
12. Cherry Blossom Tramp Stamp Tattoo
Cherry blossoms are a flower that represents spring, a season of renewal and the ephemeral nature of life. Their lives are brief.
13. Disney Tramp Stamp Tattoo
Disney animation. It symbolizes fantasy and enchantment, generating feelings of joy and creativity.
14. Low rise Jeans tramp stamp
This lower back script tattoo shows exactly why these tattoos are irresistible when on a woman's body. The Lower back is considered a sexy part of the woman's body and having the tattoos there and showing gives a tremendous impression of fashion and the cool sexy vibe of being wild. Wear you lower back tramp stamp tattoo with low rise jeans to show and you can stick to high waist pants for the office environment.
15. Butterfly tramp stamp
A butterfly is one of those tattoo subjects that has a feminine feel to it. They are like the flower petals in nature and because they are gorgeous, wild and free, girls adore them as little kids and even as adults. This artist uses a red ochre to add more life to the butterfly and has beautiful exotic mandala designs around its wings. The color scheme complements her skin tone and you could choose another palette that goes better with your pale skin as well.
16. Love you Lover tramp stamp tattoo
Love makes the world go around and when it comes down to it, getting a tattoo is one of the best ways to celebrate yours. Only get a love tattoo if deep in your heart you want this and it's not forced on you due to pressure from your partner. Moving on from the disclaimer, this is a lovely tattoo which cautiously fails to be specific and appears like simple Word Art you can do with a blue ink pen on paper. Intriguing.
17. Compass tramp stamp tattoo
A compass means sense of direction or purpose. If you want others to find true north, the best tattoo for your lower back is this 8 point compass with a retro vibe. Compasses are gorgeous tattoo choices with meaning. The four cardinal points on the compass are labelled with calligraphy letters which adds a relaxed vibe to the image. The Blackwork on this tattoo and the shading is astounding. Be sure to pick an artist who knows what they are doing with shading.
18. Hand poked flower tattoo for lower back
This simple design on lower back makes a great contrast with the skin tone and creates a abnormally high visual impact for such a small and simplistic tattoo design. It is visible only when the wearer consciously wants to show and it's concealable when in other environments. Sometimes simple designs like this flower or leaf structure make the most meaningful and gorgeous tattoos even though they cost less in wages and time spent at the shop.
19. Unique lower back tattoo
This is a popular tattoo design not just for the lower back tattoo but other placements as well. There is a triangle with inscribed images and a circle too. Interestingly, the circle could represent the moon or sun or other heavenly body or the sky in general. There seems to be a boat, with an island on it navigating rough seas. Travel by sea could be the theme of this unique tattoo.
20. Black and Blue Butterfly lower back tattoo
If you are going for a butterfly image for your lower back tattoo why not go for a colorful one? This blue themed water color butterfly design is spectacular on her lower back like this and flutters her natural contours. It is symmetrical about her backbone and adds color and life to her lower back while easily matching blue denim. Notice the subtle but different choice of color for the body of the insect itself.
21. Daddy and Cross lower back tattoo
A cross tattoo is a symbolic piece to choose regardless of its placement. This masterpiece has the word daddy written above it which is an interesting combination of word and image tattoo. Overall, it is a simple tattoo to achieve with a moderately skilled artist and less ink time yet it looks stunningly beautiful on her. Get this for someone special, someone you call Daddy. 
22. Cheetah and rose lower back tattoo
While we are still at it, why not paint an entire feline animal and a rose flower on the lower back. The middle and lower back are such a vast area for tattoo canvas and it's a shame to see it go to waste. This image shows a fully grown feline animal, presumably a cheetah because of the speed depicted chasing after a red rose. Perhaps this means she is chasing love. Whatever you want to say, this tattoo makes sense and is simply gorgeous, her skin tone makes it even more appealing since she shares the natural warmth of the animal's fur.
23. Woman full back tree tattoo
A tree with entire root and branch network is drawn on her back and it looks apocalyptic and picturesque. Look again! It's also a woman in the form a tree with the branches being her hair and the trunk herb body. There are a few notable oddly shaped leaves and on one of the branches there is a butterfly. This tattoo could have any number of meanings besides the love of arboretums. 

24. Fairy princess middle lower back tattoos for women
Fairy tales can come alive even for adults in the tattoo shop. This sexy cartoonish character of a tattoo is living proof that the characters of Disneyland walk among us. The stance of the fairy angel is interesting with legs crossed and arms stretched out behind her, it implies motion. Our artist picks a subtle grey shade to carry out this magnificent piece of work and manages to create an astounding amount of beauty. 
25. Large full back women tattoo
This full back and body mandala is on another level. It resembles oriental henna and has Indian culture written all over it. A design like this one will completely change how you look and it is worth considering doing it in temporary henna or ink first to see how much you like it before you commit to a large tattoo which you cannot overwrite.
26. Red and black Butterfly Tramp stamp
Red and black tattoos are often underrated but this lower back tattoo is proof of their beauty and vibrancy given the right artist. It is prerequisite that your skin tone has reddish hues for this to look as amazing on you. If you have pale cool skin or you are stuck with an olive greenish hue on your skin, don't worry because you can change the red to another color like green or blue to match your skin color.
27. Floral lower back tattoo
If you are unsure what the subject of your lower back should be, then you should consider a gorgeous floral pattern like this one. It is girly and gorgeous and takes the need for symbolic meaning consideration out of the table. You could ask your artist to change the middle large petals flower to a lotus if you desire to convey the meaning of innocence and sanctity.
28. Small Insect Tattoos lower back
Last but not least we have this wasp or other small insect tattoo which is shaded on her lower back perfectly symmetrical about her backbone. The tail end of the figure extends downs meeting a rule of thumbs requirements for sexy lower back tattoos to leave a part of it hidden under the jeans. It leaves a lot more to be desired and stirs imagination.
In a nutshell                                                                                     
Whether you like them or not, they're here to stay. The tribal-esque butterfly artfully placed at the small of the back, all while she's wearing low-rise jeans and a crop top to give you a nice look… you know these are among the most popular tattoo designs out there! How many of your friends wear these? The lower back is still one of the most popular places to get a tattoo, and although though it's known as the "tramp stamp," girls still prefer it. The low back is certainly enticing, and having a tattoo here is unmistakably appealing.
There are several reasons for this, including the fact that with ladies expressing their sensuality through the art of ink in such a beautifully feminine location, it was difficult for anyone of the female sex not to want one!
Other Articles