Perms that used to be very popular in the 80s have made a major comeback in the world of hairstyle. Modern perms make your hair look textured, voluminous, and effortless. In today's blog, we have got a collection of 22 modern short-permed hairstyles for you to take inspiration from for your next look.
1. Classy Perm Bob
This short permed hairstyle gives a modern twist with bouncy curls. The curls frame your face in the most flattering way while adding a touch of playfulness to your look, making it a perfect choice for any occasion.
2. Messy Short Perm
Look fabulous even when you are running late for the day with an effortless, messy perm hairstyle. These tousled waves give a bedhead vibe and can be achieved simply without any fuss.
3. Pixie Cut with Spiral Curls
If you are looking for a bold statement look, then consider this hairstyle, which is a combination of a short pixie cut with jazzed-up curls.
4. Short Afro with Perm
Embrace the beauty of curls in their natural form. In this hairstyle, the perm adds definition and bounce to the afro, creating a stunning look that's both bold and beautiful.
5. Tight Curls on a Tapered Cut
This hairstyle has shaved sides with tight curls on the top, giving you a more edgy look. It's a perfect choice for those days when you want to stand out and slay.
6. Vintage Finger Waves
If you are a fan of vintage hairstyles, then I'm sure you'll love this style. This short, permed hairstyle will take you back to the glamour of old Hollywood.
7. Short Perm with Undercut
This short perm with an undercut is another great choice for a bold look. This permed hairstyle will look good on anyone with short hair.
8. Textured Perm Lob
If you also have shoulder-length hair just like her, you should try this textured perm to your lobs. This is a low-maintenance yet stylish hairstyle that has textured curls in it.
9. Curly Mohawk
This mohawk hairstyle with a playful twist of curls creates a striking visual impact. No doubt this hairstyle guarantees you'll turn heads and leave a lasting impression.
10. Natural Perm on a Tousled Pixie
These effortlessly chic hairstyles give you a natural looking curls with a tousled finish. It has voluminous curls on a short pixie cut. This hairstyle will look good with any outfit you choose.
11. Cropped Perm with Side Bangs
A cropped perm with side bangs is a classic hairstyle that beautifully frames the face. It has a cropped length that gives a modern look, while the permed curls provide texture and volume to it. Side bangs add a playful look, completing the overall appearance. Another great thing about this hairstyle is that it also looks flattering on various face shapes.
12. Short Permed Hair with Caramel Highlights
Take your short, permed hair to the next level by incorporating color into it. It makes your hairstyle dynamic and exciting when adding a light color or natural highlights to it.
13. Perm on a Stacked Pixie
This perm on a stacked pixie haircut is the combination of the classic pixie cut with curls that gives you a bouncy and textured look.
14. Curly Shag Haircut
This haircut is an example of achieving a stylish look with minimal effort. These textured layers frame your face, giving you a tousled appearance.
15. Asymmetrical Pixie with Permed Curls
This hairstyle, with a combination of asymmetrical pixie and permed curls, gives a striking look. It features short, chic-length hair on one side while the other side has permed curls that give a dynamic texture to it.
16. Beach Wave Perm on Short Bob
Add some style to your short bob by getting a beach wave perm. You will look and feel more at ease thanks to these tousled curls that resemble the beach's waves.
17. Textured Perm on a Bowl Cut
If you love experimenting with your look, then give a go to this hairstyle. This unique style has textured perm curls that create a modern and stylish look, and those bouncy curls add a dynamic edge to the hairstyle.
18. Short Bob with Loose Curls
This hairstyle is perfect for any occasion – whether it's a casual getaway or a formal event. It's the perfect blend of a bob and curls for a relaxed look.
19. Short Perm with Fringe
This is another great option for you to consider for a short-permed hairstyle. The fringes at the front frame your face, making your overall look more charming. You can also go for wispy bangs or straight-across bangs, depending on your choice.
20. Wavy Perm on a Rounded Bob
If you want to go for a more delicate and romantic style, try a rounded bob with wavy perm curls. These curls will provide movement and structure to your hair, while the rounded bob form will give you a more professional appearance. It's an excellent choice if you want something elegant but low-maintenance.
21. Curly Pixie with Undercut
Make a statement with this bold, curly pixie with an undercut hairstyle that has voluminous curls at the top, while the undercut has an edgy element to it.
22. Short Perm with Face-Framing Curls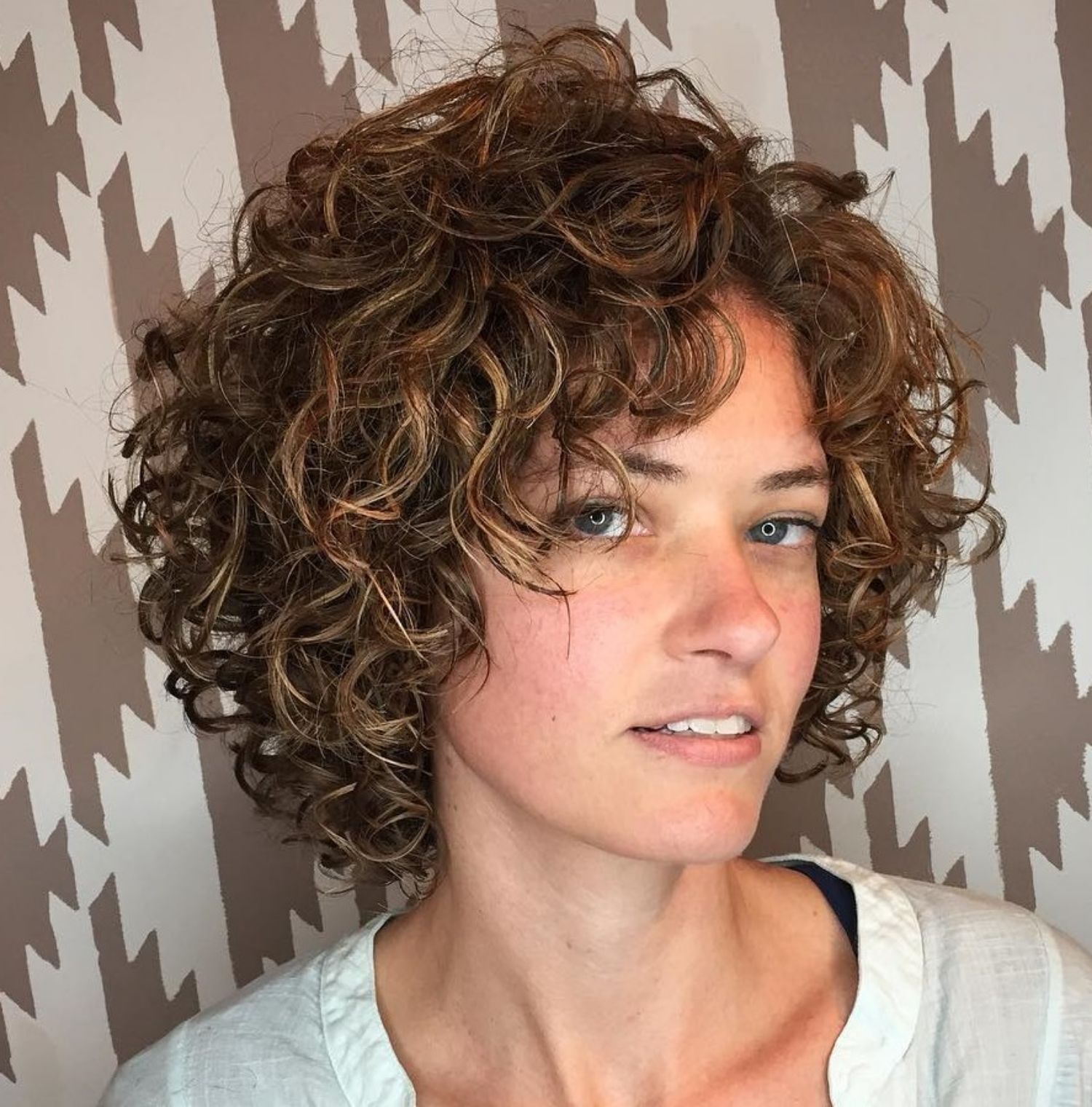 This short permed hairstyle focuses on creating curls around the face that draw attention to your eyes and cheekbones. This is a flattering and youthful choice that one could consider, which gives a playful charm to your overall look.
23. Body Wave Perm Curls
If you've got a medium-length bob, you can try a body wave perm to give your hair a more natural, relaxed look. It'll give your hair a softer feel and make it look beachy and relaxed.
Other Articles