Spine tattoos is the new idea in the world of tattoos. The extremely feminine and stylish tattoos start from the neck to the lower back along the backbone. The tattoo designs are carved all across the backbone of your body. There are different size and designs of the tattoos which can be tried on the spine. So now you don't need to look here and there to find an exclusive spine tattoo Ideas and design pattern. Here are some of the best  spine tattoo ideas and designs that can be made on your backbone.
1. Rose spine Tattoo
A rose outline tattoo on the back might be overused. The tattooist adds visual contrast to the tat by changing part of the outline tattoo to red.
2. Moon and flower spine tattoo
The moon represents femininity and tranquility. Flowers are frequently associated with beauty and purity. A spine tattoo that combines the two will undoubtedly enhance the wearer's feminine chrism.
3. Single-line spine tattoo
Nothing is simpler than a straight line. There is no embellishment, no curves, simply a single plain line. However, simplicity does not imply monotonously. This tattoo, which extends down the spine, will spark conversation.
4. Small butterfly spine tattoo
One advantage of butterfly tattoos is that you can apply numerous butterflies in various positions to fit the placement. The two butterflies in this nape tattoo, for example, slant in opposite directions and reach the spine, providing excitement and vibrancy.
5. Chinese quote tattoo
Tattoos are more than just personal reminders. They can sometimes serve as a message to others. As an example, consider this spine tattoo. The Chinese letters translate to "Mom is the best thing we can have in the world." It expresses the daughter's love for her mother, making it a touching mother-daughter tattoo.
6. Lion script tattoo
This spine tattoo features a lion and a script, both of which reflect the wearer somehow. The tattoo artist focuses on the lion and employs precise lines and smooth curves in the illustration to keep it consistent with the writing.
7. Tree tattoo on the spine
Trees are symbols of life and stability. Placing it in the center of the back creates symmetry and balance, which adds to the elegance of the tattoo.
8. Magic wand
Many people obtain witchy tattoos to remind them of their inner strength. This magic wand is no different. What appears to be a minor tattoo can unlock your inner magic.
9. Planet and orbit tattoo
Planets always travel in the same direction as their orbits. As a result, orbit tattoos frequently represent one's fate and life mission. This back orbit tattoo mixes simple shapes such as straight lines and circles to produce a symmetrical, well-balanced ink.
10. Paintbrush tattoo
Paint brushes are frequently used as a symbol of creativity in artistic tattoos. Its form also allows it to fit nicely on the spine. Just in case you are an artist or a fan of art, the paintbrush tattoo will symbolize your personality.
11. Lotus flower spine tattoo
The lotus blossom emerges from the dirt and blooms above the water's surface. As a result, despite a difficult background, it frequently denotes purity. As a result, such a visually striking lotus tattoo is not only beautiful but also meaningful.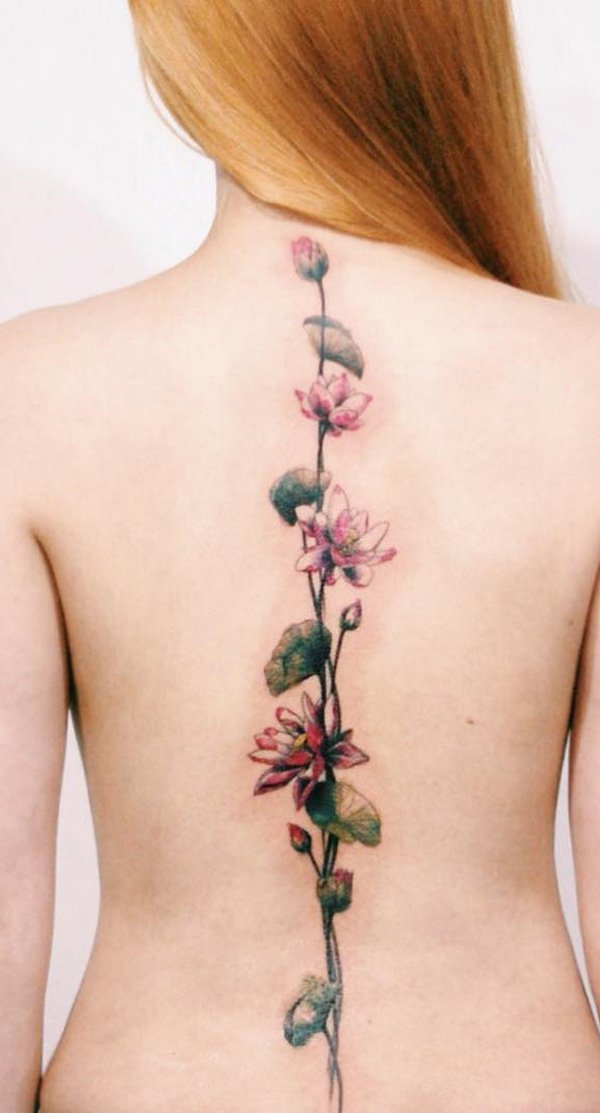 12. Tulip spine Tattoo
Tulips, like many other flowers, have diverse meanings depending on their colour. For example, red is connected with love and passion, but yellow is associated with energy and enthusiasm. This tulip tattoo, on the other hand, is in black, which allows for a variety of interpretations.
13. Dragon spine tattoo
This dragon tattoo does not have as many contrasting colors as the previous one. Instead, the intricacies draw attention to it.
14. Cherry blossom spine tattoo
The Cherry blossoms only bloom for a few weeks each year. As a result, they are frequently considered as a sign of time and life's past. A cherry blossom tattoo, on the other hand, makes its beauty everlasting.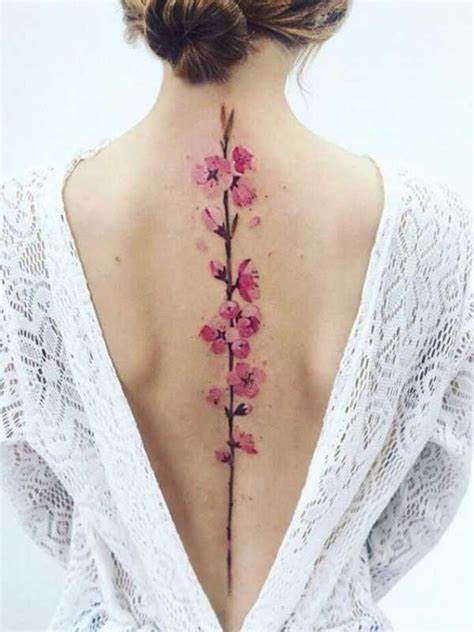 15. Scale tattoo for Libra
The scale is the Libra zodiac sign's symbol. It symbolizes balance and structure and is usually symmetric, making it ideal for placement on the spine.
16. Phoenix spine tattoo
The spine is an excellent location for a huge phoenix tattoo. Like this black tattoo, you can ink it on the shoulder blade or stretch it along the spine. It also causes movement when the phoenix rises.
17. Spider lily spine tattoo
The red spider lily, unlike most floral tattoos with positive connotations, is frequently associated with death and reincarnation. Because of its distinct shape and colour, it is ideal for people seeking a one-of-a-kind tattoo.
18. Snake spine tattoo
Snakes, like dragons, have vastly different meanings in the East and West. In the East, the snake is considered divine, yet in the West, it represents avarice and lust.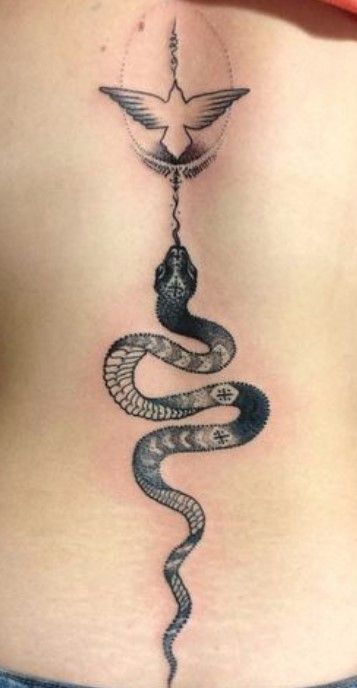 19. Sword spine tattoo
Snake tattoos, particularly those ready to attack, are sometimes viewed as a symbol of protection. A sword also indicates one's ability to defend oneself. Together, they make a bad ass tattoo for ladies.
20. Sun and moon spine tattoo
This delicate spine tattoo is for people who value balance in their lives.
21. Bull spine tattoo for Taurus
For girls, the bull can seem a little too masculine. However, the flowers and tiny lines in this spine tattoo lighten the taurus vision.
22. Deer Spine Tattoo
This deer tattoo is remarkable in that the facial characteristics have been removed, leaving merely a silhouette. The tattoo looks even more exquisite and lovely, with the flowers growing from its horns.
23. Spider back tattoo
This tattoo experiments with location by extending the line to the hairline. This tattoo will frighten you if you've ever seen a spider dangling from the ceiling.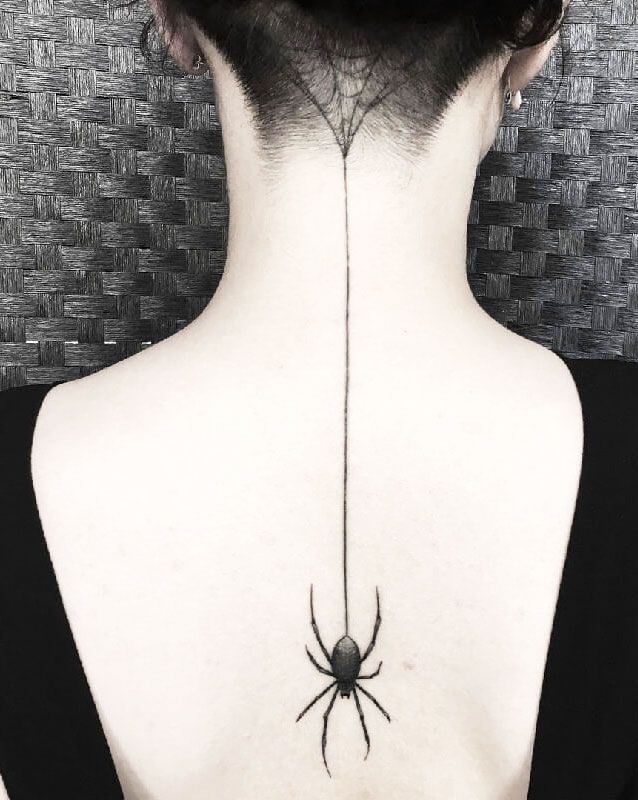 24. Geometric spine tattoo
Geometric tattoos are frequently made up of a variety of shapes. This one, on the other hand, makes use of various levels of opacity to enhance its visual effect. It's still constructed of simple shapes, demonstrating how much attention went into it.
25. Moon spine tattoo
Moon tattoos are popular among many individuals, particularly women. For starters, different phases of the moon frequently signify different ideals. The full moon, for example, represents completion, whereas the crescent moon represents the beginning. Conversely, you can tattoo the moon in various colors to express feelings. This blood moon is a prime example.
26. Spine spine tattoo
Spine tattoos demonstrate nature's strength. The tattoo is enhanced by reversing the colors inside and outside the frame.
27. Quote Tattoo
There are many types of tattoo designs that are available but quotes are one very good idea. For backbone one can go for a large and beautiful quote that has amazingly deep meaning.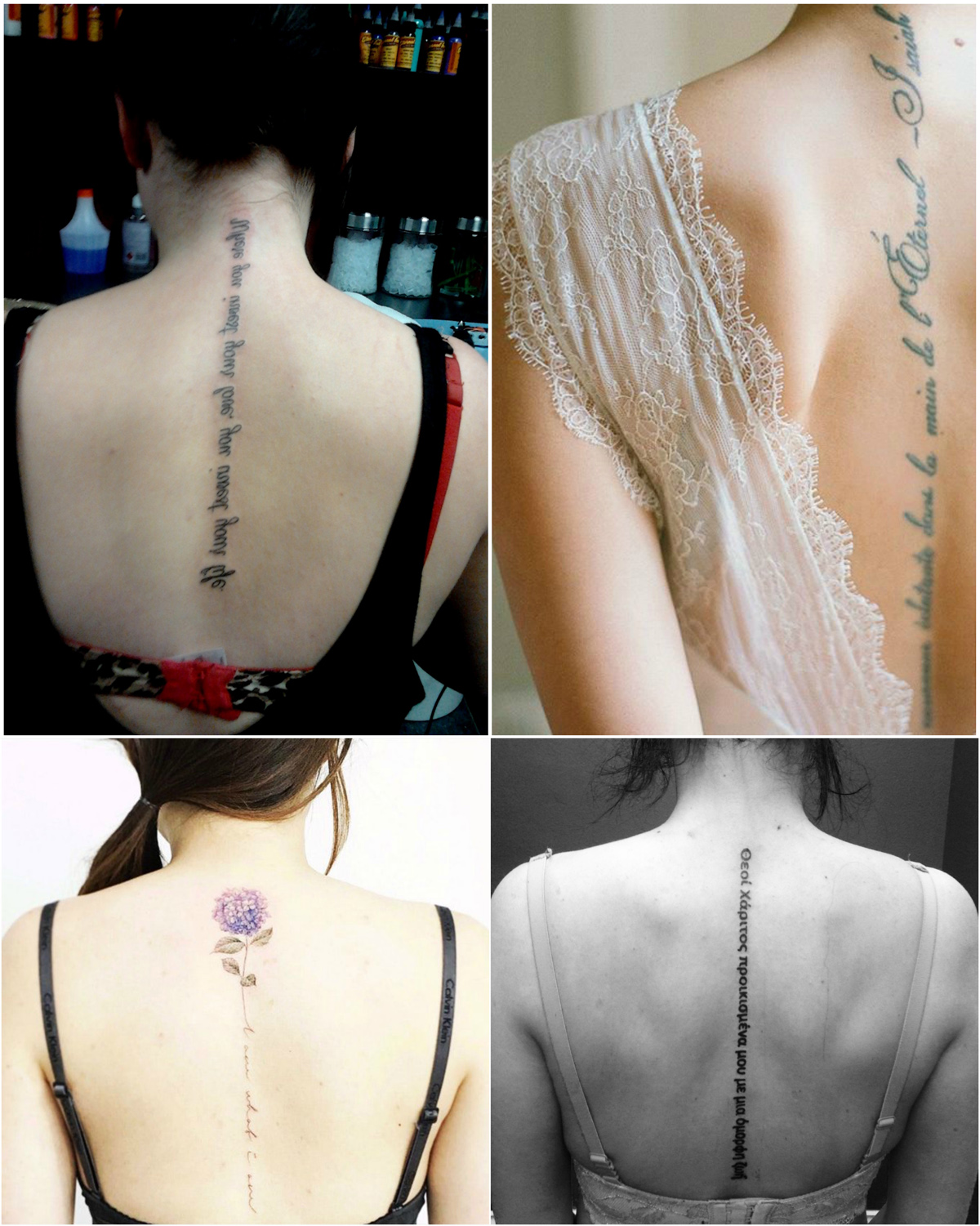 28. Row of Flying Butterflies
A row of flying butterflies looks very beautiful on the spine.
29. Floral Vines With Vibrant Colors
The floral vines along with the vibrant colors look elegant as it travels down through the back and the beauty of the tattoo can be enhanced by adding elements like butterflies, feathers that creates an extremely appealing influence.
30. Tattoo Featuring Chinese Letters
Another attractive design of the spine tattoo is the one that features Chinese letters. Be sure to consult an expert tattoo designer as you need to know the meaning of the letters before actually inking them up on your back.
31. Feather Design Tattoo
You can try a simple spine tattoo that has the design of a feather. It is cool and looks very realistic.
32. Vintage Style Flower Design
Vintage style and realistic rose design tattoo looks very gorgeous on the spine. So if you want to try something dramatic then this elongated and beautiful art form will surely help you to outline your spine.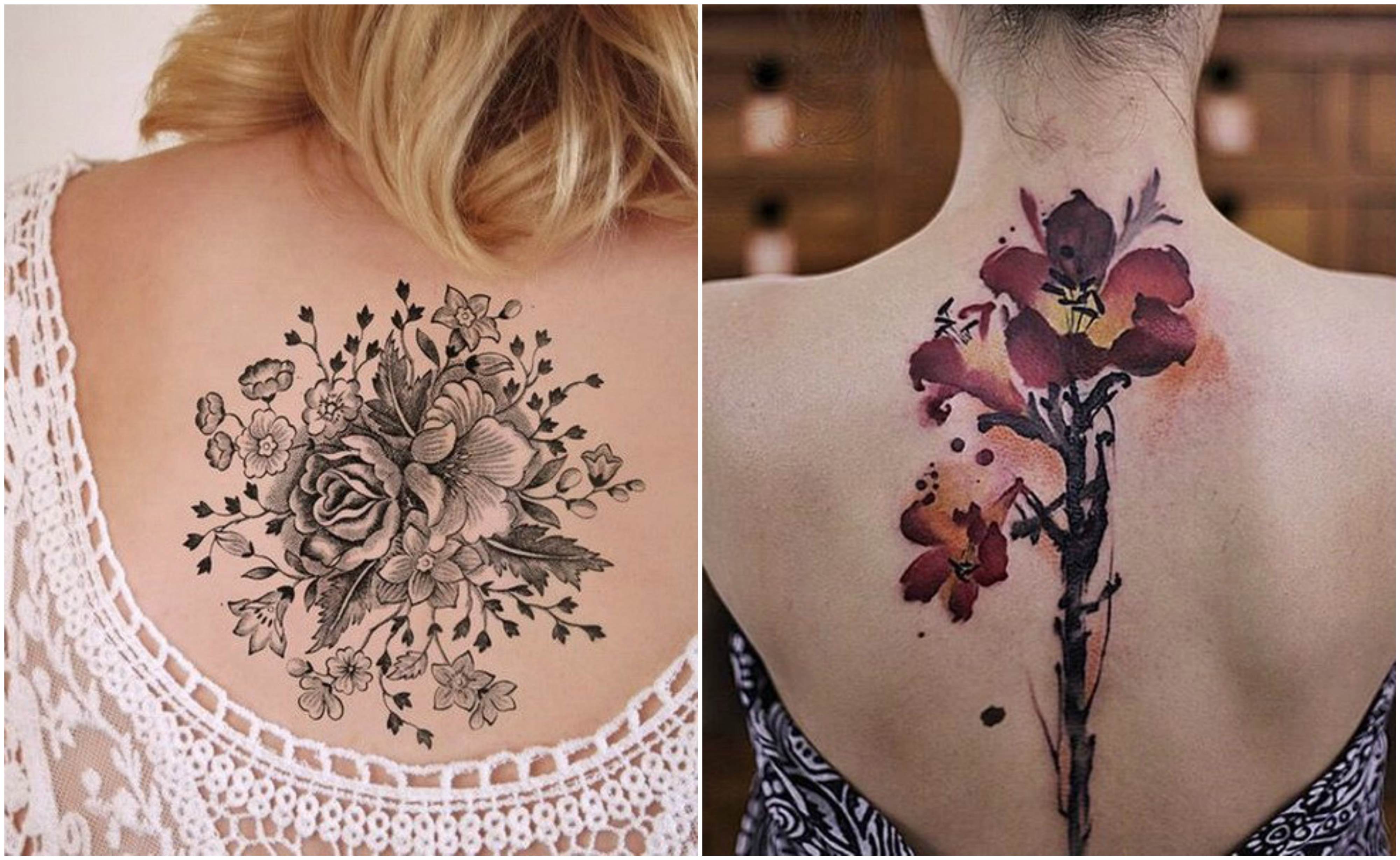 Reveal your inner strength and beauty with best tattoo designs. There are many tattoo designs that can be inked on your spine and will help you to reveal your inner strength and the best of the designs will surely speak for you.
Other Articles