Prom night, a  canvas for dreams and memories, deserves a hairstyle that reflects your distinct personality. Our guide unveils a collection of medium-length hairstyles that promise to elevate your evening to a realm of effortless sophistication, from romantic waves that cascade like poetry to chic braided crowns that whisper of magic. Prepare to dance the night away, knowing that your effortlessly elegant hair will turn heads and create memories to last a lifetime.
1. Glamorous Hollywood Waves
Capture the essence of Hollywood perfection with these glitzy waves. If you're looking for a vintage vibe, these retro Hollywood waves are the way to go. Show off your fashion prowess and make a lasting impression at prom by turning heads in this effortlessly glamorous look that screams old-school sophistication.
2. Donut Bun
Looking for a fabulous style that will accentuate your stunning cheekbones and facial features? This sleek and simple updo is easier to achieve than it appears and goes with almost all prom outfits. So, if you can't decide what to do with your hair, go with a donut bun!
3. Tucked Back Hair
Craving a blend of effortless allure and sophistication? Look no further! Embrace the chic simplicity of a sleek, glossy tucked-back hairstyle – a flawless choice. Pair this elegant look with a curve-hugging prom dress to exude undeniable sensuality and grace.
4. Eye-Grazing Bangs
Do you want to enhance your natural, wavy hair? Look no further than this effortless hairstyle inspired by a fashion icon. This charmingly simple look complements princess-cut prom dresses perfectly and takes only five minutes to master. As you step into the spotlight on your special night, exude effortless grace and confidence, turning heads.
5. Finger Curls
Embrace your inner fashionista and unleash your bold and audacious side with these absolutely stunning vintage-inspired finger curls. Get ready to make heads turn, and hearts skip a beat as you showcase your daring personality through your fabulous hairdo.
6. Sleek Middle Part Ponytail
Part your hair down the middle and secure it into a sleek, high ponytail to channel modern chic. This minimalist look allows your facial features and clothing to take center stage.
7. Braided Headband
Here's a no-heat prom hairstyle option! If you're not into fancy updos, try a simple braided headband. It's cute and chic, perfect for impressing everyone at prom. Get ready to turn heads with this easy yet stylish choice!
8. Simple And Straight
Accept a hair transformation for your important prom milestone, particularly if you have curly hair. Consider a sleek, straightened hairstyle to change things up. Smooth, straight hair complements a form-fitting prom dress beautifully, adding a touch of elegance that is sure to make a statement.
9. Romantic Twists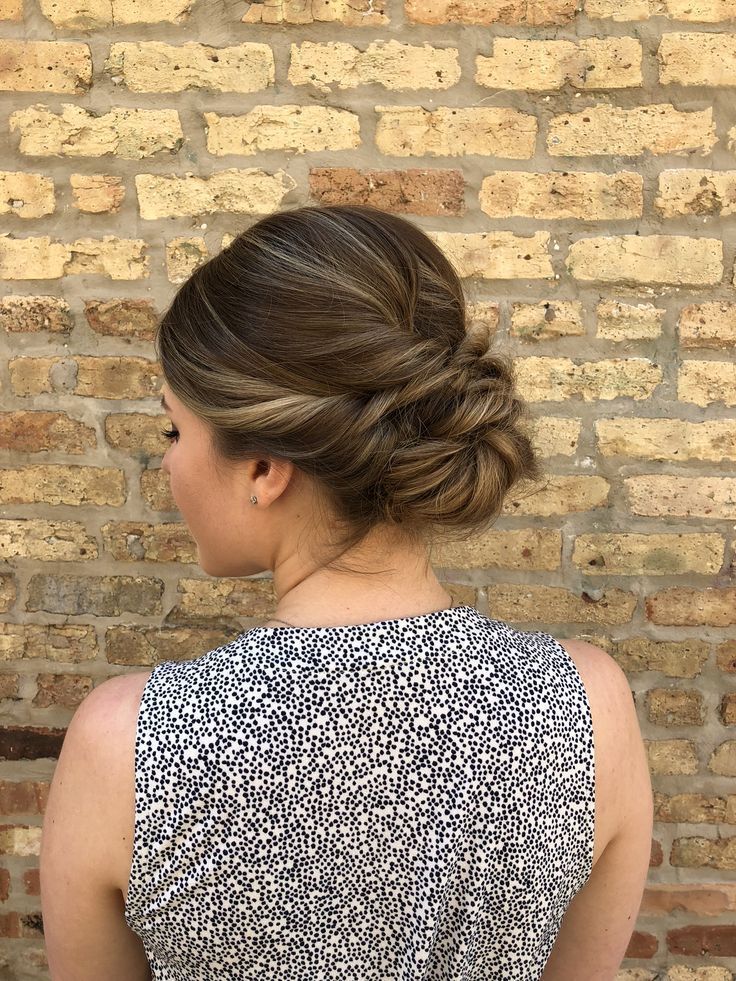 For those who prefer effortless hairstyles and a charming, girl-next-door aesthetic, this hair-down look with subtle twists is an ideal match for your prom dress. It only takes about 3 minutes to achieve this simple yet captivating style, effortlessly infusing a touch of romance into your overall appearance.
10. Braided Half-up, Half-down
Half-up, half-down prom hairstyles for medium-length hair are trendy, and adding a braid will make you stand out and look effortlessly magical! The braided half-up, half-down hairstyle is the perfect mix of an updo and a flowing mane, and the braids in the back add drama and romance. It can be worn alone or with a hair jewel for extra glam.
11. Boho-Inspired Braids
Adorn your locks with effortlessly chic loose, textured braids to capture the essence of bohemian style. To achieve this effortlessly chic look, divide your hair into sections and braid each section. Once all of the braids are in place, gently pull them apart to create an undone look. This will give your hair the perfect mix of polished and bohemian. So embrace the braided trend for a playful and charming hairstyle that will turn heads!
12. Loose Waves with Hairpiece
Wear your medium-length hair in loose waves and add a decorative hairpiece that complements your prom attire to bring out your natural beauty.
13. Braided Bun with Flowers
Create an enchanting and whimsical atmosphere by delicately weaving dainty flowers or floral pins into a beautifully braided bun, resulting in a hairstyle that exudes the essence of a captivating fairytale princess.
14. side swept bun
Elevate the elegance of your prom night by opting for a stunning side swept bun. Achieve an effortlessly chic and sophisticated look by gracefully sweeping your luscious locks to one side and artfully gathering them into a stunning bun delicately perched at your shoulder.
15. Fishtail Braid Updo
Combine the enchantment of a fishtail braid with the sophistication of an updo. Make a low bun with your hair and a fishtail braid for a unique look.
16. Low Twisted Bun
If you're looking for a chic and effortless hairstyle, why not give the low twisted bun a try? This elegant option is both simple and stunning. Twist sections of your hair and wrap them around the base of your bun for an elegant and effortless look.
17. Messy Bun with Accessories
Elevate your prom ensemble with a whimsical twist by opting for a charmingly tousled bun embellished with delightful accessories such as dainty hairpins, lustrous pearls, or enchanting floral accents.
18. Braided Crown Updo
One fabulous hairstyle that's perfect for any prom queen is the regal crown braid. This stunning look involves braiding sections of your hair and elegantly wrapping them around your head. Not only does it exude a sense of royalty, but it also adds a touch of sophistication to your overall appearance. So, if you're looking to make a grand entrance at your prom, this hairstyle is definitely worth considering.
19. Elegant Chignon
The chignon, a truly timeless hairstyle, is the epitome of sophistication and grace. Achieve a chic and sophisticated appearance by effortlessly gathering your luscious medium-length locks into a sleek low bun positioned gracefully at the nape of your neck.
20. Voluminous Curls
Embrace the beauty of voluminous curls that frame your face and cascade down your shoulders. Create bouncy curls with a large barrel curling iron and finish with hairspray for long-lasting hold.
21. Waterfall Braid Half-Updo
A waterfall braid half-updo adds a magical touch. For a delicate, fairy tale effect, use a waterfall braid on one side and pull it into a half-up style.
22. Loose Bun with Embellished Pins
Achieve a chic and effortlessly stylish look by opting for a loose bun delicately positioned at the nape of your neck. This timeless hairstyle exudes an air of elegance while still embracing the latest trends. Take your style to new heights by incorporating ornamental pins or clips into your ensemble, adding a touch of sophistication and elegance.
23. Messy Boho Braid
With a messy boho braid, you can achieve a carefree and chic look. This look exudes ease by braiding your medium-length hair into a loose and textured braid. It's ideal for adding a touch of bohemian flair to your prom outfit, creating an air of relaxed elegance that's sure to impress.
24. Wavy Ponytail with Wrapped Hair
Opt for a wavy ponytail with wrapped hair to combine sophistication and playfulness. Waves add volume and movement, while wrapped hair around the base of the ponytail adds a polished touch. This look is a good mix of casual and formal, making it an excellent choice for a memorable prom night.
25. Romantic Updo with Face-Framing Curls
With a face-framing updo, you can channel your inner romantic. This hairstyle exudes timeless beauty, framing your face while keeping your hair elegantly tucked away. The soft curls create an ethereal aura, allowing you to dance the night away with confidence and grace.
26. Elegant French Twist
Add a classic and elegant French twist to your prom look. This sophisticated updo features your medium-length hair twisted into a sleek and stylish arrangement. The French twist is a symbol of timeless glamour, ensuring you're the center of attention all night.
27. Loose Waves with a Deep Side Part
Consider loose waves with a deep side part for a more relaxed yet alluring look. The deep part adds drama to your medium-length hair, while the loose waves add texture and movement. This hairstyle effortlessly blends simplicity and allure, making it ideal for a night of celebration.
28. Dutch Braided Updo
Make a statement with a Dutch braided updo, which combines intricate braiding with an elegant updo. Dutch braids are woven close to the scalp, adding a unique touch to the traditional updo style. This hairstyle highlights your creativity and fashion sense, making you stand out from the crowd.
29. Braided Space Buns
Braided space buns are a playful and youthful choice for releasing your inner trendsetter. Divide your medium-length hair into two high buns adorned with braids for this hairstyle. It's a daring and confident look that exudes energy and individuality, making it ideal for a night of celebration and fun.
30. Textured Ponytail with Ribbon Wrap
A textured ponytail wrapped in a ribbon will add whimsy charm to your prom look. The texture gives your ponytail volume and dimension, while the ribbon wrap adds color and elegance. This hairstyle strikes the ideal balance between casual and chic, ensuring you're ready to party all night.
Other Articles