The lob is a hairstyle that has stood the test of time and continues to captivate hearts in the ever-changing world of fashion and beauty. Because of its versatility, low-maintenance nature, and ability to suit various face shapes, the "long bob" or "lob" hairstyle has gained enormous popularity. The lob's timeless appeal stems from its ability to strike the ideal balance of sophistication and playfulness. Whether you're a trendsetter or looking for a new look, we'll explore a curated collection of 31 Beautifully Styled Lob Hairstyles for Your Next Look that will  leave you feeling effortlessly chic.
1. Classic Straight Lob
The classic straight lob hairstyle is truly a timeless and sophisticated option that never goes out of style. The beauty of this accessory lies in its simplicity and elegance, effortlessly complementing any ensemble making it appropriate for both formal and casual occasions.
2. Textured Lob
If you're in the mood for a laid-back and effortlessly chic look, then a textured lob is definitely the hairstyle you should consider. Get ready to rock those effortlessly chic beachy waves or tousled curls that will instantly amp up the volume and give your hair some movement.
3. Wavy Lob
Elevate your everyday look by embracing your natural waves and opting for a trendy wavy lob. This particular style effortlessly exudes a playful and youthful vibe, making it absolutely perfect for those carefree summer days.
4. Soft Waves Lob with Partial Updo
Perfect for any occasion, whether it's a fancy event or a casual hangout, this stunning hairstyle effortlessly combines loose waves with a captivating updo, radiating elegance and allure.
5. Layered Lob
Add dimension to your lob with layers. This style adds movement and texture, making it particularly suitable for fine hair.
6. Choppy Lob
If you're looking to make a statement with your hairstyle, why not go for a chic and edgy choppy lob? This trendy and chic haircut effortlessly combines different lengths, creating a truly fashionable and forward-thinking look.
7. Side-Swept Lob
The side-swept lob is truly a hairstyle that exudes elegance and flattery, effortlessly framing your face in the most beautiful way possible. Achieve a captivating and refined look by elegantly sweeping your luscious locks to one side. This simple yet effective styling technique adds a touch of romance and sophistication to your overall appearance.
8. Curly Lob
Discover the beauty of embracing your natural curls with a stunning curly lob. This fabulous hairstyle embraces the natural texture of your hair, effortlessly elevating your everyday look with a glamorous touch.
9. Asymmetrical Lob
Unleash your creativity with an asymmetrical lob. This cut features one side longer than the other, delivering a unique and eye-catching hairstyle.
10. Sleek and Shiny Lob
Unleash your creativity with an asymmetrical lob. This cut features one side longer than the other, delivering a unique and eye-catching hairstyle.
11. Messy Lob with Highlights
Take your lob to the next level by adding some stunning highlights or opting for a trendy balayage technique. The infusion of contrasting colors effortlessly elevates the depth and dimension of your fabulous hairstyle, and a slightly messy look adds a modern twist.
12. shaggy lob
This style captures a trendy, lived-in look with textured layers cascading around the collarbone. It flatters a wide range of hair types and face shapes, striking the ideal balance between casual elegance and a modern edge.
13. Balayage Lob
Elevate your lob game with a touch of artistry through a balayage technique. This freehand highlighting method adds dimension and depth to your hair, creating a sun-kissed effect that beautifully complements your lob's length. The balayage lob is all about effortless elegance, making it a go-to choice for those seeking a low-maintenance yet stunning look.
14. Tousled Lob
When it comes to achieving an effortlessly chic and carefree vibe, look no further than the tousled lob. This hairstyle is a go-to option for those who want to exude an air of casual elegance. Get that effortlessly chic "just rolled out of bed" look without breaking a sweat by fully embracing your natural texture.
15. Wavy Lob with Bangs
The wavy texture gives your hair movement and softness, while the bangs frame your face and draw attention to your eyes. Whether you choose side-swept bangs or a blunt cut, this hairstyle is ideal for those who want to make a bold statement while still remaining elegant.
16.Lob with Middle Part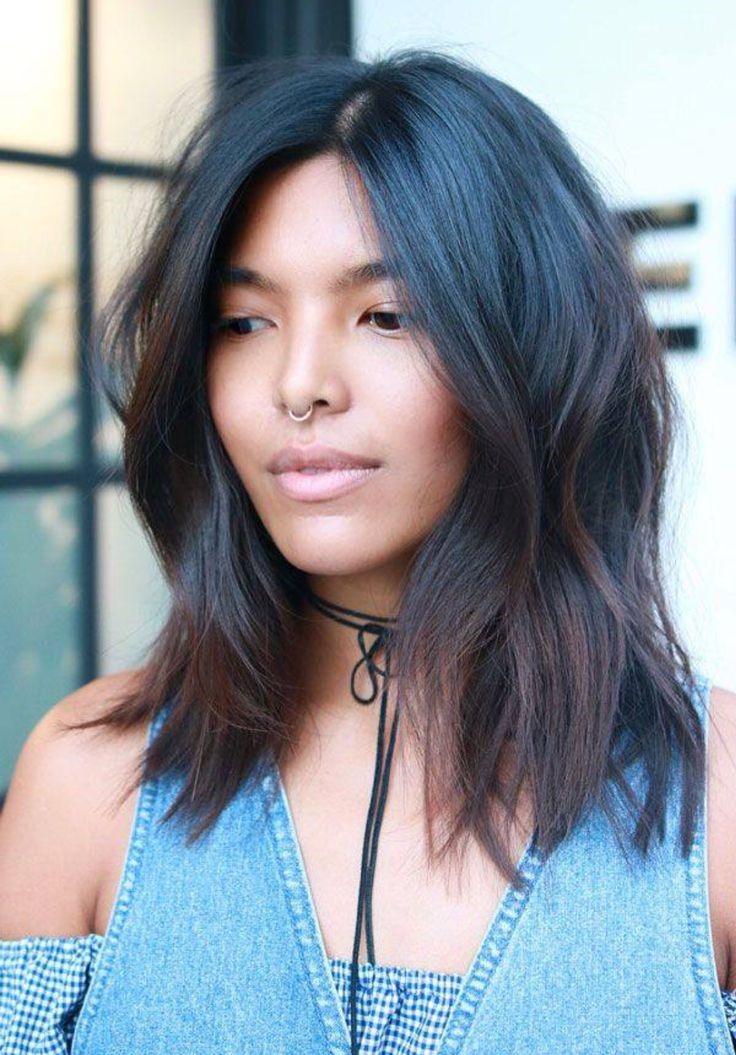 Simple, classic, and timeless—the lob with a middle part is a sleek option that radiates sophistication. This hairstyle elongates your face and highlights your features, making it an ideal choice for various occasions, from casual outings to formal events. Add a touch of shine serum to achieve a polished finish that's both refined and eye-catching.
17. Braided Lob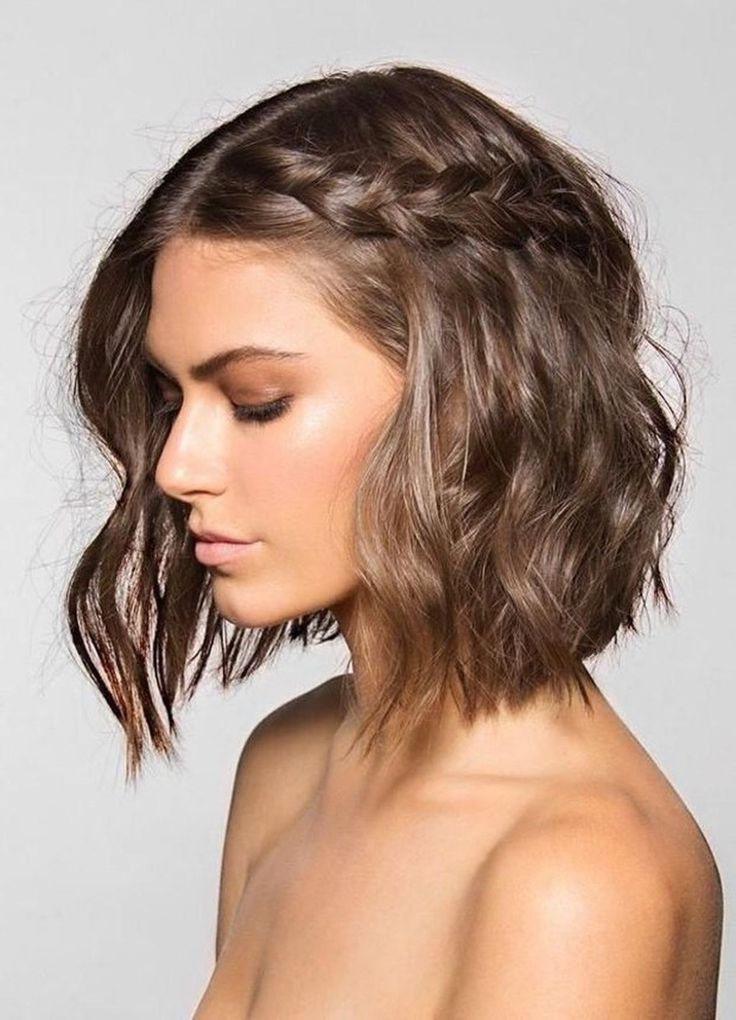 Combine the beauty of braids with the elegance of a lob. For a boho-chic look, make a loose braid on one side of your hair or weave small braids throughout it.
18. Wavy Lob with Two-Tone Color
Bring out your inner diva with a wavy lob with a stunning two-tone color blend. This style effortlessly combines elegance and creativity, adding depth and dimension to your locks and catching eyes, and turning heads wherever you go.
19. Razor Cut Lob with Edgy Vibes
Enhance your allure with a razor-cut lob that exudes daring and edgy vibes. Sharp, textured edges add a captivating twist, allowing you to stand out while maintaining an air of sophistication.
20. Blunt Lob
The blunt lob is an excellent choice if you prefer a clean and edgy look. It has a straight and even cut across the bottom that gives you a sharp and sophisticated look.
21. Tousled Lob with Ombre Balayage
With an air of effortless cool, the tousled lob adorned with ombre balayage is truly the epitome of carefree beauty. Adding a delicate gradient of colors creates a sense of depth, enhancing the overall aesthetic appeal. Meanwhile, the effortlessly tousled waves exude a relaxed charm, perfectly aligning with your effortlessly chic and laid-back personality.
22. Angled Lob
The angled lob hairstyle is the perfect way to give a modern twist to the classic look. The longer front layers and shorter back of this hairstyle create a dynamic and trendy look that is sure to flatter a variety of face shapes.
23. Blunt Cut Lob with Full Bangs
Make a bold statement with a blunt-cut lob and full, brow-grazing bangs. This timeless combination exudes confidence and poise, perfectly framing your face and creating an air of mystery that is impossible to ignore.
24. Curled Lob with Loose Ringlets
Unleash your inner romantic with this dreamy look. The soft, loose ringlets add a touch of elegance and playfulness to your lob, creating a timeless charm that's perfect for both casual outings and special occasions.
25. Asymmetrical Lob with Bold Color
Make a bold statement by combining an asymmetrical cut with a vibrant, eye-catching hair color. This daring fusion exudes confidence and edginess, letting you showcase your unique personality.
26. Wavy Lob with Beachy Texture
Embrace the carefree spirit of summer with a wavy lob featuring beachy textures. Effortlessly tousled waves bring a relaxed yet polished vibe, making this style an ideal match for laid-back beach days or city adventures.
27. Ombre Lob
The subtle transition from darker roots to lighter ends adds depth and dimension, giving your hair a mesmerizing gradient that complements various skin tones.
28. Tousled Lob with Caramel Highlights
Radiate warmth and sophistication with a tousled lob that boasts caramel highlights. The interplay of natural tones and soft waves creates a sun-kissed glow that beautifully enhances your overall look.
29. curled under lob with bangs
The stunning curled under lob, complemented by bangs, effortlessly emanates a sophisticated and refined aura, making it the perfect choice for any occasion, be it a formal work environment or a glamorous night on the town.
30. wispy blonde lob
If you're aiming for a fresh and breezy vibe, consider going for a wispy blonde lob. With its delicate, feathered ends and stunning blonde hue, this hairstyle exudes an ethereal charm that is simply captivating.
31. Layered Lob with Copper Balayage
Layers and a captivating copper balayage will give your lob depth and richness. The layers add movement and texture, while the warm copper tones create a stunning contrast that is sure to turn heads.
Other Articles