Do you have a collection of tattoos that you like to change up? What about some floral tattoo designs? If you're thinking about getting a lily tattoo, know that you've come to the right place. In this post, we'll show you a variety of lily tattoos to fit your taste and preferences. They're suitable for both men and women, so scroll down to select your new tattoo design!
The lily is one of the most charming and feminine flower tattoos. Lilies are a typical bridal flower in Chinese culture because they are connected with good fortune and are thought to bring a hundred years of love. Lilies, on the other hand, are connected with the goddess Hera, maternity, and rebirth in Greek mythology. Different lily hues have different meanings: white symbolizes purity and modesty, pink symbolizes compassion and appreciation, and yellow symbolizes joy. So pick your flower tattoo wisely!
1. Lily with Butterfly
Do you want to add a butterfly to your tattoo? What about a pink print with mostly black and white color combinations? This one is inspired by floral and lovely aspects that exemplify elegance and inner beauty. Make sure you have at least 3-5 hours to complete this tattoo. It is a seductive tattoo that symbolizes your innocence as well as your lively and amorous disposition.
2. Stargazer Lily Tattoo
Giant thigh tattoos are a work of art that not every tattoo artist can perform as effectively or as precisely as others. If you choose a vivid design, be prepared to wear it proudly and be prepared to pay a bit extra because these tattoos are more expensive owing to the materials used. Different hues and flowers will represent various feelings and emotions. The more flowers you use, the more sophisticated and powerful you will appear.
3. Tiger with Lily Tattoo
You can mix and match various colors and flowers with your tiger print. Would you be interested in this concept? This thigh tattoo is ideal for women who are confident in their bodies and their curves. If you are on the thicker side, a larger tattoo like this one will suit you. A tiger is a sign of unbridled power and ferocious fury. This tattoo will look feminine and whimsical when combined with lilies, and it will express your layers and your strong connection with Mother Earth and animals in the wildlife.
4. Lily And Rose Tattoo
Those with masculine backs will appreciate rocking and representing this rose and  lily. It's ideal for anyone with a lean physique and a penchant for flowers. Perfectly imperfect is a lovely statement to put next to your lily. This notion will show everyone that you're conscious of your flaws and that you're ready for a new challenge every day.
5. Sword Lily tattoo
Decorate your flower tattoo with a sword to create a macho print in such an unusual way. The finished product will take you less than four hours to complete. Swords might represent your rocky and wavy travels. You are a macho man with a tender heart, which you may flaunt with these flowers. Ideal for folks with a strong but soft side.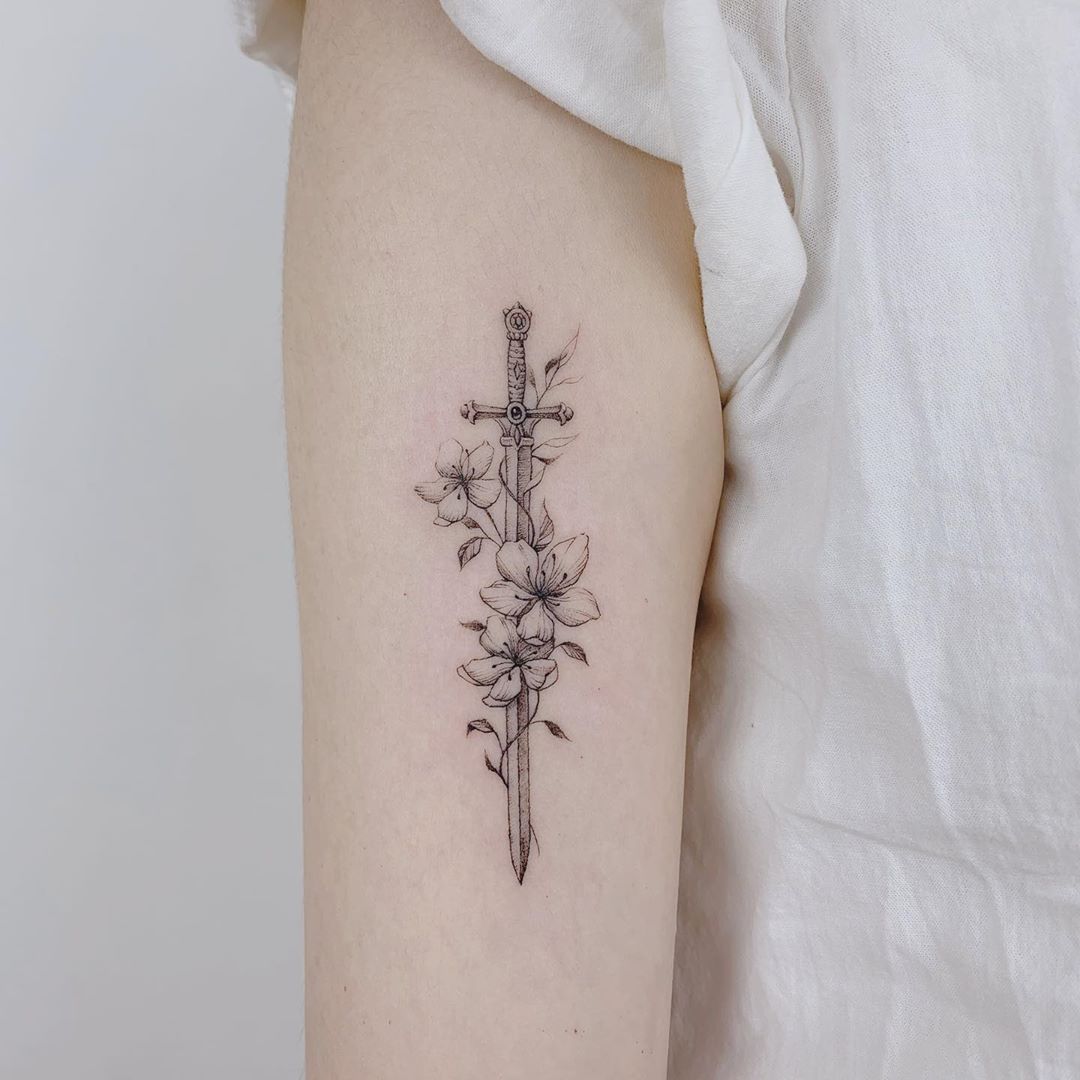 6. Pink Lily Tattoo
Do you want to add a splash of color to your lily tattoo? This one will look great across your forearm or calf. If you have a delicate side, you will appreciate this gentle and feminine tattoo. It accurately captures and depicts your life's ups and downs. Get this tattoo if you want to express your positivism to the world and those around you.
7. Elephant Design Lily Tattoo
If you like color and animals, this pair is for you. It is great for everyone who enjoys connecting with nature and maintaining equilibrium at all times. Allow the world to see your calm and empowering side. Elephants represent emotion, generosity, and perfect grace. When coupled with a lily, this tattoo communicates to others that you are in touch with your true emotions.
8. Snake Lily Tattoo
Snake tattoos are frequently interpreted as a symbol of power and strength. The snake is also a sign of transformation in many civilizations, as they lose their skin on a regular basis. A snake tattoo can symbolize new beginnings or a fresh start in life for certain people. Add a Lilly or two for a feminine touch and to show how you can be both feminine and powerful.
9. Ear Lily Tattoo
Take a lead from this woman and get a charming little lily tattoo behind your ears if you want a delicate small flower design with little difficulty. Flowers, as previously stated, are feminine, and color is essential in bringing that out. This is why this tattoo has a hot red background with yellow highlights and a black border.
10. Stars and Lily Tattoo
Another popular form of custom tattoo that is difficult to explain but is very cool and thrilling to look at is lily flower tattoo designs for women drawn from the lower arm. This tattoo can be seen as a single lily flower or as a grouping of numerous lily flowers. Each color of the flower has its own meaning, and the lily is no exception.
11. Peacock Feather and Lily Tattoo
Remember that the peacock feather is a symbol of rebirth and hope if you ever feel depressed or lost. If you come across one, consider it an omen of good fortune. Wealth and riches may be on their way to you. Peacock feathers are also used in the design of stunning (and popular) jewelry.
12. Clock Lily Tattoo
Clocks are also supposed to depict the passage of time, which goes inexorably forward and can never be recaptured. They can be seen as a sign that each minute is valuable and that it is critical to live each minute of one's life to the utmost.
13. Wolf Lily Tattoo
Loyalty, strong family ties, good communication, education, understanding, and intelligence are all represented by the Native Wolf Symbol. The Wolf possesses the most powerful supernatural abilities and is the most skilled hunter of all land animals.
14. Dragon Lily Tattoo
The dragon represents power, transformation, and spirituality, strength, change, and spirituality, as well as good luck, fortune, and prosperity. The dragon is a protector in various cultures and is typically connected with monarchy.
15. Skull Lily Tattoo
The attaching of symbolic importance to the human skull is known as skull symbolism. The skull is most commonly used as a symbol of death, mortality, and the unattainable aspect of immortality.
16. Lily Tattoo Side Boob
Do you want a lovely lily tattoo on your side chest and side boob? This is a strong tattoo, but it will hurt, so make sure you're fully prepared and equipped. This feminine design usually takes 3 hours to complete. This lily represents your pure ideals and desire to alter the world. With this tattoo, you'll come across as seductive and sexy. People would regard you as a total diva, and who wouldn't want that?
17. Frog Lily Tattoo
The Frog is a Native American emblem of riches and abundance. When a frog's tongue touches another species in art, it denotes the sharing of knowledge and power. Many indigenous tribes believe that frogs protect against loss, which is why little frog coins are placed in bags to prevent money loss.
18. Hummingbird Lily Tattoo
To some, seeing a hummingbird means that difficult times are over and healing can begin. Others see these little fliers as a symbol of hope and good fortune. Hummingbirds can also have a spiritual meaning, indicating that the spirit of a loved one is nearby.
19. Bee and Lily Tattoo
The bee represents community, brightness, and individual force. To find your new location, follow the bee. The ancient Druids associated the bee with the sun, the Goddess, festivity, and community.
20. Small & Black Lily Tattoo
Finally, do you want to show off your secretive and astrological side with your tattoo? This combination is perfect for anyone who has layers and wants to stand out. The tattoo will represent a person who is creative, powerful, and serene. It will appeal to men and women with a magical side.
21. Bold Black Leg Lily tattoo
Calf tattoos are popular among masculine-looking males. Are you a member of this group? If you want to replicate this popular pattern, stick to black and pink ink. It's also not too expensive. This lily will represent your strength and vitality. Every person has a tumultuous and unstable backstory, but you can always express your hope and perseverance with a tattoo.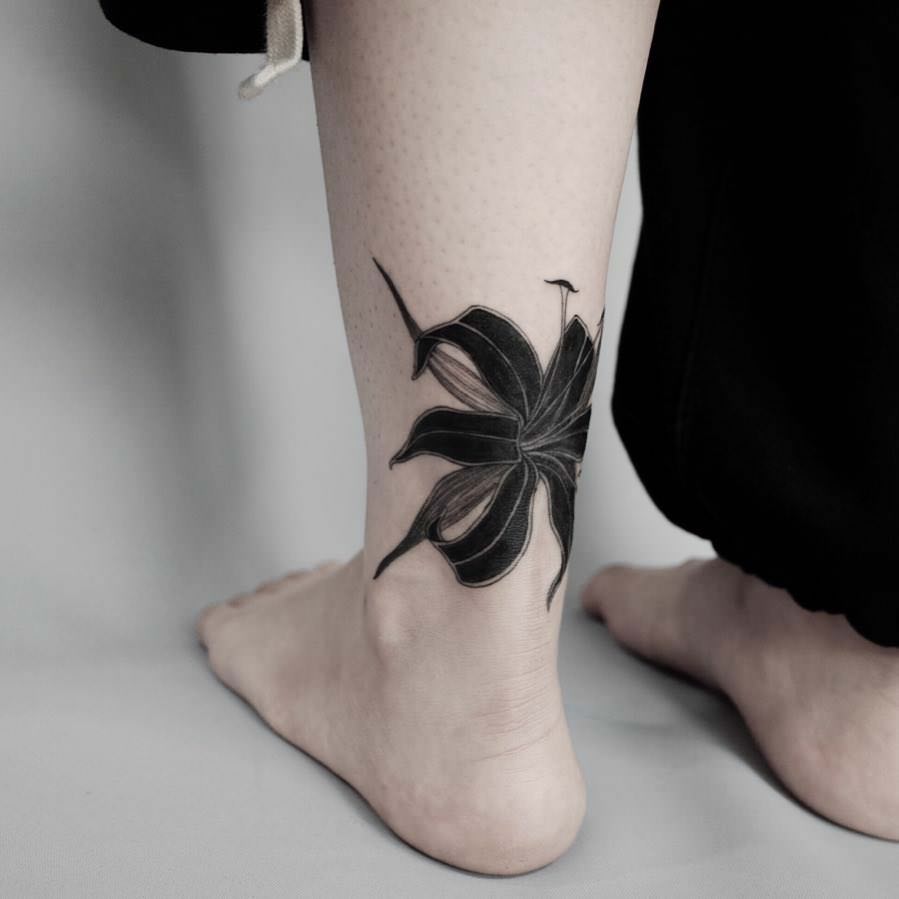 22. Lily off the shoulder
The shoulder area is particularly popular among tattoo enthusiasts. The skin around this location isn't particularly sensitive, so it won't cause too much discomfort. As a result, some daring people who enjoy customizing their bodies may enjoy the concept of a pair of lily blooms on the back shoulder area. They're ideal for folks who prefer sleeveless tops.
23. Floral tattoo for lower arm
Larger flower patterns especially lilies can look stunning with forearm placement. The crisp and detailed design with shading adds to the elegance and beauty of the tattoo making it look deliberately sophisticated. This area is one of the popular arm locations to get some ink as it is comfortable compared to the inner arm which can be veiny and shallow.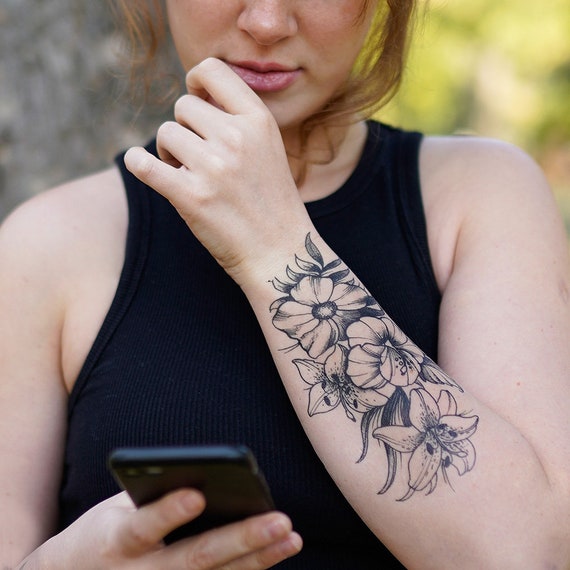 24. Lily sleeve tattoo
Another favorite spot for displaying a Lily tattoo is on the sleeve. Sleeves are ideal locations for tattoos, especially for ladies and men with strong arms. You may have the tattoo length modified to fit a full sleeve, half sleeve, or three-quarter sleeve. This exquisite Lily tattoo has the ability to make us say, "Wow!" Between the black and white tattoos, a splash of color looks rather inviting.
25. Small lily flower wrist
Tiny floral tattoos are always a great imagery especially when cleverly executed with on point placement. The smaller tattoos have some inexplicable beauty due to their simplicity of purpose and clarity. The intentions of the artist are always easier to come out when expressed in shorter verses. If you are not exactly a die-hard inker but still want to express yourself with ink then this is the tattoo for you. It look chic and you will probably spend less time and money on it.
26. Lily of the valley
If you want to surprise your spouse with a tattoo, nothing could be more valuable than a lily of the valley tattoo. This tattoo is thought to be a symbol of good fortune in love, dedication, and humility. According to legend, the first flower on the world sprang from Eve's first tears as she wept out for her expulsion from the Garden of Eden. According to legend, this was the first flower to bloom when Mary's tear fell on the ground as she was sobbing at Jesus' feet.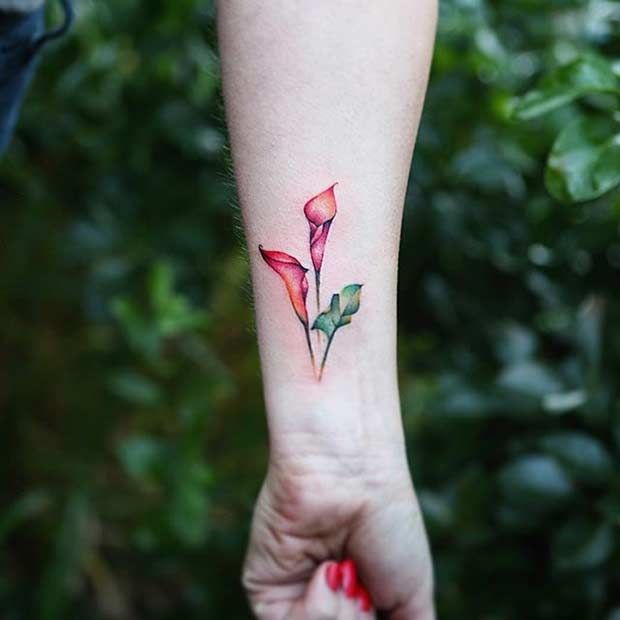 27. Floral Shoulder tattoo
The lily tattoo designs for women drawn from the lower arm are another popular form of custom tattoo that is difficult to explain but will be incredibly interesting and thrilling to look at. This tattoo may be perceived as a single lily blossom or as a grouping of lily blooms. Each color of the flower has its own meaning, and the lily is no exception.
28. Blooming flower tattoo
The Blooming flower is a sign of productivity and hope for the future. It is a sign of liveness and well-being as well as that elusive success. Rebirth and all those other good vibes are not left out either. Of course, just as a tat's artwork is unique and varied for each individual, where it ends placed is also a personal choice. And if it actually makes a statement and gives enjoyment, there is no such thing as a bad choice. Just think twice before being inked, and keep this year's fashion trends in mind.
29. Lilies and moon tattoo
Both lilies and the crescent moon are very feminine themes for a tattoo and they both represent the power of a woman. They are both beautiful and enhance looks as well as bring up conversation from time to time. It's a classic that will never grow old because the symbols are permanently engraved in our contemporary culture and have been so since before man could walk on twos. Inches above the ankle is suitable location when you want an ankle tattoo that you can show or hide whenever you want.
30. Little Lily tattoo on forearm
This little lily tattoo on the arms is quite gorgeous. It's a minimalistic design that exudes elegance, beauty, and simplicity. It's been purposefully kept plain, with no colors, and it's rather lovely. Tattoos on the arms are quite popular since they are constantly visible and are also a very pleasant spot to receive a tattoo. This tattoo is best suited for women and looks best with wrist or forearm placement depending.
In summary
Women's flower tattoos are among the most popular and significant tattoos. A floral tattoo may speak more than words when it comes to expressing oneself or paying homage to loved ones. Delicate flower patterns are popular right now, and these lovely blooms are not only lovely and feminine, but they also have a symbolic meaning.
Lilies are beautiful flowers that represent purity and devotion. They've been linked to maternity and the power of rebirth. Lilies also represent unending and lucky love in certain cultures, as well as up to 100 years of pure passion!
Other Articles