There is a very rich history associated with the Koi Fish tattoo. Many tattoo artists have created designs of this symbol, which has been inked on both men and women equally, as a result of its history as a traditional component of Chinese and Japanese culture and its symbolism. Beyond the mere aesthetic appeal of a tattoo featuring this design, the koi fish has a profound meaning. Please take the time to carefully observe this article if you are wondering about getting a tattoo with this aspect of Oriental culture. Discover its origins and significance while getting ideas for your subsequent koi fish tattoo.
History
In Eastern culture, koi fish have a long history (mostly in Japan, but their origin is in China). These fish were once plain and unremarkable carp, which were domesticated primarily in order to produce a variety of colors that would make them showy fish. Koi were introduced to Japan by Chinese conquerors, where they flourished. Due to an old folklore about fish turning into dragons, koi fish and tattoos are frequently seen in the work of Japanese tattoo artists. The significance of this symbol in the tattooing community and other fields is primarily based on Eastern myths and traditions. It is believed that any Koi fish that can ascend the "Dragon Gate" waterfall against the stream will change into a magnificent and potent dragon.
Significance
Tattoos of koi fish can have many different meanings. To begin with, the orientation of the koi fish and the color of the ink used to complete the tattoo will determine its meaning. Although there are many, often conflicting, interpretations of what a koi fish means and how it swims, if you get a koi fish tattoo, you may decide which interpretation your design most strongly embodies, making the tattoo much more unique. Without further ado, regardless of the koi fish's orientation, this element stands for the following: Aspiration, Prosperity, good luck and long life, Energy, Independence, Passion, Friendship, Overcoming, Independence, and transformation in life. Read this for more fish tattoo ideas. 
Designs
1. Whirlpool Koi Fish Tattoo
This unusual tattoo features two koi fish that appear to be circling a whirlpool. The black and white koi fish stand out sharply against the crimson swirl.
2. Dragon Koi Fish Tattoo
Your bicep will look fantastic with a lovely dragon carp pattern. The entire transformation of a carp into a dragon is depicted in this tattoo. This tattoo has amazing shading and delicate outlines.
3. Ankle Koi Fish Tattoo
If you're a fan of stylish tattoos, a small tattoo on your ankle is the perfect tattoo for you. This stunning tattoo includes a meticulously detailed koi fish. By putting a yin-yang motif into this design, you can acquire matching tattoos for yourself and your significant other.
4. Swimming Koi Fish Tattoo
This blue koi tattoo is the ideal design for you if you want a permanent reminder of the battles on your body. The image includes a splash of water and a koi trying to climb to the top while fighting the tide. The lovely blue tones and light border will contrast beautifully with the color of your skin.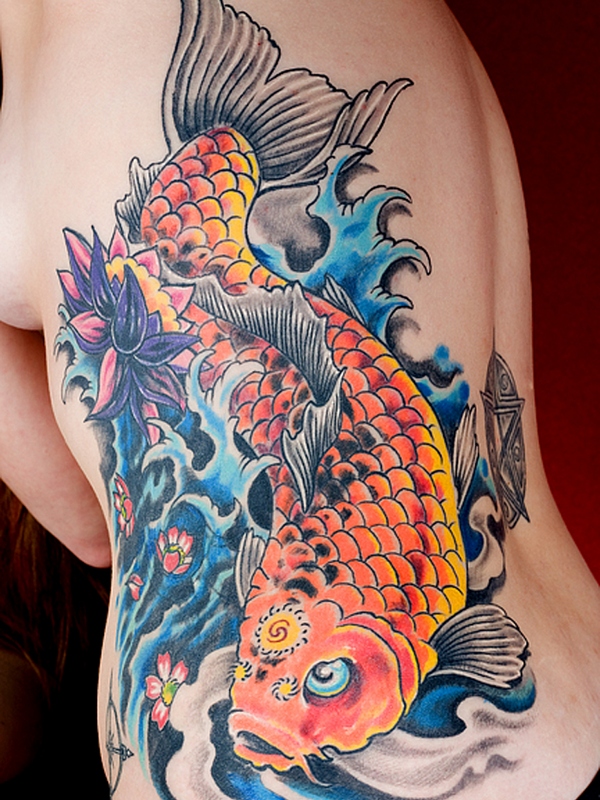 5. Japanese Koi Fish Tattoo
This exquisite tattoo was created with powerful strokes that give it a distinctive and sophisticated look. Blue and warm colors are used, which contributes to the tranquility. Its attraction is furthered by the seamless fusion of the broad and thin lines. Get this delicate pattern tattooed on your bicep and show it off with tank tops!
6. Red Koi Fish Tattoo
The gorgeous red Koi in this artwork stands for passion and direction. Your skin will appear fantastic in the startling deep red color against the black background. To display this tattoo in all its splendor, get it on your forearm. This tattoo's spiritual undertone talks of fortune, good fortune, and fortunate situations.
7. Lotus and Koi Fish Tattoo
This koi tattoo will wow you if you enjoy delicately colored patterns. You'll want to get inked right away after seeing this ink illustration of a koi splashing in a pond filled with lotuses. Your biceps will look awesome wearing it. Read more about lotus tattoos here. 
8. Face Koi Tattoo
It's not a common idea to have a tattoo on your face. This realistic koi tattoo design is ideal for placement on the face. Nevertheless, if you want to be hooked on the look and defy convention. Your skin tone is reflected in this watercolor, border less pattern that gives the impression that koi are swimming on your face.
9. Koi Tattoo On Wrist
Display this lovely gold koi wristband. It has a wonderful, well-detailed koi sketch with an orange filling and crimson border. Your wrist will have a striking contrast from the black spots on Koi's head, creating an adorning and decorative appearance.
10. Watercolor Koi Tattoo
The ideal place for this lovely colored koi tattoo is on your forearm. This design gains a lot of charm from the thin outline with a splash of black and orange done in a watercolor approach.
11. Abstract Koi Fish Tattoo
This beautiful koi tattoo design is certain to attract your attention if you enjoy abstract art. The piece has a distinctive feel thanks to the rough lines, strokes, and patterns. The soft shading gives the scene a hint of mystery. This sophisticated style will easily fit on your forearm.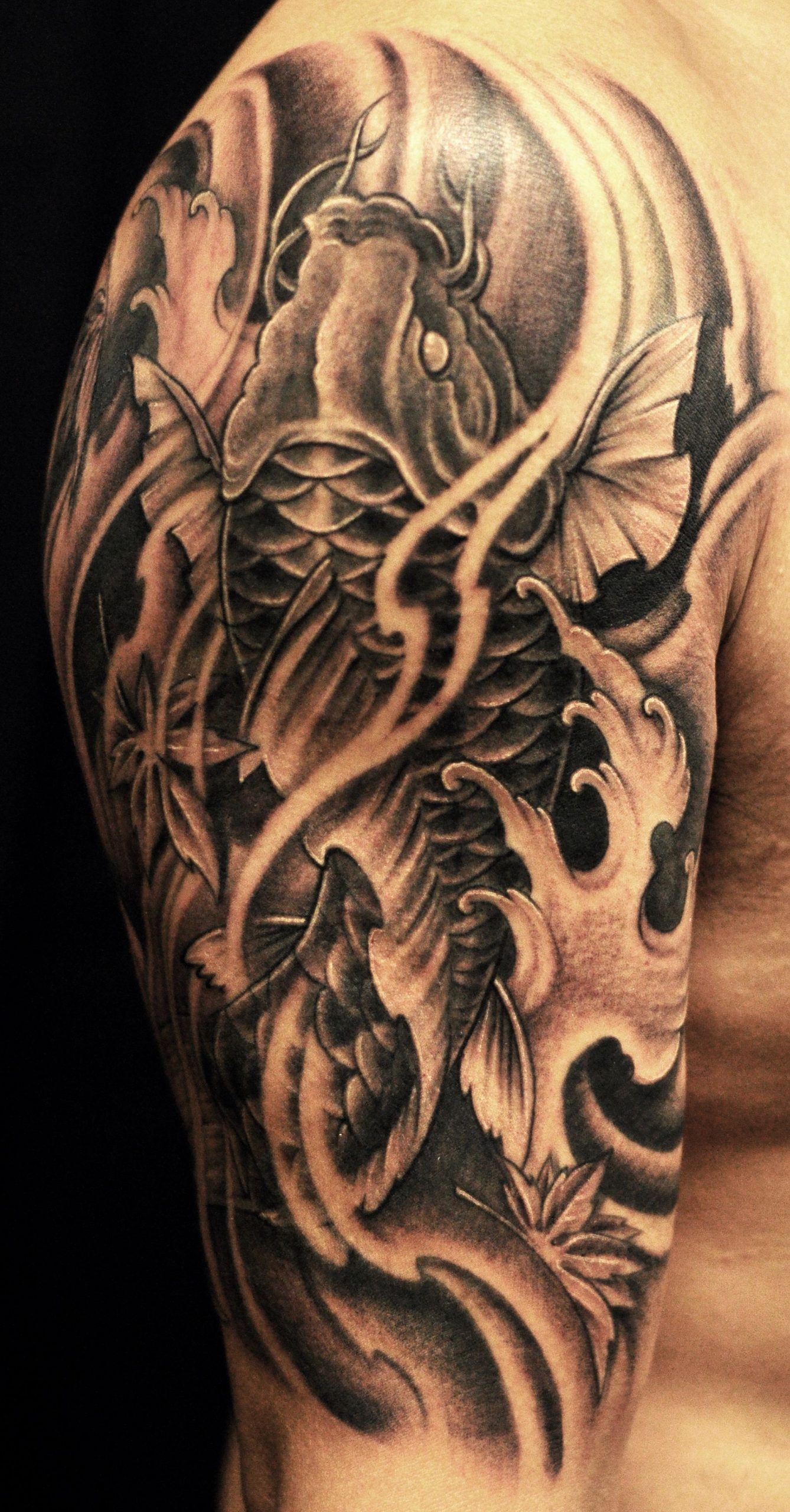 12. Blue Koi Fish tattoo
A blue koi fish represents peace. Get this lovely blue koi body art design tattooed on your back. A blue koi is depicted here battling the water's current to swim upstream. It is even more intriguing because of the contrast and the intricate background.
13. Small Koi Fish Tattoo
This straightforward, delicately lined Asian koi tattoo is ideal on your forearm. This is the perfect tattoo to have inked on your arm since the speckled body and red head contrast well with the really fine fins.
16. Leg Koi Fish Tattoo
With this stylish tattoo, give your feet a joyful pleasure. Warm hues are used in this elegant pattern, which extends from your calf muscles to your feet. This painting is charming because of its fine outline and intricate shading.
17. Traditional Koi Fish Tattoo
You'll adore this straightforward koi fish pattern if you prefer to keep things conventional. On your forearm, this light golden koi tattoo with a blue lotus in sharp contrast and black splash marks will look stunning.
18. Koi Fish Armband Tattoo
Your forearm is circled by this lovely band tattoo. The most fashionable method to dress up your band tattoo is with the vibrant colors of the koi fish and the surrounding pool. Display this lovely pattern on a dark background to highlight the color of your skin.
19. Realistic Koi Fish Tattoo
This stunning tattoo is ideal for being inked on your arm if you enjoy realistic body art. The tattoo is brought to life by the fine shade work and delicate glossy finish. To stand out from the normal crowd, get this tattoo as a whole sleeve.
20. Ying Yang Koi Fish Tattoo
Create a tattoo of a koi fish that represents the Yin and Yang symbol by fusing Chinese and Japanese art forms. This unique pattern in striking black and white hues represents tranquility and life.
21. Japanese Koi Fish Lantern Tattoo
The ideal skin treat is this adorable lantern charm tattoo. Koi fish and Chinese lanterns are representations of luck and wealth.
22. Koi Fish Mermaid Tattoo
The ideal mermaid tattoo for your arm is this one with a princess holding a lovely flower and a koi swimming around her. It's the ideal piece for being tattooed on your body because of its intricate design.
23. Koi Fish Back Tattoo
Although getting a full-back tattoo requires a significant time commitment, we encourage you to get it. The striking contrast between the black waves and this brilliant and colorful koi tattoo is breathtaking.
24. Black and Grey Koi Fish Tattoo
This monochromatic koi tattoo is likely to capture your heart if you enjoy them. A delicate black and gray colored koi with a tiny edge is featured in this exquisite artwork. The flowers and splash in Chinese style boost the glamour factor of this tattoo.
25. Fire Koi Fish Tattoo
This contemporary koi tattoo is the first of its kind. It depicts a fish with a fire raging on its back and a rough outline. Take care of it on your thigh.
26. Cherry Blossom Koi Fish Tattoo
The purple color of the blossoms contrasts beautifully with the orange tint of the Koi. This tattoo's vibrant color scheme is guaranteed to add some zest to your life. It's a work of art for your skin, thanks to the lovely shading.
27. Koi Fish in Pisces tattoo
Koi fish are frequently linked with other signs and pictures, such as the yin and yang and the lotus flower. Having said that, Pisces, the zodiac sign, can also be represented by animals. Two fish swimming in opposite directions makes up the logo. A design like this could be connected to duality or communicate the sense that the user is divided between two ways, keeping in mind the rich significance of the Koi. This would be a fantastic option for your next body art if you were born between February 19 and March 20, as it were.
28. Koi Fish Ink on the Thigh
You should think about your lifestyle before getting a tattoo. Although the perception of body art is evolving and becoming more widespread and acceptable, some industries still demand you cover up your tattoos. Consider getting a tattoo on your thigh if you need to cover something up. The skin is large enough to accommodate intricacy, and as an added bonus, getting tattooed on the upper outside thigh isn't too uncomfortable!
29. Koi Fish Tattoo Calf
Some tattoo designs are so beautiful that they were made to be seen, and getting inked on your calf will allow you to do this. This may also be a fantastic choice if you are proud of your legs because it will highlight your muscles, which are also one of the most manly areas of the body. Due to the thicker skin, the area is rated as moderate on the tattoo pain scale, enabling you to have a larger and more intricate artwork. Additionally, you may cover it up if you like, making it a perfect location.
30. Simple tattoo of a koi fish
There is no justification for obtaining a large, intricate tattoo when making the decision to have one. Many guys prefer the more straightforward strategy because it is subtle yet still meaningful. These designs are often simple and concentrate on fundamental lines and shapes. When obtaining any type of body art, it is best to take your lifestyle into account. A little simple tat is simple to hide. If this is your very first tattoo, you might find these designs particularly intriguing.
Other Articles